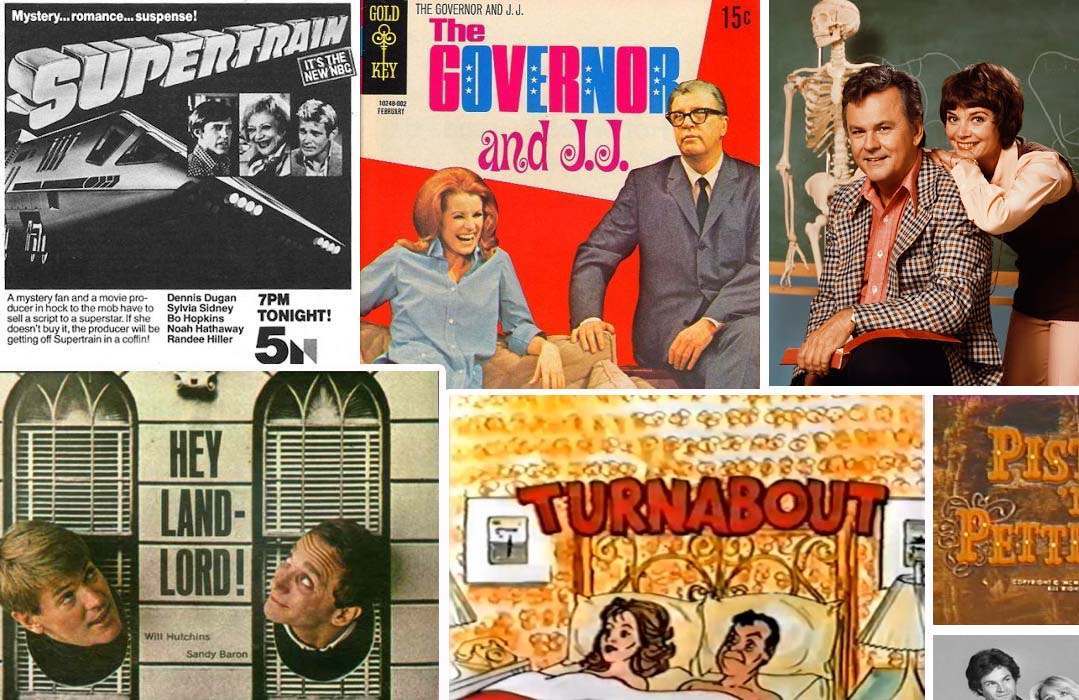 Some shows stay around long after their expiration date (ex. Family Ties) and others are cut down before their prime. What you see before you are 13 programs that never made it to the ripe old age of 'season two'. Some might've become classics had they had a chance to develop, while others…. well, cancellation was probably the merciful thing to do.
On Our Own (1977)
Starring Bess Armstrong, Lynnie Greene and Dixie Carter. The show aired on Sunday evening and actually did pretty good (beating the Six Million Dollar Man on occasion). I'm sure the rational for its cancellation. Here was the Sunday night lineup on CBS in '77:
7:00 pm 60 Minutes
8:00 pm Rhoda
8:30 pm On Our Own
9:00 pm All in the Family
9:30 pm Alice
10:00 pm Kojak (fall season only)
10:00 pm The Carol Burnett Show (winter season only)
10:00 pm Dallas (spring season only)
As you can see, CBS was pretty unsure what to with their 10:00 slot, but On Our Own seemed pretty solid…. and next season it was gone. A theory is that the show, filmed in New York was a tad expensive to make. Since we can't view it ourselves (it's not on DVD, and only a few grainy episodes circulating on the internet), I guess we won't be able to judge for ourselves…. which is real shame, since I seem to recall a nudist colony episode.
Pistols 'N' Petticoats (1967)
Stacked up against Get Smart and The Lawrence Welk Show, Pistols 'N' Petticoats never had a prayer.
Lotsa Luck (1973)
My understanding is this was an American translation of the UK show On the Buses. It starred Dom DeLuise as a custodian at a bus station who has to go home to deal with his bossy mother and slacker brother. Those who saw it, remember it fondly; so, perhaps its cancellation was not justified.
The Governor and J.J. (1969)
The formula of traditional "square" father and modern "enlightened" son/daughter was yet a tired formula in 1969, but would get done-to-death in the Seventies. By the creators of "Get Smart", the show was an abysmal failure by all accounts. A leopard running loose in the governor's mansion episode being one of many low points.
Hey Landlord (1967)
Garry Marshall has admitted that he (and partner Jerry Belson) weren't quite ready to strike out on their own after writing for the Dick Van Dyke Show. They'd get it right soon after with The Odd Couple.
Turn On (1969)
This Laugh-In rip-off was cut after only one episode for being too raunchy. It is the shortest running TV show ever. Complaints poured in as the show was running, and the executives actually decided to pull the plug on the series within the first 17 minutes.
My Living Doll (1964)
In which Julie Newmar plays a sexy robot who does the bidding of her creator. Like I Dream of Jeannie, it's a male fantasy made for TV… except this one's a tad disturbing. It was situated between My Favorite Martian and The Ed Sullivan Show, so it should have been successful. Alas, Bonanza clobbered it in the ratings every week, and it was cancelled. The fact that Newmar and Cummings hated each other's guts didn't help things either.
Supertrain (1979)
One of the more insane one-season-wonders – it was basically the Love Boat on tracks… with a disco. As you'd expect it was godawful, and almost put NBC under
.
Good Morning, World (1967)
Before WKRP in Cincinnati and Hello Larry, there was this sitcom about disc jockeys. Goldie Hawn starred as one of the jockey's girlfriend.
The New Temperatures Rising (1974)
The original Temperatures Rising  starring Cleavon Little (Blazing Saddles) and the mega-hot Joan Van Ark was well loved. The Paul Lynde follow up…. not so much.
The Bob Crane Show (1975)
I presume Bob was fully immersed in the sex tape thing during the run of this show. It was a spectacular failure, and led to Crane doing dinner theater for a living, until his mysterious death in 1978.
Turnabout (1979)
This is pure insanity. The intro goes into the setup in detail, so I'll spare you. It was originally a book, then a movie, and in '79 an objectively dreadful sitcom.
Co-Ed Fever (1979)
What's remarkable about this Animal House rip-off was that, despite the presence of Heather Thomas, this show lasted only one episode. Did you catch what I just said? ONE EPISODE! There's only been a handful of shows that were so bad they didn't make it to a second episode – and I don't think any other situation comedy from the 60s through the 80s bears this dubious distinction.