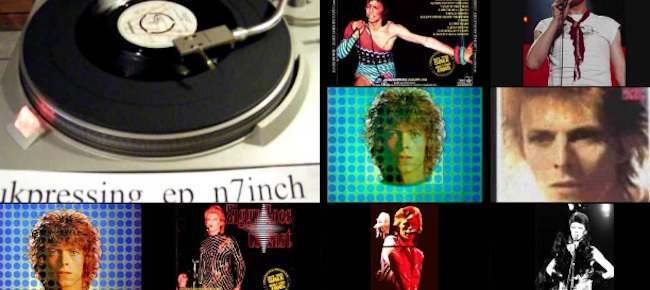 When David Bowie's new single hit number one the newspapers hailed his new album as a masterpiece, as they have done with every album he has produced since his last commercially successful 'LP' (as then was) 33 years ago.
Those themselves under the age of 33 might be forgiven for wondering what all the fuss is about, but the fact is that Bowie remains the sole pop artist worthy of standing alongside the giants of the 1960s. Between 1969 and 1977 he produced a series of albums to rank, in their range and quality, with those of Bob Dylan, the Beatles, the Beach Boys, the Who and the rest. Some would go further and argue that his mid-sixties, late seventies and early eighties work deserves equal billing too.
Leaving such arguments aside, one thing is striking. During his 'Golden Years' Bowie recorded more than 50 tracks that most bands would kill for, but which never even appeared on his legendary albums. A few were singles and B-sides, some were given away to other artists. Some were not released at all until they turned up as bonus tracks on re-releases many years later. Many remain officially unreleased to this day. All of them leave most have today's artists – Bowie included – for dead.
Until Bowie finally receives the 'anthology' treatment, and his life's work is laid out in its full glory, here are 12 obscure gems to be getting on with. More than enough for a one hell of an album…
Memory Of A Free Festival

Originally recorded for his second album in 1969, this punchier version was performed the following year and released as a single in two parts – selling a handful of copies and hurtling headlong into obscurity.
Bombers
Recorded in 1971 and slated for the legendary Hunky Dory album, but eventually dropped in favour of the even quirkier Biff Rose song, 'Fill Your Heart'.
Holy Holy
First recorded in 1970 and released as a single in January 1971, after which Bowie performed the song on regional English TV, wearing his infamous 'man dress'. Result: a massive flop. This version was recorded 1971 for Bowie's breakthrough album, The Rise and Fall of Ziggy Stardust and the Spiders from Mars, but didn't make the final cut.
Velvet Goldmine
Recorded in 1971 for Ziggy Stardust, but not used in the end. A cryptic rewrite of an earlier, ore explicit, version describing gay sex, the song gave its name to the dreadful 1998 'glam rock' film.
Sweet Head
Another unsubtle sex song considered too blue for release on Ziggy. (At one point Bowie quips: 'While you're down there.')
John I'm Only Dancing
This version was the first of three Bowie recordings of the song, and released as a UK single in 1972 (its ostensibly gay subject matter was judged too risqué for American release). Today it is practically forgotten in favour of the 1973 re-recording with its faster pace and rasping sax, and the 1975 soul version. Bizarrely, both these versions were also released as singles.
All The Young Dudes
In 1972 Bowie gave his greatest song to Mott the Hoople, who were about to split, in the hope of giving them one last shot at stardom. It worked. Although Bowie recorded the tune himself, it was not included on his Aladdin Sane album.
Growing Up And I'm Fine
This wonderful 1973 ode to teenage delinquency was given to Spiders guitarist Mick Ronson for his solo album, where it was arranged by Ronno for maximum effect and sung in the style of his master's voice. However, this stripped down demo by Bowie himself has panache and a certain charm…
Candidate
The 'Candidate/Sweet Thing' suite was the highlight of Diamond Dogs. This song was recorded for the same album and despite its title, bears no resemblance whatsoever to the famous track. None of which matters, as it is excellent in its own right.

Growin' Up
Bowie championed many as-yet-unfamous rock giants – including Bruce Springsteen. This cover version of a song from Springsteen's 1973 album Greetings From Asbury Park, NJ was recorded the same year during the Diamond Dogs sessions. Ron Wood plays guitar.
It's Hard To Be A Saint In The City
Another from Asbury Park, recorded in America in 1974. A coked-out Bowie apparently played the tape to a nonplussed Boss, whose reaction was by all accounts underwhelming. A great attempt nonetheless.

It's Gonna Be Me
This tremendous ballad was previewed on Bowie's 1974 'Philly Dogs' tour and then recorded for Young Americans. It was dropped when John Lennon turned up in the studio and recorded 'Fame' and 'Across The Universe', both of which made it onto the album. Other gems dropped from the final version included: 'Shilling The Rubes', 'Let's Hear It For The Gouster', After Today' and 'Who Can I Be Now?'