HERE are ten Christmas adverts from decades past; some good, some bad.  The common denominator is that I find them all interesting – and I hope you will too.  Some are painfully awful, but a few deserve to be framed in gold and hung in the Greek Antiquities section of the Louvre.  It's a heavenly hash of Christmases past for your viewing pleasure.  Enjoy.
1.  Chess King (1986)
Warning: The following ad is so amazing, it may cause momentary blackouts and cold sweats.  If you experience a sustained erection for greater than six hours, seek medical attention.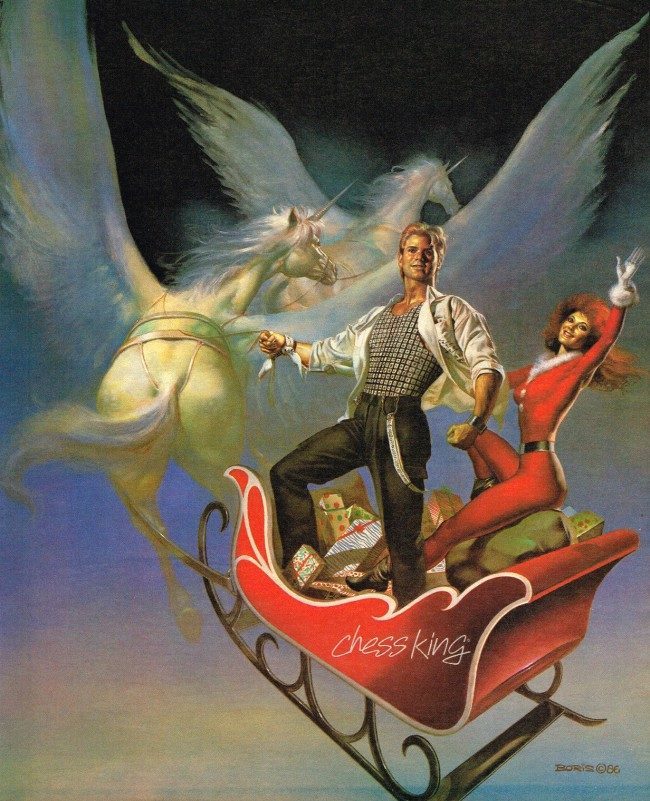 You can keep your old fat Santa, I'll take the Chess King Santa; the one whose sleigh is guided by Pegasus-Unicorn hybrids. The Chess King was a US clothing retailer specializing in the gaudy pathos of the Eighties. Want a pair of neon animal print parachute pants and a fluorescent jacket with massive shoulder pads? Chess King is your place, and this advert suits it perfectly.
2. Alka Seltzer (1978)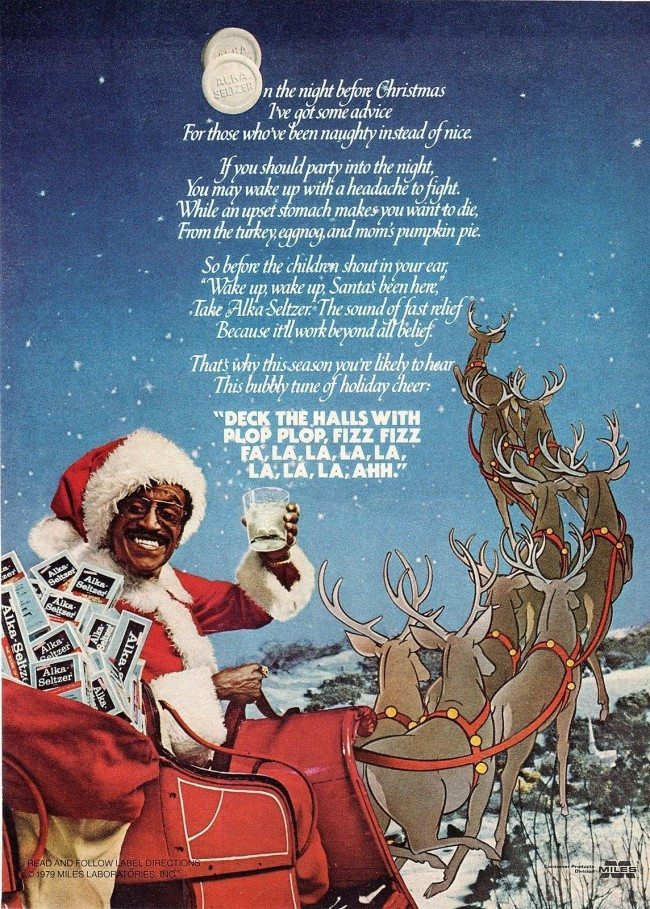 If ever there were the perfect spokesman for a hangover remedy, it was Sammy Davis, Jr. There's just something about seeing a coked up Sammy D dressed up as St. Nick with a sack full of hangover meds that makes me happy.
3. Kaiser hosiery (1944)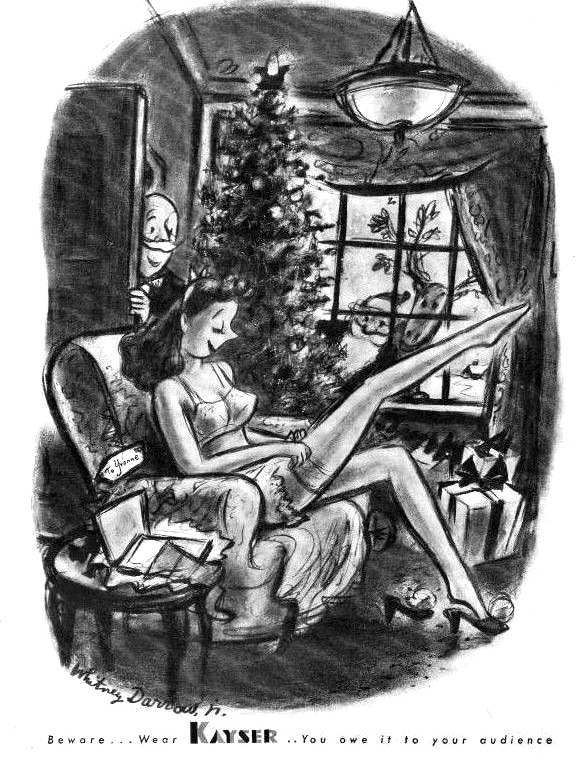 Who would've pegged Santa Clause as the Peeping Tom type? It's made all the worse by the imagery of Blitzen (or is it Comet?) also getting his rocks off. God only knows what's going on below that windowsill. Best not to dwell on it.
And speaking of mental images we'd like to avoid…
4. Water Pik (1976)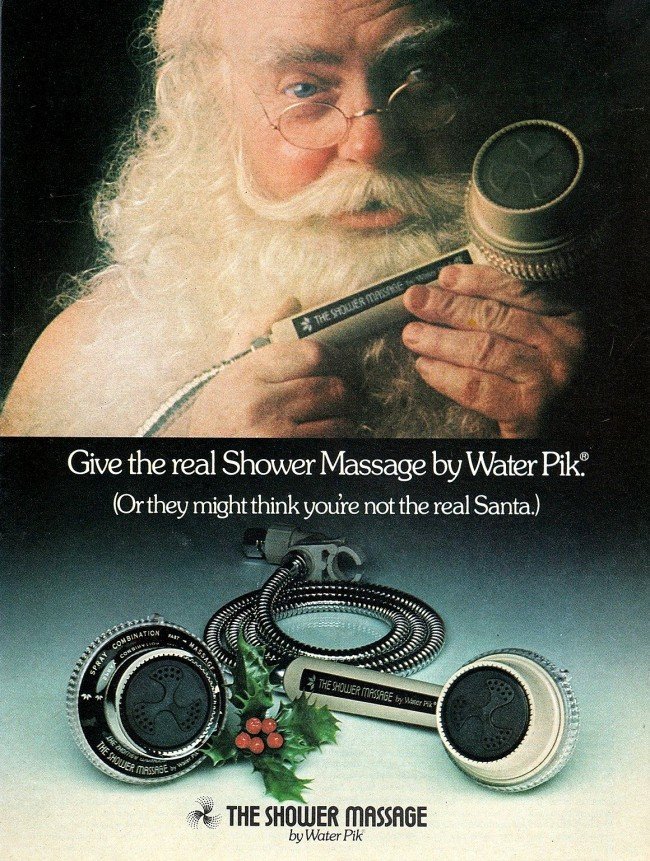 Thank you shower massage company. Now I have the mental picture of a nude Santa working himself over with a Water Pik to deal with the rest of my life.
And "you're welcome", dear readers. I simply had to share.
5. Paris belts (1971)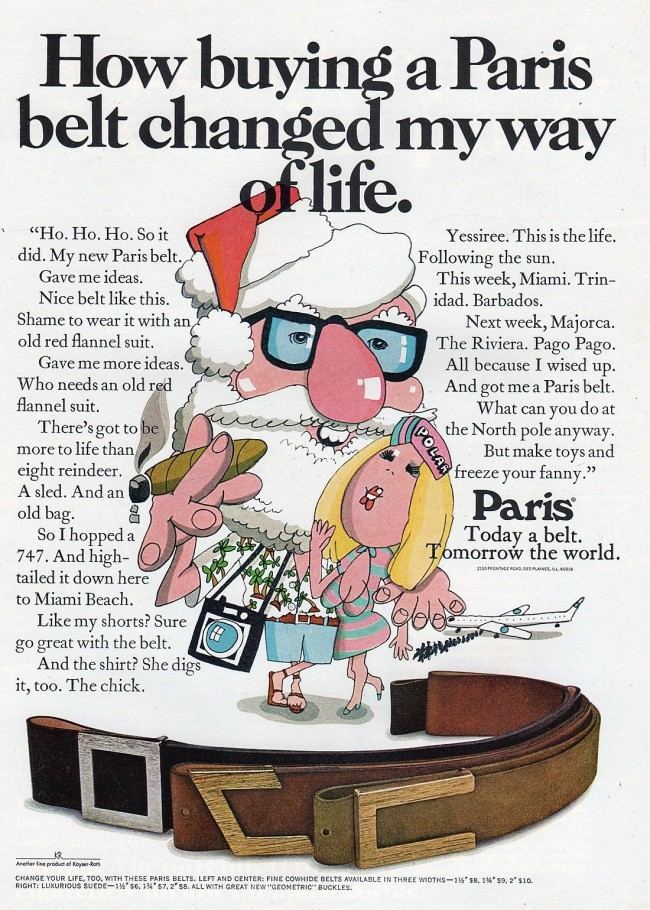 "And the shirt? She digs it, too. The chick."
Yeah, I see her. The chick that's not Mrs. Claus.
According to this ad, St. Nick had a mid-life crisis, left home and is shacking up with a well-endowed stewardess. When he says, "There's got to be more to life than …. an old bag", I wonder if that's a veiled reference to his poor dutiful wife.
That's a helluva way to sell belts.
6. Gordon's gin (1973)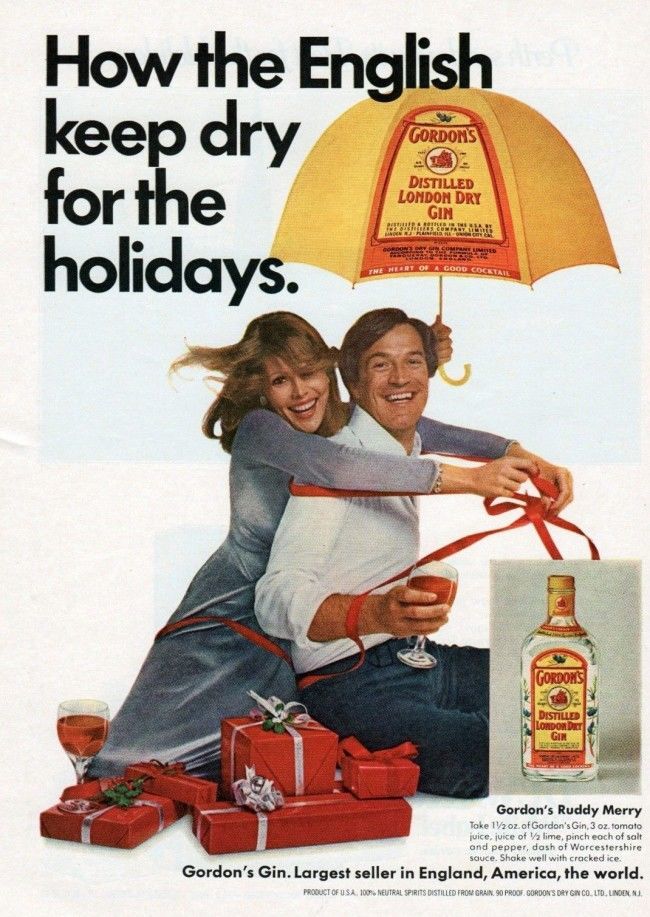 It would appear the British use umbrellas to keep dry. (Also, I have on good authority that, to keep warm, they use jackets.)
7. Usher's Green Stripe Scotch (1973)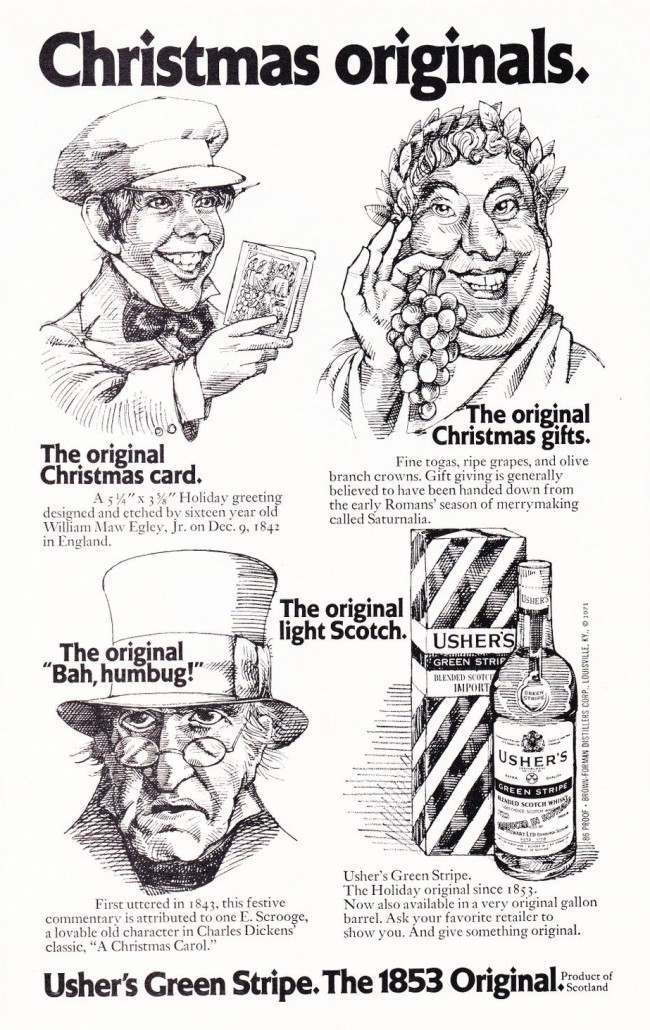 "The original Christmas gifts" is giving me the creeps. I don't want the kind of gifts this decadent Roman noble has to give. I'm sure his young boy slaves receive plenty.
8. Gem razors and blades (1946)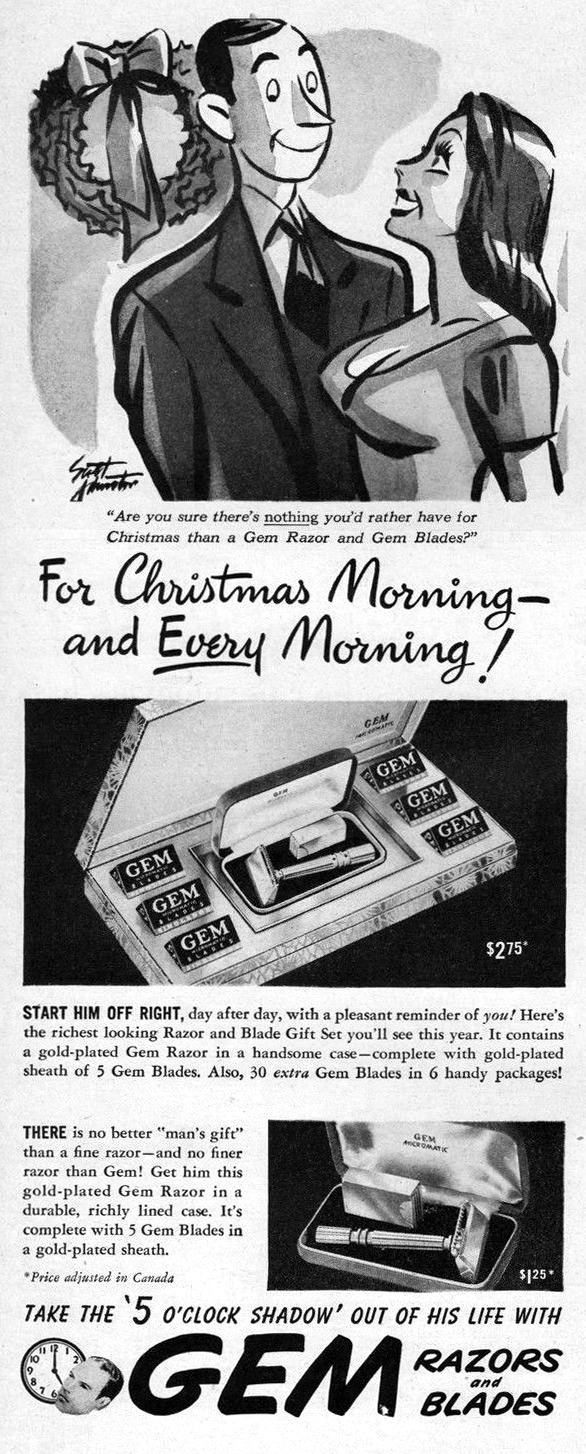 Pretty racy for an advertisement published in 1946. "Gem razors and blades: the only thing he'll want more this Christmas is sex…. and even then, it's iffy"
I'd say that's pretty compelling marketing.
9. Dove Skin Undies (1956)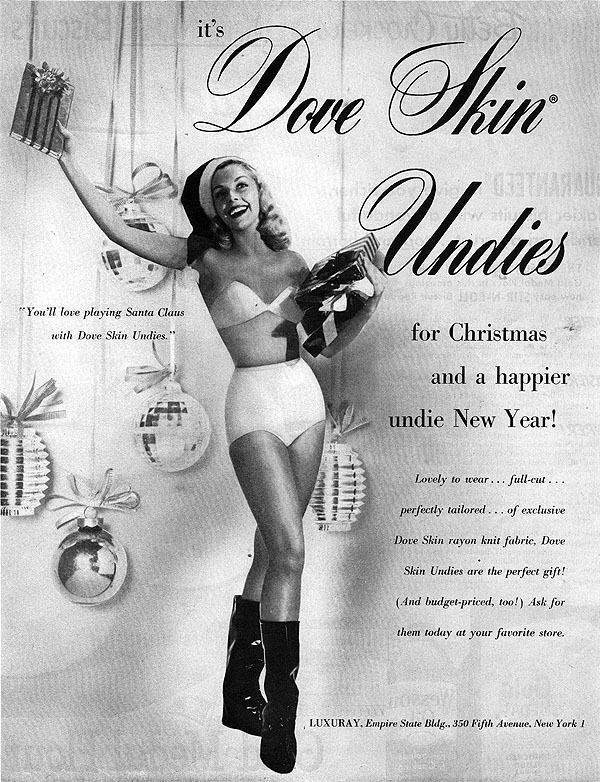 You'll love playing Santa Clause in your underwear… and others will love it too. It's a win-win. What a shame the holiday tradition of young women delivering presents in their bra and panties never caught on.
10. Colgate dental cream (1952)
There's almost too much to take in here.  Let's try and dissect the situation.
Dan leaves Big Sis.  He won't say why.  He just vanishes, leaving Big Sis a sniveling shell of her former self.
Big Sis' loneliness and inner anguish is so palpable it prompts Little Sis to go to Santa for help.
Santa tells the child it's all about her sister's nauseating dragon breath.  He says to get her to the dentist to quell the disgusting stench.
The dentist tells Big Sis that she's got ass breath, and may actually need to brush her teeth on occasion.   She does, and the shallowest boyfriend in history returns.
Happy Holidays.
THE END