David Bowie's 1967 letter to his first American fan
IN 1967, Sandra Dodd, a 14-year-old fan living in the USA wrote to David Bowie. Would Bowie be interested in endorsing her efforts to start a USA fanclub? The 20-year-old Bowie took the time to reply.
I hope one day to get to America. My manager tells me lots about it as he has been there many times with other acts he manages. I was watching an old film on TV the other night called "No Down Payment" a great film, but rather depressing if it is a true reflection of The American Way Of Life. However, shortly after that they showed a documentary about Robert Frost the American poet, filmed mainly at his home in Vermont, and that evened the score. I am sure that that is nearer the real America.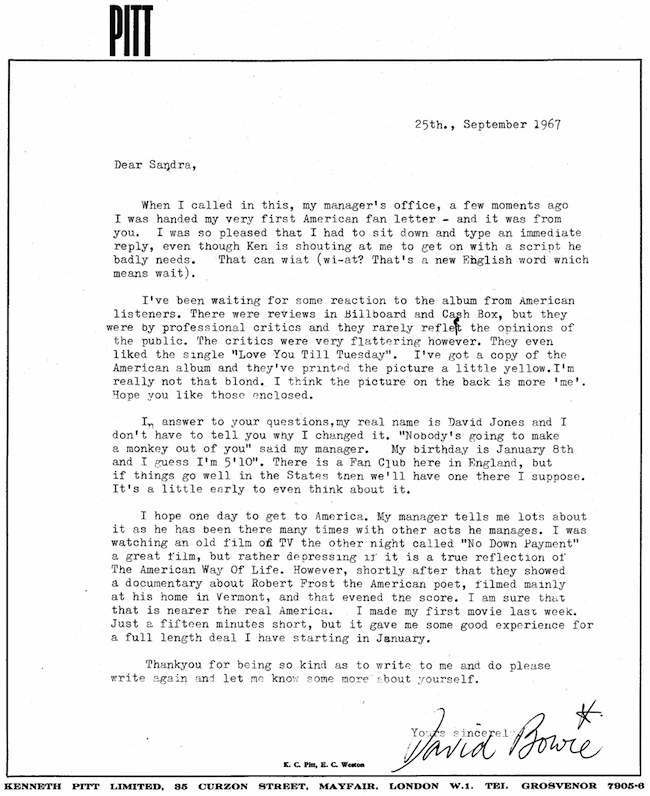 When David Bowie committed Rock 'N' Roll Suicide live
12 obscure David Bowie gems today's artists would kill for
<ahref="http://www.lettersofnote.com/2009/12/my-real-name-is-david-jones.html">Letters of Note