1970s Danish Catalog of Bad Fashion and Paralyzing Awkwardness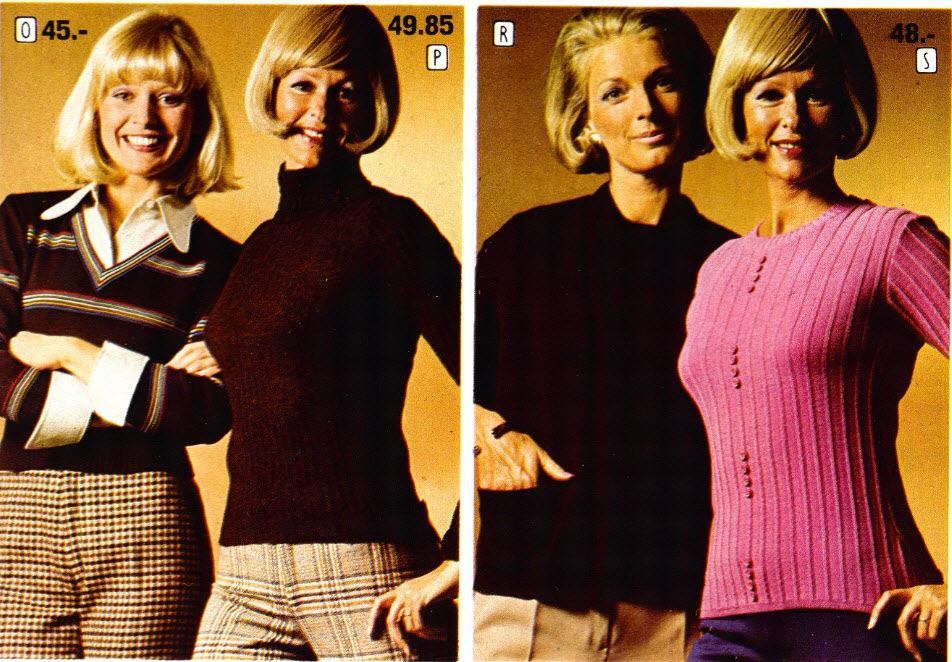 Do you enjoy looking at regrettable fashions modeled by hopelessly ill-at-ease Europeans?  If so, you've arrived at the right catalog.  This tome contains some of the funkiest attire the 1970s had to offer – all worn with that special Danish flair…. and by "flair" I mean "paralyzing awkwardness".  Enjoy.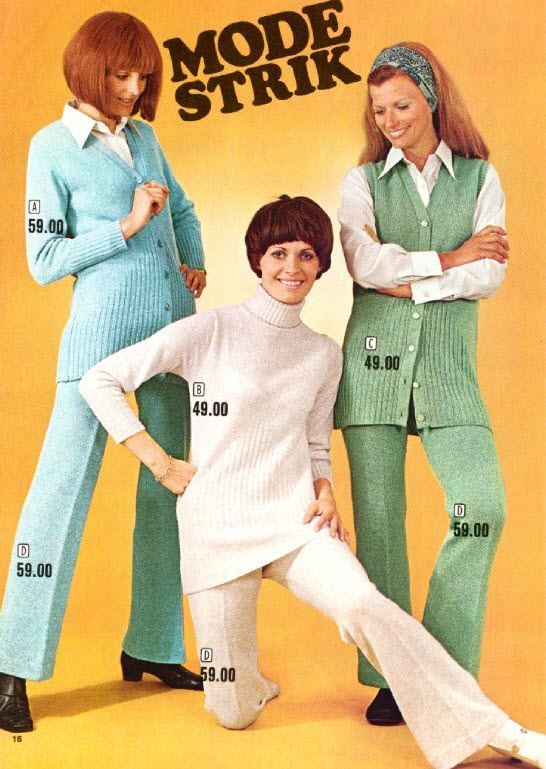 "Mode Strik" I assume roughly translates to "Ungainly Posture".  Her fellow models look on with unease.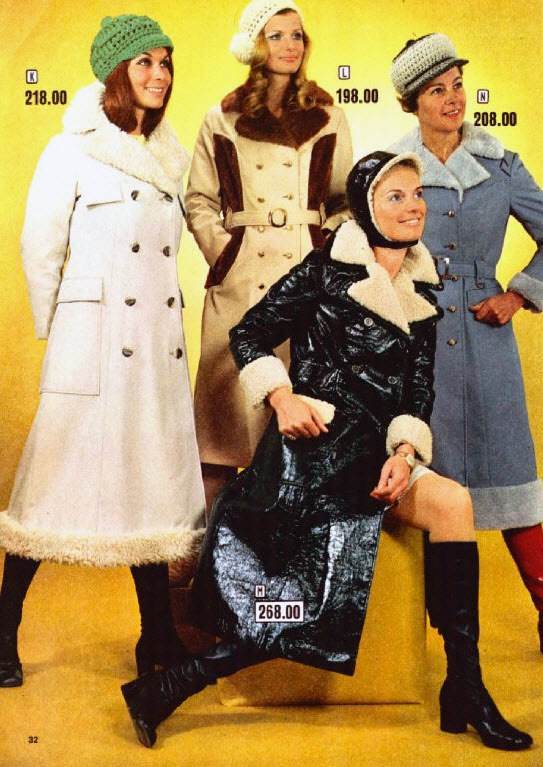 Head wear is definitely not a strong point in Danish fashion. However, I am impressed by their ability to stare so intently into the distance.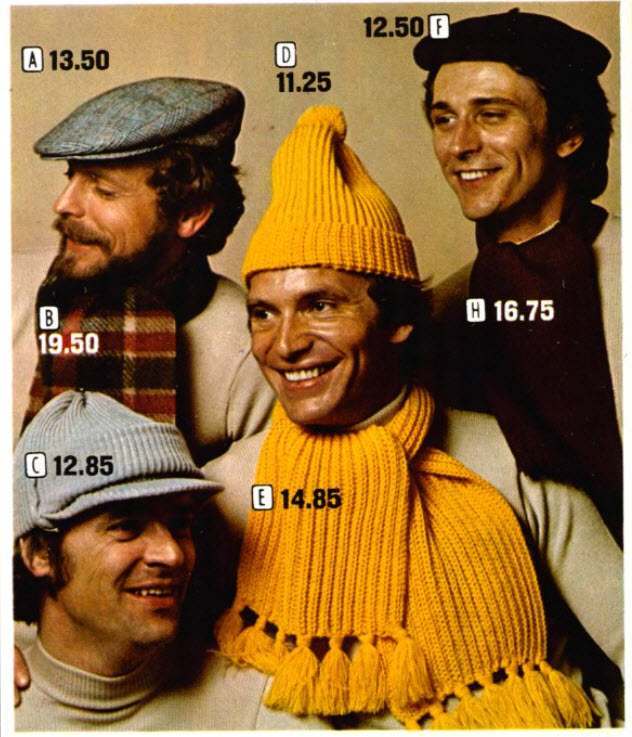 Again, I emphasize: hat fashion – a weakness among Danes.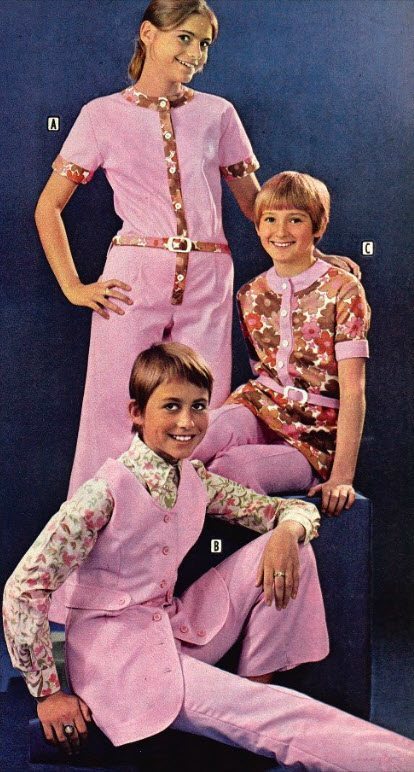 The trend to cut girls' hair short in the Seventies (thanks in no small part to Mia Farrow) was often ill-advised.  Of course, with fashion this bad, did it really matter?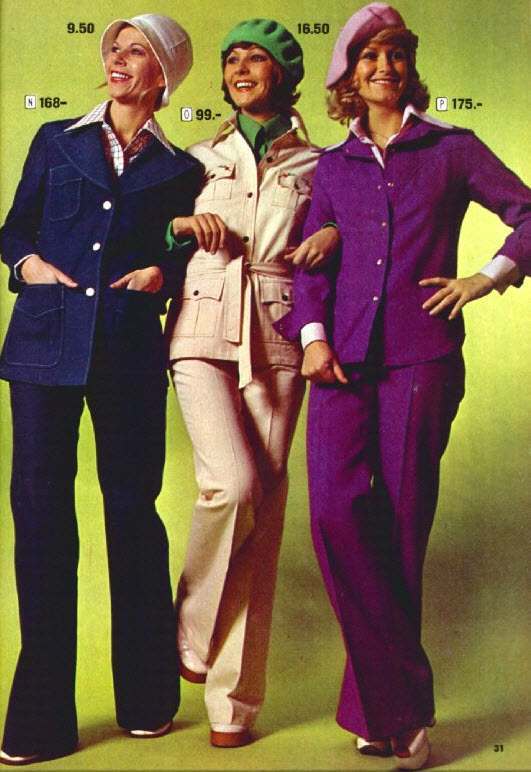 Leave it to the Danes to fire up the wieners even during the midst of a photo shoot.  Also, take note that the man on the left is clearly a secret agent.
Even in Denmark they were not immune to The Great Browning of the Seventies.  For some reason, mankind embraced brown during this decade so wholeheartedly that everything from appliances to drapes to cars to miniskirts found themselves thoroughly browned.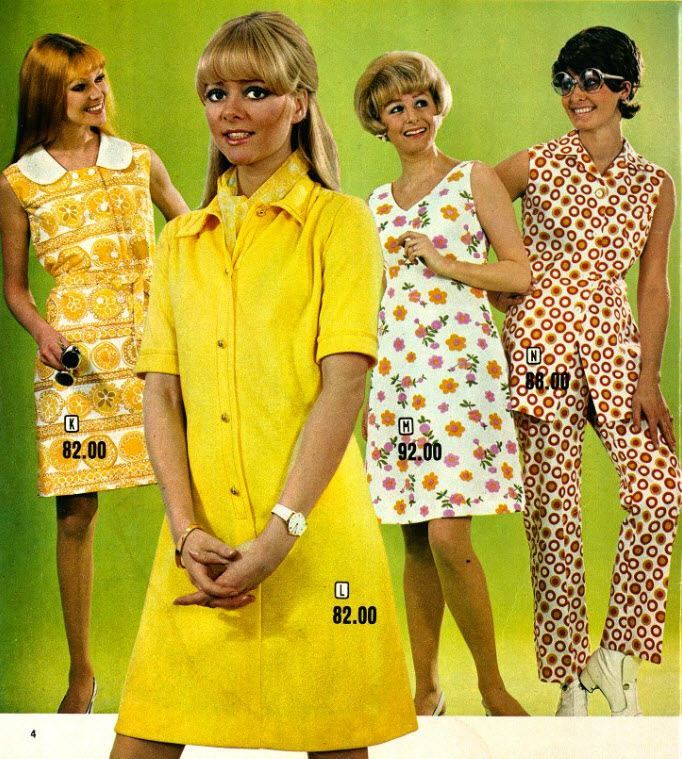 The girl in the foreground seems very uncomfortable – even slightly afraid. I think it's that crazy chick on the right. To be honest, she's making me feel a bit uneasy as well.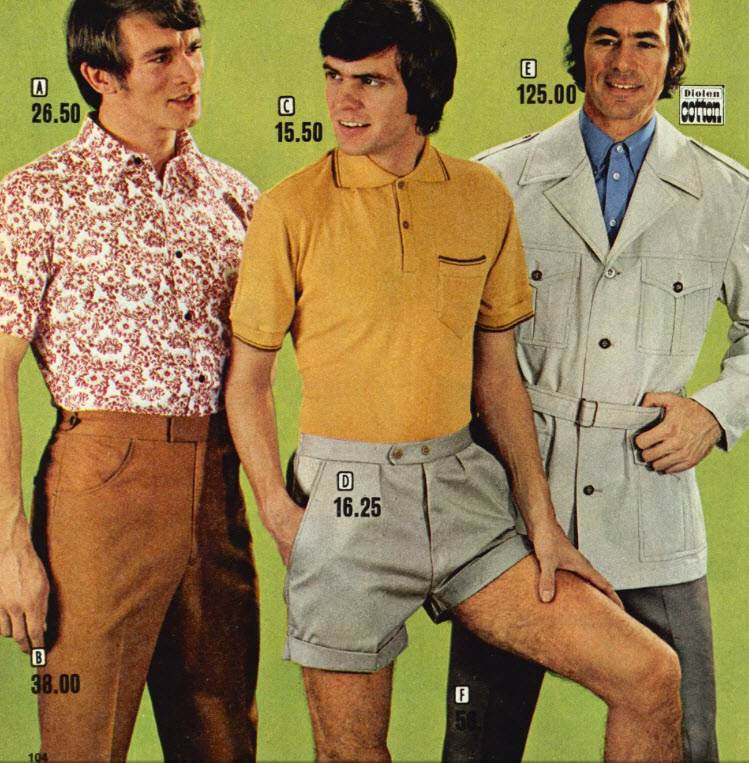 That is just way too much inner-thigh for a catalog. It's a shame that such wonderfully bad fashion is getting overlooked and overshadowed by this hairy thigh exposure.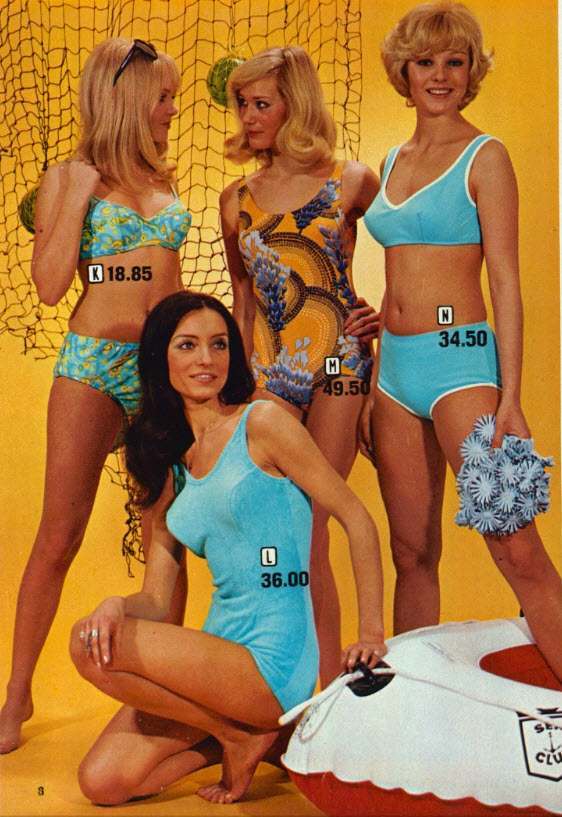 These Scandinavian women are busy setting right the many wrongs committed by that overly generous helping of hairy inner-thigh on the previous page. They are truly doing the Lord's work.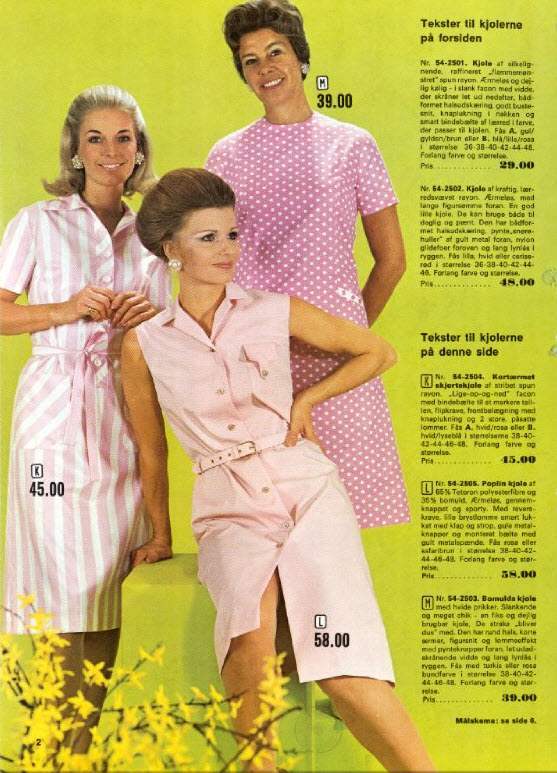 One of these three models might have a Y chromosome.  I'll leave it to you to guess which.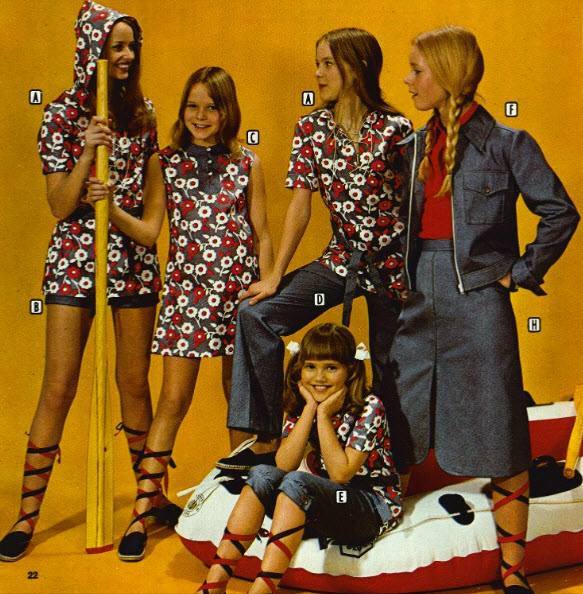 I'm on the fence about how I feel about these shoes with knee high ribbons. I can't decide if I hate them or sincerely despise them.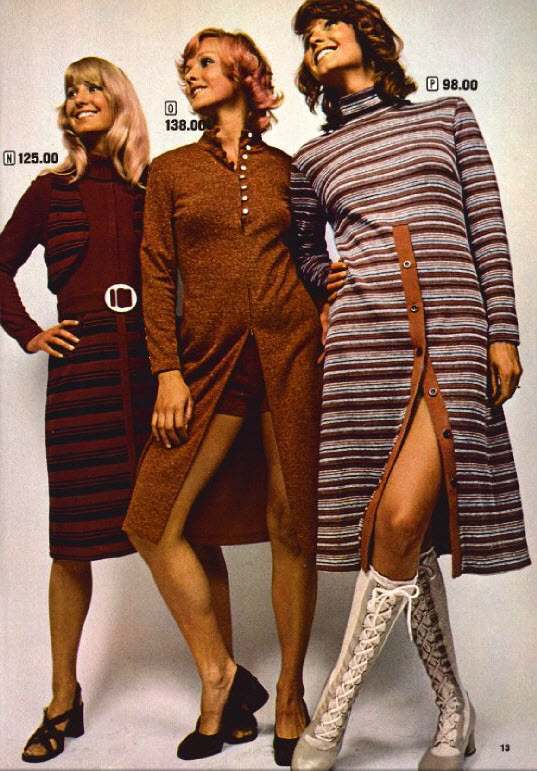 What's with the dress that opens right down the middle?  How was this ever a thing?   This is a prime example of why I love 1970s fashions – it was never bland.  Shockingly awful, perhaps; but never bland.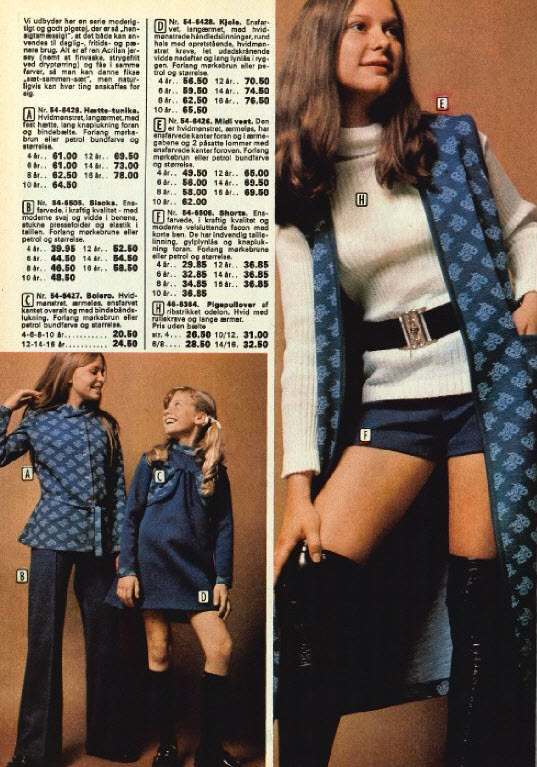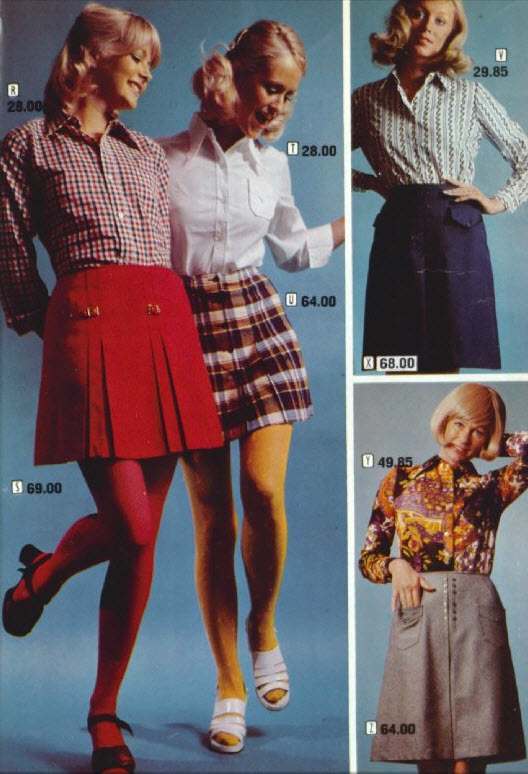 If you can peel your eyes away from the unsightly pose of the model at bottom-right, you'll notice yellow stockings with open-toed white sandals and a miniskirt…. a beauty to behold.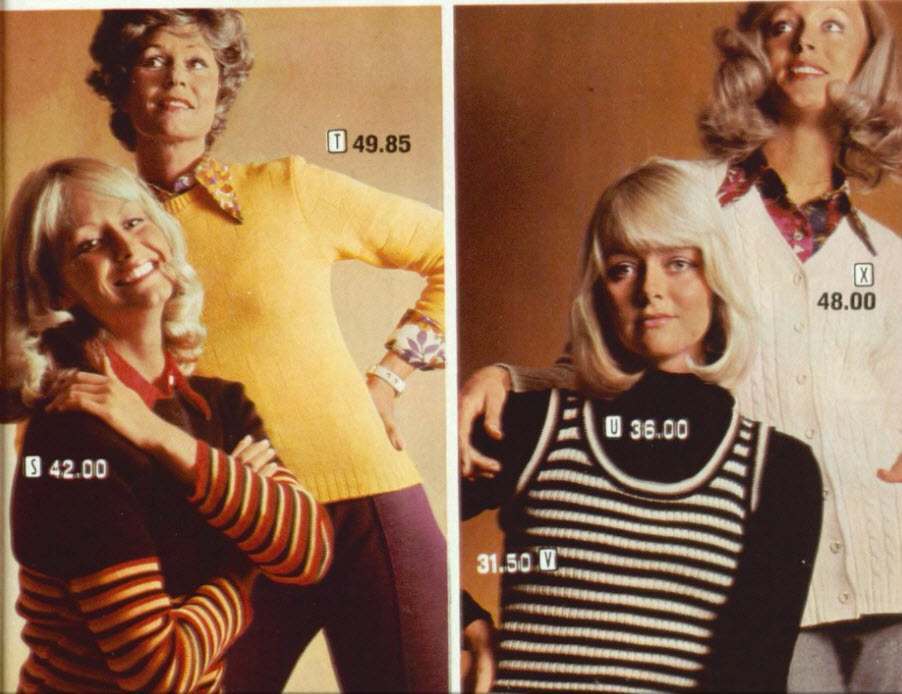 Once again, the Danes demonstrate an uncanny ability to stare intently into the distance.  The models in the back seem to be noticing some cataclysmic event occurring in the stratosphere; meanwhile, the model on the right eyes us with contempt.  It's as if she's staring into my very soul.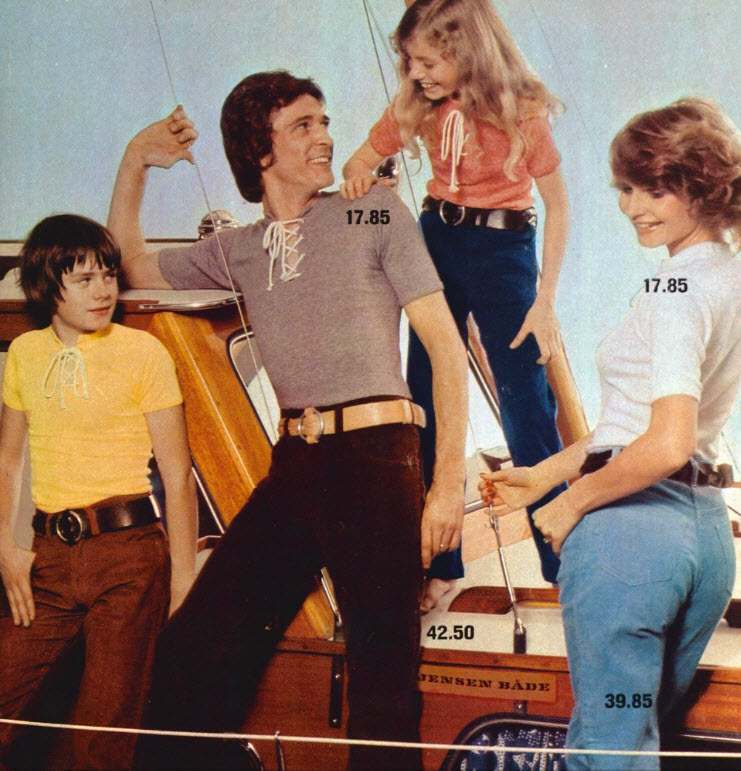 Their setting sail for a wonderful family holiday… except, for young Søren at left.  He has other plans. (Insert ominous sounding music)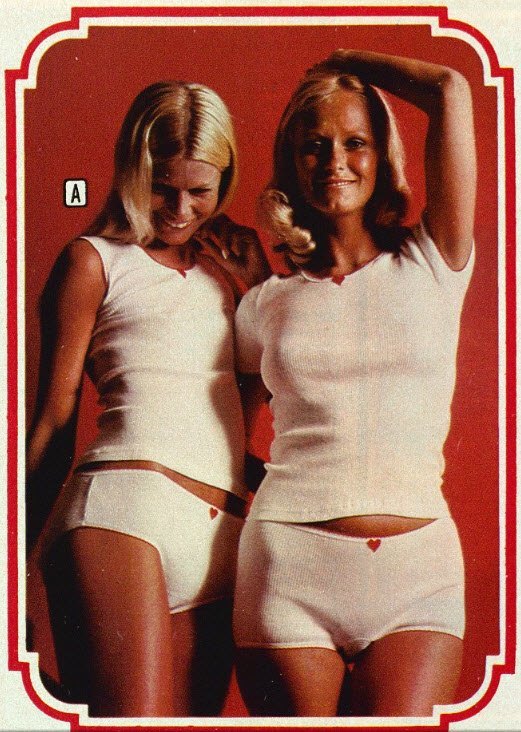 Scandinavian chicks make even granny panties look good.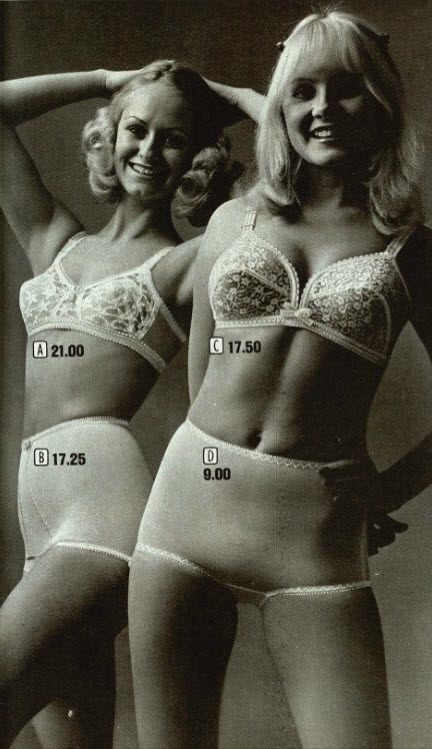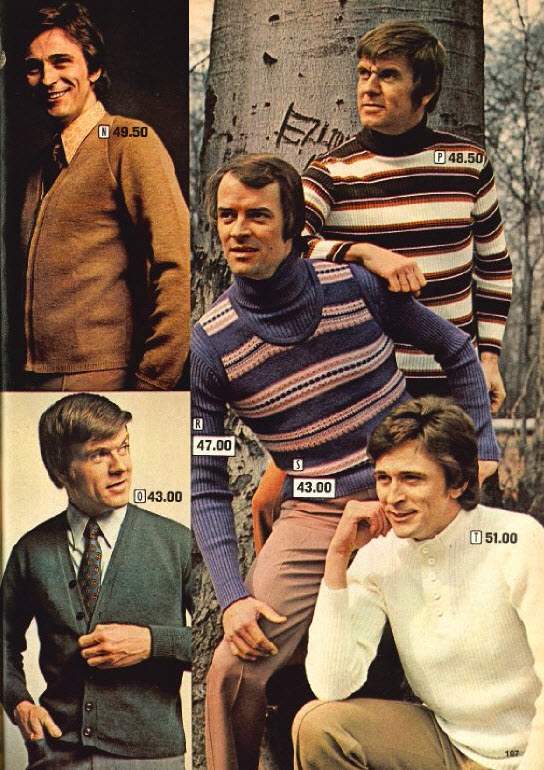 And while the chicks pull off the granny panties, the guy in the center struggles to pull off the turtleneck with sweater vest.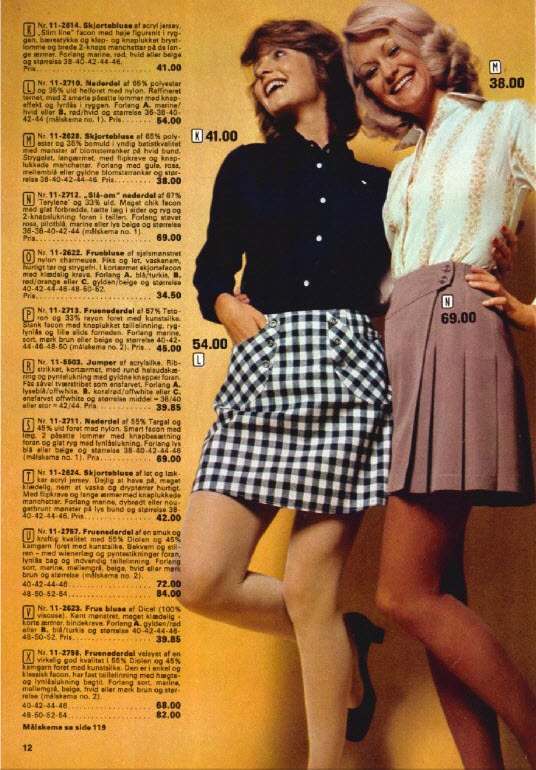 Danish girls in miniskirts.  Don't say I never did anything for you.  You owe me one.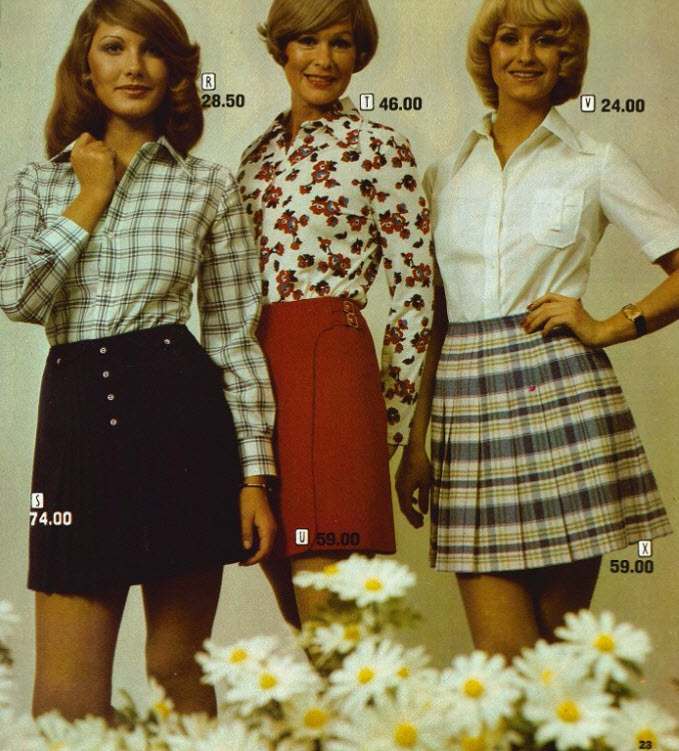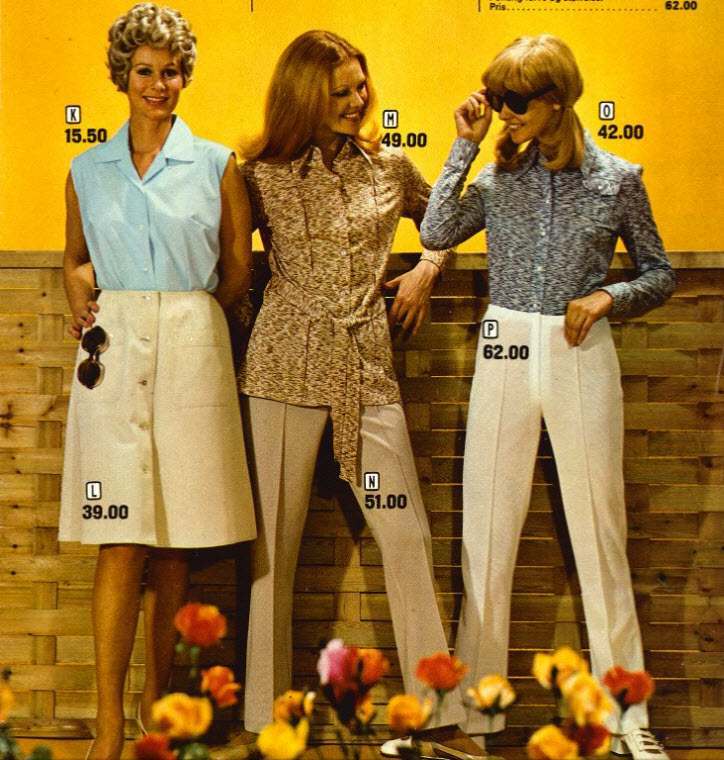 The very definition of Haute couture and the essence of luxury.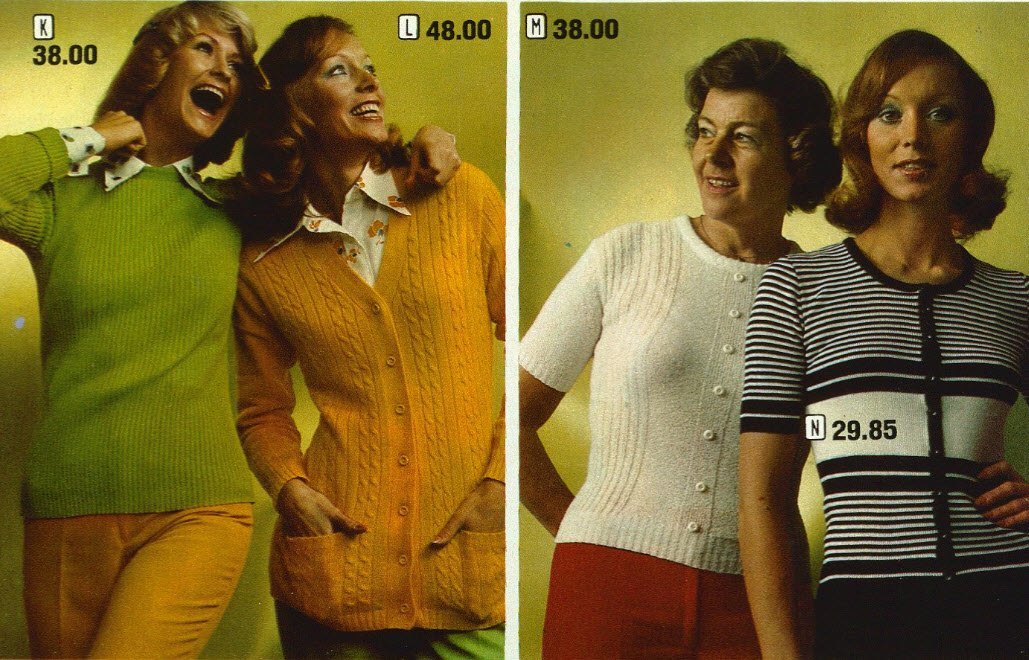 The two ladies on the right are clearly uncomfortable with what's going on to the left.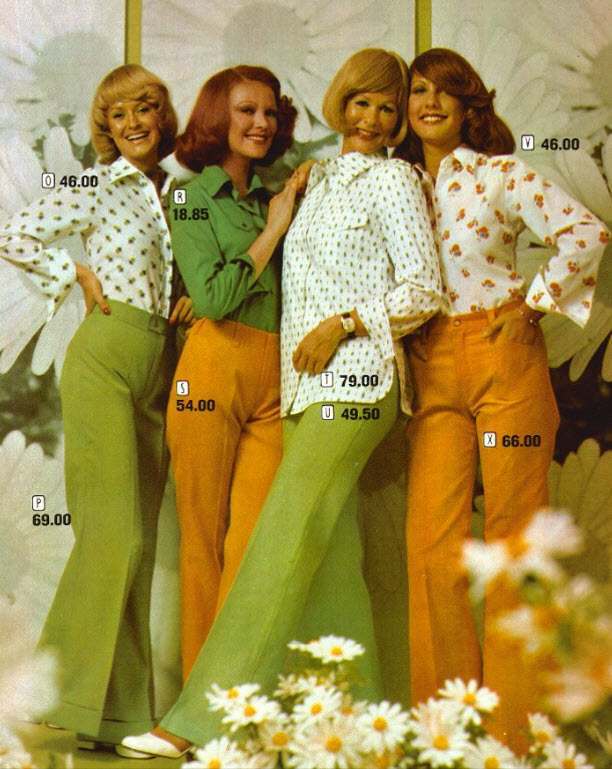 What can one say about the color palette of the Seventies?  Perhaps the less said the better.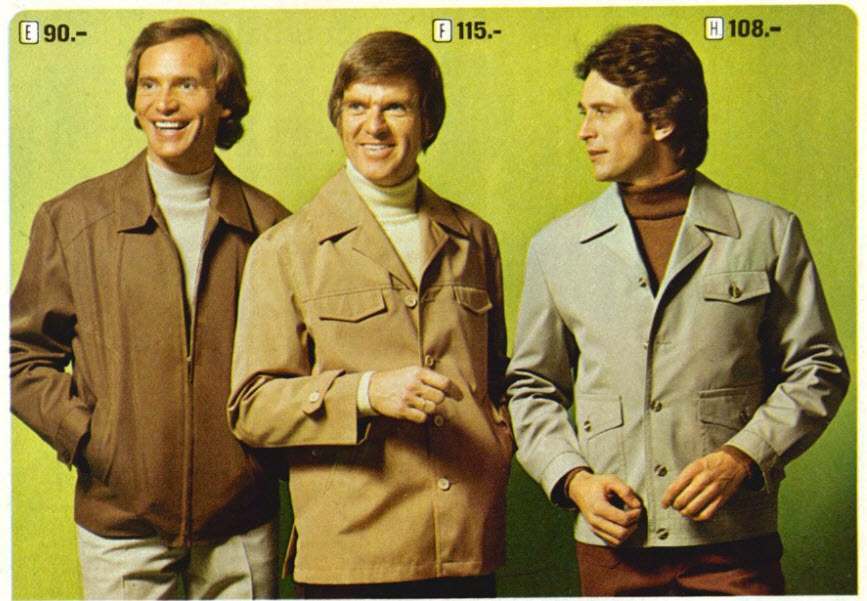 The two jokers on the left are busy ogling a pretty female, while the stud on the right says, "Quit being such a f***ing idiot."   I wasn't there, but I'm sure that's what happened.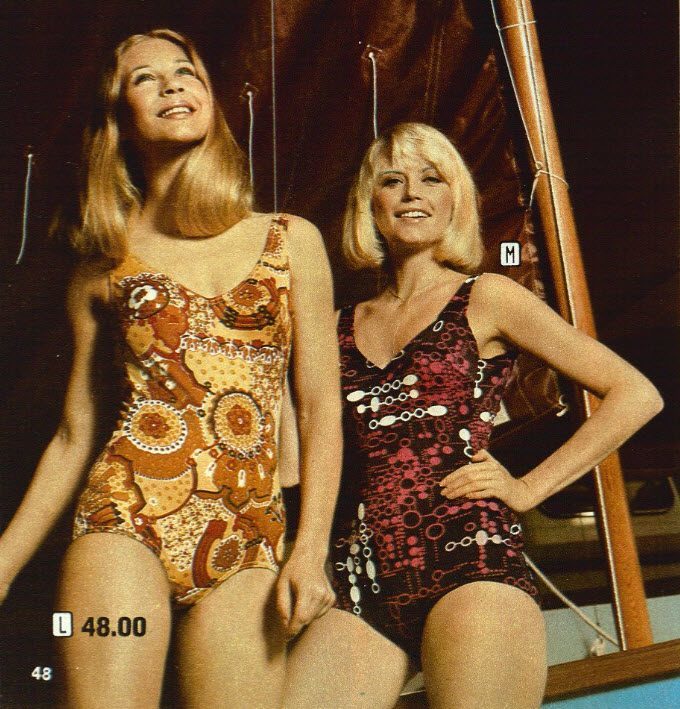 Flashbak: Your go-to source for Viking ladies in swimwear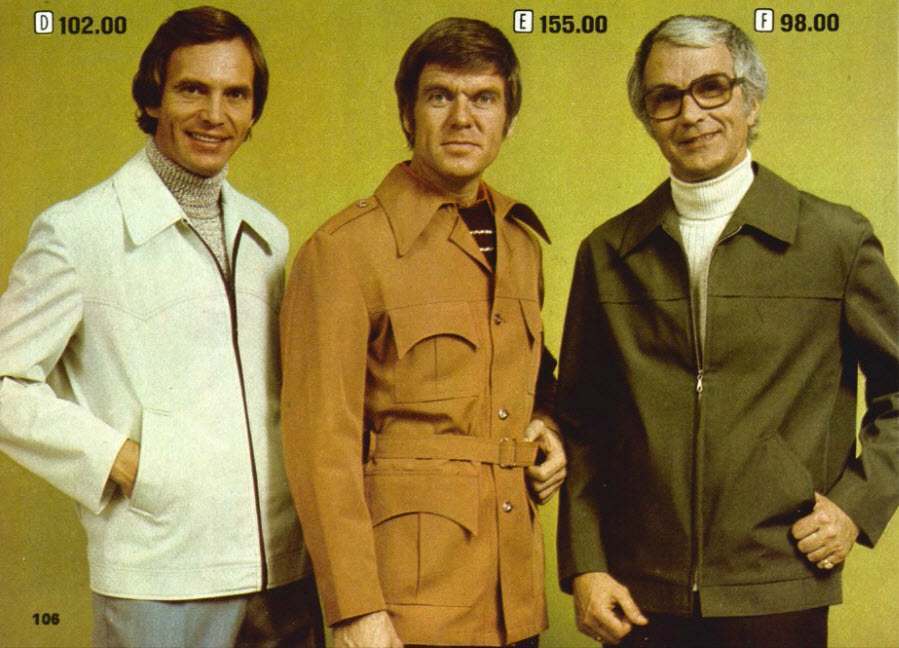 The man on the right looks like a Gerry Anderson marionette.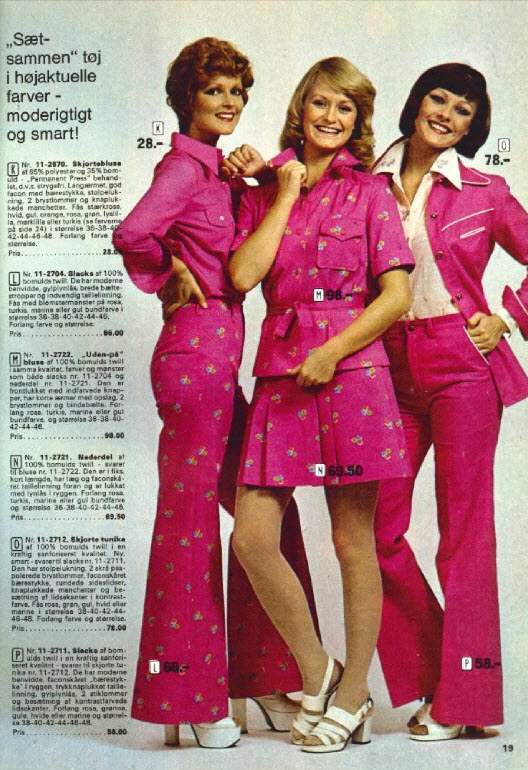 The Danish Charlie's Angles – Jørgen's Engles.  Not as interesting as the American version as there's not much crime in Denmark, so the girls just eat liverpaste and go shopping.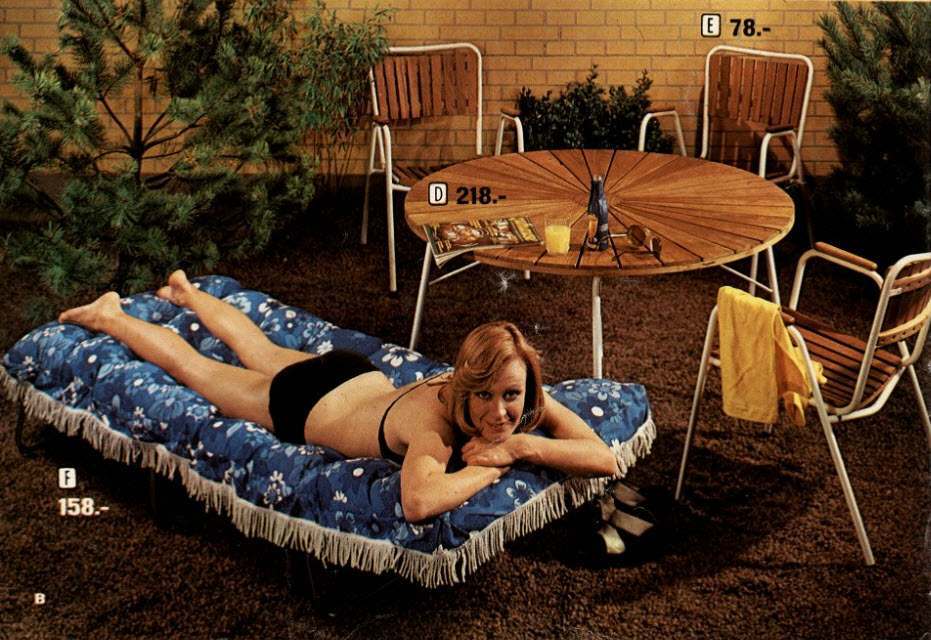 And so ends our tour of this glorious 1970s catalog from Denmark.  Much awkwardness was found, and much bad fashion was seen.  Yet, I enjoyed every page and I hope you did as well.
Farvel!
Og Mit luftpudefartøj er fyldt med ål