WoodSwimmer is a look at wood. It's a film made by the creators painstakingly cutting through bits of wood and filming the cross-sections. It sounds scholarly and dull. But add music, speed it up and the whole thing is brilliant.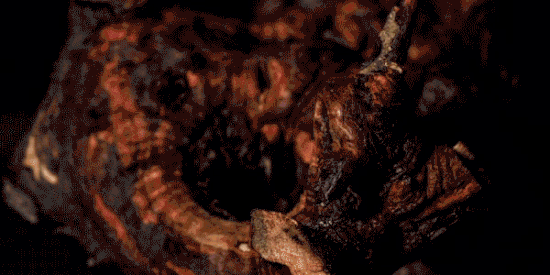 We like trees. In human world of artifice and self-aggrandisement, trees offer constancy and reserve. Trees are the world's oldest living organisms. They've seen it all and have ancient stories to tell. "When we have learned how to listen to trees," wrote Hermann Hess in Bäume: Betrachtungen und Gedichte "then the brevity and the quickness and the childlike hastiness of our thoughts achieve an incomparable joy."
What do we feel when we see a tree? Hess replies:
Nothing is holier, nothing is more exemplary than a beautiful, strong tree. When a tree is cut down and reveals its naked death-wound to the sun, one can read its whole history in the luminous, inscribed disk of its trunk: in the rings of its years, its scars, all the struggle, all the suffering, all the sickness, all the happiness and prosperity stand truly written, the narrow years and the luxurious years, the attacks withstood, the storms endured. And every young farmboy knows that the hardest and noblest wood has the narrowest rings, that high on the mountains and in continuing danger the most indestructible, the strongest, the ideal trees grow.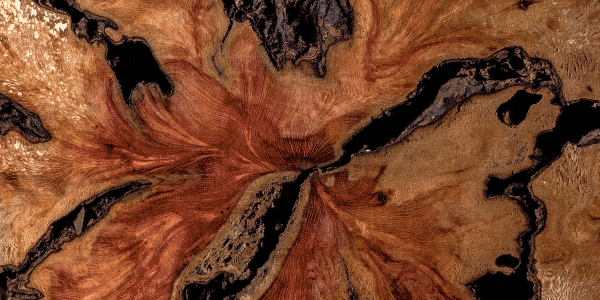 Rachel Sussman sees stories:
All of these organisms are living palimpsests: they contain myriad layers of their own histories within themselves, along with records of natural and human events; new chapters written over the old, year after year, millennium after millennium. When we look at them in the frame of deep time, a bigger picture emerges, and we start to see how all of the individuals have stories, and that all of those stories are in turn interconnected — and in turn, inextricably connected to us all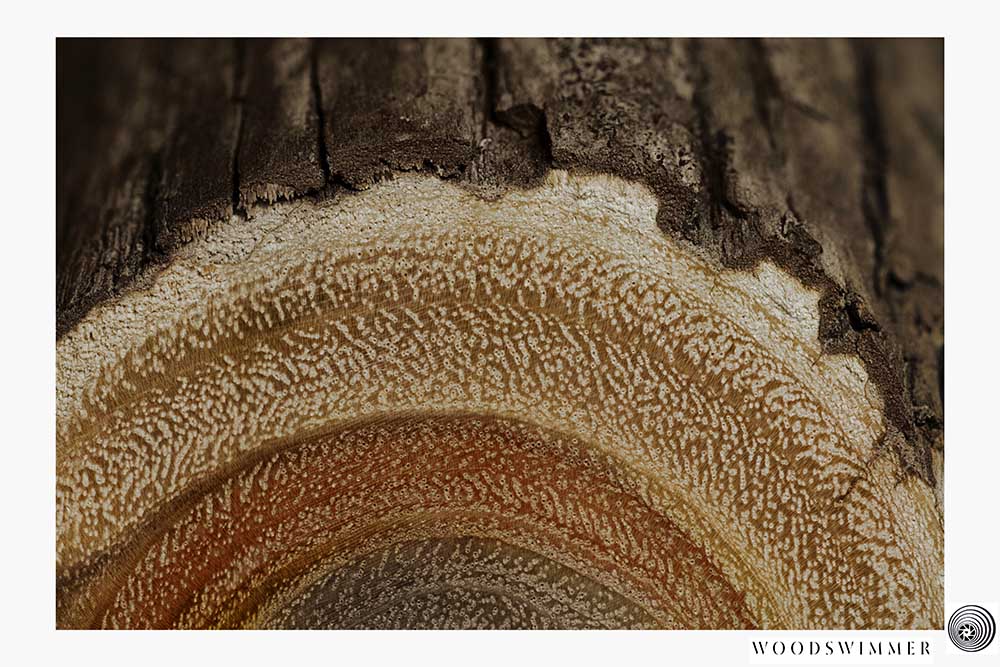 Which brings us to WoodSwimmer, a short film by engineer and stop-motion animator Brett Foxwell. We see pieces of raw wood passing through a milling machine. In cross-section we see the tree's rings, knots and spots. The speed of animation gives the tree a new lease of life as if appears to transform into a slinky liquid, a kind of kinetic sand seeking somewhere to settle. "The sequences are cross-sectional photographic scans of pieces of hardwood, burls and branches," notes Foxwell. "It is a straightforward technique but one which is brutally tedious to complete."
Foxwell told Colossal:
"Fascinated with the shapes and textures found in both newly-cut and long-dead pieces of wood, I envisioned a world composed entirely of these forms. As I began to engage with the material, I conceived a method using a milling machine and an animation camera setup to scan through a wood sample photographically and capture its entire structure. Although a difficult and tedious technique to refine, it yielded gorgeous imagery at once abstract and very real. Between the twisting growth rings, swirling rays, knot holes, termites and rot, I found there is a lot going on inside of wood."
The video is mesmeric.
Via Colossal