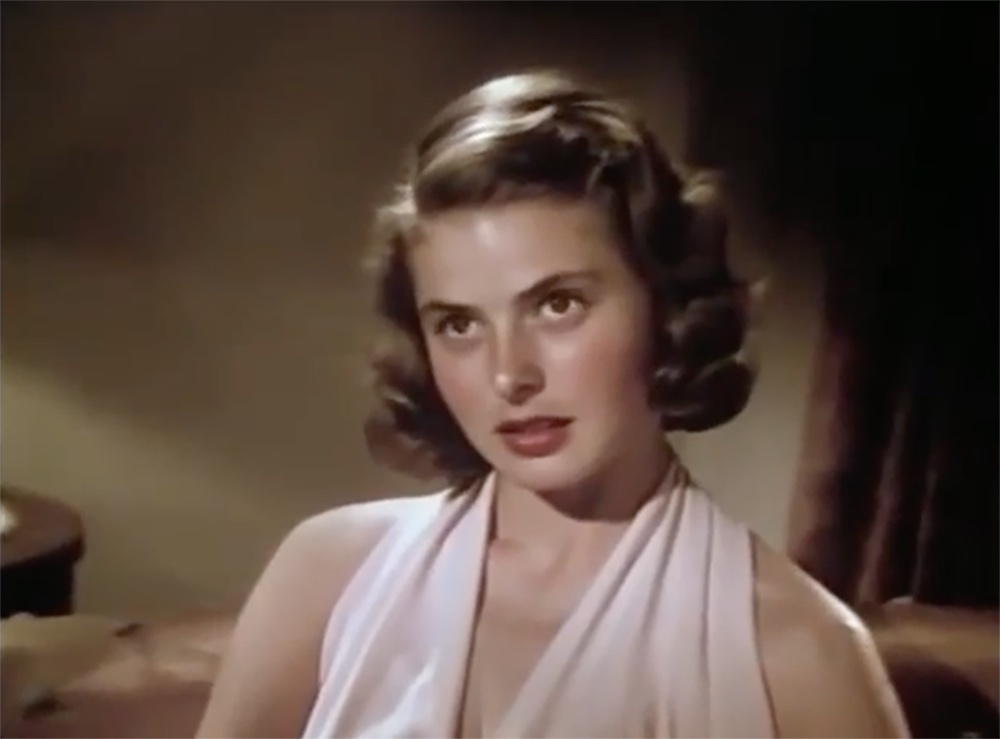 Watching a movie is a lot better than making one. And our clear advantage over the Swedish actress Ingrid Bergman (29 August 1915 – 29 August 1982) is that we get to watch her. So sit back and get ready t0o watch Bergman's first Hollywood screen test, in which she is simply sublime.
Housed at the David O. Selznick collection, the silent images of Bergman in glorious Technicolor cast a serene presence. The slate tells us this is Bergman with "No Makeup". She is "looking up, looking down, turning her head this way and that".
And the make-up was an issue. On their first meeting Selznick's wife, Irene, asked Bergman, "You mean you have nothing on your face?" When Selznik told Bergman that her eyebrows and teeth needed help, she told him: "I think you've made a big mistake. You shouldn't have bought the pig in the sack. I thought you saw me in the movie Intermezzo and liked me, and sent Kay Brown across Sweden to get me. Now you've seen me, you want to change everything. So I'd rather not do the movie… I'll take the next train and go back home."
Selznick listened.  "I've got an idea that's so simple and yet no one in Hollywood has ever tried it before," he said. "Nothing about you is going to be touched. Nothing altered.. You are going to be the first 'natural' actress."
Bergman's first Hollywood screen test is held in the Ransom Center's David O. Selznick collection. It was Selznick  (1902–1965), a producer of films such as A Star Is Born (1937), Gone with the Wind (1939), and Since You Went Away (1944), who brought the actress to Hollywood.
In addition to the screen test, the collection includes his memos discussing the importance of close-ups of Bergman in the movie Intermezzo (originally produced in 1936 and directed by Bergman's mentor Gustaf Molander) as well as the financial returns that a good close-up can bring.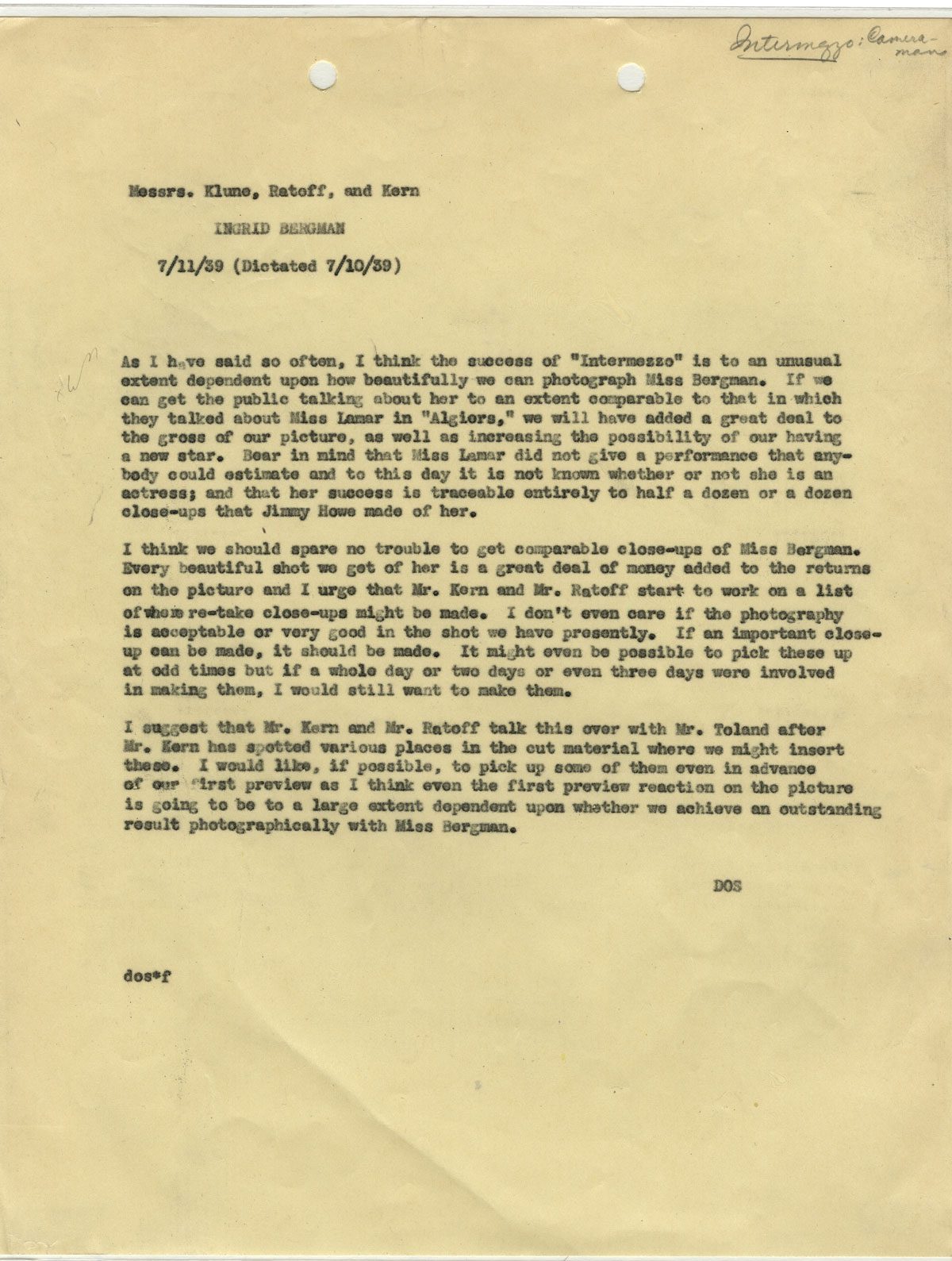 In a July 11, 1939, memo, Selznick wrote:
"As I have said so often, I think the success of 'Intermezzo' is to an unusual extent dependent upon how beautifully we can photograph Miss Bergman. Every beautiful shot of her is a great deal of money added to the returns on the picture and I urge Mr. Kern and Mr. Ratoff [to] start to work on a list of where re-take close-ups might be made."
In a memo from June 22, 1939, Selznick told cameraman Gregg Toland and director Gregory Ratoff how he wanted them to photograph Bergman, "avoiding the bad side of her face; keeping her head down as much as possible; giving her the proper hairdress; giving her the proper mouth make-up; avoiding long shots so as not to make her look too big; … avoiding low camera on her; … but most importantly of all, in shading her face and invariably going for effect lighting on her."