The yearly spectacle of the Macy's Thanksgiving Day Parade may not thrill the way it once did, when enormous floating helium balloons in the shape of cartoon characters were a novelty. Given how inured we are to their presence each year, grown-ups might forget how much they still thrill those who've never seen such things before—young children. Back in 1927, however, that group included adults, too, introduced to the enormous comic dirigibles for the first time thanks to artist and puppeteer Tony Sarg (April 21, 1880–March 7, 1942), who was "enlisted to think of a way to entertain rather than terrify the crowds," writes Allison Meier at Hyperallergic.
The parade debuted in 1924 as a Christmas marketing event, and Sarg was then tasked with installing animated Macy's window displays, using marionette shadow boxes, that revelers would see as they passed by. The "debut celebration" also "featured elephants, tigers, and other animals on loan from the Central Park Zoo." Sarg decided on balloons, imagining "inflated wonders that would be highly visible and buoyantly magical." He called them "upside-down marionettes," since their strings were below them, though they did not float until filled with helium the following year. The first iterations were filled with oxygen and held aloft with appliances manipulated by the puppeteers below.
"Working with fellow puppeteer Bil Baird," notes Atlas Obscura, Sarg built "a 60-foot balloon dragon, tottering Felix the Cat, hummingbird, and other buoyant wonders" that "made their way down the Manhattan streets." The crowds, seeing such comic monstrosities for the first time, "went wild." For the first years of the parade, the balloons were allowed to ascend far higher than they do today, and at the parade's end, they were let go to float off into the stratosphere. (That is, until 1932, when a balloon wrapped around a biplane's wing and nearly brought it crashing to the ground.)
Ten years after Sarg debuted his inventions in New York, he achieved notoriety again in Nantucket, in a story that captured national attention when local residents spotted a huge sea serpent off the coast. The monster "looked like a combination snake and whale," said local fisherman Gilbert Manter, "with a head much better than the neck." Multiple confirmed sightings brought residents flocking to the shore, carrying cameras to document the extraordinary creature. A local scientific society speculated it might be a previously unknown species, scoliophis atlanticus (Atlantic humped snake).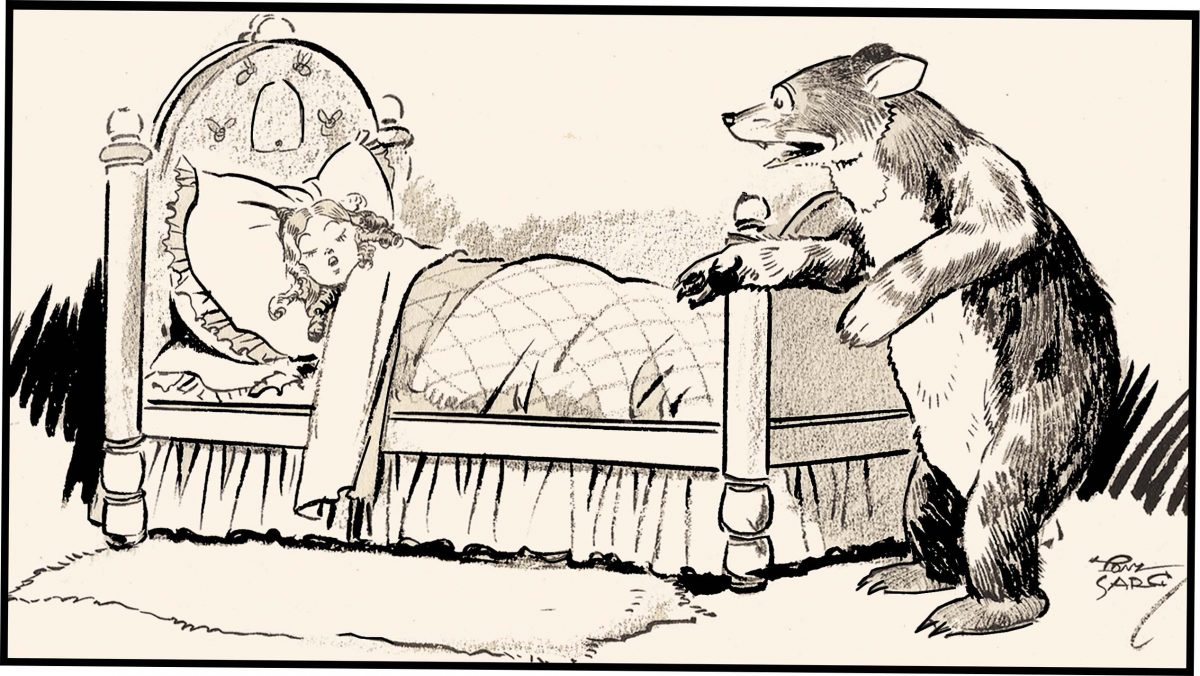 It turned out, when the thing finally washed ashore, to be a 120-foot balloon, one of the creatures Sarg launched into the air at the parade, set out to sea by its creator as a publicity stunt for his Nantucket store, Tony Sarg's Curiosity Shop. Sarg entertained both children and adults outside of his work as a helium balloon puppeteer with all sorts of artistry, including accomplished cartoons, illustrations, and children's books. As an illustrator, the German American artist deserves ample recognition for his work, but he will always be known foremost as the inventor of giant helium balloon animals.
Born in Guatemala, Sarg first became interested in puppeteering during his childhood in England, where he followed a marionette troupe around London. Later, in New York, he established his own studio and developed a travelling marionette show, but it wasn't until his balloon creations for the Macy's parade – which he oversaw until his death in 1942 – and their subsequent appearances at the Chicago World Fair in 1933, that he earned the title from the Puppeteers of America of "Master Puppeteer."