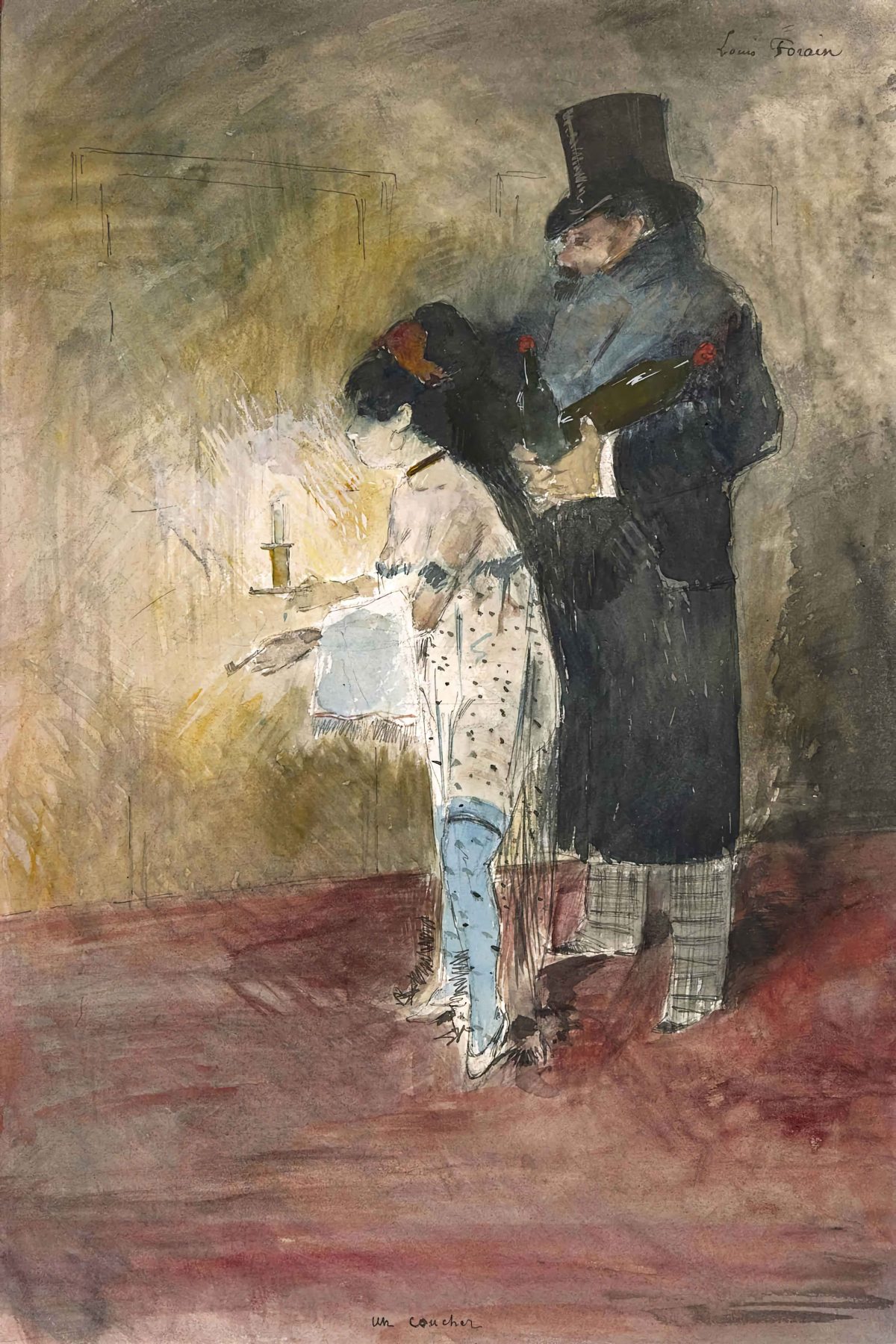 "I belong to no school. I work on my own. I admire Degas and Forain." – Henri de Toulouse-Lautrec 
Jean-Louis Forain, who in his lifetime would become a close friend of Edgar Degas, Édouard Manet, and Henri de Toulouse-Lautrec, Rimbaud, Verlaine and Huysmans, is acclaimed for not just his paintings but his drawings, prints, and witty satirical cartoons. He was born in the Autumn of 1952  at 63, rue des Moulins in Reims, about 100km east of Paris and his father was a humble house-painter.
The family moved to Paris when Forain was 8 and within a few years he started copying paintings of the Old Masters in the Louvre eventually studying with the history painter Jacquesson de la Chevreuse. Foranin continued his art studies at the Ecole des Beaux-Arts where he studied under Jean-Baptiste Carpeaux, a painter and sculptor who named Napoleon III as one of his clients. Forain initially worked, making a pittance working as a caricaturist for several Paris journals including Le Monde Parisien and Le rire satirique.
Forain was witty, sometimes bitingly so and he was welcomed into a circle that included the poets Arthur Rimbaud and Paul Verlaine as well as many writers, most notably Joris-Karl Huysmans. Forain, apparently and according to wikipedia, was one of only "seven known recipients" to receive a first edition of A Season in Hell directly from Rimbaud.
Forain left the history painting behind as he became influenced by Manet and Degas and like many artists at that time he found fertile ground in Japanese woodcuts for ideas and imagery. Still a young man he was denied entry into the 1874 Academy although he was soon invited by Degas to take part in successive Impressionist Salons.
Forain however found his greatest contemporary success with newspaper and magazine work publishing cartoons and lithographs portraying Parisian life in popular and prestigious publications like Le Figaro (where he published for over thirty years) and Le Journal Amusant. During the First World War Forain produced more than 200 cartoons from the Western Front. His coverage of major conflicts in the war and the daily life in the trenches made him famous throughout France. When Pathé filmed him at work in 1923 they describe him as a cartoonist.
Forain ended up being one of France's most famous and esteemed artists during his life time. Today, he is probably most remembered and valued for his many drawings and paintings which recorded Parisian city life at the end of the 19th century.