The design aesthetic of the 80s owed much to dystopian 70s sci-fi films—from George Lucas's groundbreaking THX 1138 to the stylish Logan's Run and beyond. Machines of the future promised to be sleek, streamlined, and loaded with computerized conveniences. Firmly at the center of such design trends sat the car, the ultimate symbol of freedom and individual agency. Innovative car designs allowed average consumers to imagine themselves as tech-savvy futurists.
"The modern car," as sci-fi writer and futurist J.G. Ballard wrote in 1971, "still remains a machine whose identity we can grasp…. The car is probably the last machine whose basic technology and function we can all understand. Beyond it lie technologies which are either too complex for us, like that of the computer, or those in which we play a wholly passive part, such as aviation."
As the decade ended and the 80s dawned, car designers carried over the angular, boxy lines from 70s robots and spaceships into cars that looked like they might hover or fly rather than roll on four wheels. Although it never made it into production, the Citroën Karin, created for the 1980 Paris Motor Show by the company's design chief Trevor Fiore, would have fit right in on the set of Blade Runner.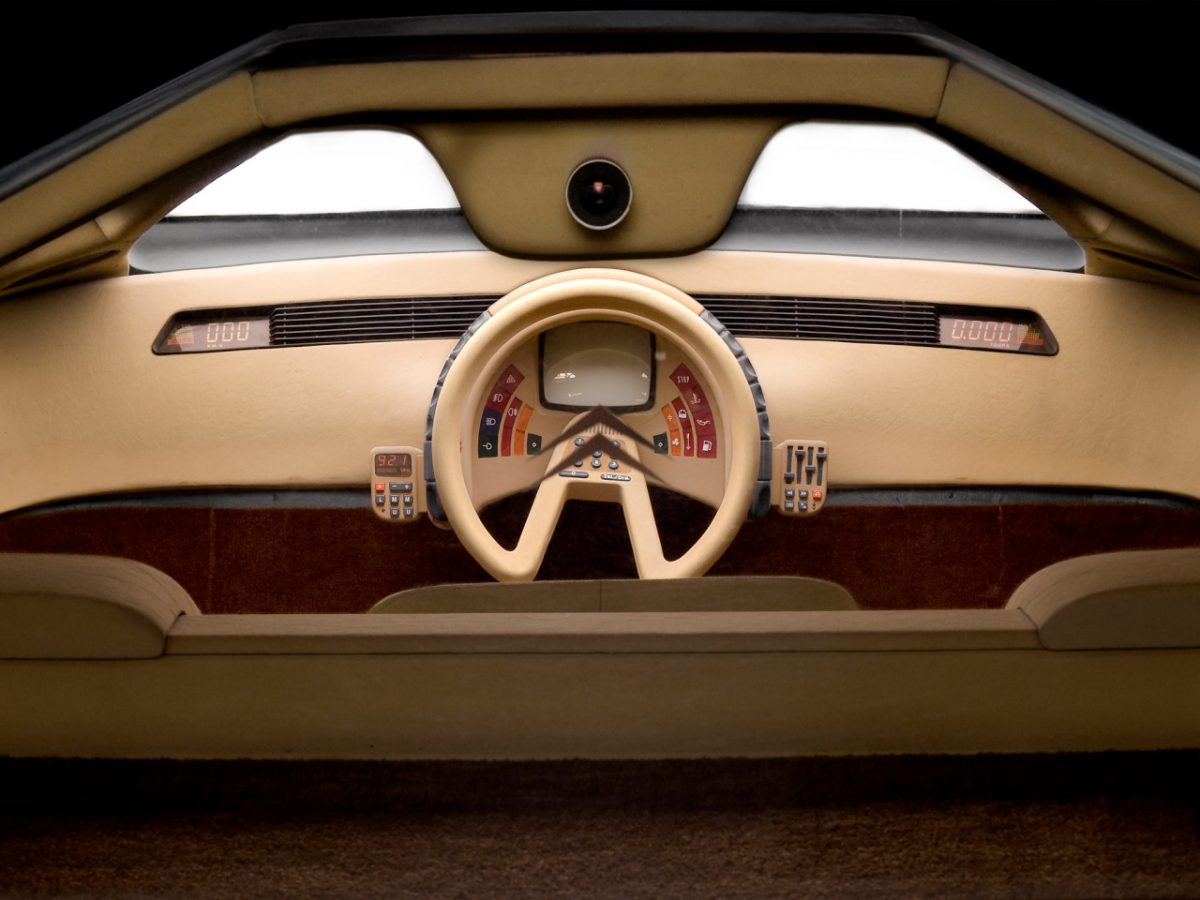 Freed from any concerns about market demands, Fiore had license to reimagine the car as sci-fi masterpiece, with the driver at the center flanked by two slightly recessed seats on either side. "the highly functional fascia has every control at the driver's fingertips," writes Flavien Dachet. "It includes an inboard computer with a screen displaying information about the car and the road. Small pop-up computers were also integrated into the door panels, ahead of the grab handle. Finally additional controls were mounted on each side of the pod so that the driver can adjust audio settings when listening to their Giorgio Moroder cassette."
With its butterfly doors and roof the size of a sheet of ledger paper, the weird exterior design reflects the futurism of the times, but its control layout looks forward to the infotainment systems of 21st century models. The only one of its kind, the Karin was only invented because Citroën had no new models to reveal at the time, and the concept model was not actually drivable. But, like later concepts such as the Volkswagen Project Orbit, it promised to bring the imaginative vehicle designs of futuristic science fiction in the real world.
via Motor1