ALAN Pardew's 'head pushing' antics raised heckles in some quarters and smiles in others.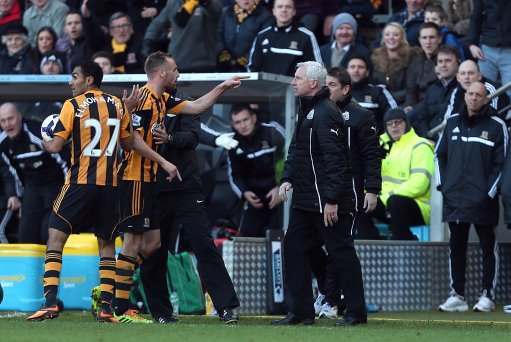 Whether it deserves to butt into our arbitrary Ten Great Football Headbutts list is for you to decide. Judge for yourselves, dear readers…
1994: Duncan Ferguson on John McStay
Rangers' 4-0 victory over Raith Rovers was overshadowed by Big Dunc's sticking the heid on McStay. The referee didn't see it, but the police did, and he was eventually convicted of assault.
2012: Marouane Fellaini on Ryan Shawcross
Stoke's Shawcross is unlikely to win any popularity contests among fans of other teams, but the Belgian's treatment of him in their Premier League match was somewhat OTT even by the Potters' standards…
2003: Dion Dublin on Robbie Savage
Savage was another popular target, and he managed to rile the usually easy-going Dion Dublin to the point where he did the business on the gobby Welsh midfielder during a typically heated Birmingham derby…
Savage's teammate seems to be handling the upset well.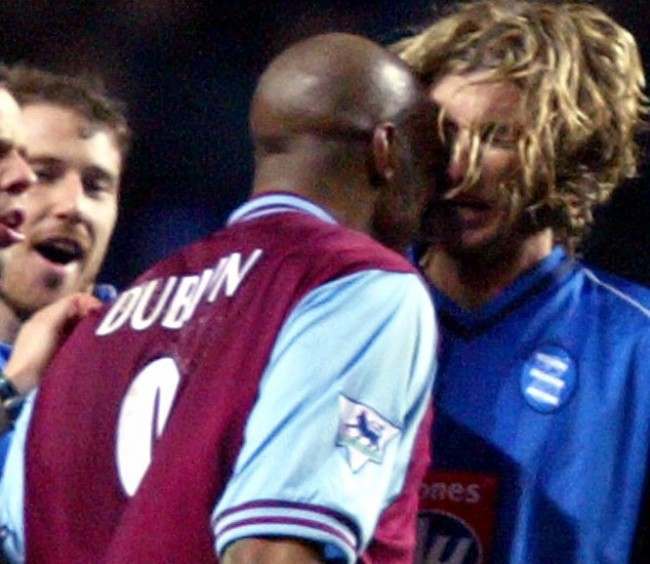 2010: Faouzi Chaouchi on Coffi Codjia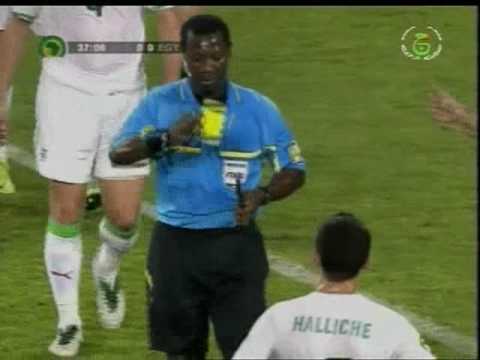 Codjia is an unusual victim because he was officiating the match at the time of the assault. The Beninese ref was attacked by the Algerian goalkeeper after allowing a controversial penalty by Egypt's Hosny Abd Rabo to stand during an African Cup of Nations match. To add insult to injury, Codjia was then taken off the refereeing list for the World Cup, for failing to send the player off.
1998 Ariel Ortega on Edwin van der Sar
The Argentina v Netherlands World Cup quarter-final between Argentina and the Netherlands is usually remembered for Denis Begkamp's fantastic last-gasp winner. But it also offered the comical yet impressive spectacle of the skillful Argentinian midfielder leaping to nut a man four feet taller than himself…
2006: Zinedine Zidane on Marco Materazzi
Unquestionably the most famous headbutt of all, and on the biggest stage of all: the World Cup Final. Endless speculation ensued about what exactly the Italian had said to provoke such a reaction, not to mention why 'Zizou' aimed for the chest rather than the face…
Weirdly, that same year Inter striker Samuel Eto'o performed a virtually identical chest-butt on Chievo Verona's Bostjan Cesar…
2011: Gennaro Gattuso on Joe Jordan
Jordan was a feared hard man in his day, but by 2011 he was in his sixtieth year. All the same, he was a man not normally messed with. However, the Milan midfielder lost it completely during his side's Champions League defeat to Spurs. First he grabbed the Glaswegian coach by the throat during the second half, then he got into another altercation after the whistle and butted him hard. He received a five-match ban, but no rough justice from Jordan himself.
2010: Dorge Kouemaha on Hans Cornelis
Club Brugge striker Dorge Kouemaha took out his frustration on Cercle's Cornelis when he came over after the game to remonstrate about a tackle. A post-match red card was promptly issued.
1992: Basile Boli on Stuart Pearce
A true nutter in both senses of the word, the French defender knocked England's Psycho off his feet and split his cheek during the European Championships. Pearce took it like a man, refusing to make a meal of it after the game, and Boli wrote to him thanking him for his sportsmanship.
1977: Kenny Burns on Richie Powling
If you thought Boli was mad, meet Kenny Burns – a man so hard that he butted the back of players' skulls (1.53). Definitely our winner. Beat that, you poncey overpaid prima donnas…