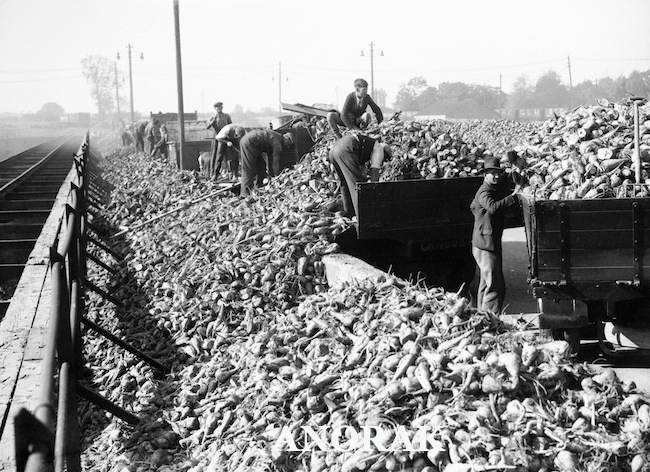 SUGAR was in limited supply during WOrld War 2. Sugar was the first food the US rationed, in the spring of 1942.
Photo above: British Agriculture – Sugar Beet – Felstead – 1936.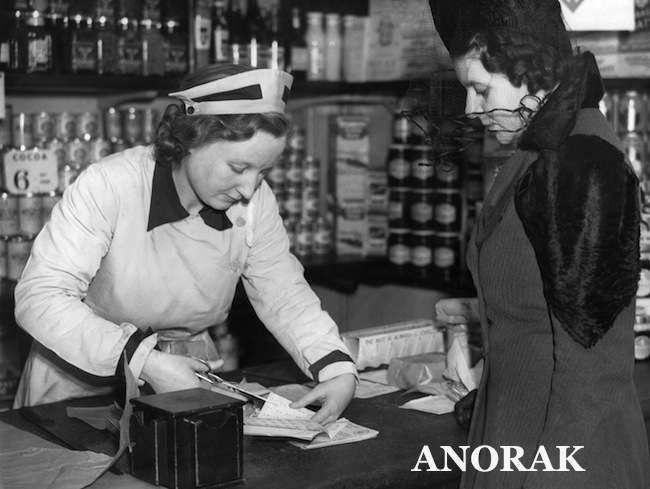 Official rationing began on 8 January 1940 with bacon, butter and sugar. Rations were distributed by weight, monetary value or points. One person's typical weekly allowance would be: one fresh egg; 4oz margarine and bacon (about four rashers); 2oz butter and tea; 1oz cheese; and 8oz sugar. Meat was allocated by price, so cheaper cuts became popular. Points could be pooled or saved to buy pulses, cereals, tinned goods, dried fruit, biscuits and jam.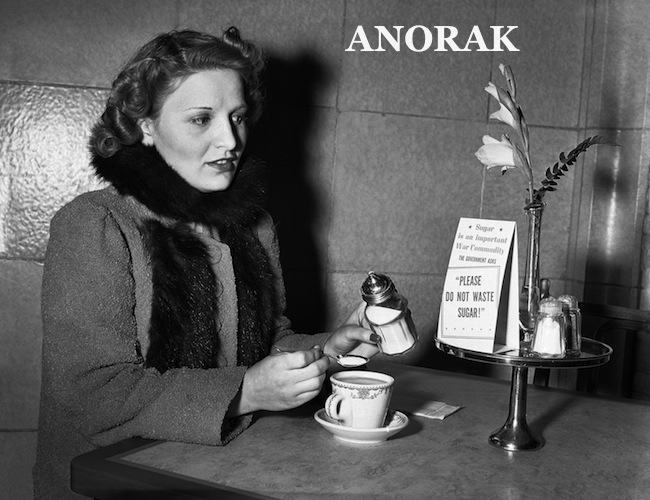 Julia Castellana uses less sugar for her coffee at the Horn and Hardart Automat, 106 West 50th Street in New York, Feb. 2, 1942, as her eye catches the sign urging patrons to avoid waste, sugar being an important war commodity. (AP Photo/Robert Kradin)

The war with Japan cut off U.S. imports from the Philippines, and cargo ships from Hawaii were diverted to military purposes. The nation's supply of sugar was quickly reduced by more than a third. To prevent hoarding and skyrocketing prices, the Office of Price Administration issued 123 million copies of War Ration Book One, which contained stamps that could be used to purchase sugar. No sugar could legally be bought without stamps, and sugar rationing would continue until supplies returned to normal in 1947.

Rationing started on January 8th 1940, when bacon, butter and sugar were rationed (by weight), followed by meat in March 1940 (by price rather than weight). In July 1940, tea, cooking fat, jam and cheese were also rationed (by weight). Eggs and milk were rationed by allocating supplies to shops in proportion to the number of customers registered there. People were permitted one egg per fortnight but this was not guaranteed, as with other foods. Rations varied considerably; the cheese ration, for example, varied from 1oz (30g) per person per week to 8oz (225g). The meat ration worked out at approximately 1lb (500 grams) per week.

Miss Virginia Hammel of McLeod County, Minn., war worker in Washington, D.C., wades into the typical American Christmas dinner on Dec. 23, 1942. It includes roast Turkey, Mashed Potatoes and Gravy, Cranberry Sauce, Tomato and Lettuce Salad, peas, string beans, rolls and butter, coffee with cream and sugar, and Mince Pie. Americans will top their dinner off with Mince Pie if their previous helpings have been discreet. This bounty is thanks to the American farmer who overcame such obstacles as Labor and Machinery shortages to provide US with holiday food. (AP Photo)

This photo shows customers lining up for sugar at an unknown location during rationing in 1943. (AP Photo)

Visitors arriving on Feb. 29, 1942 to inspect the Stage Door canteen for service men on the former site of the Little Club in the 44th Street Theatre Building, west of Broadway, which will open on March 2, under the sponsorship of the American Theatre Wing War Service, Inc., pay an admission fee consisting of the pound of the following foodstuffs: sugar, cheese, a jar of peanut butter, a jar of jelly or five cans of tomato soup. The canteen will be open daily from 5 p.m. until midnight for the duration and will offer service men – free of charge – refreshments, sandwiches, dancing and entertainment. The canteen after March 1. Left to right: Mary Stevenson and Allyn Van Baalen, hostesses; Morris Gest, producer; Rachel Crothers, playwright; Jessie Royce Landis, actress, and Irving Berlin, song writer, Feb. 28, 1942. (AP Photo/Marty Zimmerman)

Residents of swank Sutton Place and Park Avenue sent their servants to obtain sugar rationing books at P.S. 59, 228 East 57th Street – but it was no use. The order says members of the family must apply. This is a view of the interior of the school where 67 teachers were on hand to examine applicants in New York, May 4, 1942. (AP Photo)

Youngsters at a children's home in Seattle, Wash., gleefully examine two 25-pound sacks of sugar found on the doorstep of the home just after the registration for sugar rationing, March 9, 1942. Operators of the home were told they could keep the gift, but the'd have to declare it and detach the proper number of stamps. (AP Photo)

The sugar container still has place on the tables of the Allerton Hotel restaurant in Chicago, but the management has added a striking reminder to their patrons to show their patriotism by conserving sugar. Miss Bernice Mezger holds the flag stopper and bowl, April 21, 1942. (AP Photo)

There is no sugar rationing in the navy as may be seen by the sugar being loaded along with other supplies by a U.S. warship at sea in the South Pacific on Nov. 12, 1942. (AP Photo)

A display of foodstuffs, rationed and un-rationed, in the United States as compared with several European countries, is part of the Museum of Science and Industry, Rockefeller Plaza, food exhibition in New York, March 8, 1943. This illustrative chart shows basic rations for one day in the U.S., Britain, France, Poland and Czechoslovakia. Sugar, tea and coffee are the only rationed U.S. products on this chart. In all other countries, every item displayed is rationed. (AP Photo/Charles Kenneth Lucas)

With some foodstuff not limited, Germany has decreed a daily ration limit in others. Illustrated on August 30, 1939, is the quantity of the rationed food allotted person: three and one-half ounces of meat; two and one-tenth ounces of dairy product (butter shown); one and four-tenth ounces of sugar; six-tenths ounces of marmalade; eight-tenths ounces of breakfast food; a pint of milk; and two ounces of coffee. (AP Photo)

A secret hoard of sugar, left intact by the retreating Japanese has been discovered at Surabaya, Eastern Java. Over a million and a half tons have been found so far at Java Ports, which will be distributed to countries of the world where there is an acute shortage of sugar. Tons of sugar stacked high, ready bagged, discovered in a factory at Surabaya, Eastern Java, Indonesia, on Oct. 19, 1945. (AP Photo)