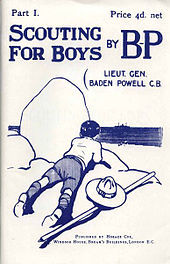 EXTRACTS from Robert Baden-Powell's Scouting for Boys. In the Intro, Baden Powell signed off "Chief Scout of the World".  The book was originally published in installments every other Wednesday from January 15, 1908:
You should remember that being one fellow among many others, you are like one brick among many others in the wall of a house. If you are discontented with your place or your neighbors or if you are a rotten brick, you are no good to the wall. You are rather a danger. If the bricks get quarrelling among themselves the wall is liable to split and the whole house to fall.
While Pink Floyd hummed that, boys just hummed:
"The result of 'self-abuse' is always—mind you, always—that the boy after a time becomes weak and nervous and shy, he gets headaches and probably palpitation of the heart, and if he still carries it on too far he very often goes out of his mind and becomes an idiot… several awful diseases come from indulgence—one especially that rots away the inside of men's mouths, their noses, and eyes, etc." 
Etc? Sounds ominous.
"Avoid listening to stories or reading or thinking about dirty subjects"
And then, oddly:
 "It is at present a disgrace and a danger to England that from want of self-restraint among men and women thousands upon thousands of children are born every year for whom there is no work and no money."
But more masturbation means less hungry kids, no?
 One aim of the Boy Scouts scheme is to revive amongst us, if possible, some of the rules of the knights of old, which did so much for the moral tone of our race, just as the Bushido of the ancient Samurai Knights has done, and is still doing, for Japan. Unfortunately, chivalry with us has, to a large extent, been allowed to die out, whereas in Japan it is taught to the children, so that it becomes with them a practice of their life, and it is also taught to children in Germany and in Switzerland with the best results.
Later he seemed in favour of a monumental tosser:
The Duce realises that if his Fascist revolution is to live its permanence will largely depend on the moulding of the men of tomorrow.
As he remarked to me, "Our future is in the hands of the boys." He is himself a "boy-man," with sons of his own and fond of boys … The B.S.M. [Boy Scout Movement] had been widely established in Italy many years before Mussolini's advent, and when his scheme came to be adopted for all boys the Scouts were naturally absorbed into it. But to them the change was not a great one, since the new organisation was formed on the lines of the Scout movement…

I asked Signor Mussolini how this was brought about, and with a very appropriate gesture he said, "Simply by moral force." The fact that moral force is already exercising so strong an effect on this young experiment augurs well for the future of Italy.
In the spirit of the buzz of change, Baden-Powell enthused about bees:
 "They are quite a model community, for they respect their queen and kill their unemployed."
Other choice cuts: