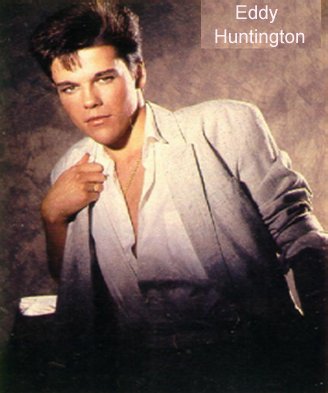 FLASHBACK remembers Eddy Huntington, the model discovered by Italy's Baby Records. Eddy's biggest hit was USSR. But Meet My Friend was worthy of note, it being Huntington's only UK release.
After success in pop, Huntington became a primary school teacher at Eldon Grove Primary School, Hartlepool. He's the Deputy Headteacher of Rosebrook Primary School,Stockton-on-Tees.
In an Italian interview, he talked about his life:
I had a kind of telephone and video audition with Baby records and was then played the music to USSR over the phone. I flew to Milano to record it and then everything started to happen. The record was released without a contract and so, I very quickly agreed a contract with Esquire (Baby) for further work.
Singing down the phone worked for Edward, as it has worked for Westlife and many other bands.
The song [USSSR] is a classic piece of Italo Disco and probably the truest to this style. The money was also spent on making a video and ensuring massive promotion. I appeared on TV in Italy, Portugal, France, Spain, Belgium, Germany and on video in many others, I flowed the Festival Bar trail in Italy and toured Italy and Portugal with some shows in Germany. If anything I spent too much time on this one song and never got around to promoting UP and Down, as I was still promoting USSR.
On twitter Eddy describes himself as: "Dad, husband, teacher, singer, Cliff and Euro fan, dog and cat owner and happy chappy."
But enough of the biography. We want the music.
We've included the lyrics to Meet My Friend, for those of you keen to sing along:
Meet my friend, he knows every little trick
Meet my friend called Dick (repeat twice)
I've got friend
He's so much fun
And I know he's ready for action
He'd like to fire
And wake up your desire
He knows every way to
Make you really lose your mind
Well hello, how do you do?
I'm really pleased, pleased to meet you (repeat twice)
Just take your time
But don't be shy
Let yourself go with the attraction
I'm sure he'd like you and I'm sure you'd like him too
My friend wants to meet you
And you'll find the four of us