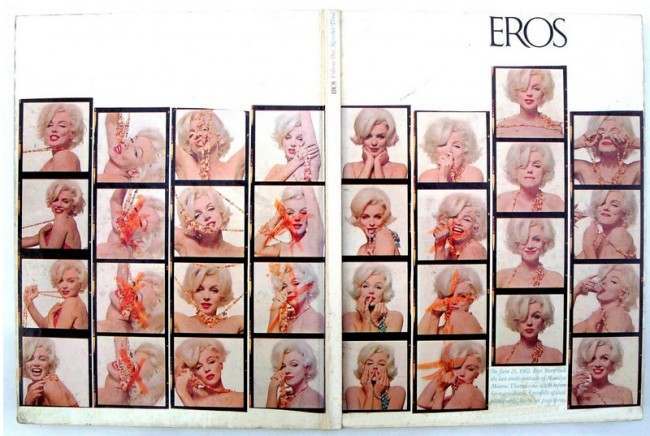 BETWEEN January 1968 to Spring 1971, Ralph Ginzburg (October 28, 1929 – July 6, 2006) published Avant Garde magazine.
Before that he had achieved fame and notoriety with Eros, a magazine for the sexually curious. He had previously published 100 Years of Lynchings, The Housewife's Handbook on Selective Promiscuity and…
His 1958 book An Unhurried View of Erotica, a collection of risque material plucked from many of the world's leading libraries, sold more than 125,000 copies in hardback and over 200,000 in print.
EveMag has the background:
Early in 1962 Ralph Ginsburg, using the genuine town of Intercourse, Pennsylvania as a mailing address, sent three million letters to Americans "of higher than average income and intelligence" to announce the publication of his quarterly Eros, a magazine "entirely devoted to Love and Sex."

Consistent in form with the other hardbound magazines published at that time – Venture, American Heritage and so on – its content was revolutionary. Besides the learned introductions and publication of classical erotica such as the facsimile reprint of the Earl of Rochester's seventeenth-century Poems On Several Occasions, Eros covered stories about sexual practices that were until then piously hidden from the public eye.
Issue 2 featured sixteen pages of replies from recipients of his mail, accusing him of sending them "filth" through the post.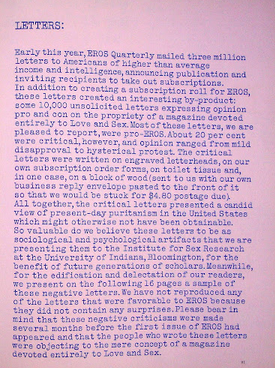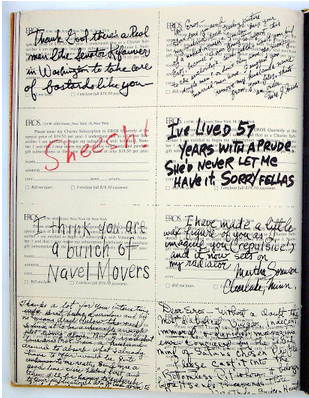 ]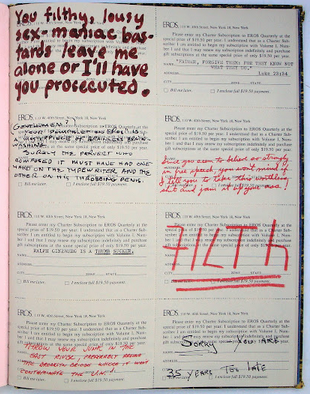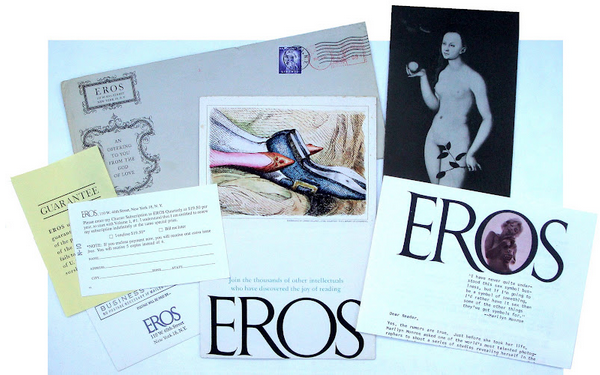 The NY Times has more in its obituary on Ginzburg:
First published in 1962, Eros was a stunningly designed hardcover "magbook" devoted to eroticism. While Playboy and other men's magazines of the time catered mostly to male fantasies, Eros (named for the Greek god of love and desire) covered a wide swath of sexuality in history, politics, art and literature. Mr. Ginzburg valued good writing, and his contributors included Nat Hentoff, Arthur Herzog and Albert Ellis.

Eros also challenged the taboo of interracial love in a photo essay by Ralph M. Hattersley Jr. and published a previously suppressed portfolio of nude photographs of Marilyn Monroe, taken by Bert Stern.

Mr. Ginzburg's eventual conviction on the obscenity charge hinged not on the content of his publications but on their promotion. The Supreme Court held that if "the purveyor's sole emphasis is on the sexually provocative aspects of his publications," that could justify a finding of obscenity for content that might otherwise be marginally acceptable.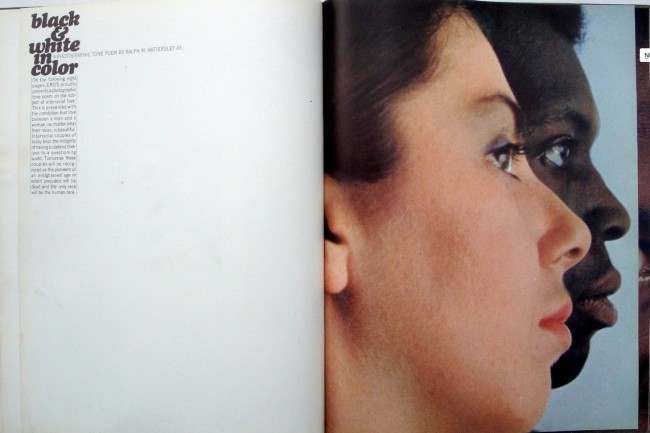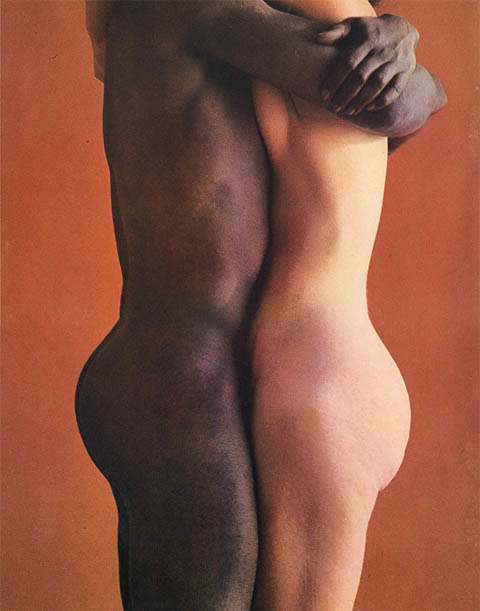 Herb Lubalin designed the typeface, as he would for Avant Garde.
Genius typographer, graphic design and art director, he particularly became famous for his work with a succession of magazines published by Ralph Ginzburg: Eros, Fact, and Avant Garde. His most famous work is with no doubt the logo of Avant Garde and the complete derivated typesetting, ITC Avant Garde. Even though he wasn't really happy about it, Lubalin quickly realized that Avant Garde, as a font, was widely misunderstood and misused in poorly thought-out solutions, eventually becoming a stereotypical 1970s and 1980s font.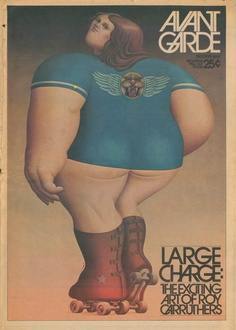 Only four issues of Eros were published. With the fifth issue in the making, Ginzberg was arrested.
[Issue 4] published a letter by Allen Ginsberg, a profile of Frank Harris, and 'an eight-page "photographic tone poem"' titled "Black and White in Color", featuring a nude couple, but with no pubic parts shown, with an African-American man and a European-American girl. It has been contended that the magazine was persecuted on racist grounds, under the wave of mass racial violence in the South of the United States, and that there would have been no such persecution if the photos had featured a couple of the same color.
When the fourth and final issue appeared (a fifth was prepared but never published), Mr. Ginzburg was indicted on charges of violating a federal statute that regulated obscene advertising. His publications (Eros; Liaison, a biweekly newsletter; and "The Housewife's Handbook on Selective Promiscuity") were deemed obscene "in the context of their production, sale and attendant publicity." After various appeals, the case was argued before the Supreme Court in 1965, and in 1966 Mr. Ginzburg's conviction was upheld.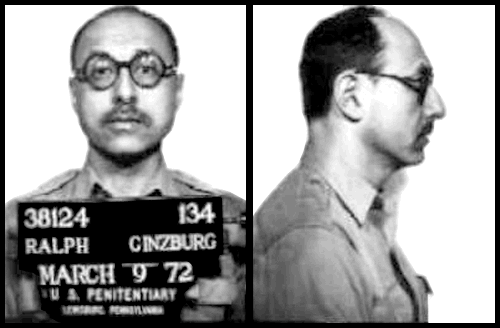 Despite protests by First Amendment advocates, he served eight months in a federal prison in 1972 after the Supreme Court refused to hear an appeal of his sentence.
The case was not without humour. The transcript of the trial is here. And  – yes – Mr Creamer was his real name.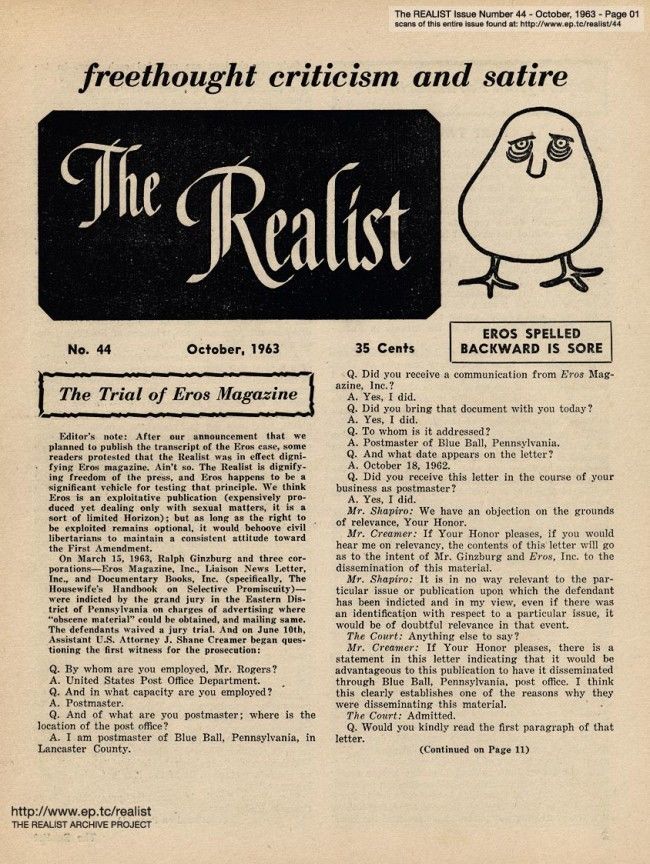 Ginzburg wrote of his trial and incarceration for EvesMag:
What's it like to be a newsman charged with a crime and suddenly be confronted by a hostile press? It happened to me in 1962 and the aftermath has continued to warp my career to this day.

I had studied journalism at CCNY, was editor-in-chief of its downtown campus newspaper, and on graduation in 1949 began my professional career as a copyboy and cub reporter at the New York Daily Compass, successor to the pioneering PM. Two years later I was drafted into the Army during the Korean war and assigned to Fort Myer, Va., where I edited the post newspaper. At night, I worked full-time as a copy editor for the erstwhile Times-Herald in nearby Washington, D.C. Jackie Lee Bouvier (later Kennedy Onassis) was our inquiring photographer.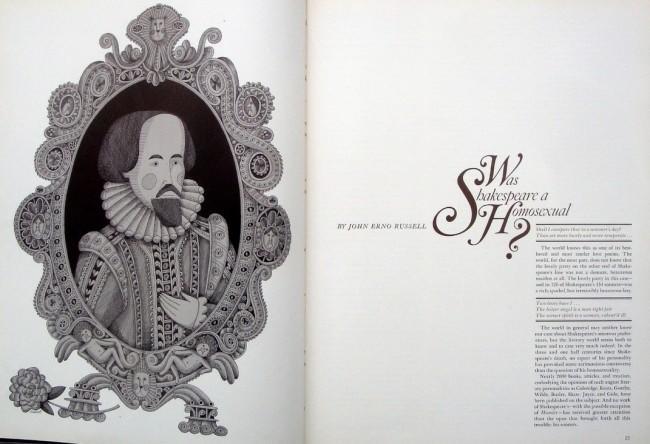 Upon discharge from the Army I shifted into broadcasting and magazines (NBC, Reader's Digest, Collier's, LOOK and other pillars of communications industry respectability), then launched my own magazine, the artistic, cerebral, innovative and highly acclaimed hard-bound quarterly EROS.

Writers and other intellectuals throughout the world celebrated it. Even the U.S. State Department bought copies to exhibit at USIA libraries overseas as exemplars of American periodical publishing.

But bluenoses here at home railed against the publication and one, the New York smut-hunting Catholic priest Morton Hill, persuaded U.S. Attorney General Robert Kennedy to have me indicted, as Father Hill later boasted, for distributing "obscene" literature through the mails, a federal crime. The indictment sought punishment of $280,000 in fines and 280 years in prison.

New York's newspapers gave prominent play to Father Hill's and the Justice Department's attacks against me. They quoted — straight-faced — the remarks of Congresswoman Kathryn O'Hay Granahan who declared, on the floor of the House of Representatives, that my publication of EROS was "part of an international Communist plot."

But newspapers ignored my every attempt to defend myself against these moronic allegations. I announced press conferences at various sites around town: at the Benjamin Franklin statue on Newspaper Row, at my magazine's offices, on the steps of the General Post Office.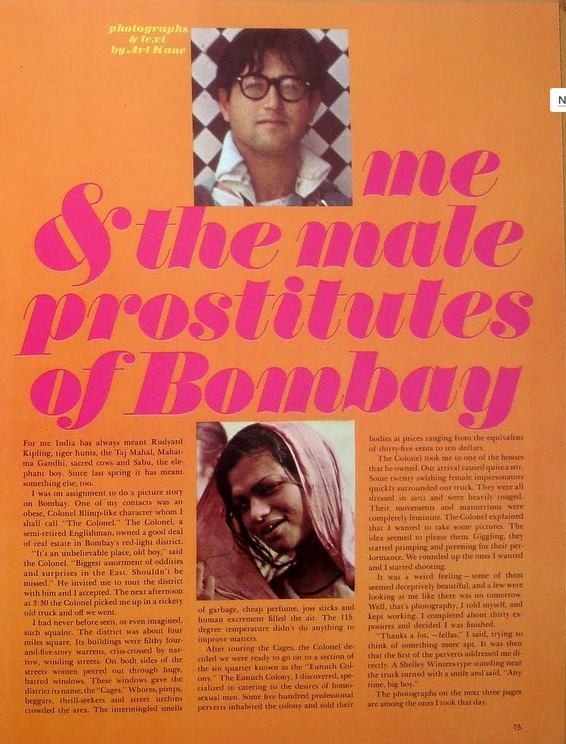 All were listed in the AP and UPI daybooks but nobody showed up — with one exception: Gay Talese, then a star reporter for The New York Times, appeared at my Post Office press conference where I presented an impassioned rebuttal of my attackers' charges and answered his few questions. I distinctly remember that he jotted down not a single word of my remarks. The Times ran no story the next day and Talese went onto become vice president and a director of P.E.N., the international organization dedicated to combating censorship of authors and publishers.

After a brief trial in June, 1963, I was convicted in U.S. District Court, Philadelphia. Why the case was tried in that venue is a whole other dreary story which space does not permit telling here. The U.S. Court of Appeals, also in Philadelphia, affirmed my conviction and the U.S. Supreme Court handed down its monumental ruling in Ginzburg v. United States on Monday, March 21, 1966, the first day of Spring.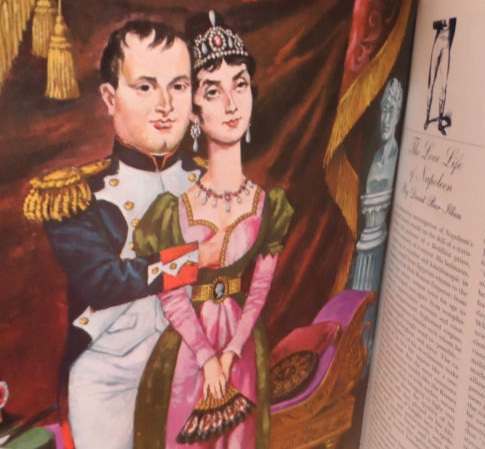 The High Court's Salemesque judgment, authored by the oft-lionized-as-a-liberal William J. Brennan, also upheld my conviction, along with its bloodletting fines and prison sentence of five years.

Three days later, on March 24th, The New York Times intoned: "The Supreme Court has struck the proper balance in a field where there are extremely difficult issues of law and public policy…Mr. Justice Brennan and his majority colleagues have shown wisdom and moral courage in the subtle and arduous task of upholding the law against obscenity while still protecting liberty of expression…

"Ginzburg was clearly publishing pornography…The Court inescapably concluded that Ginzburg had no scholarly, literary or scientific interests; he was strictly an entrepreneur in a disreputable business who took his chances on the borderline of the law and lost…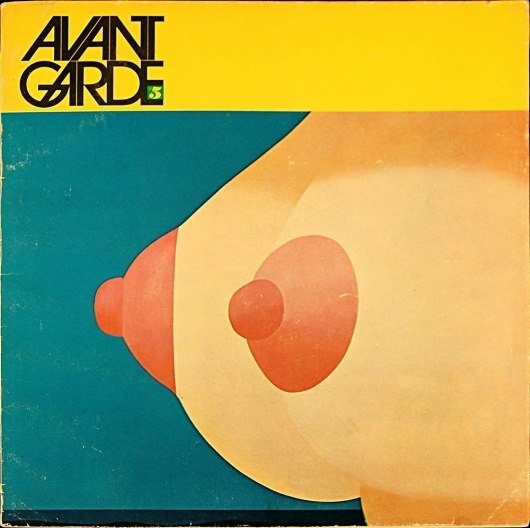 "The pornographic racketeers have cause to worry and their defeat is society's gain."

I read the Times and Supreme Court opinions in horror. At the Court, the vote was five to four, with five disparate opinions among the nine Justices. It was a legalistic free-for-all. Finally, a majority of five panicky Justices prevailed, convinced that I was a menace to society who had to be put behind bars.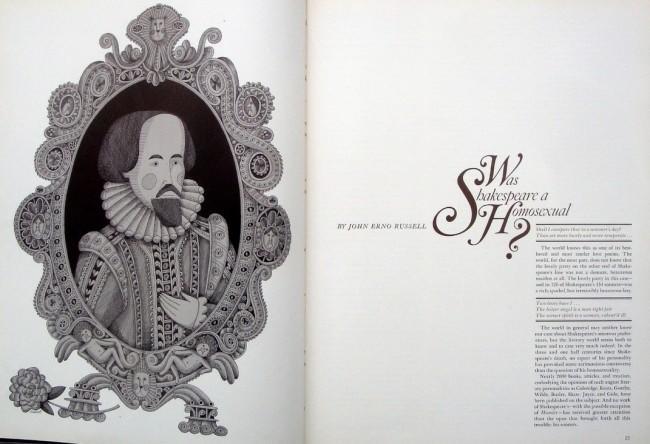 Suddenly, when it was too late to aid my defense, newspapers became highly vocal. Stories, editorials and letters-to-the-editor appeared everywhere, most concurring in the Supreme Court's ruling (and written, I've always suspected, largely by individuals who had never seen EROS). From clipping services, the stories poured into my offices by the thousands.

But I was not without my champions. Several leading lawyers, writers, artists, and even a number of non-Catholic clergymen, were

outraged by the Supreme Court's ruling. Novelist Sloan Wilson, a heroic stranger who appeared at my office from out of nowhere one day, organized an emergency defense committee which raised funds for full-page newspaper protest ads. These eventually succeeded in having my prison sentence reduced from five years to three, and in gaining my parole after I had been locked up for eight months.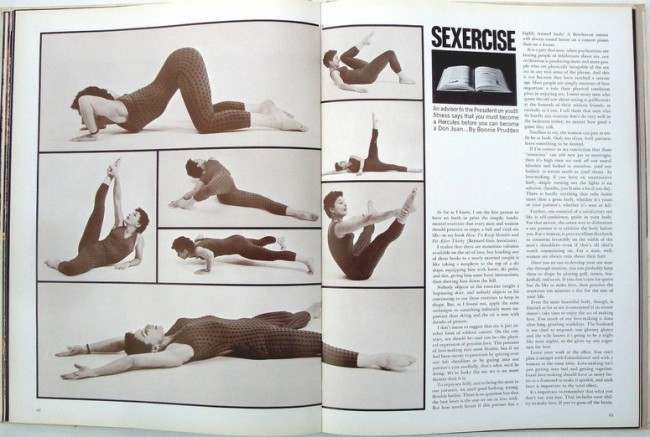 Again, shortage of space prevents me from quoting the dozens of renowned figures who were aghast over my conviction. They included Melvin Belli, James Jones, the ACLU's Mel Wulf, Nat Hentoff, Ashley Montagu, Yale Law Professors Alexander Bickel and Tom Emerson, Clay Felker, Louis Untermeyer, I.F. Stone, Barney Rossett, Ken McCormick and others of stature. Their fury is quoted in full in my prison memoir, "Castrated: My Eight Months in Prison" (Avant-Garde Books, 1973, and published almost en toto in, ironically, the Sunday magazine of The New York Times — after I had been tried and imprisoned).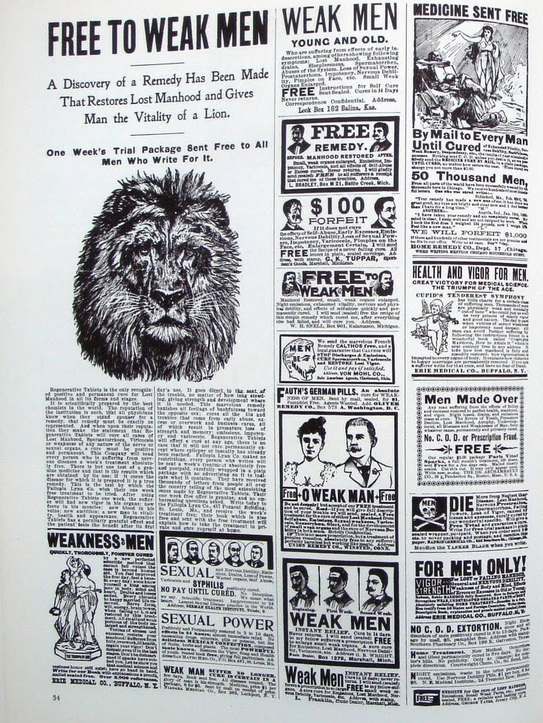 But I would like to quote just one of my defenders, the playwright Arthur Miller:

"After all the legal, moral and psychological arguments are done, the fact remains that a man is going to prison for publishing and advertising stuff a few years ago that today would hardly raise an eyebrow in your dentist's office. This is the folly, the menace of all censorship — it lays down rules for all time which are ludicrous a short time later.

"If it is right that Ralph Ginzburg go to jail, then in all justice the same court that sentenced him should proceed at once to close down ninety percent of the movies now playing and the newspapers that carry their advertising. Compared to the usual run of entertainment in this country, Ginzburg's publications and his ads are on a par with the National Geographic."

The lesson of this lamentable saga is clear: American newspapers can be counted on to defend freedom of the press, but only one kind: their own.
Mr Ginzburg never shied away from the limelight.
At 55 Ginzburg retired from publishing to be a photojournalist, selling his very first photograph to The New York Post.
Said Ginzburg:
"Eros is already on its way to becoming a collector's item".
It's wonderful stuff.