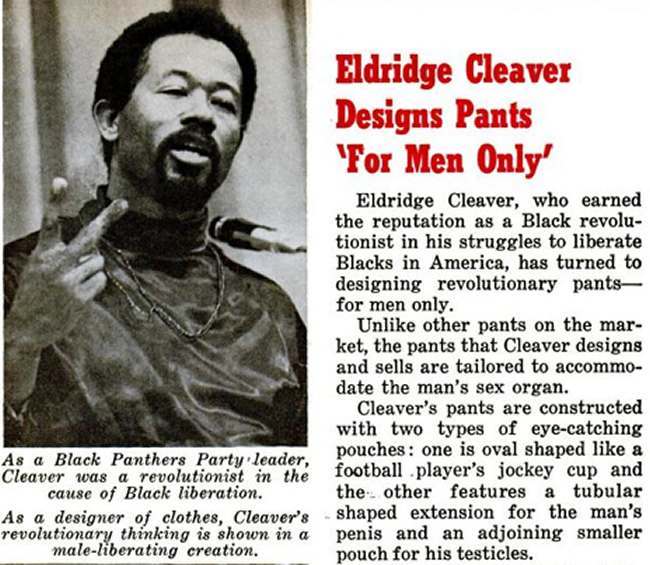 IN November 1978, Jet magazine spoke with Presidential candidate, Black Panther, Moonie, Republican, Mormon, creator of the religion Christlam and producer creator Penis Pants, one Eldridge Cleaver:
Life is just a chain of daisies when you slip into (careful, now) these revolutionary hot pants – with their ever-so-daring accent provacateur – just unveiled by famous radical designer Edridge Cleaver of Paris.  They're bad, they're mad, they're up front (but never out of sight)… and, of course, they're for men only… REAL men… the three-fisted variety. 'There's no mistaking they are men's pants,' says M. Cleaver (seen here modeling a high-waisted two-tone pair of 'Cleavers' with side zipper and matching 'appurtenance.'  'The pants that men wear now will be seen as girls' pants after my models are sold.  And don't forget…heavy on the starch!"
The trousers de-castrated the man. No need for sexting a la Anthony Weiner. With Penis Pants you were always out there.
Great strides:
"Clothing is an extension of the fig leaf — it put our sex inside our bodies," Cleaver told Newsweek in 1975. "My pants put sex back where it should be."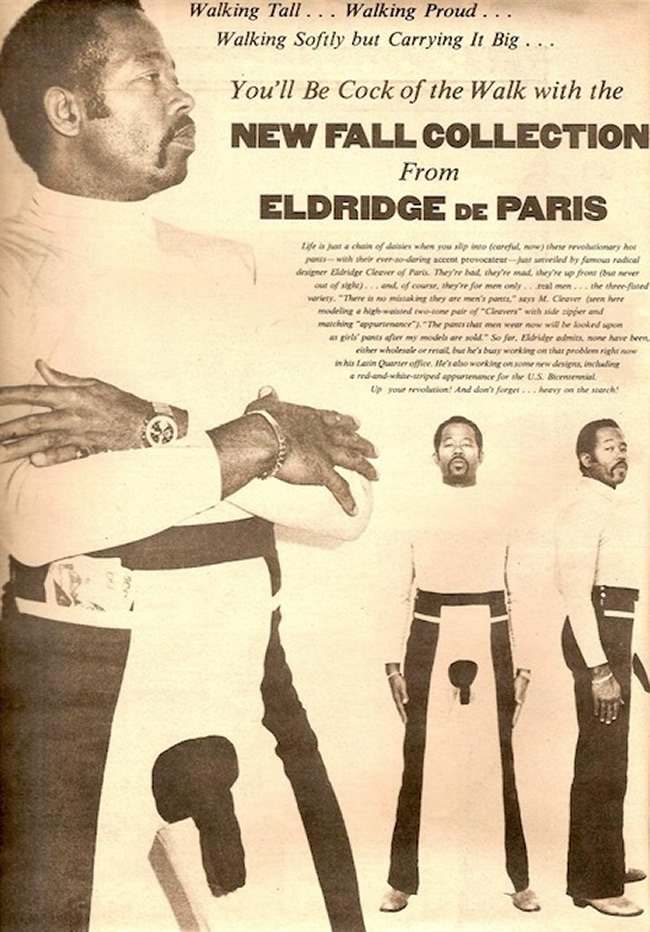 Still, it may come as a surprise to many that, in 1975, Cleaver, then living in exile in Paris after a 1968 shootout with the Oakland police, took out an ad in The International Herald Tribune seeking investors and manufacturers for his fledgling men's-wear collection. "Millions in profits envisioned," the classified read. It neglected to add that at the heart of the line were his patented Cleavers, pants in which a man's genitals were outlined in a socklike codpiece.
Cleaver was no mug:
Eldridge Cleaver, minister of information for the Black Panther party, flicks ashes from his cigarette during press conference in attorney Charles Garry's San Francisco office, after being released on a $50,000 bail form Solano County Jail in San Francisco, June 13, 1968. Behind Cleaver are his attorney, Garry, and his wife Kathleen. Cleaver was released on orders of a judge who ruled Cleaver had been held in California State Medical facility at Vacaville as a political prisoner for nine weeks. (AP Photo/Sal Veder)
And where he led, others now follow: Spanish designer Isabel Mastache's Fall/Winter '10 collection.