Alan Klein writes of his brother Irwin Klein: "In one of Irwin's last letters to me, his brother, he mentioned how he enjoyed a short story, Only the Dead Know Brooklyn by Thomas Wolfe. Irwin also said he was working on a new volume of slides using that same title. Wolfe lived in Brooklyn during the 30s and was immersed in the dark nocturnal subconscious level of 'Bensonhoist' life. Irwin took that theme and recast it for the disillusionment of 70s. In this presentation of Irwin's slides I have taken the liberty of giving my rendition of that preposed volume Irwin never got to compile."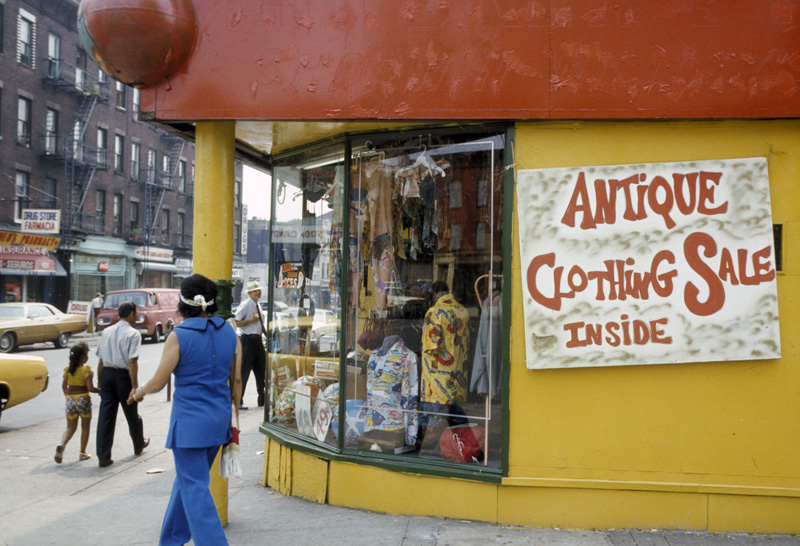 Irwin Klein (1933-1974) died when he fell from his apartment window in Brooklyn. The Domeischel Gallery staged an exhibition of his works:
Following his death, all of his negatives, cameras and equipment, as well as most of his printed work, were either lost or stolen. All that remains today are a very limited number of black and white vintage prints in addition to a small collection of color slides. Taken in the last weeks of his life as he walked along the streets near his home, these color images are reproduced here…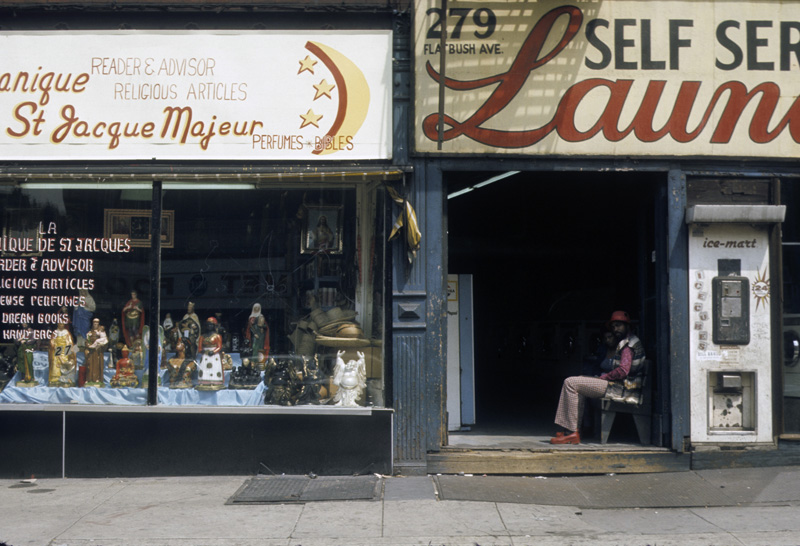 His pictures are of a place in a dim light. Shabby, scarred and derelict, Brooklyn is unlovely but not unloved. It's home to the people who glimpsed in the color photos below, the ones who stop at the uninviting stores with their dark interiors and run the things in hope of a better tomorrow.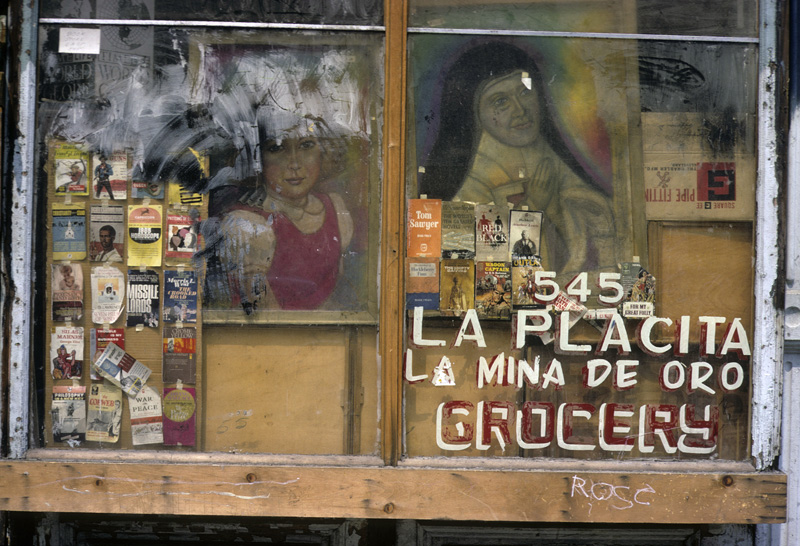 Dere's no guy livin' dat knows Brooklyn t'roo an' t'roo, because it'd take a guy a lifetime just to find his way aroun' duh goddam town.

– Tom Wolf Only The Dead Know Brooklyn
"Sure," I says. "It's out in Bensenhoist. Yuh take duh Fourt' Avenoo express, get off at Fifty-nint' Street, change to a Sea Beach local deh, get off at Eighteent' Avenoo an' Sixty-toid, an' den walk down foeh blocks. Dat's all yuh got to do," I says.

"G'wan!" some wise guy dat I neveh seen befoeh pipes up. "Whatcha talkin' about?" he says—oh, he was wise, y'know. "Duh guy is crazy! I tell yuh what yuh do," he says to duh big guy. "Yuh change to duh West End line at Toity-sixt'," he tells him. "Get off at Noo Utrecht an' Sixteent' Avenoo," he says. "Walk two blocks oveh, foeh blocks up," he says, "an' you'll be right deh." Oh, a wise guy, y'know.

"Oh, yeah?" I says. "Who told you so much?" He got me sore because he was so wise about it. "How long you been livin' heah?" I says.

"All my life," he says. "I was bawn in Williamsboig," he says. "An' I can tell you t'ings about dis town you neveh hoid of," he says.
And Jesus! Wit dat, he pulls it out of his pocket, an' so help me, but he's got it—he's tellin' duh troot—a big map of duh whole goddam place wit all duh different pahts. Mahked out, you know—Canarsie an' East Noo Yawk an' Flatbush, Bensenhoist, Sout' Brooklyn, duh Heights, Bay Ridge, Greenpernt—duh whole goddam layout, he's got it right deh on duh map.
So den duh guy begins to ast me all kinds of nutty questions: how big was Brooklyn an' could I find my way aroun' in it, an' how long would it take a guy to know duh place.

"Listen!" I says. "You get dat idea outa yoeh head right now," I says. "You ain't neveh gonna get to know Brooklyn," I says. "Not in a hunderd yeahs. I been livin' heah all my life," I says, "an' I don't even know all deh is to know about it, so how do you expect to know duh town," I says, "when you don't even live heah?"
Jesus! What a nut he was! I wondeh what eveh happened to 'm, anyway! I wondeh if someone knocked him on duh head, or if he's still wanderin' aroun' in duh subway in duh middle of duh night wit his little map! Duh poor guy! Say, I've got to laugh, at dat, when I t'ink about him! Maybe he's found out by now dat he'll neveh live long enough to know duh whole of Brooklyn. It'd take a guy a lifetime to know Brooklyn t'roo an' t'roo. An' even den, yuh wouldn't know it all.