ON This Day in photos: November 11 1965:  The Rhodesian Government, led by Prime Minister Ian Smith, cuts all links with the British Crown. Smith's Unilateral Declaration of Independence (UDI) came after talks with British Prime Minister Harold Wilson.
Said Smith: "There can be no happiness in a country while the absurd situation continues to exist where people, such as ourselves, who have ruled themselves with an impeccable record for over 40 years, are denied what is freely granted to other countries."
The whites did not only rule themselves. The whites ruled the blacks. The British were not dead set against independence. But they wanted to ensure the black majority population achieved a fair share of power. Smith was having none of it. Under Smith, the 220,000 white Rhodesians would rule over four million black Rhodesians.
Harold Wilson announced sanctions against Smith's illegal and racist regime.
The British were on the side of the Rhodesian opposition parties – the Zimbabwe African National Union (Zanu) and the Zimbabwe African People's Union (Zapu). Both declared breakaway governments. Zanu petitioned the United Nations and the Organisation of African Unity for assistance.
Zapu National Treasurer Jason Mayo gave a statement before leaving London – where he has been in exile – to set up his rival government in Lusaka, Zambia. "Treason and rebellion have been committed. The lives particularly of four million unarmed Africans are in jeopardy," he said.
What did the build up to  independence look like? This:
Christmas mail is loaded aboard the Imperial Airways flight headed for South Africa and North & East Rhodesia. South African High Commissioner to Britain Charles te Water, with his wife, beside the aeroplane while it is being loaded with the mail Date: 09/12/1931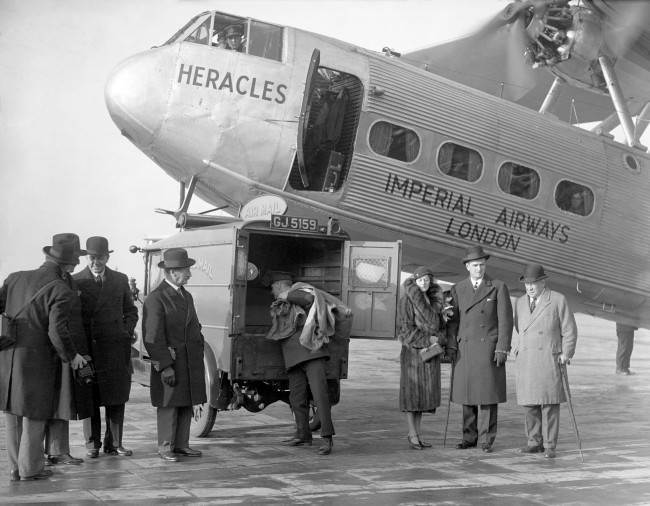 The Duchess of Gloucester talking with Lady Cub Master Jean Dike (nearest camera) of the Souhern Rhodesia Contingent in the grounds of Marlborough House, London.  Date: 09/06/1953
Queen Elizabeth The Queen Mother (L) with her daughter Princess Margaret as they watch a band and choir during their visit to Luveve near Bulawayo in Southern Rhodesia. Date: 13/07/1953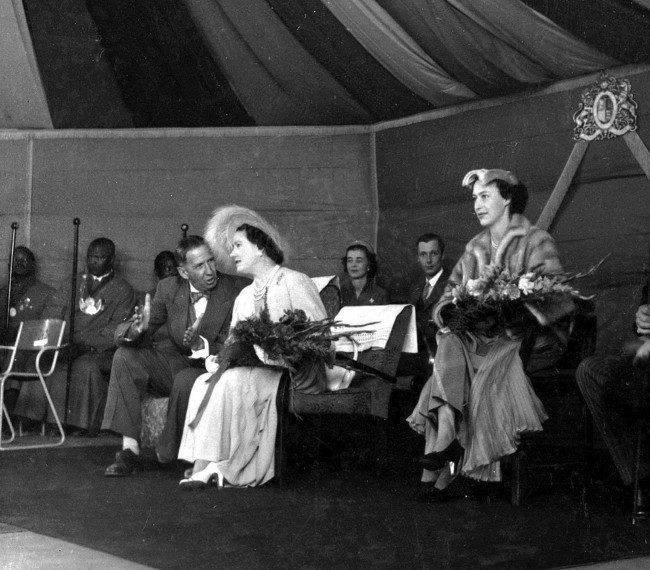 Princess Margaret looks at a display of crocodiles in the Uganda Pavilion at the Rhodes Centenary Exhibition, Bulawayo, during their visit to Southern Rhodesia, with her mother Queen Elizabeth The Queen Mother (L). Date: 14/07/1953
Some of the members of the Covent Garden Opera Company photographed at the Airways Terminal, Victoria, London when they left for Southern Rhodesia to present opera at the newly constructed Theatre Royal, Bulawayo, as part of the Rhodes Centenary celebrations. Left to right: Eric Mitchell, Elizabeth Latham (stage manager), Frederick Dahlberg, Joan Sutherland, Norman Walker, Constance Shacklock and Jesse Walters.  Date: 19/07/1953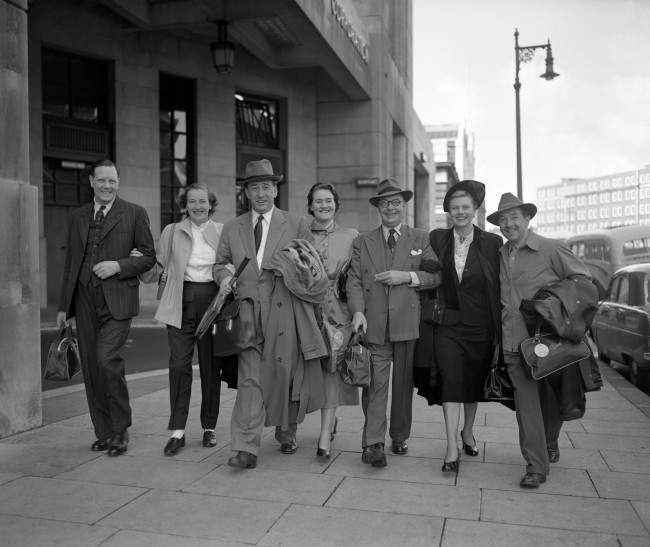 Ray Amm, Rhodesia, is decorated with the winner's wreath after he captured the first place in the 350 cc class in the German motorcycle Grand Prix at the Solitude circuit near Stuttgart, on July 25, 1954. Right, holding ribbon, stands Alfred Neubauer, racing department chief of Mercedes Benz. (AP Photo/Albert Riethausen) Date: 25/07/1954
The English Footballer of the Year 1954, Tom Finney (r), shows one of his many international caps to the Northern Rhodesia Sportsman of the Year 1953, Inspector Wapamesa of the North Rhodesian Police (l), after giving a coaching exhibition in Lusaka Date: 11/07/1955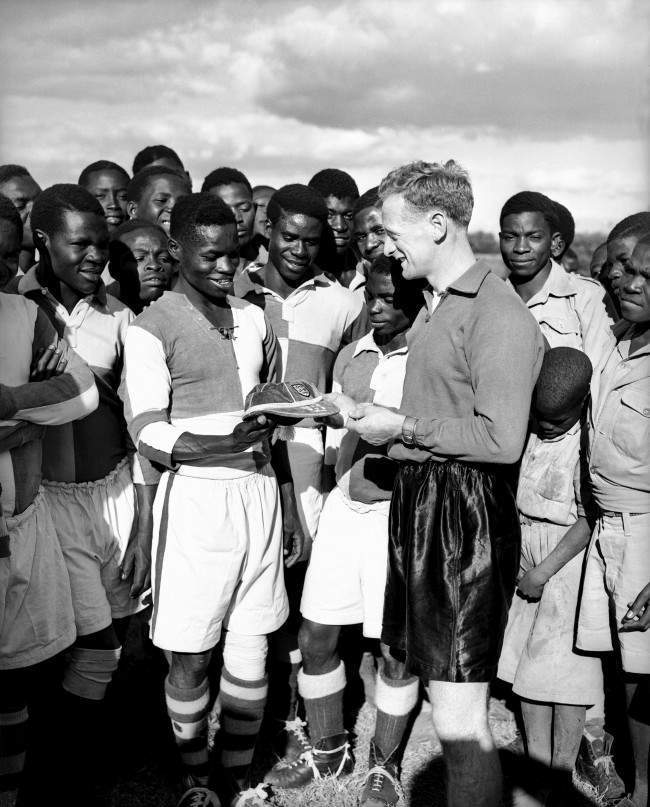 Preston North End and England's Tom Finney (second l) takes part in a radio discussion at the Central African Broadcasting Station concerning the relative standards of the game in England and Northern Rhodesia. His interlocutors are (l-r) John Burgess (former Pegasus player), Donald Lightfoot (producer of the programme) and Bob Hesford (former Huddersfield Town goalkeeper who opposed Finney in the 1938 FA Cup Final) Date: 11/07/1955
Prince Charles and Princess Anne join with Princess Margaret in a farewell wave to the Queen Mother, who was leaving for a trip to Rhodesia and Nyasaland. Date: 01/07/1957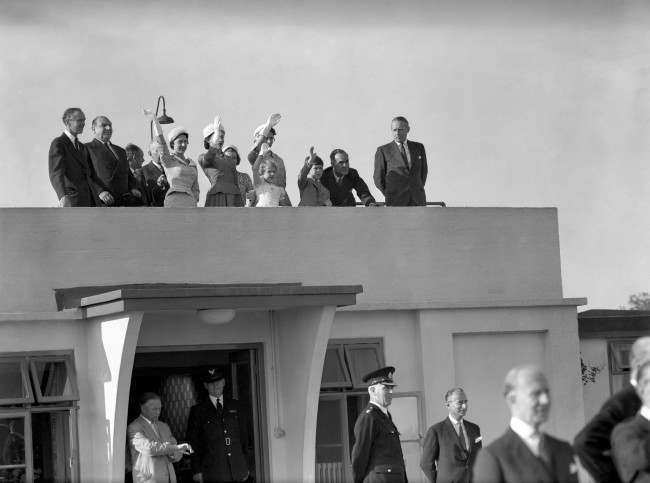 Lord Reith, the Chairman of the Colonial Development Corporation, is pictured at London Airport as he boarded a BOAC liner for Salisbury, Southern Rhodesia. He will be away for three weeks. Date: 03/08/1956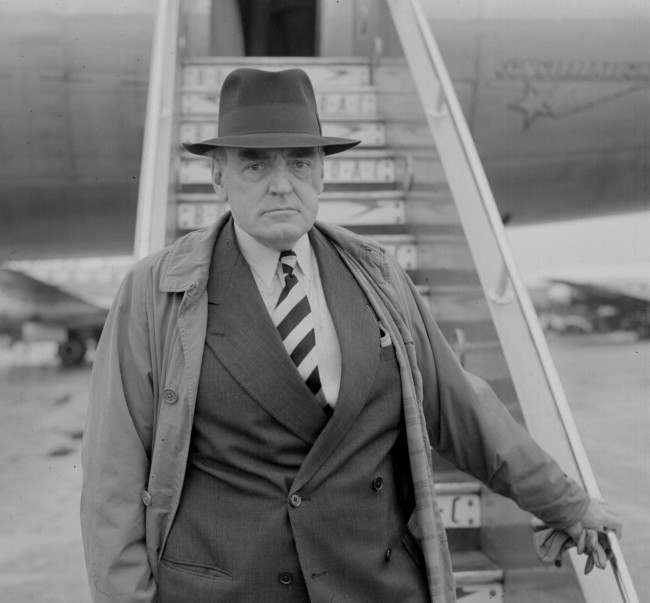 Queen Elizabeth, the Queen Mother accompanied by the guard commander Major R. Aikenhead, inspects a guard of honour of the Second Battalion the King's African rifles at the great Indaba in the Matotos Hills, near Bullawayo, Rhodesia on July 8, 1957. Behind the Queen Mother is her private secretary, Lt-Col. Gilliatt. The Queen Mother wears a jacket and dress of white lace. Her white hat is trimmed with white and sapphire blue osprey feathers. Date: 08/07/1957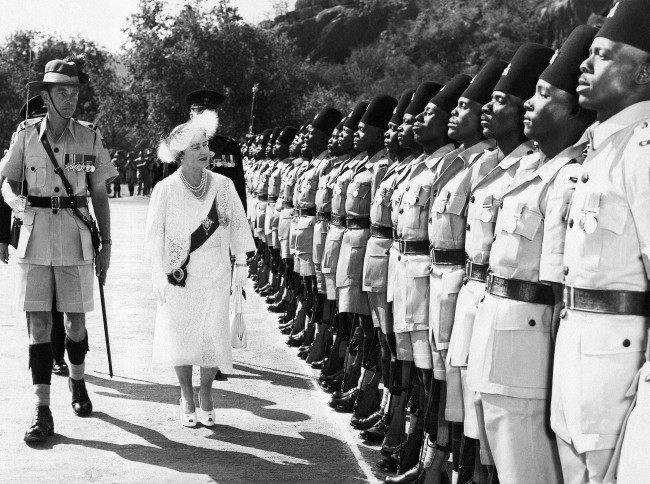 Billy Graham opened his Central African campaign. After five weeks in "Africa on the West Coast this was his first crusade in a part of Africa where there is any discrimination between the different races. The great feature of the opening crusade was the way in which Black and White -– 12,000 of them -– stood and prayed shoulder to shoulder. Hundreds had chartered special aircraft to fly from South Africa where there is rigid apartheid. When Dr. Graham called for '"Decisions for Christ'" hundreds of people of all races filed side by side to stand beneath his rostrum. It was the held in the Federation of Rhodesia and Nyasaland. Date: 20/02/1960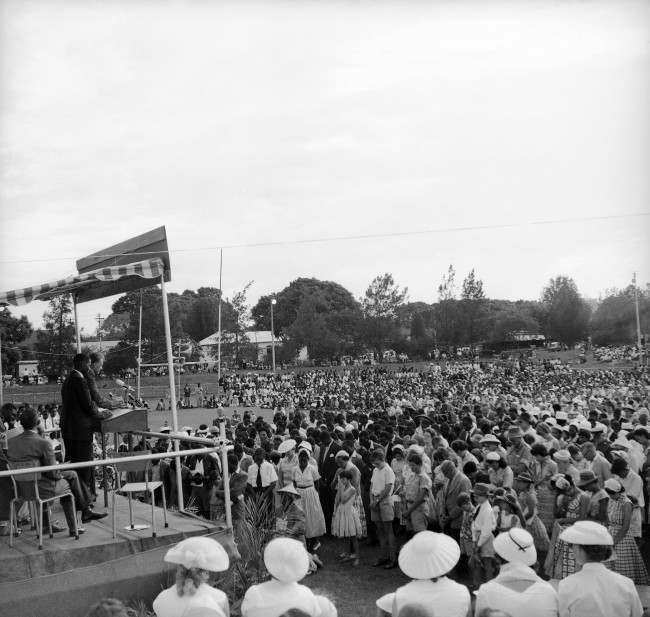 Miss Barbara Cartland, the novellist, makes a purchase from the Rhodesia & Nyasaland stall at 'The Trafalgar Fair' in London. Date: 29/10/1959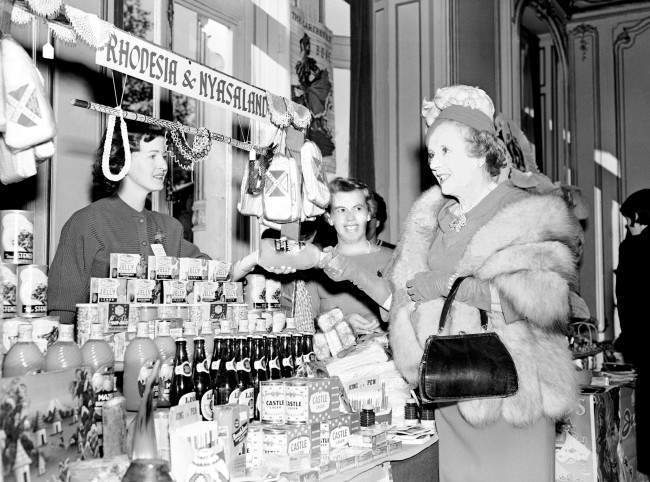 Queen Elizabeth, the Queen Mother smiles happily as she is greeted by the Governor-General of the Federation of Rhodesia and Nyasaland, the Earl of Dalhousie, on her arrival at Salisbury Airport, Southern Rhodesia and Nyasaland on May 11, 1960 from London to begin her three-week tour of the federation.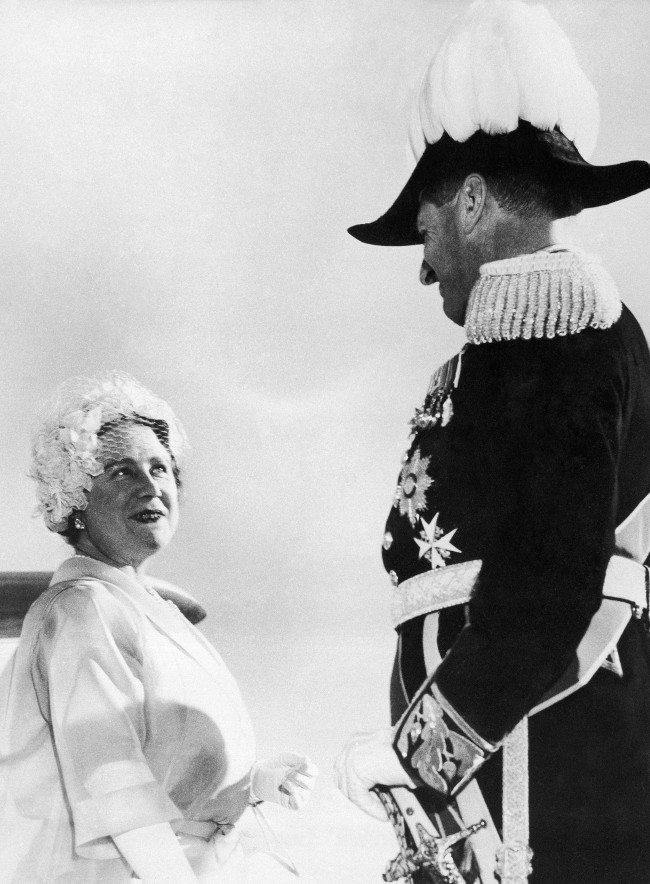 In the Katanga province which has seceded from the Congo, a three-mile long convoy of fleeing Belgian refugees makes a brief halt, 30 miles from the border post at Kasumbalesa, Northern Rhodesia on July 16, 1960. Some of the passengers get out to stretch their legs on the dusty road; others sit in their cars, rifles at the ready.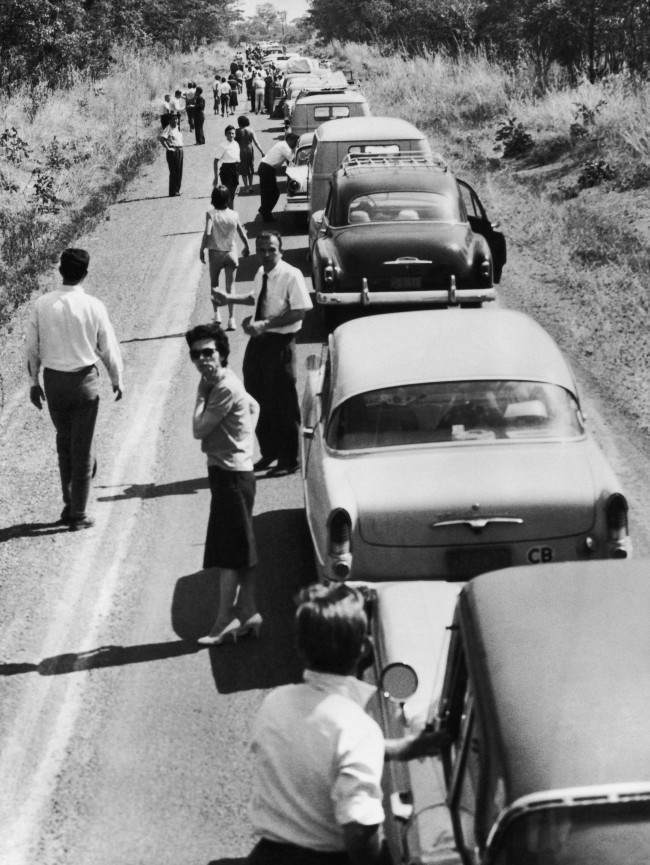 The referee holds up the fist of Daniel Bekker of Rhodesia after he had outpointed Andrew Reddy of Ireland, left, in their welterweight bout of the Summer Olympic Games boxing tournament in Rome, Italy on August 31, 1960.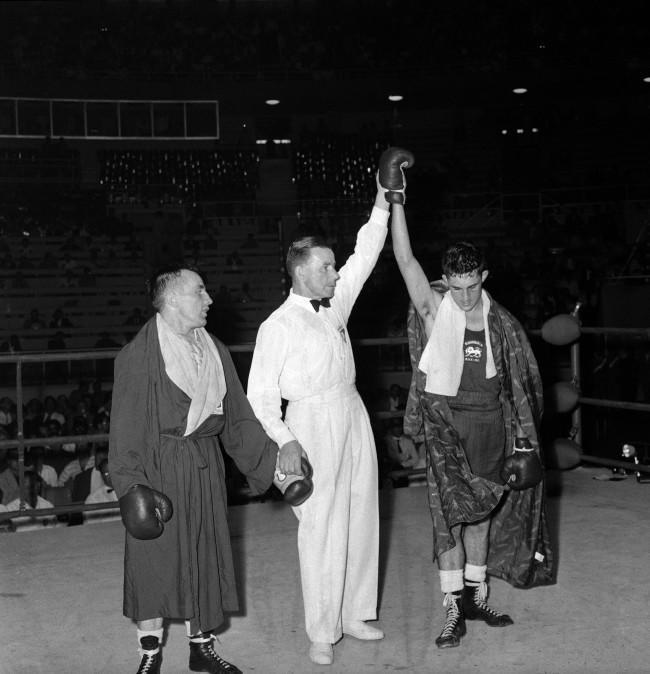 Colonial Secretary Mr Iain Macleod, whose Northern Rhodesia constitution plan met opposition when announcd, speaks at the opening of the National Conference of the young Conservatives, at Friends Meeting House in Euston Road, London. Date: 28/02/1961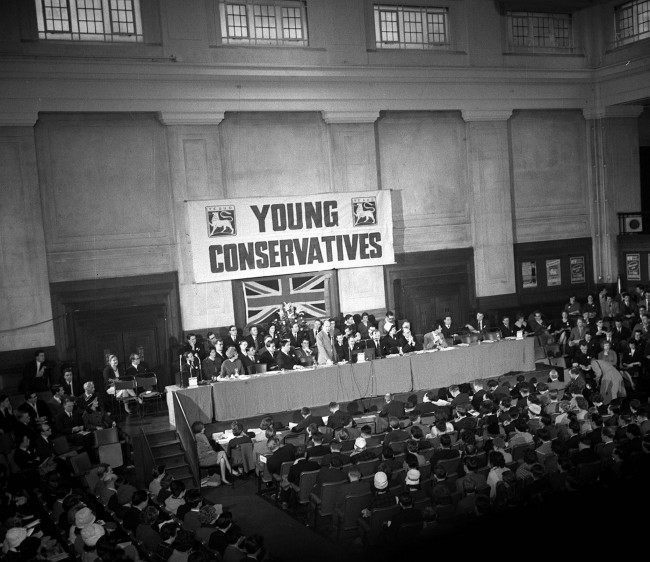 Both from Africa are these smiling contenders for the Miss World beauty title at the Lyceum ballroom, Strand, London, where the finals of the competition takes place. They are 19-year-old Angela Moorcroft (left), representing the Federation of Rhodesia and Nyasaland, and Yvonne Hulley, also 19, who represents South Africa. Date: 03/11/1961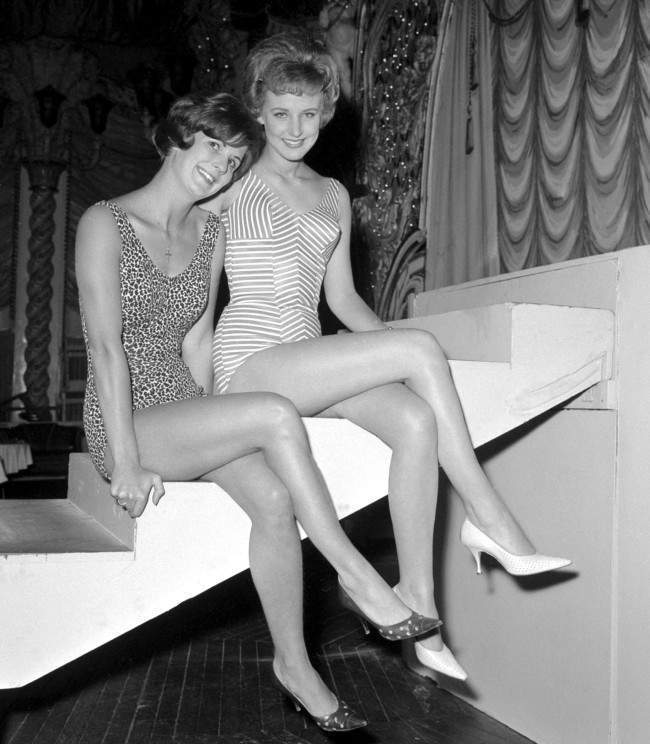 Mme. P. Barany, a 91-year-old Belgian women, sits on a crate at Ndola Station, Northern Rhodesia on Dec. 11, 1961, after the arrival of a refugee train that brought Belgian women and children from troubled Katanga. Rhodesian Red Cross workers were waiting at the station to give food and drink to the refugees.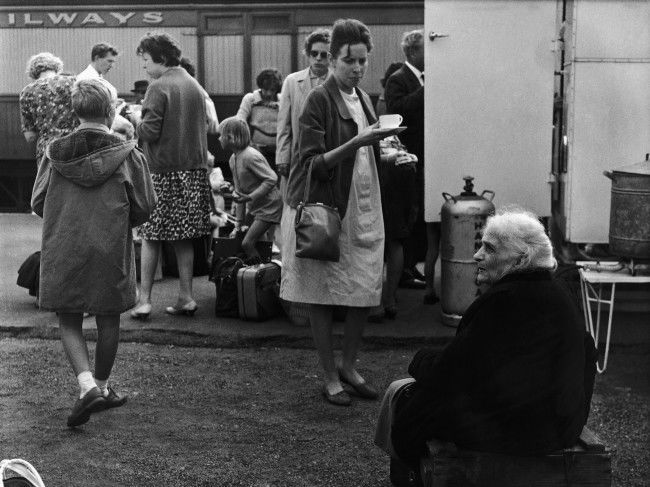 The Queen with her guests when she entertained the Commonwealth Prime Ministers to dinner at Buckingham Palace. Left to right : Mr Rashidi Kawawa (Tanganyika) : Dr Eric Williams (Trinidad & Tobago) : Sir Milton Margai (Sierra Leone) : Sir Abubakar Tarawa Balewa (Nigeria) : Sir Alexander Bustamente (Jamaica) : Sir Roy Welensky (Rhodesia) : Tun Abdul Razak (Malaya) : Mr F D K Goka (Ghana) : Mr Sam P C Ferando (Ceylon) : Archbishop Makarios (Cyprus) Front row: Mr Keith Holyoake (New Zealand) : Pandit Jawaharlal Nehru (India) : Mr John Diefenbaker (Canada) : the Queen : Mr Robert Menzies (Australia) : Field Marshal Ayub Khan (Pakistan) : and Mr Harold Macmillan (Britain).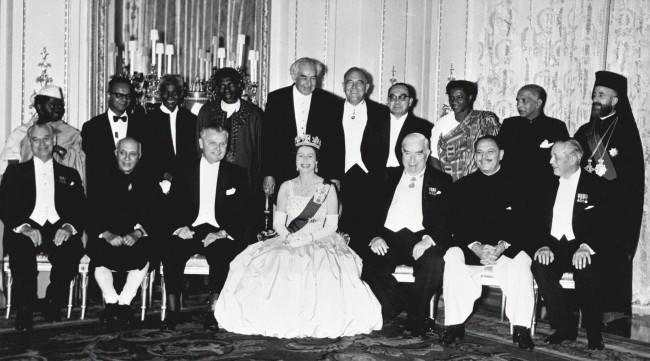 Prime Minister of Southern Rhodesia, Winston Field (l), is greeted by Deputy Prime Minister Rab Butler (r) Date: 28/05/1963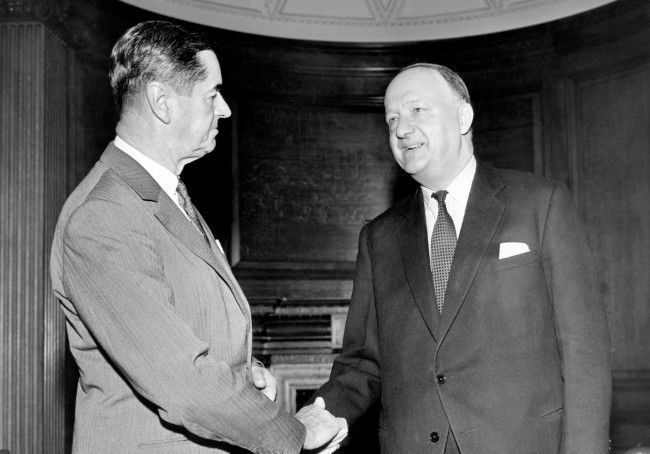 Dr Kenneth Kaunda, the first Prime Minister of Northern Rhodesia, arrives at London Airport to lead his Government's delegation at the Northern Rhodesia Independence Conference opening on May 5th. Date: 01/05/1964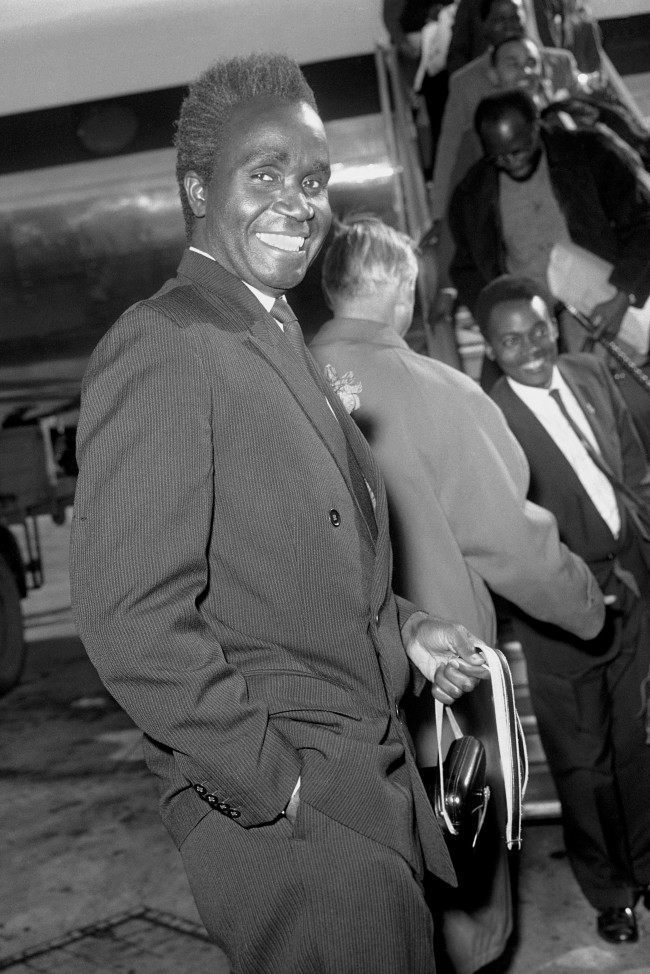 (L-R) Sir Roy Welensky, the former Prime Minister of the Federation of Rhodesia and Nyasaland, shakes hands with the Prime Minister Sir Alec Douglas-Home. Date: 25/05/1964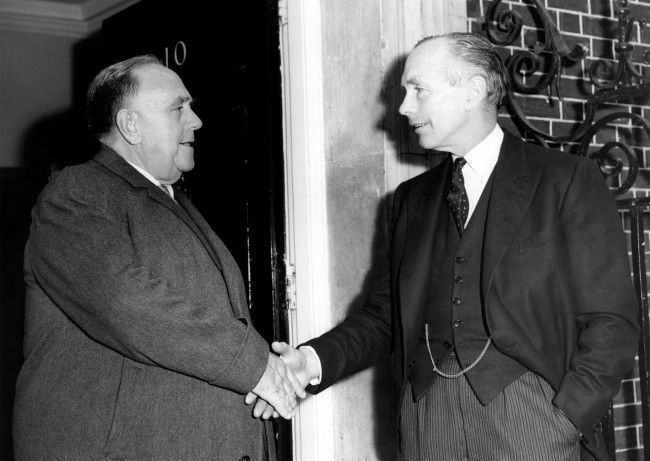 Princess Alexandra smiles as she arrives at Westminster Abbey, to attend the service marking the independence of Zambia (formerly Northern Rhodesia). Date: 24/10/1964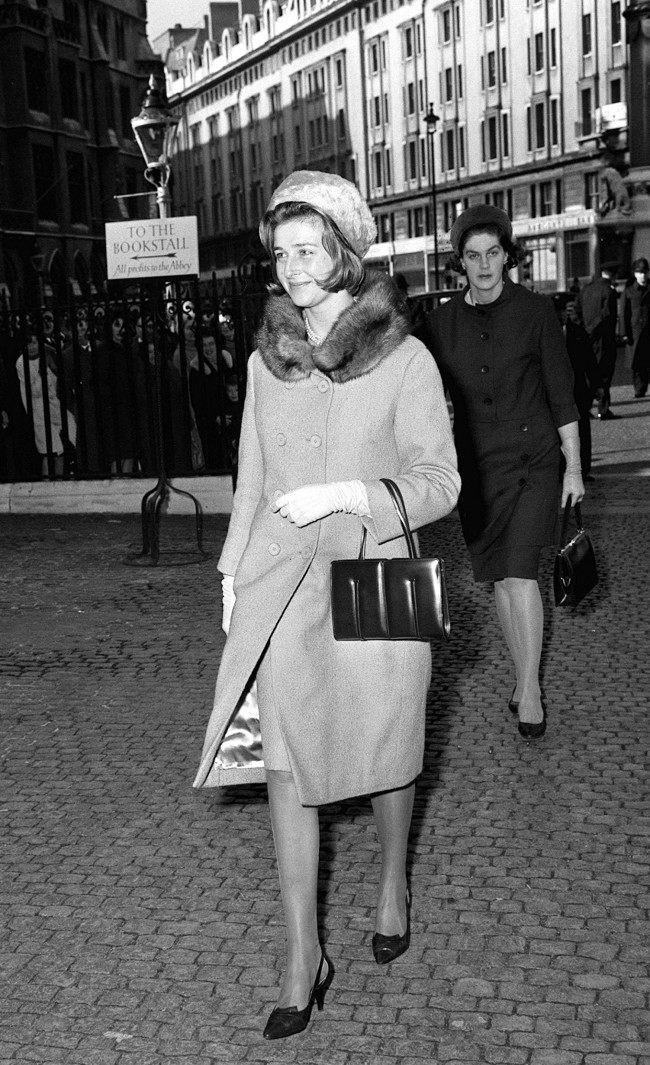 Dr Kenneth Kaunda, President of the new African State of Zambia (formerly Northern Rhodesia) takes leave of Harold Wilson with a handshake after lunching with the Prime Minister at No.10 Downing Street.
President Kaunda, is visiting this country as the guest of the British Government. Date: 13/11/1964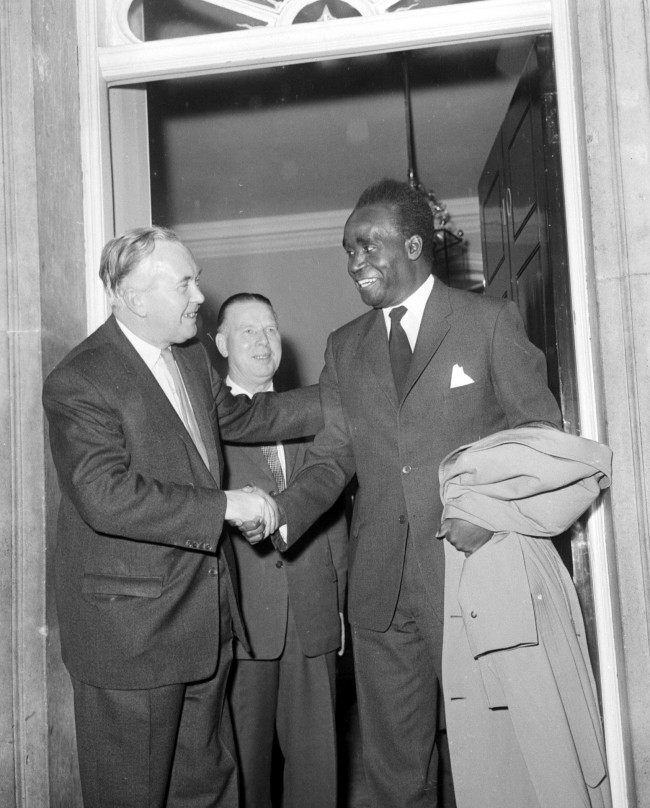 Rhodesian Premier Ian Smith, leaves 10 Downing Street, being besieged by photographers and reporters for a statement. A month later Smith unilaterally declared Rhodesian independence from the United Kingdom. Date: 08/10/1965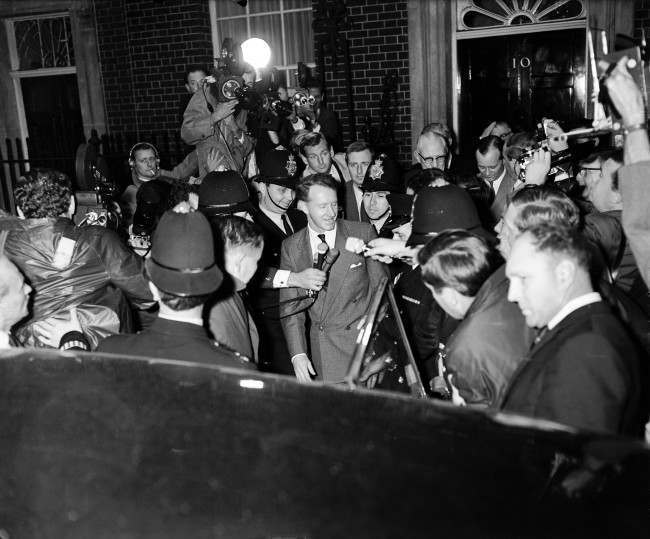 Adolfo Etchegary, the Argentine scrum-half, second left, breaks away from a scrum and kicks for touch as he is charged by Rhodesian flanker John Bredenkamp, during an international rugby match, in Salisbury, Rhodesia, May 11, 1965.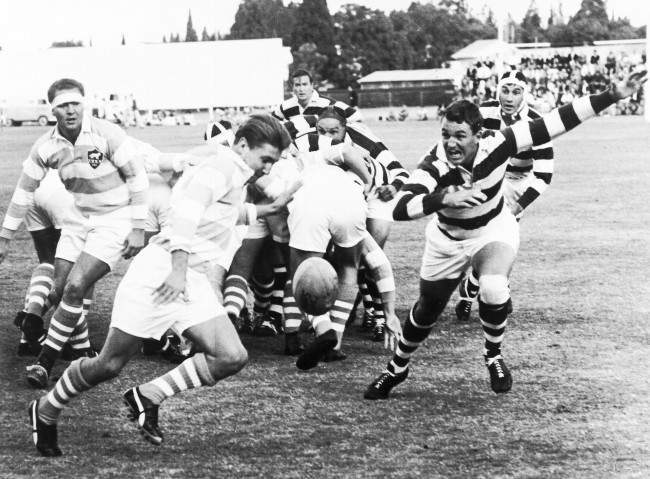 Farewell wave from Mr Ian Smith , the Rhodesian Prime Minister, as he boards the airliner at London Airport tonight to fly home. Mr Smith was leaving London after failure of efforts to solve the crisis over the Rhodesian independence issue. Date: 11/10/1965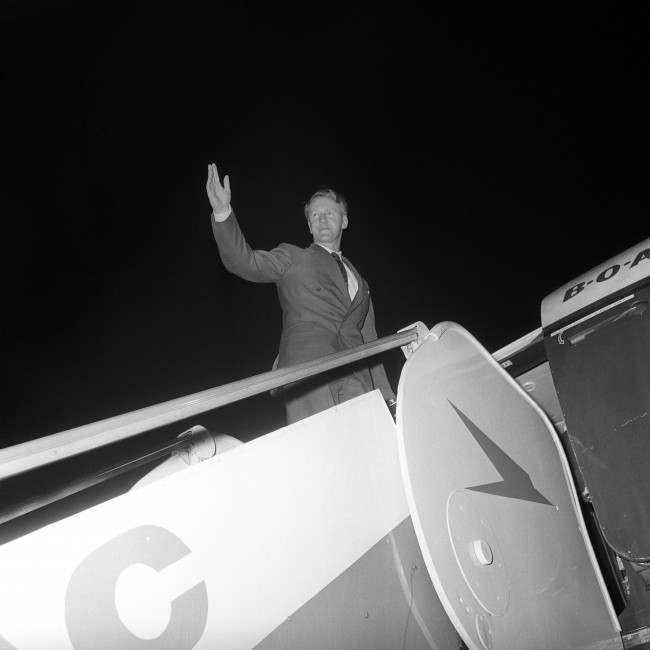 Secretary of State for Defence Denis Healey at Downing Street, where he attended a Cabinet meeting called by Harold Wilson following the Unilateral Declaration of Independence in Rhodesia. Date: 11/11/1965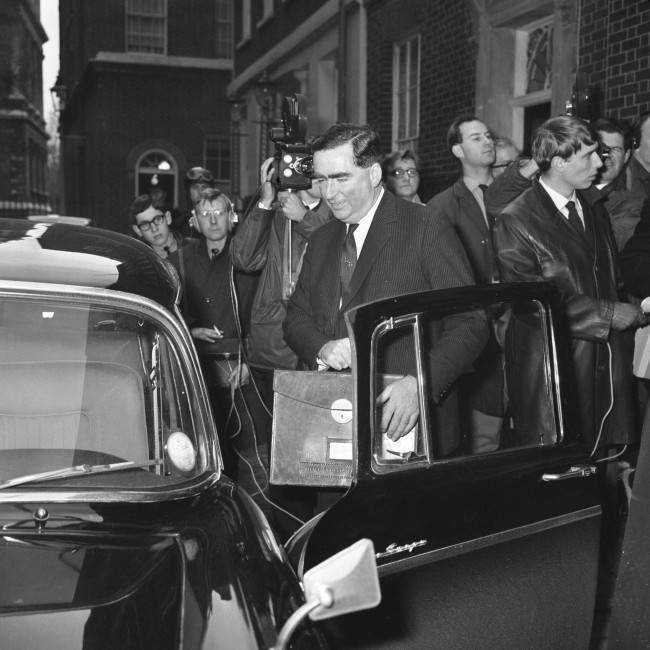 29TH OCTOBER: ON THIS DAY IN 1965 IAN SMITH TOLD PRIME MINISTER HAROLD WILSON THAT RHODESIA WOULD DECLARE UDI (UNILATERAL DECLARATION OF INDEPENDENCE) IAN SMITH 1965: Rhodesian Prime Minister Ian Smith pictured leaving London Airport for home after stormy London talks on his country's independence.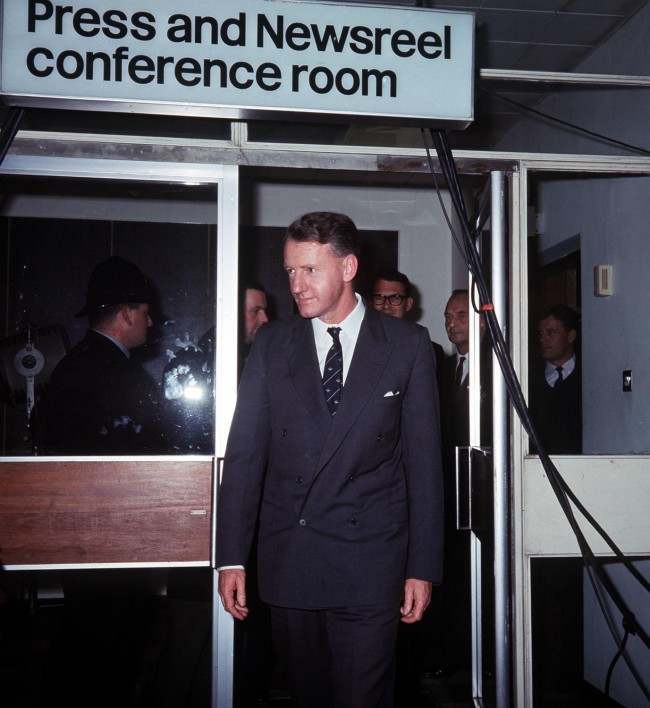 WHAT FOLLOWED?
The United Nations Security Council condemned Mr Smith's regime in Rhodesia.

The US immediately supported the British sanctions – with embargoes on arms exports and sugar imports – and the UN called for all its members to implement economic sanctions in 1966. France and the USSR abstained, but South Africa and Portugal – with its colony Mozambique – refused and their continued trading with Rhodesia was instrumental in keeping the Smith government afloat.

Joshua Nkomo's Zapu and Robert Mugabe's Zanu parties overcame their differences to form the Patriotic Front (PF) to confront Ian Smith. Armed resistance from their guerrilla movements continued until white rule formally ended in June 1979, when Abel Muzorewa of the African National Congress (ANC) became the first black prime minister of the newly named Zimbabwe-Rhodesia.

Robert Mugabe was elected prime minister of an independent Zimbabwe in 1980 under a new constitution.

Mr Smith remained an MP until 1987.
Student Demonstrations against Rhodesia on Fleet Street, London. Date: 11/11/1966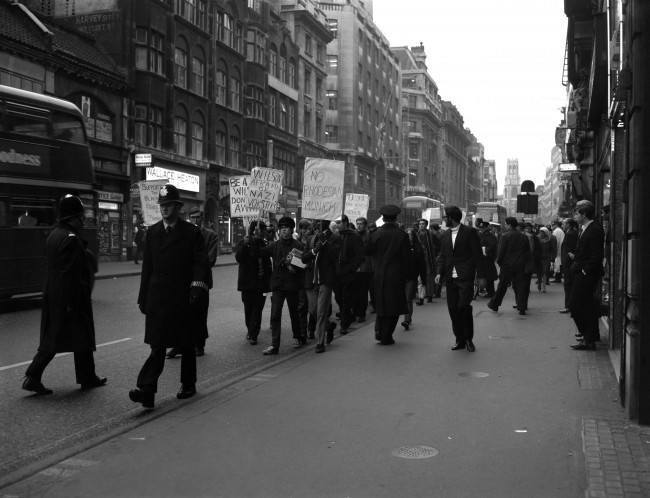 Wearing her bathing costume Miss Rhodesia during the Miss World contest in London. Date: 19/11/1965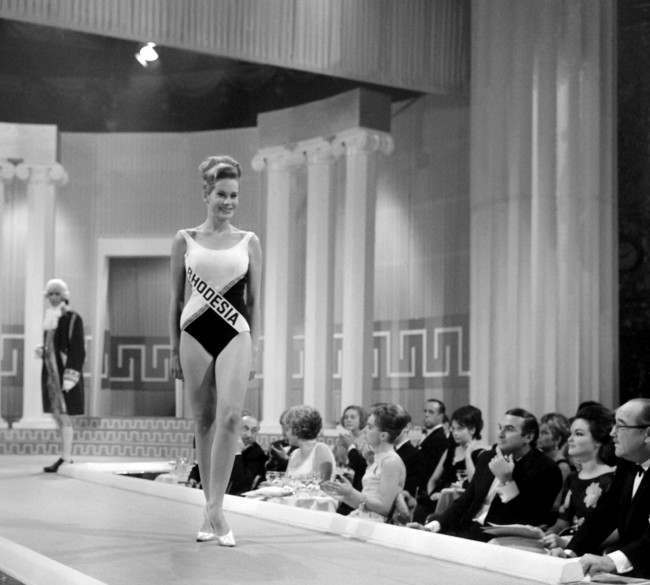 British Prime Minister Harold Wilson (left), Ian Smith, the leader of rebel Rhodesia and the warship HMS Fearless where they met off Gibraltar in October 1968. According to papers released under the 30-year rule at the Public Records Office in Kew, west London, unknown attackers sabotaged an aircraft from the flight used to transport Harold Wilson to the talks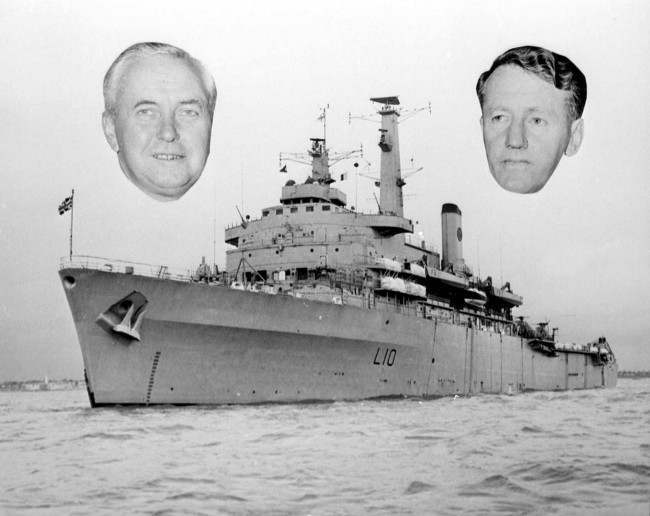 Ian Stacey and his wife pose happily on the escarpment on Oct. 1, 1973, with a souvenir presented by Security Forces stationed nearby at Rhodesia's border. On the wall behind are plaques given by the difference army groups they have met on duty in the area.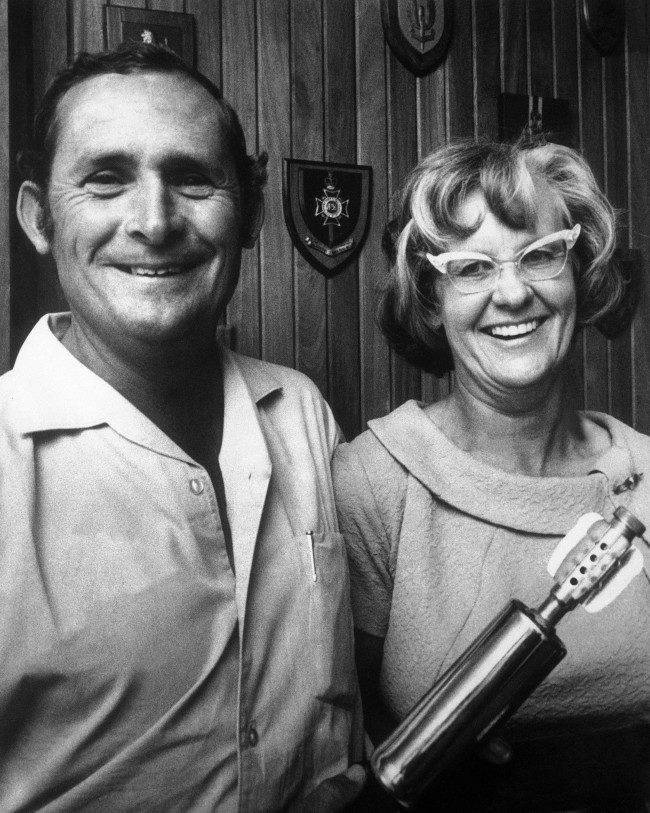 South African Prime Minister John Vorster, back to camera at right, and Rhodesian Prime Minister Ian Smith, left, during the meeting on August 25, 1975, as they attend the Rhodesian Constitutional Conference in a railway train halfway across the Victoris Falls Bridge on the border between Rhodesia and Zambia.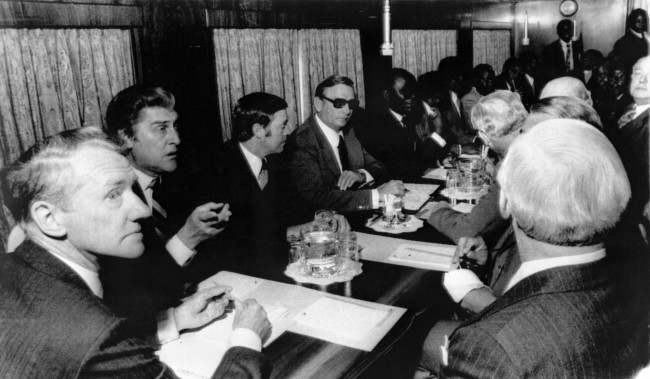 Young Liberals leader Peter Hain among Anti-Apartheid movement demonstrators who marched from Charing Cross Embankment to a rally in Trafalgar Square, to protest the 10th Anniversary of the declaration of UDI by the Smith regime in Rhodesia. Date: 09/11/1975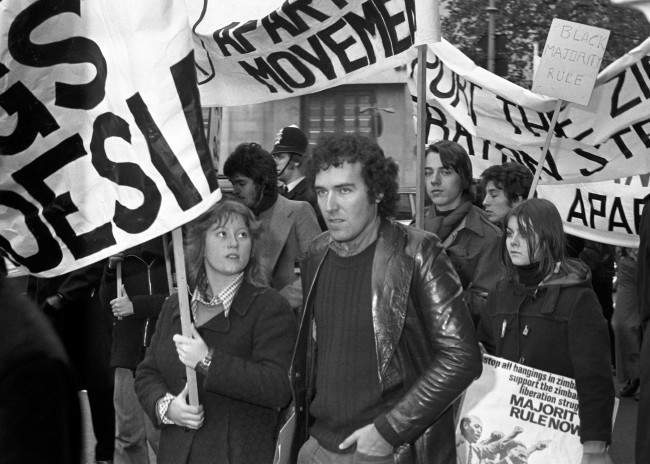 President Ford has ordered Secretary of State Henry Kissinger to Africa on a peace mission to head off the perils of a black-white war in the troubled continent, it was announced, May 25, 1974. Kissinger will depart on a journey to at least three African capitols – Dar Es Salaam in Tanzania for talks with President Julius Nyerere, to Lusaka in Zambia to meet with President Kenneth Kaunda, and to Pretoria in South Africa for conferences with Prime Minister John Vorster. Kissinger will be aiming for the emergence of a belt of friendly, pro-Western states from Namibia on the south Atlantic seaboard, through Botswana and Rhodesia and to Mozambique on the Indian Ocean. Date: 10/09/1976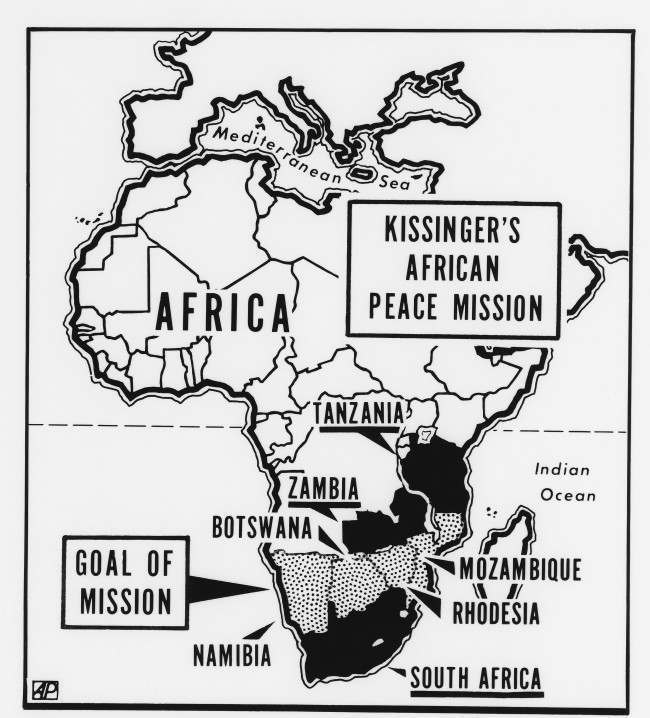 Leaders of African National Congress of Zimbabwe (Rhodesia) Robert Mugabe, left, and Joshua Nkomo were in cheerful mood at a joint press conference they gave in Dar Ea Salaam, Tanzania, on Oct. 9, 1976.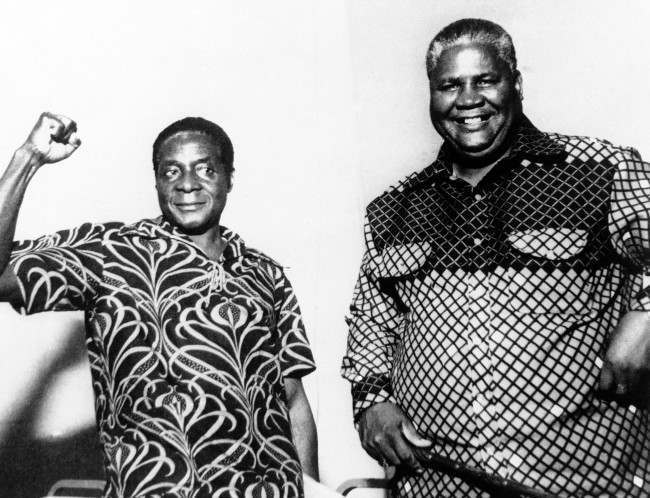 1976: Miss Rhodesia, 22 year old Jane Bird, reveals her shapely figure at her London hotel. Jane, who arrived in London this morning, is hoping to be the first girl to represent her country in the Miss World contest since 1965, when Rhodesia declared independence. Date: 17/11/1976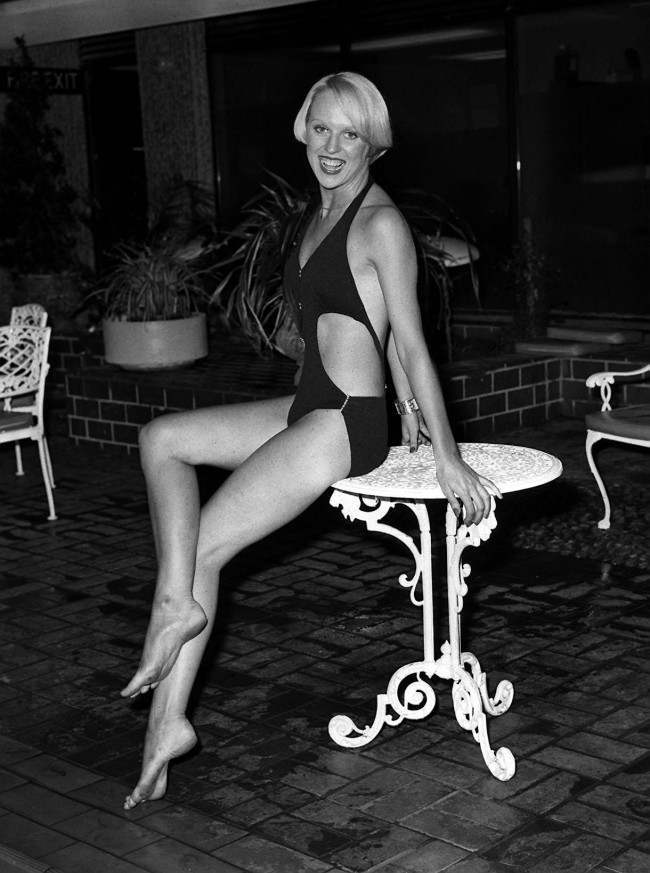 A black Rhodesian prisoner stands with a rope tied around his neck, to prevent escape, placed there by Rhodesian cavalrymen, background, who detain him for questioning in Lupane, Southern Rhodesia in Sept. 1977. Rhodesia's white-dominated government is countering black Rhodesian guerrilla activities with militant armed forces. Date: 01/09/1977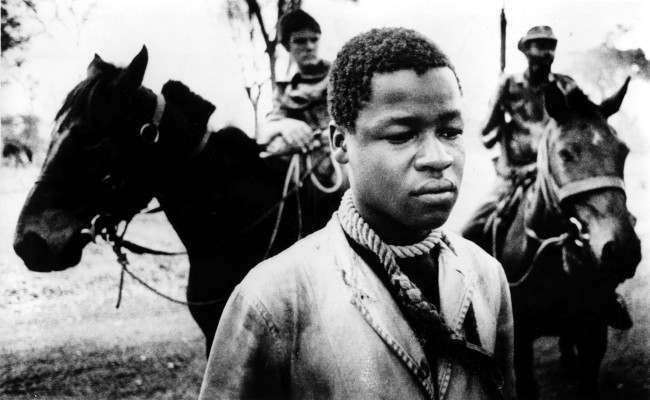 A Rhodesian government soldier holds African villagers at gunpoint, forcing them to hold a push-up position, in Kikidoo, Southern Rhodesia, Sept. 17, 1977. The men are being interrogated about anti-government guerrilla activity. Date: 17/09/1977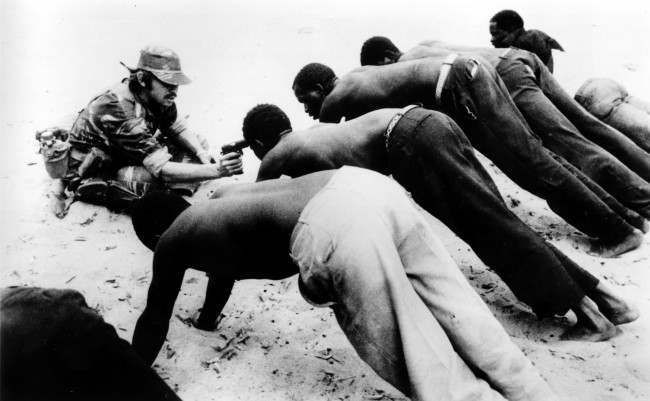 Britain's Prime Minister Margaret Thatcher dances with Zambia's President Kenneth Kaunda at the Lusaka Press Club annual awards dinner, Aug. 6, 1979. Mrs Thatcher is in Zambia for the Commonwealth conference aimed at resolving the Rhodesia-Zimbabwe issue. Date: 06/08/1979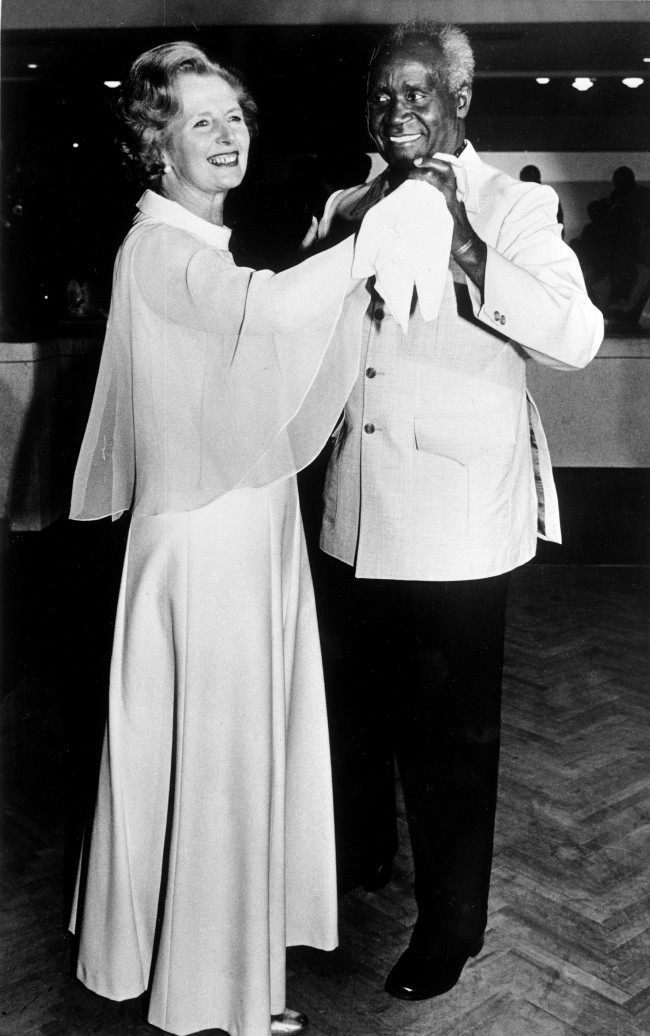 Patriotic Front leader Robert Mugabe, right, is pictured with British Foreign Secretary Lord Carrington at Lancaster House in London, United Kingdom on Sept. 10, 1979, where they were attending the opening of the Zimbabwe-Rhodesia constitutional talks. Date: 10/09/1979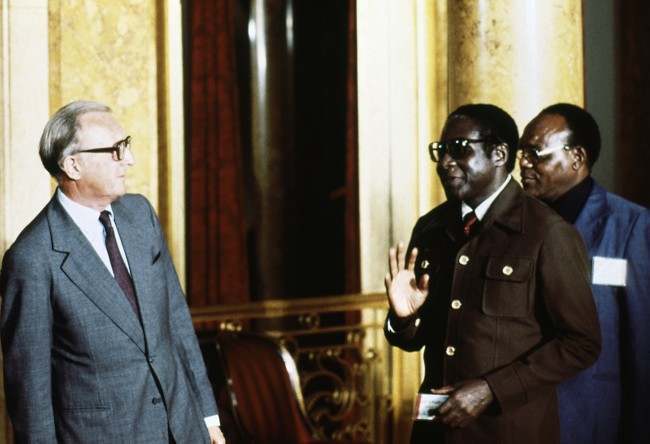 The scene at Lancaster house, London, after the signing of the Rhodesia ceasefire agreement. (l-r) Dr S. Mundawarara, Bishop Muzorewa, Foreign Secretary Lord Carrington, Sir Ian Gilmour and Patriotic Front leaders Joshua Nkomo and Robert Mugabe. Date: 21/12/1979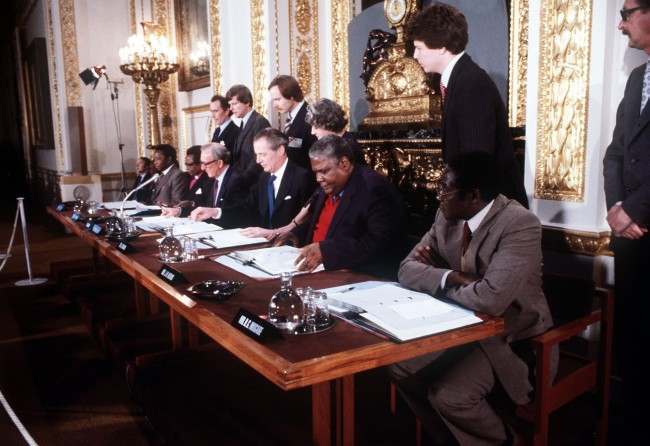 RHODESIA 1980: Bombardier John Gayland, 29, of the 1st Royal Horse Artillery on duty outside the Rhodesia Ceasefire Monitoring Force Headquarters at the Morgan High School in Salisbury during the build-up to the Rhodesian General Election. Date: 24/01/1980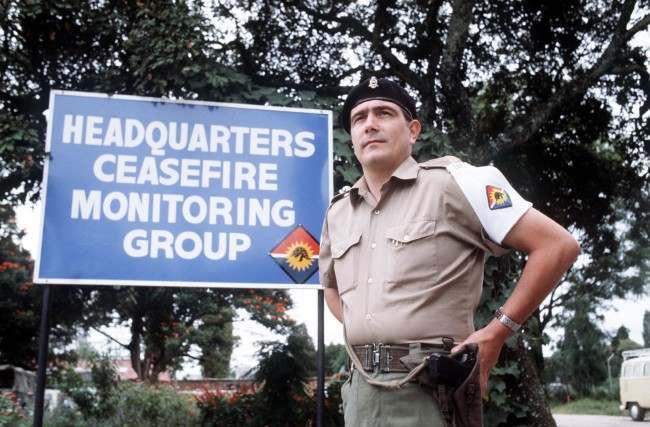 WHITE FARMERS IN RHODESIA 1980: The Mills family of Borrowdale, nr Salisbury, display some of the weapons with which they are prepared to defend their 500 acre poultry farm. They are Gerald Mills (from North Wales), wife Caroline and daughters Daphne (hat, 12) and Vanessa (10). Date: 02/02/1980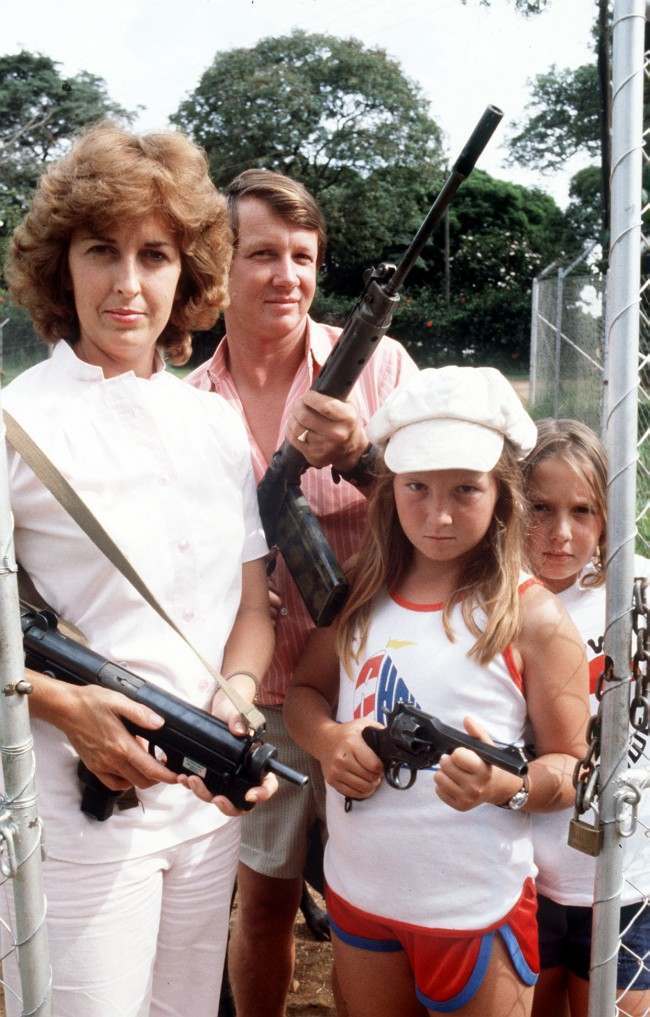 RHODESIAN ARMY 1980: White soldiers of the 1st Battalion, Rhodesia Light Infantry, on parade at the barracks at Salisbury, the Rhodesian capital (now named Harare). Date: 04/02/1980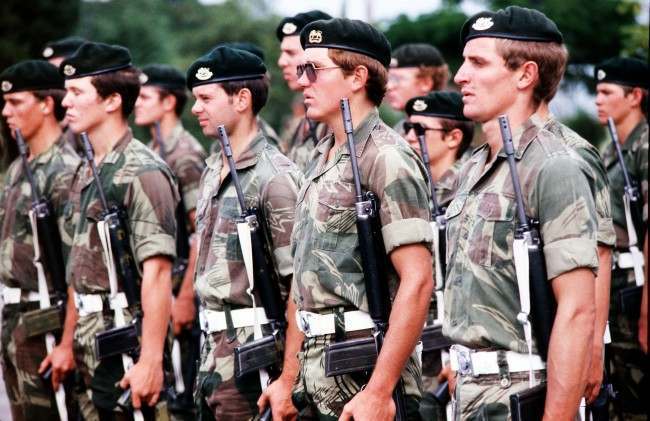 British Army drill instructors with recruit volunteers from Robert Mugabe?s guerrilla forces in Mtoko, Rhodesia in an undated photo.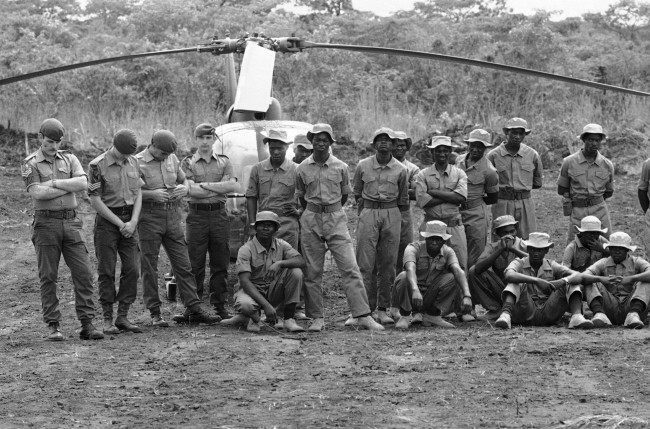 Guerillas lay down their arms under the watchful eye of a British Monitoring Force soldier before entering the mobile polling station limits after emerging from their bush hideouts to vote on Friday, March 1, 1980 in the independence election, at a southeastern assembly camp, Foxtrott Assembly Camp in Rhodesia. Guerillas in this camp, some 6,000 of the total 22,000, belong to Robert Mugabes's ZANLA forces.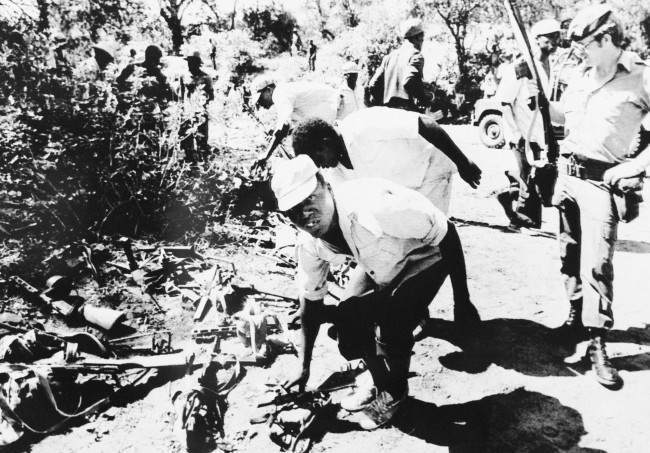 Britain's Prince Charles shares a word with Prime Minister Robert Mugabe, while British Governor Lord Christopher Soames and the Rhodesian cabinet look on in Salisbury, Rhodesia, on April 16, 1980. The Prince spoke to Mugabe for a few moments after his arrival to hand over power to a new independent Zimbabwe at the stroke of midnight on April 17. Date: 16/04/1980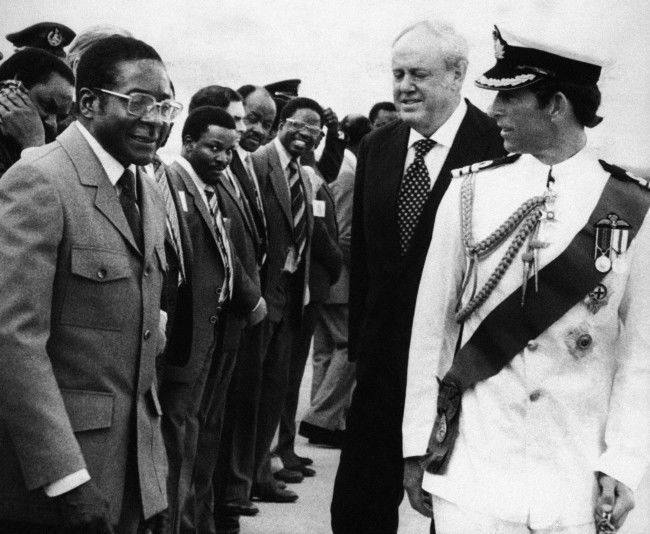 Britain's Prince Charles, left, and the British Governor Lord Christopher Soames, stand at attention while a bugler blows the last post and two other soldiers lower the Union Jack for the last time at Government House in Salisbury, Rhodesia on April 17, 1980. Rhodesia will become the independent country of Zimbabwe at midnight.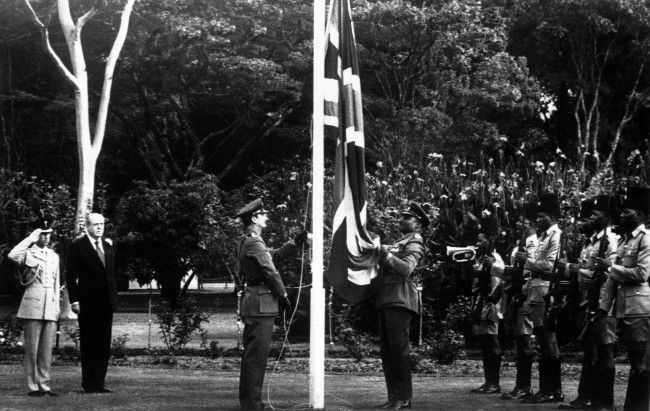 On March 4th 1980 Robert Mugabe was invited to form a government in Rhodesia (later Zimbabwe), after his party had won an absolute majority in the elections. This picture was taken shortly after Mugabe won the election victory that made him Zimbabwe's first black Prime Minister. RHODESIA/ZIMBABWE 1980: The Prince of Wales (l) with Robert Mugabe (2nd l), Prime Minister of the newly independent Zimbabwe (formerly Rhodesia), Joshua Nkomo and Foreign Secretary Lord Carrington during a dinner at Government House in Salisbury (now Harare).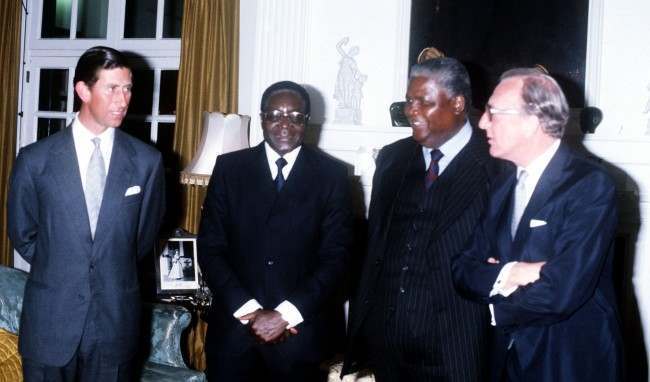 Jubilant blacks celebrate the removal of colonialism by flogging the statue of Rhodesia?s founder, Cecil John Rhodes, with steel clubs and heavy mallet when the statue was removed from central Salisbury on Wednesday, July 31, 1980. The country became independent in April, ending nine decades of British colonial rule. Date: 31/07/1980