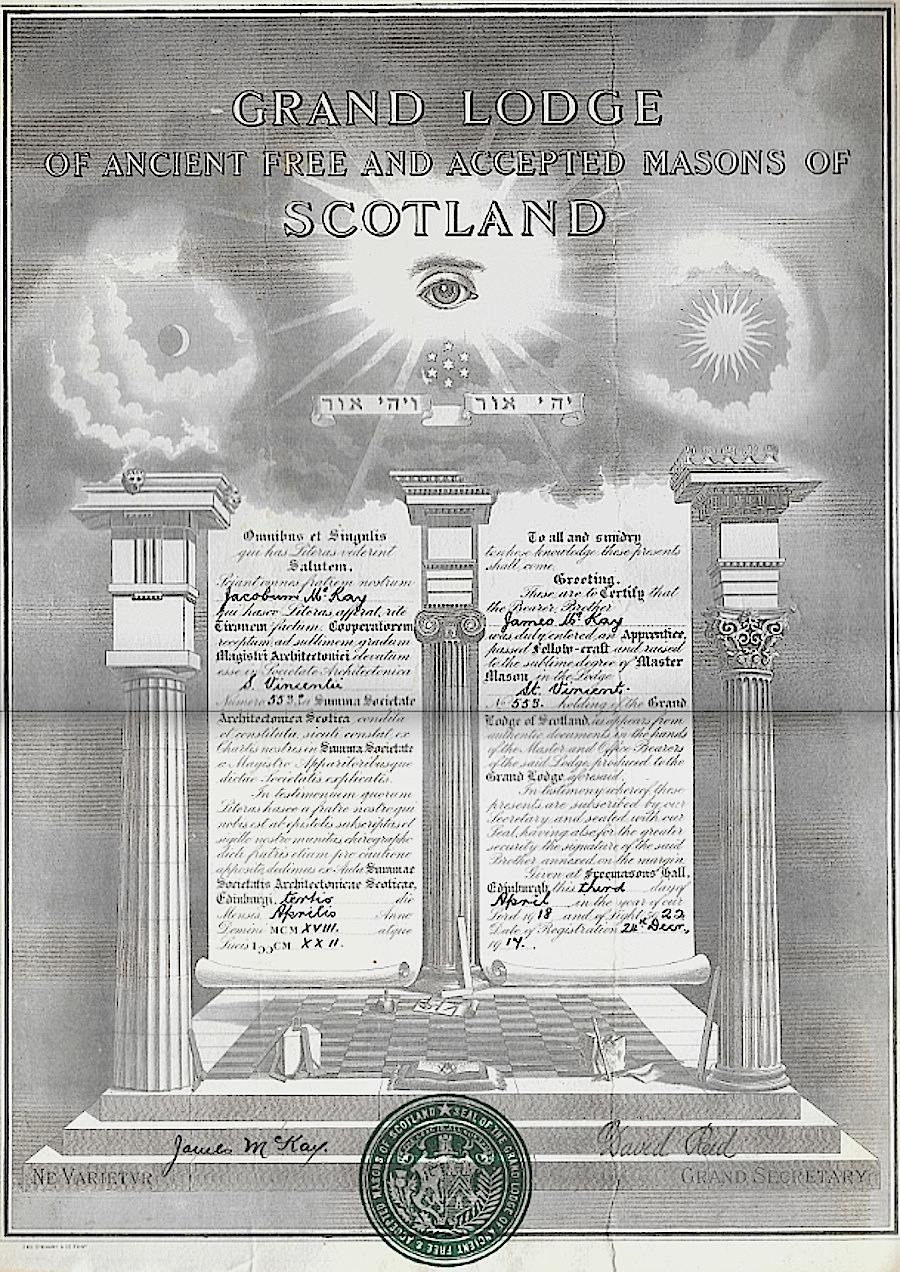 In 1917, my grandfather James McKay applied to join the Grand Lodge of the Ancient Free and Accepted Masons of Scotland. He was 26 years old.
On December 12th 1917, he paid a registration fee of £5-5/- (£5.25 in today's money) at the Lodge "Saint Vincent Sandyford No. 553". The following year, on the "third day of April in the year of our Lord 1918" James McKay (or as it was written on his scroll "Jacobum McKay") was initiated into the Masons at the Freemasons Hall in Edinburgh.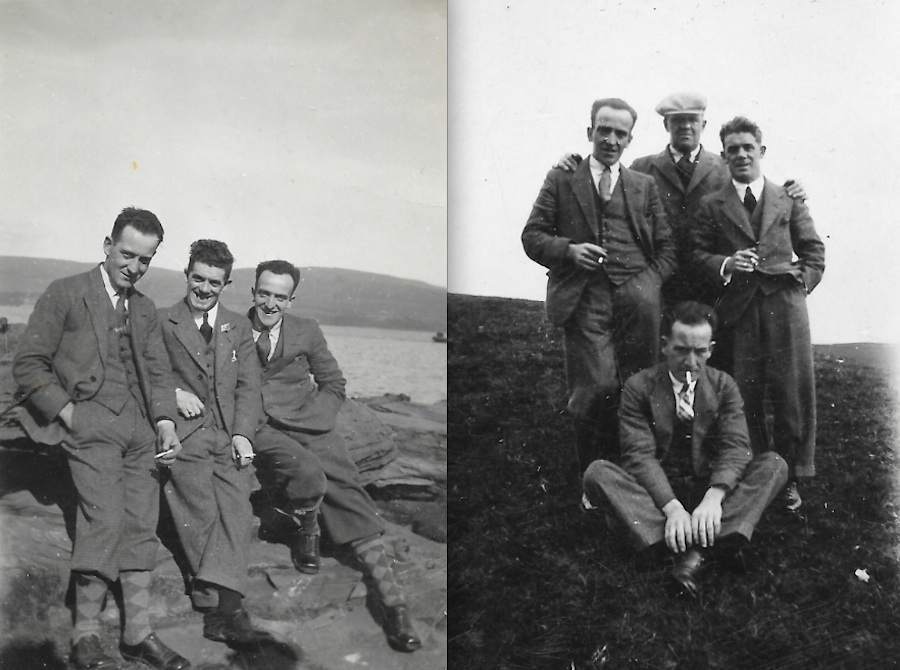 My grandfather centre in first picture, with brother-in-laws Peter and Willie (circa 1920s).
The Grand Lodge of Ancient, Free and Accepted Masons of Scotland was founded in 1736. Many Lodges pre-existed before the founding of the Grand Lodge, each with their own secret traditions, rituals and regalia.
The world's oldest Lodge is Mary's Chapel, Lodge of Edinburgh No. 1, which can date its operative history as far back as 1598. The Grand Lodge holds the minutes from a meeting of the Lodge of Edinburgh that date back to July 1599.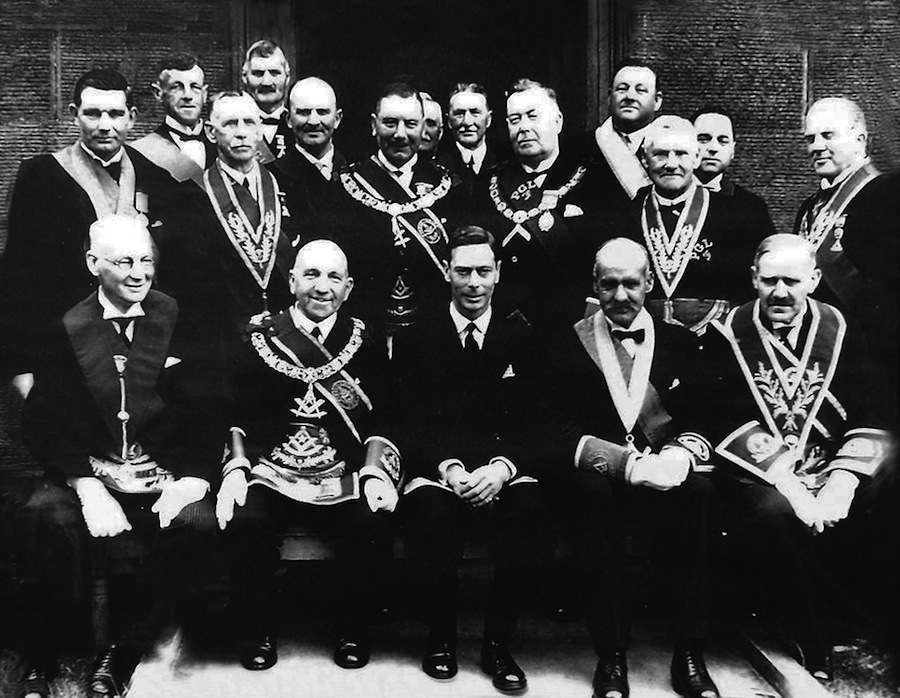 King George VI with Scottish Freemasons. (Via)
At some point prior to December 1917, my grandfather would have approached a Lodge member and asked to join the Masons. Initiates must have an interest in the "Craft", believe in a deity and be of good character. Part of the initiation is an allegory formed around the construction of the Temple of Solomon, and the artistry and death of his chief architect, Hiram Abiff.
Hiram was set upon by three ruffians who demanded he reveal the Master Masons' secret passwords. Hiram refused and was struck three times and killed. His body was then buried in a shallow grave marked by an acacia branch. When work continued on the Temple the following day, Solomon noticed Hiram was missing. A party of fellow craft masons were sent out to find Hiram. When his body was discovered in the shallow grave, it was exhumed and given a proper burial. The three ruffians were then rounded up. Solomon told them the Master Masons' secret passwords had been lost with Hiram's murder.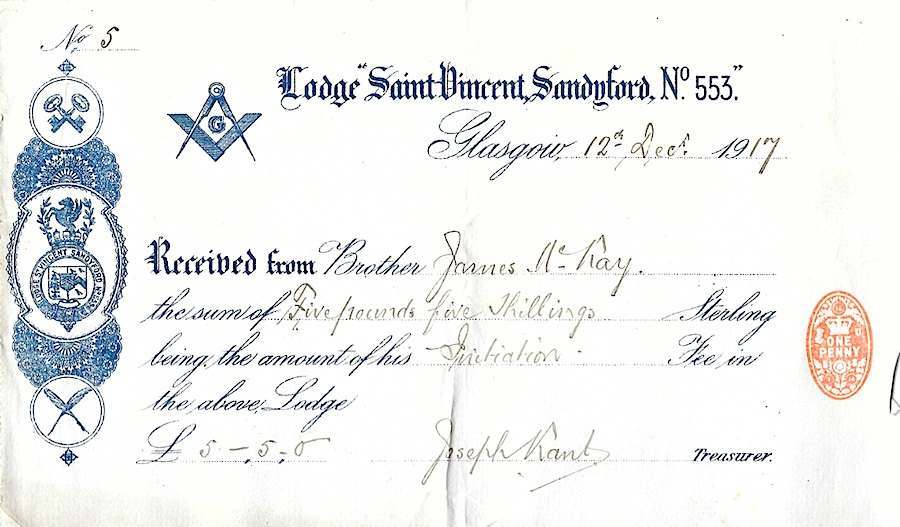 My grandfather's receipt for joining the Sandyford Lodge.
On the 27th of May 1918, my grandfather was initiated as a Master Mark with the Sandyford Lodge. My grandmother joined the Order of the Eastern Star–a branch of the Freemasons opened to women and men–in 1926. Both worked hard throughout their life–my grandfather continuing long after retirement for a company manufacturing artificial limbs and orthopaedic shoes. His work resulted in his being rewarded with a British Empire Medal in 1965–the same year The Beatles received their M.B.E.s.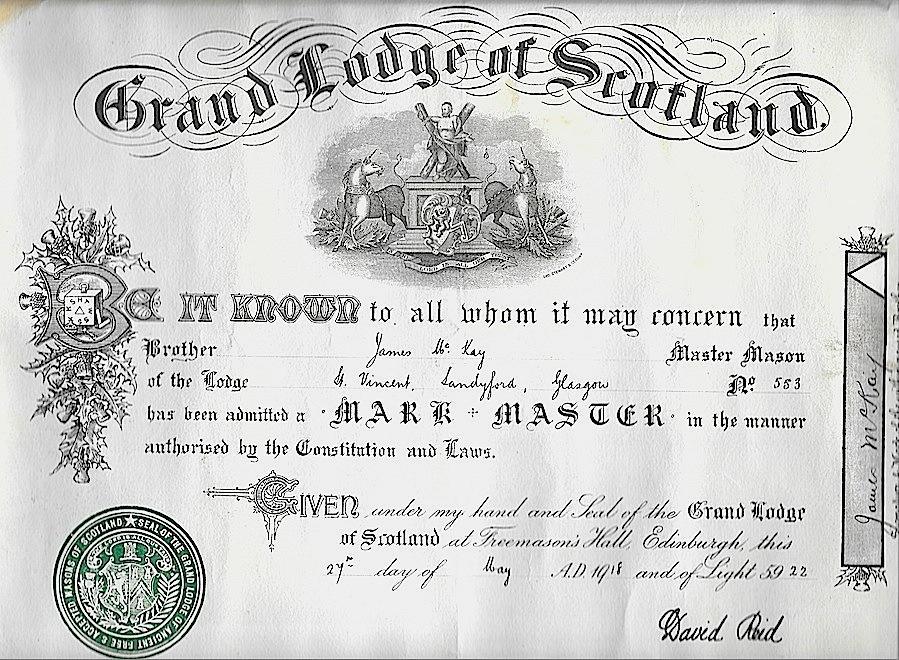 James McKay's scroll acknowledging his position as a Master Mason and Mark Master, 1918.