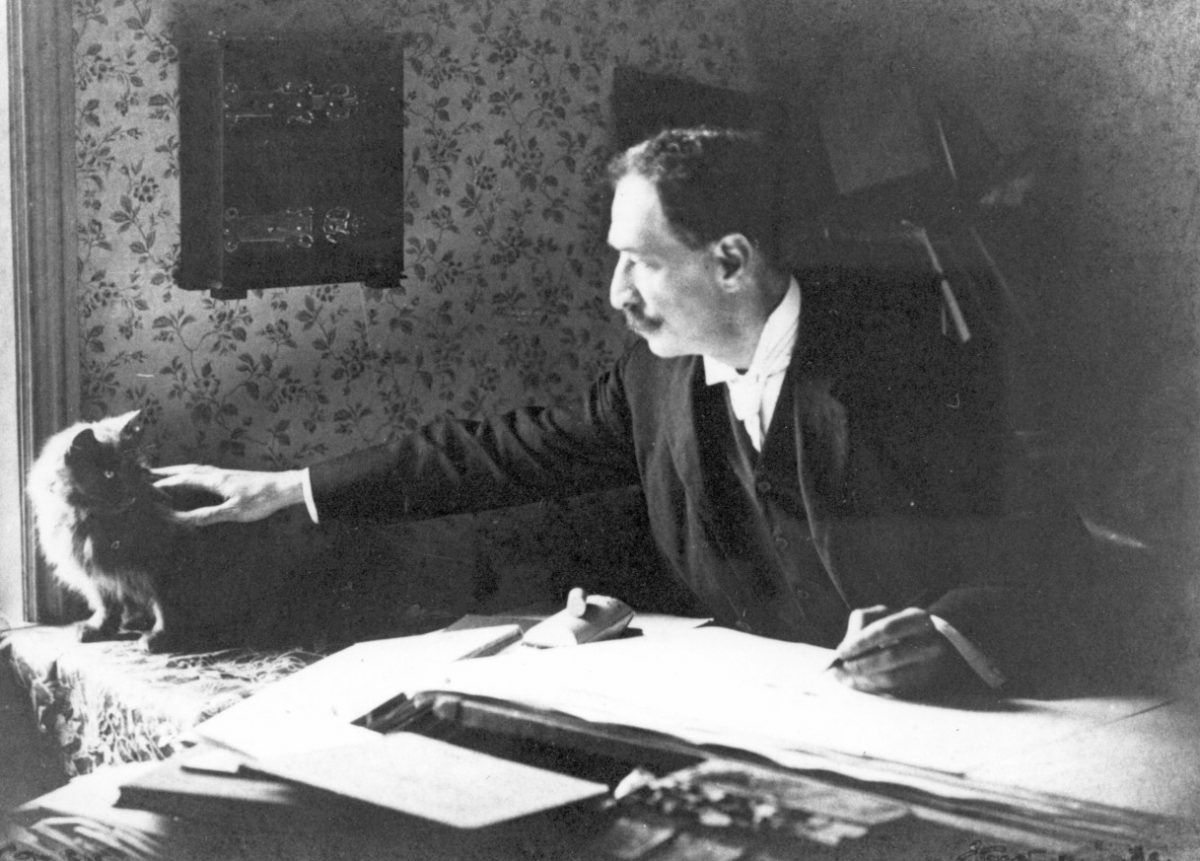 Louis Wain (5 August 1860 – 4 July 1939) was an English artist and diagnosed schizophrenic who made a name from drawing self-conscious, trippy and anthropomorphic cats and kittens. At the peak of his powers, he cranked out 1500 original paintings and sketches of cats every year. They were copied by the million. In Christmas 1903, you could buy 13 new Louis Wain books. He illustrated more than two-hundred books and had sixteen very successful Christmas annuals. "He made the cat his own," said the author H.G. Wells. "He invented a cat style, a cat society, a whole cat world." He was elected president of the National Cat Club, of course. "Louis Wain was on all our walls some 15 to 20 years ago," wrote politician Ramsay MacDonald in 1925. "Probably no artist has given a greater number of young people pleasure than he has."
A cat that has "lived a life of ease, seeing nobody and nothing beyond its mistress, will exhibit the most striking characteristics of its mistress. Another cat will, perhaps, show itself in the highest degree suspicious, taking after its master or mistress again; while a fourth, that has had to fight his way, will quarrel and rush at everything; and a fifth, that has been allowed to roam the country, will ruffle up its straw, get underneath its bed to hide right out of sight, and nothing but force will move it."

– Wain – the November 1889 issue of Cassell's Magazine on what he had learned from judging cat shows.
Wain was 24 when he sold his first drawing of cats to The Illustrated London News. Called 'A Kitten's Christmas Party', the picture portrayed 150 cats doing all manner of humanistic things – holding a ball, sending invitations, playing games and making speeches. Spread over two pages, it was an instant hit. A few years earlier he'd sold his first picture: a  drawing of bullfinches. He drew more birds and animals with little success. And then came the catharsis. At age 23, Wain fell ill. Peter, a black-and-white cat, would sit on his bed. Wain passed the time by sketching his pal and handing the sketches to his wife, Emily. One picture featured 150 cats, each one doing its own thing. Success was his. Then tragedy struck. Three years after their marriage, Emily died.
How this changed Wain, we cannot be certain. But he never remarried and his mental health deteriorated. Despite huge commercial success, by the 1920's Wain was broke. In 1924 he was committed to the pauper ward of London's Springfield Mental Hospital. He continued to drew cats, experimenting with new styles and colours.
In 1925, his plight became common knowledge. A public appeal was made that raised £2,300. The money enabled Wain to move to the Bethlem Royal Hospital.
In 1930 Wain was transferred to Napsbury Hospital, near St Albans. Exhibitions of his work were held in London in 1931 and 1937, as well as a memorial exhibition shortly after his death.
Looking at his art, many think mental illness played role in Wain's work. In 1939, Dr. Walter Maclay spoted eight of his works at a junk shop that would come to be known as the "Famous Series".
The first two are realistic enough, Disney-ish affairs with big round eyes and fluffy faces. The third cat is recognizable too, but ringed in a rainbow of radiating outlines. The next five drawings descend into organized chaos composed of multi-colored shapes and fractals, as if viewed through a kaleidoscope or laid out on a Turkish carpet.

Maclay was a psychiatrist in London with a penchant for art created by patients diagnosed with mental illness. (He also liked to experiment with mescaline, and invited volunteers from the Surrealist art movement to dose up and draw.) Together with his colleague Dr. Eric Guttmann, he assembled the Guttman-Maclay Collection of psychiatric art. (The collection is now overseen by the Bethlem Museum of the Mind, located on the grounds of Bethlem Royal Hospital, where Wain was a patient for several years.) Maclay believed that art was a window into the patient's mind; he had Wain's paintings framed and presented them as the illustrated decline of an artist—from cute to crazy.
Really?  The New York Times thought so, writing in 1966: "Progress of a disease – A famous series of paintings by Louis Wain, a London illustrator who succumbed to schizophrenia in middle age, reflect the artist's mental deterioration."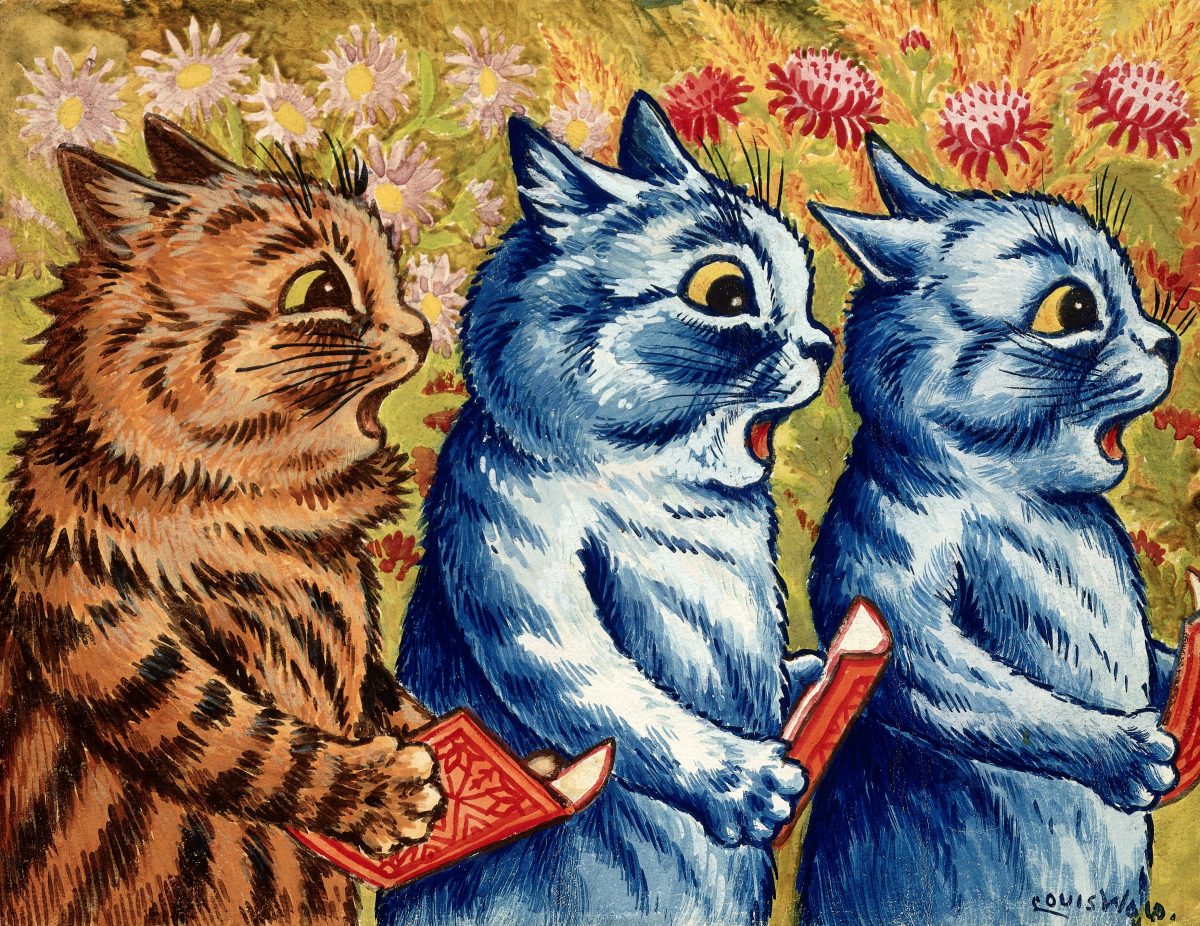 Also in 1966, Rodney Dale began to research Wain and his work. 1968, saw the publication of Dale's book, Louis Wain: The Man Who Drew Cats.  He challenged the assumptions of the Famous Series. "In fact," said Dale, "The only connection between these eight as a series is that they are all by Louis Wain, all the same size and all mounted in one frame… The fact that they are all the same size is a red herring; most of Louis Wain's drawings after he was admitted to hospital in 1924 are that size because those who supplied him with artist's materials bought that size of pad. The fact that they're all in one frame is Dr. Maclay's fault."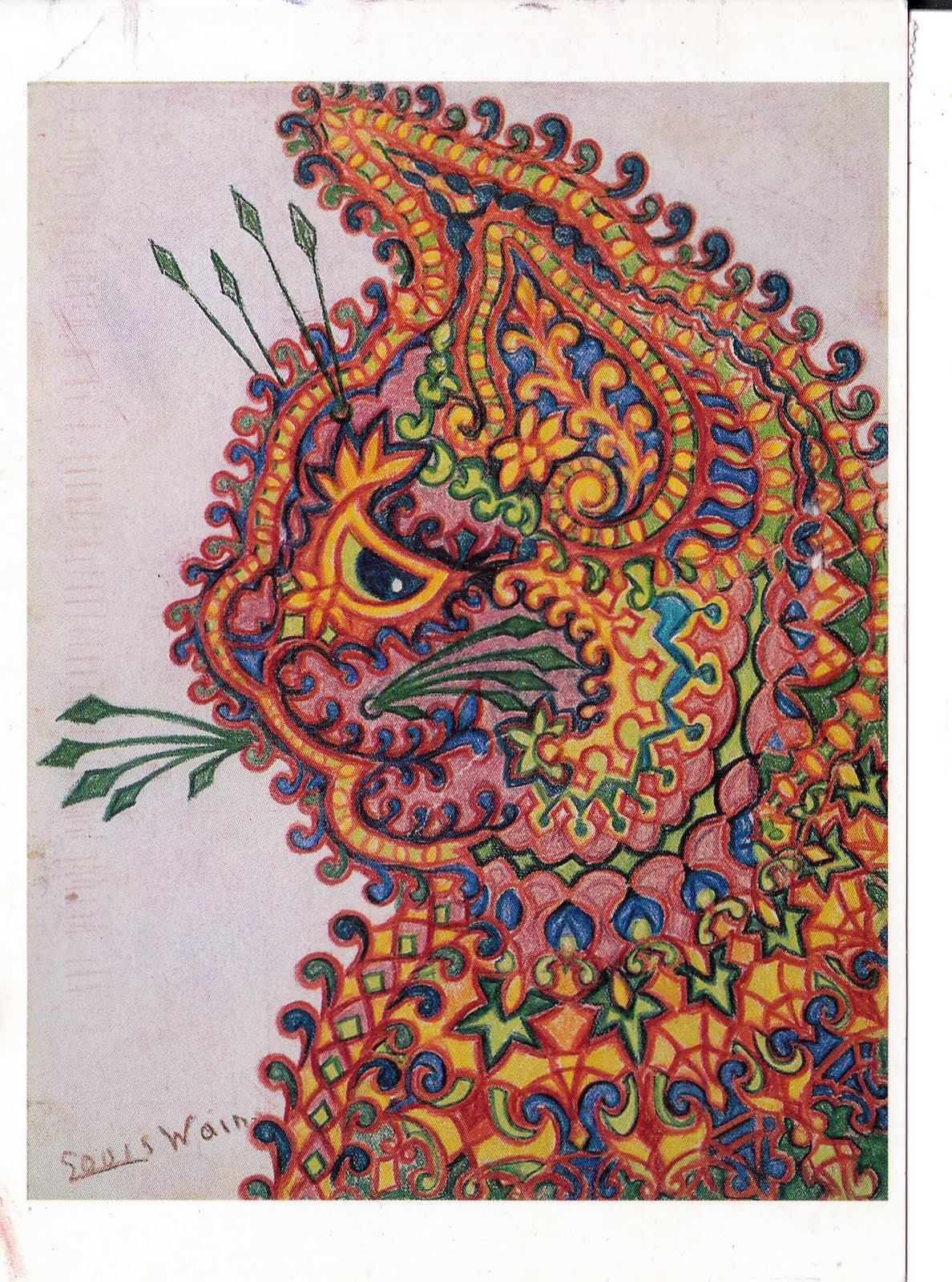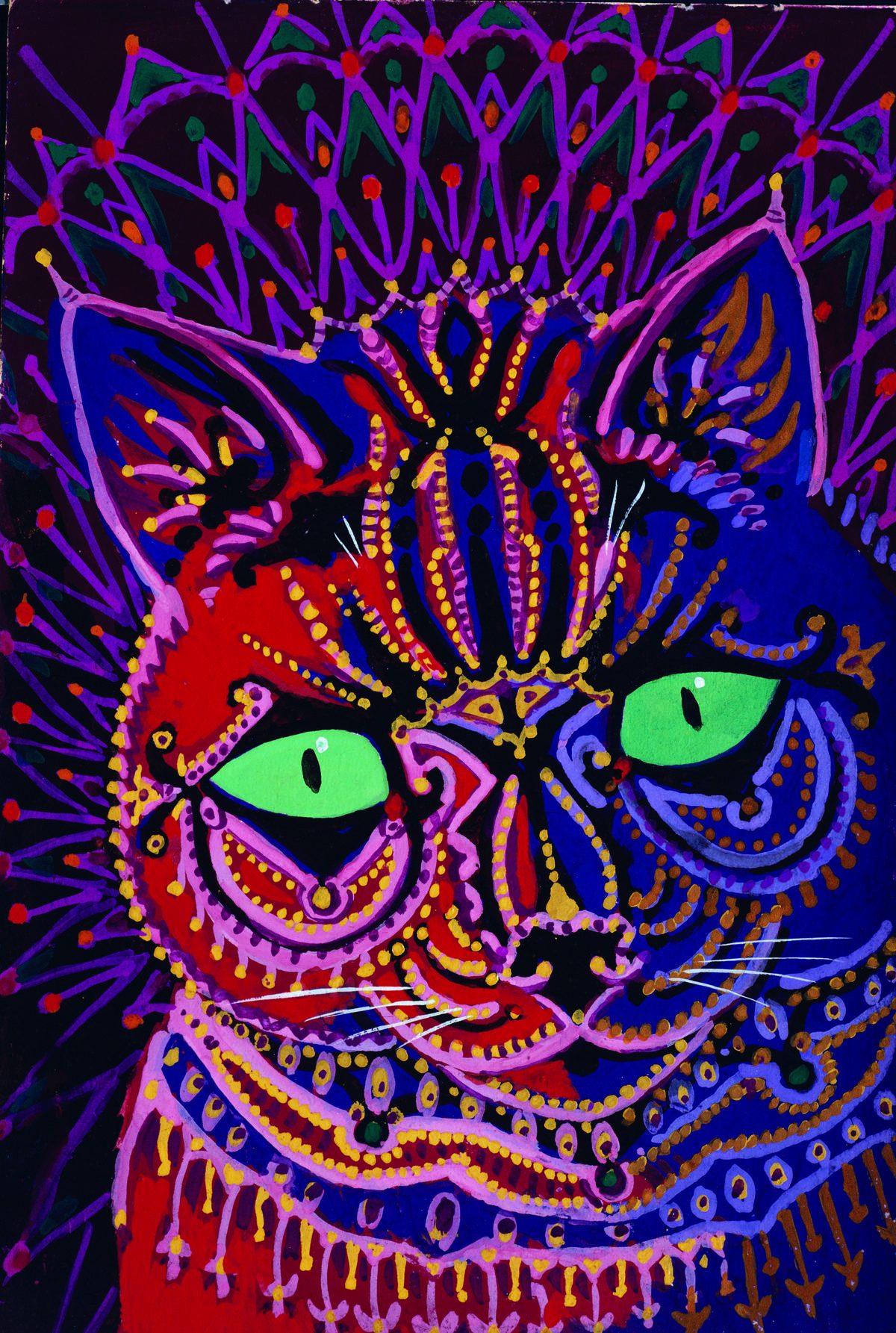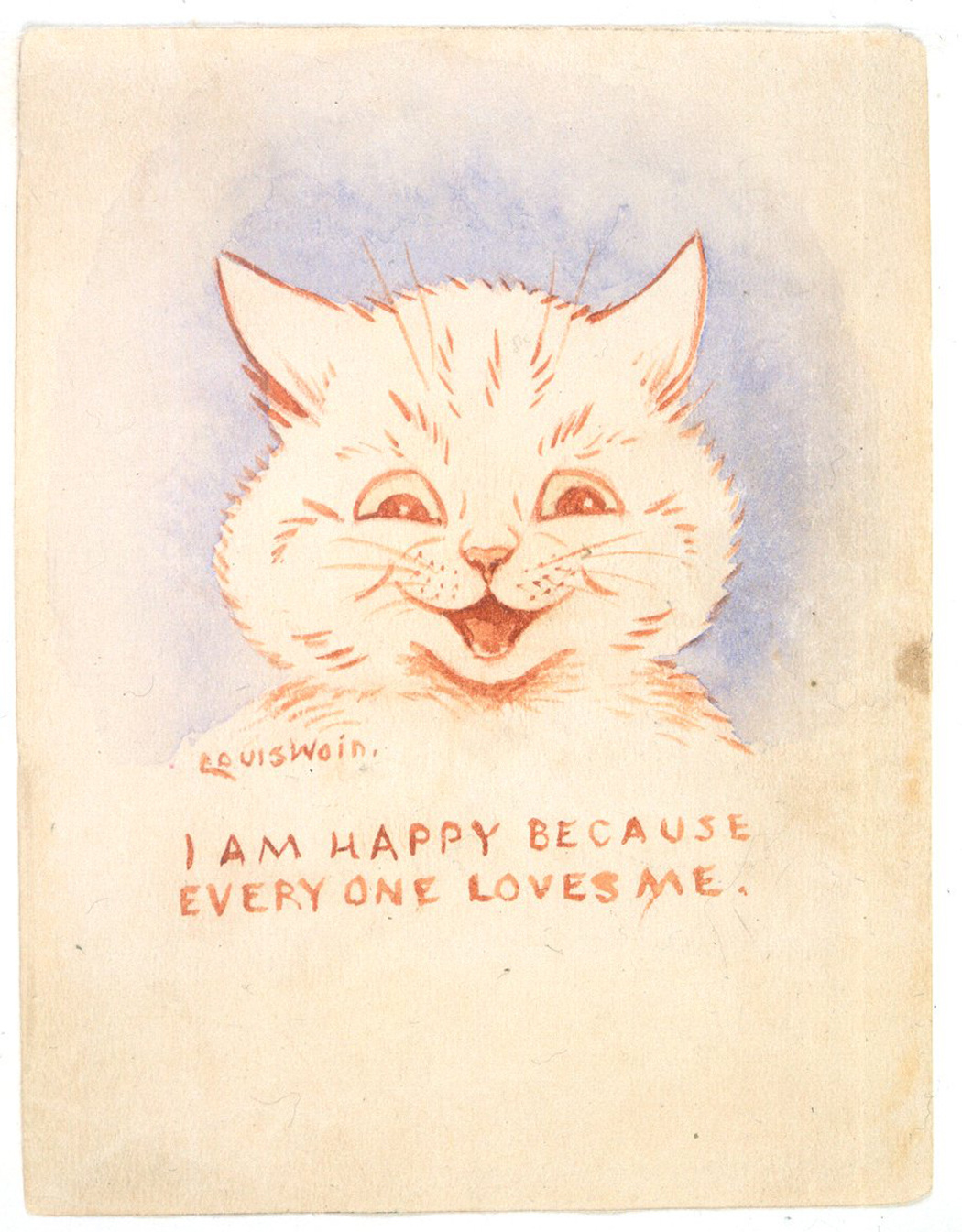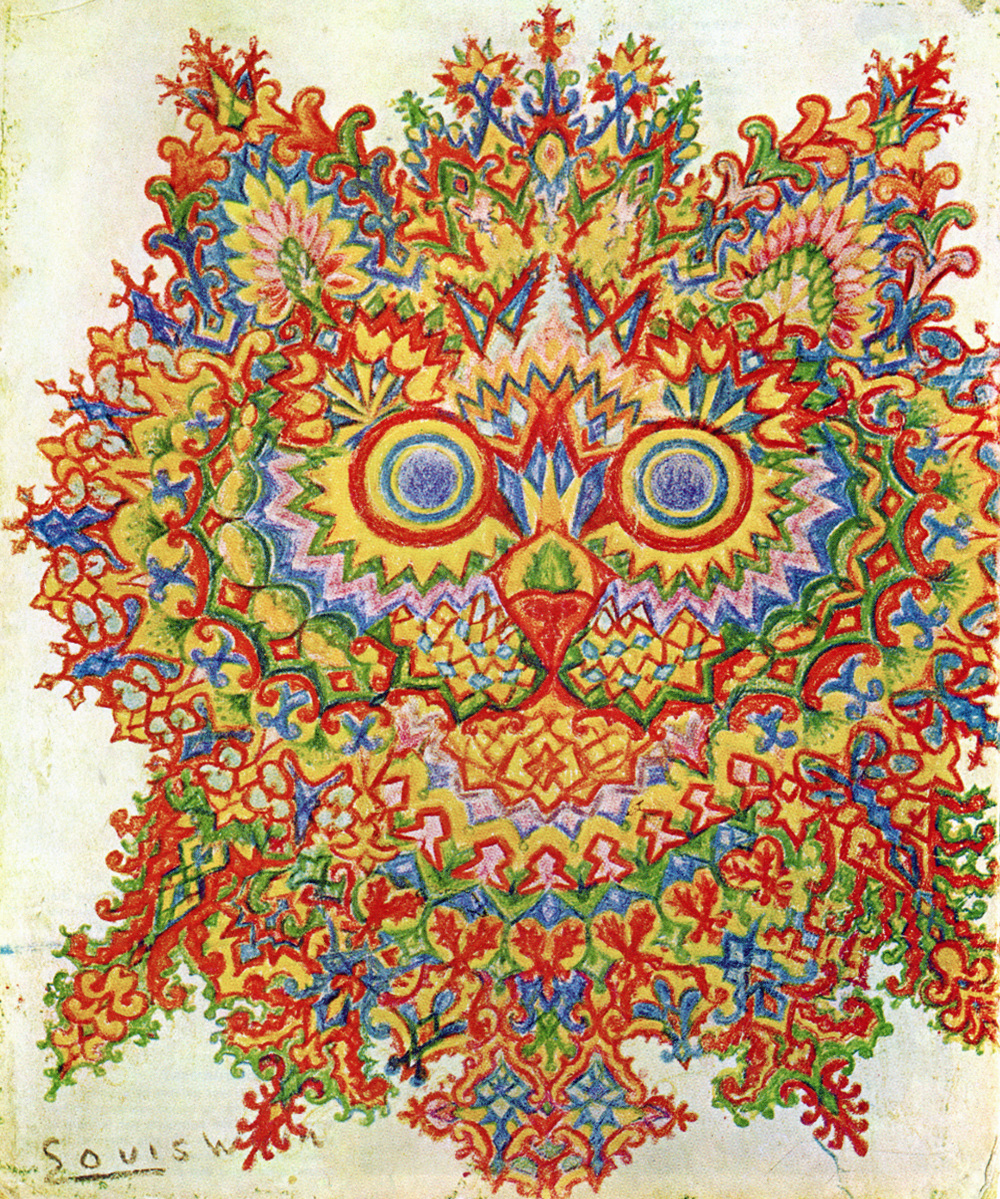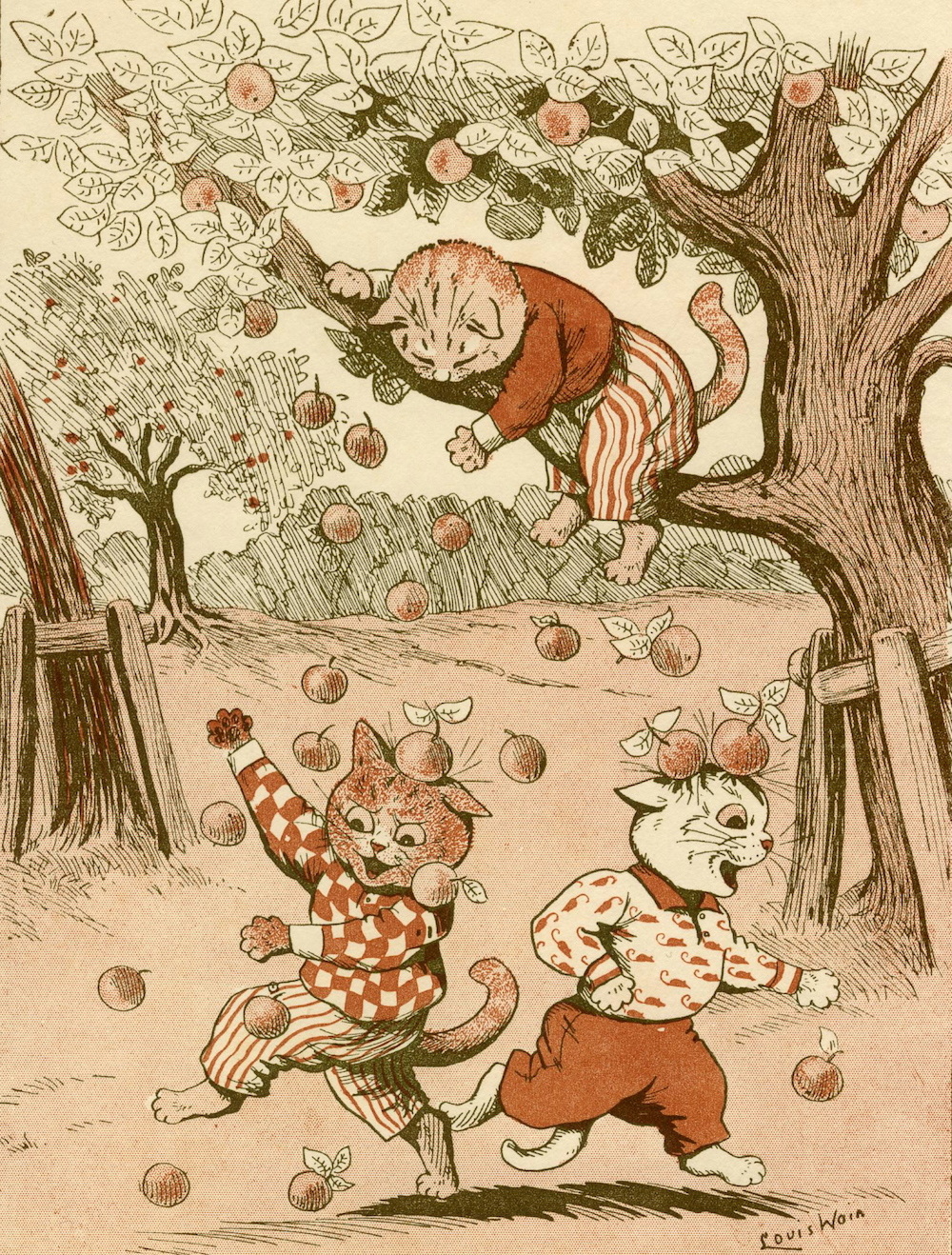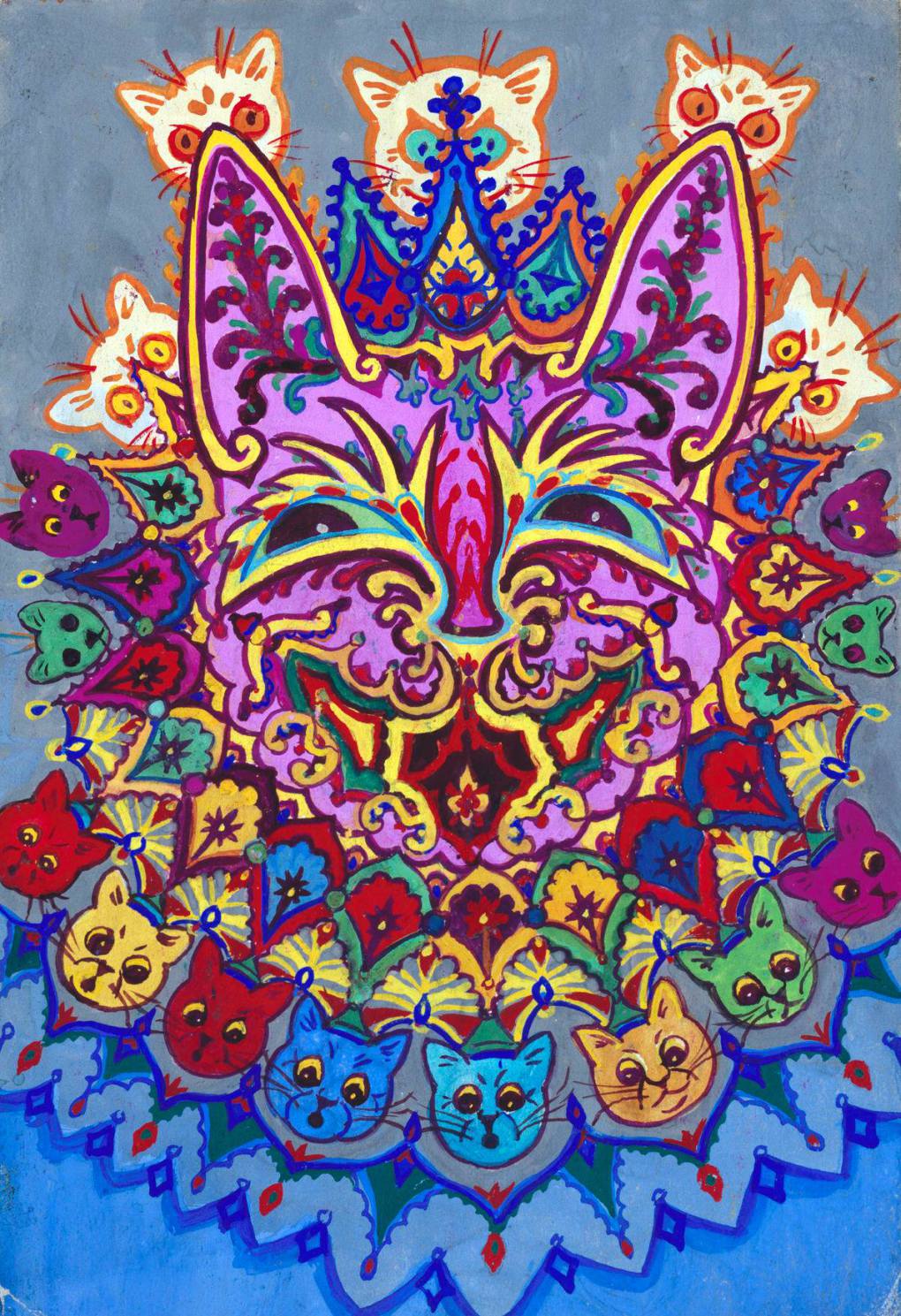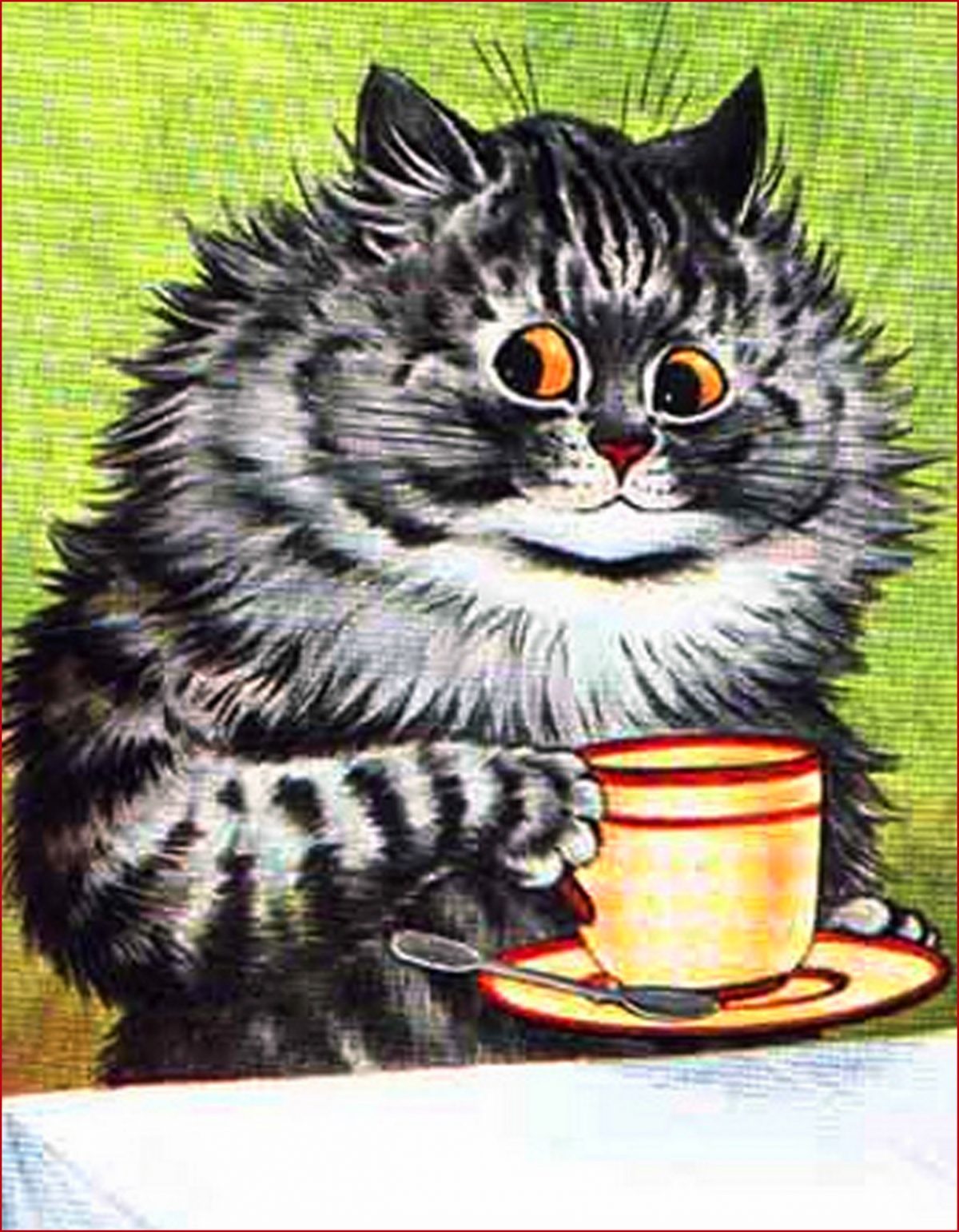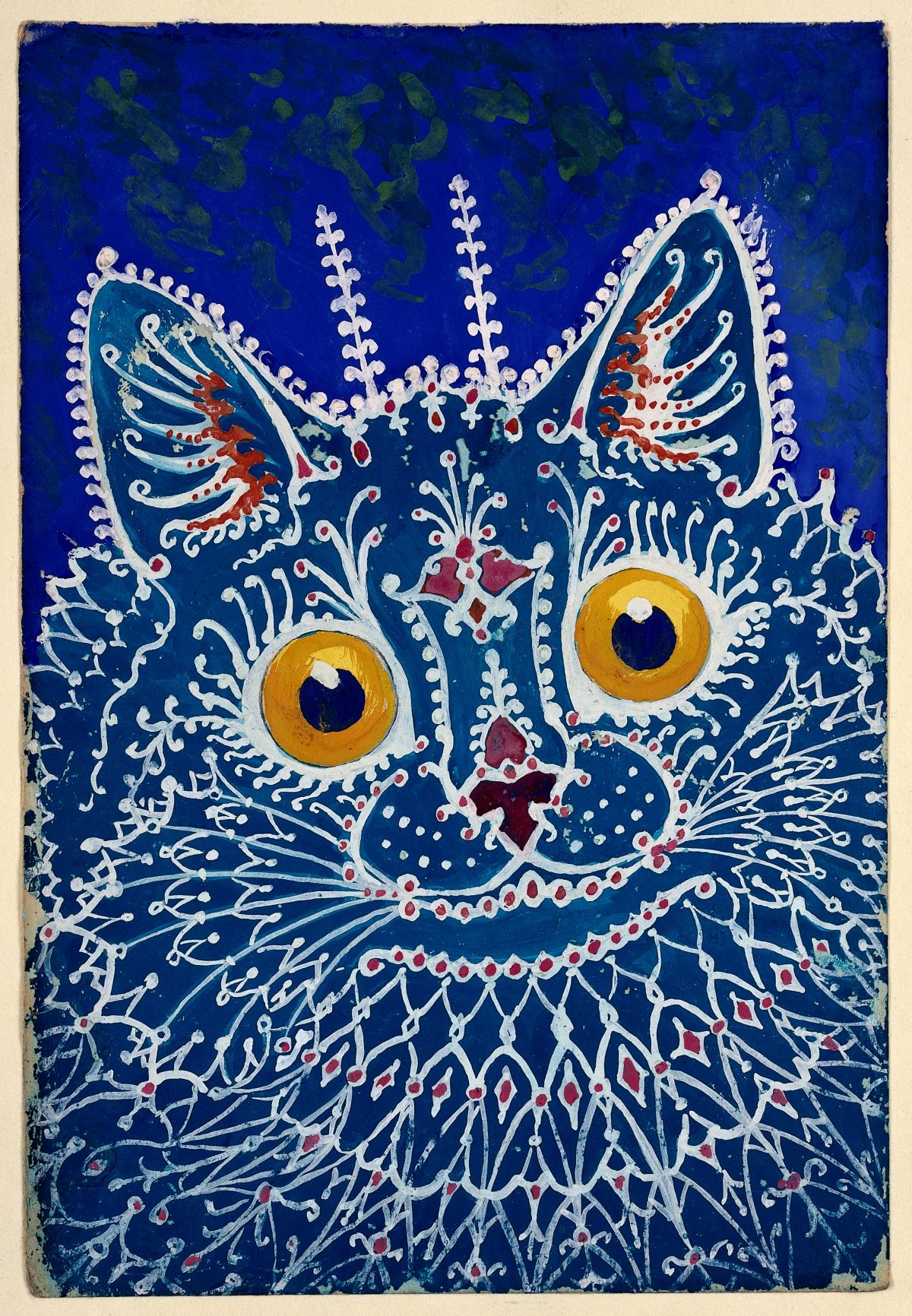 Via: Illustration Chronicles, Bethlem, Atlas Obscura