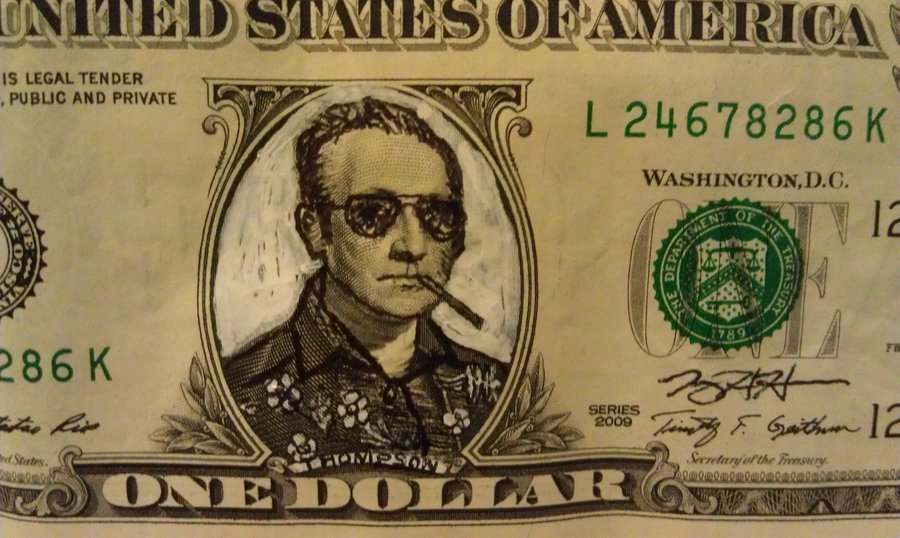 Hunter S. Thompson, according to biographer E. Jean Carroll (Hunter: The Strange and Savage Life of Hunter S. Thompson) survived on a daily routine of drink and drugs.
Many writers have kept a schedule which involved a drink. "I need an hour alone before dinner, with a drink, to go over what I've done that day," noted Joan Didion. "A drink when you get tired, preferably at home," advised Jack Kerouac. "When I get home from school at about 5:30, I numb my twanging intellect with several belts of Scotch and water," wrote Kurt Vonnegut. But Hunter S Thompson's daily routine of drink and drugs was far more disciplined and thorough.
Carroll's book begins with a list of Hunter's daily intake mind-altering substances:
I have heard the biographers of Harry S. Truman, Catherine the Great, etc., etc., say they would give anything if their subjects were alive so they could ask them some questions. I, on the other hand, would give anything if my subject were dead.

He should be. Oh, yes. Look at his daily routine:

3:00 p.m. rise

3:05 Chivas Regal with the morning papers, Dunhills

3:45 cocaine

3:50 another glass of Chivas, Dunhill

4:05 first cup of coffee, Dunhill

4:15 cocaine

4:16 orange juice, Dunhill

4:30 cocaine

4:54 cocaine

5:05 cocaine

5:11 coffee, Dunhills

5:30 more ice in the Chivas

5:45 cocaine, etc., etc.

6:00 grass to take the edge off the day

7:05 Woody Creek Tavern for lunch-Heineken, two margaritas, coleslaw, a taco salad, a double order of fried onion rings, carrot cake, ice cream, a bean fritter, Dunhills, another Heineken, cocaine, and for the ride home, a snow cone (a glass of shredded ice over which is poured three or four jig­gers of Chivas.)

9:00 starts snorting cocaine seriously

10:00 drops acid

11:00 Chartreuse, cocaine, grass

11:30 cocaine, etc, etc.

12:00 midnight, Hunter S. Thompson is ready to write

12:05-6:00 a.m. Chartreuse, cocaine, grass, Chivas, coffee, Heineken, clove cigarettes, grapefruit, Dunhills, orange juice, gin, continuous pornographic movies.

6:00 the hot tub-champagne, Dove Bars, fettuccine Alfredo

8:00 Halcyon

8:20 sleep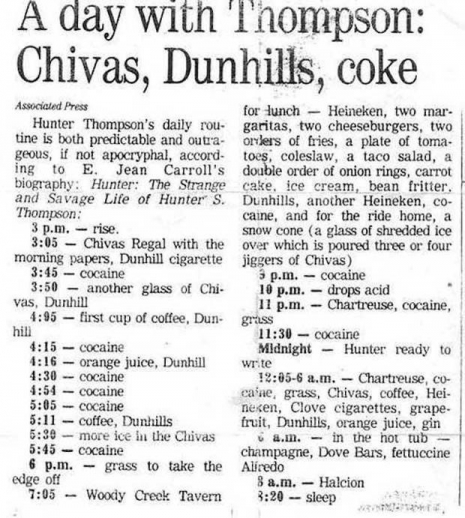 And the cure for his hangover: Amyl Nitrates and beer.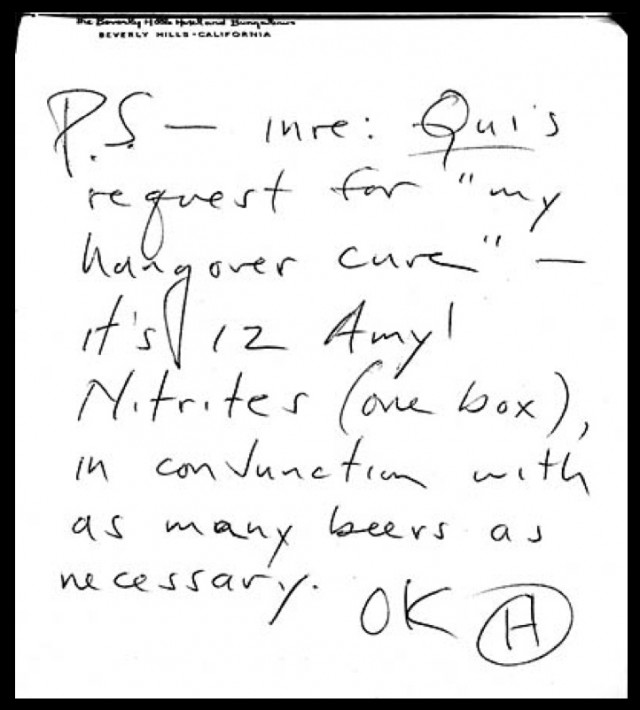 Thompson's opening lines of Fear and Loathing in Las Vegas (1971) show us that whatever the routine, it's always good to write about what you know:
The trunk of the car looked like a mobile police narcotics lab. We had two bags of grass, seventy—five pellets of mescaline, five sheets of high—powered blotter acid, a salt shaker half full of cocaine, and a whole galaxy of multi—colored uppers, downers, screamers, laughers and also a quart of tequila, a quart of rum, a case of Budweiser, a pint of raw ether and two dozen amyls. All this had been rounded up the night before, in a frenzy of high—speed driving all over Los Angeles County—from Topanga to Watts, we picked up everything we could get our hands on. Not that we needed all that for the trip, but once you get locked into a serious drug collection, the tendency is to push it as far as you can.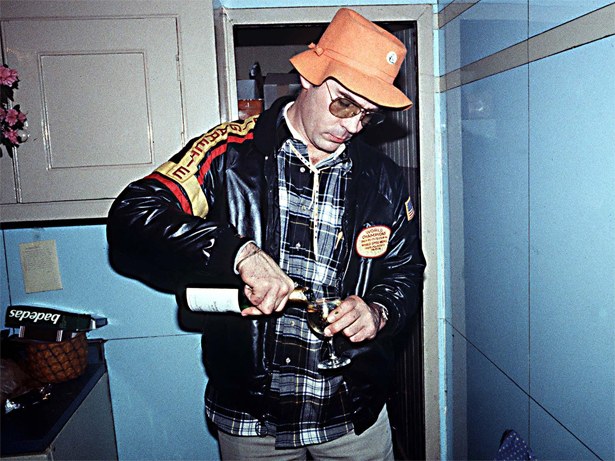 Spotter: Open Culture