In 1934 Henry Miller was living with Alfred Perlès in Clichy, Paris. He and Perlès were employed as proof-readers on  the Paris Chicago-Tribune. When not working, Miller wrote and loved to ride his bicycle, a habit that caused him to notice the scenery, "which had been virtually nonexistent to me in America – As I rode I was regaled, instructed and anointed."
This was the Paris he loved, with "prostitutes like wilted flowers and pissoirs filled with piss-soaked bread".
1934 was also the year Miller saw publication of his first book, Tropic of Cancer – the work he trailed by declaring:
"I start tomorrow on the Paris book. First person, uncensored, formless – fuck everything!"
The book was banned in his native US. It came wrapped in an order: "Not to be imported into Great Britain or USA". Nonetheless, George Orwell got his hands on a copy. He enthused:
"I earnestly counsel anyone who has not done so to read at least Tropic of Cancer. With a little ingenuity, or by paying a little over the published price, you can get hold of it, and even if parts of it disgust you, it will stick in your memory … Here in my opinion is the only imaginative prose-writer of the slightest value who has appeared among the English-speaking races for some years past."
For Samuel Beckett the book was "a momentous event in the history of modern writing."
In 1961, the ban was lifted.
In 1934, life was sweet for Miller. There was food and wine, and the delight of pissing in public. He wrote:
At the Cloud bridge I come to a full stop. I am in no hurry – I have the whole day to piss away. I put my bicycle in the rack under the tree and go to the urinal to take a leak. It is all gravy, even the urinal. As I stand there looking at the house fronts a demure young woman leans out of a window to watch me. How many time have I stood thus in this smiling, gracious world, the sun splashing over me and the birds twittering crazily, and found a woman looking down at me from an open window, her smile crumbling into soft little bits which the birds gather in  heir beaks and deposit sometimes at the base of a urinal where the water gurgles melodiously and a man comes along with his fly open and pours the steaming contents of his bladder over the dissolving crumbs. Standing thus, with heart and fly and bladder open, I seem to recall every urinal I ever stepped into – all the most pleasant sensations, all the most luxurious memories, as if my brain were a huge divan smothered with cushions and my life one long snooze on a hot, drowsy afternoon.
I do not find it strange that America placed a urinal in the middle of the Paris exhibit in Chicago. I think it belongs there, and I think it a tribute that the French should appreciate. True, there was no need to fly the Tricolor above it… And yet how is a Frenchman to know that what impresses the American in looking at a pissotiere, or a vespasienne, or whatever you choose to call it, is the fact that he is in the midst of a people who admit to the necessity of pissing now and then and who know also that to piss one has to use a pisser…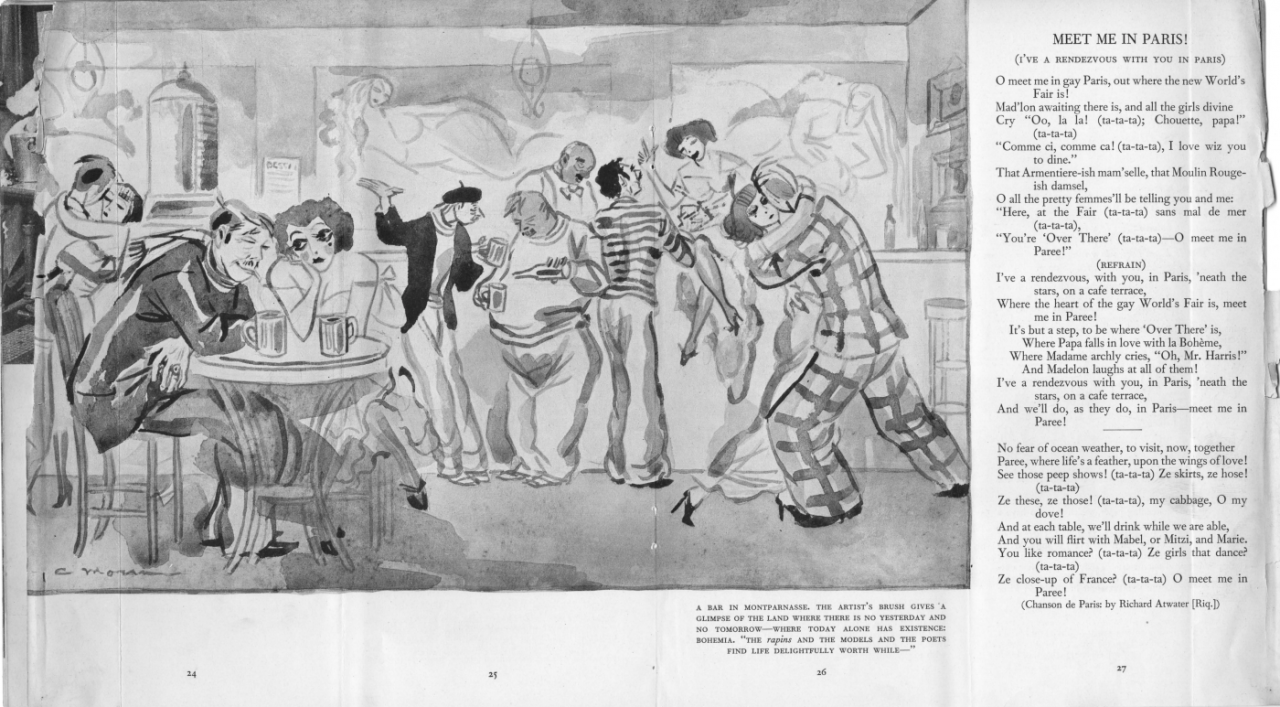 I am a man who pisses largely and frequently, which they say is a sign of great mental activity. However it be, I know that I am in distress when I walk the streets of New York. Wondering constantly where the next stop will be and if I can hold that long…
One likes to piss in sunlight, among human beings who watch and smile down at you… no man with any feeling can deny that the sight of the male standing behind a tin strip and looking out on the throng with that contended, easy, vacant smile, that long, reminiscent, pleasurable look in his eye, is a good thing. To relieve a full bladder is one of the great human joys.
No sound of the great this video of the expo. But it seems all the better for it:
The last word: