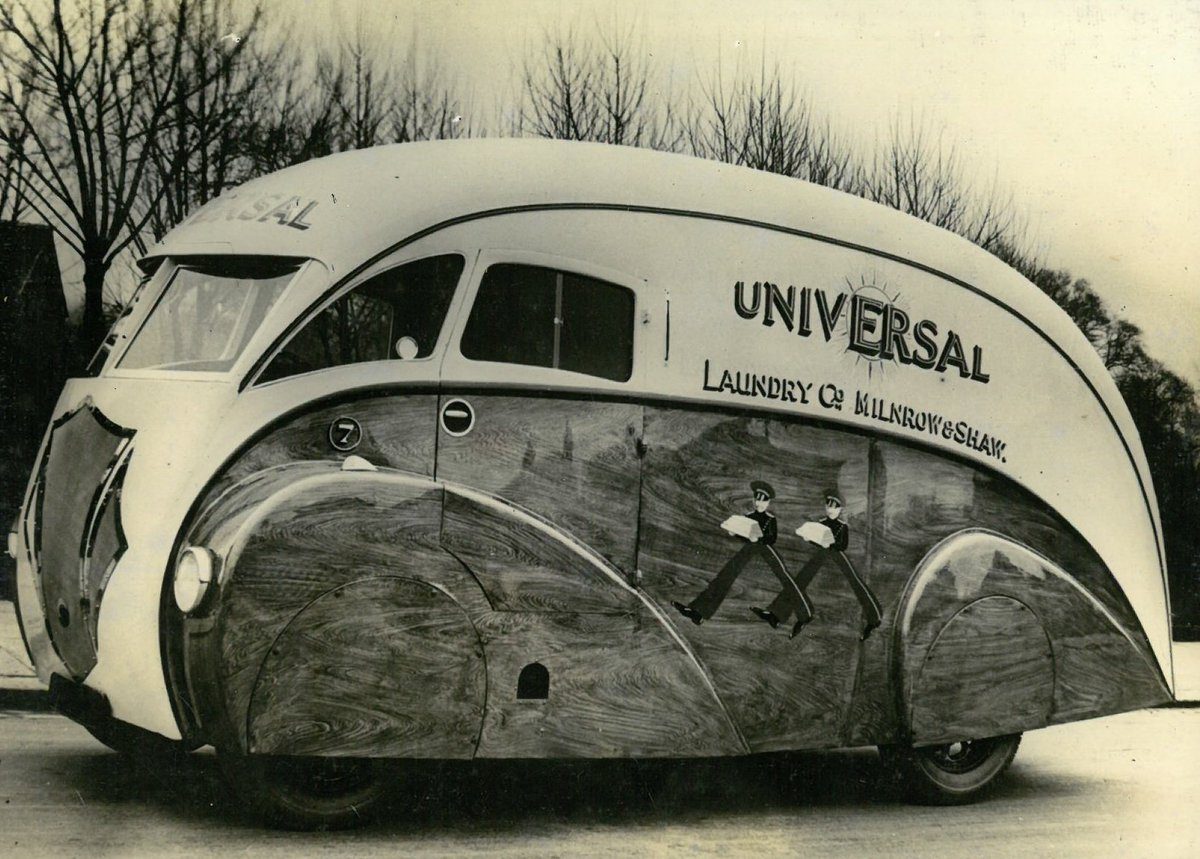 These gorgeous art deco-styled Streamline vans were made at Holland Coachcraft of Govan, Glasgow, Scotland in the 1930s. The company was established around 1930 and moved to Gateshead six years later. It went bust in 1940.
The vans were built on an Albion type-BL119 chassis. Albion trucks were also manufactured in Glasgow. Founded in 1899, Albion Motors was purchased by Leyland Motors in 1951. Vehicles continued to be manufactured under the Albion brand until 1972, after which they continued to be produced, but were sold under the Leyland brand. Vehicle production at the former Albion factory in Scotstoun continued until 1980.
If you know any more about Holland Coachcraft, we'd love to hear from you.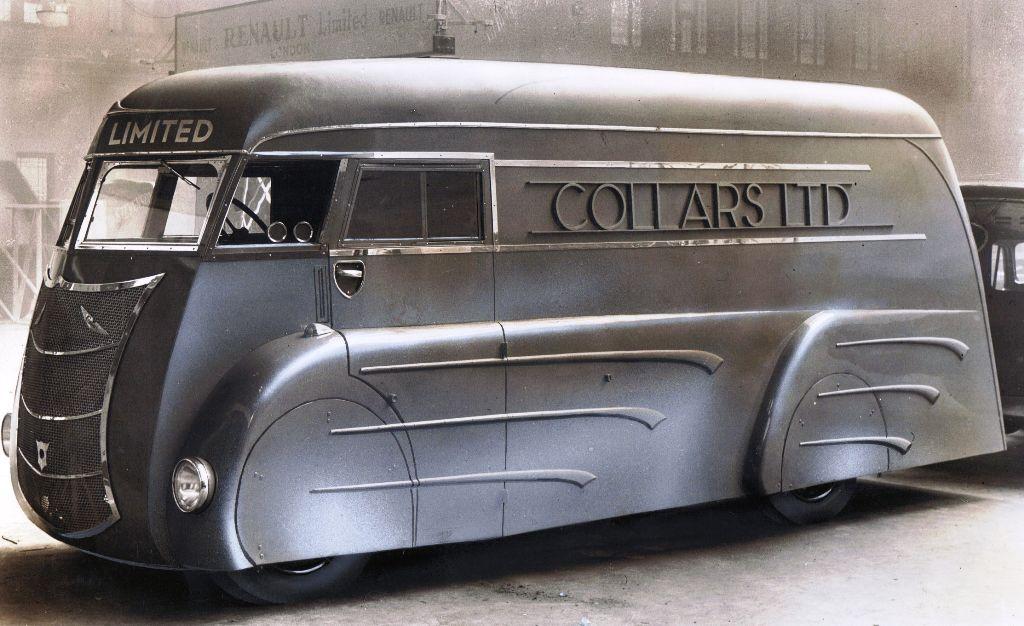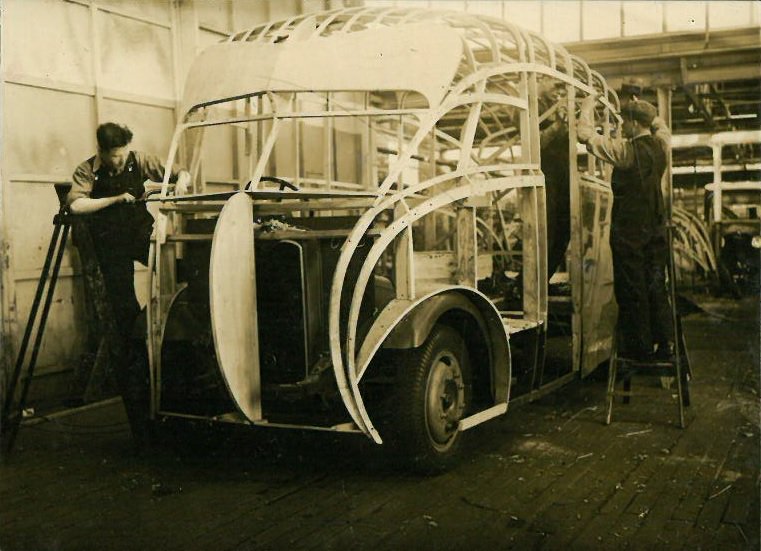 Holland Coachcraft vans were used to transport laundry. The lead image (above) is of a van used by Universal Laundry in Rochdale, Lancashire, England. Below is a photograph of that laundry's workers.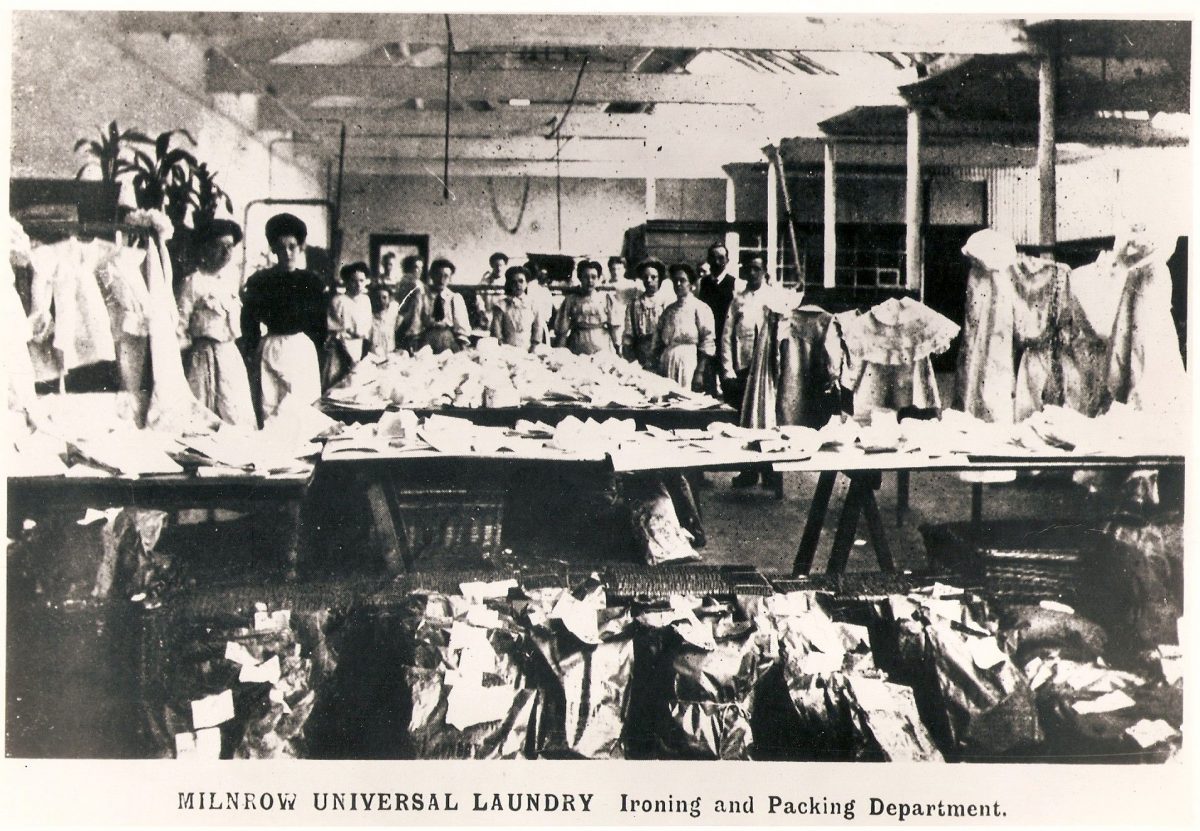 Castlebank Laundry at Anniesland, Glasgow offered a "job well done" with the popular 'Cost-U-Less" service. The company collected laundry to be cleaned from clients via its fleet of yellow vans and shops network.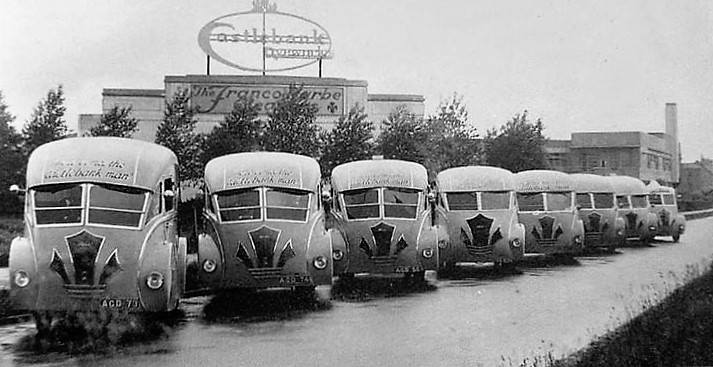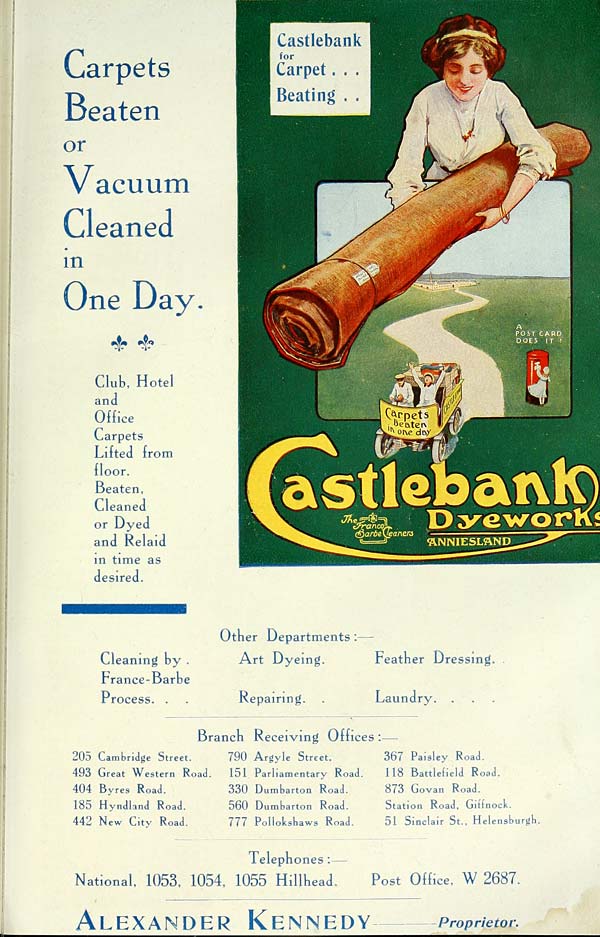 Collars was based in Wembley, Middlesex, England. The company specialised in cleaning collars. It claimed to be the largest collar launderers in the world. And article of April 1936, hailed the fleet of Holland Coachcraft vehicles:
IT is a striking commentary on the advanced design of the delivery vans operated by Collars, Ltd., that in the film, "The Tunnel," the action of which is supposed to take place in 1940, a number of these vehicles was used to represent the type of machine likely to be seen on the roads some four years hence.

From the publicity point of view, the streamlined vans operated by the Collars concern have proved of the utmost value, and the number of inquiries received from the public, purely on the strength of the advertising " pulling power" of these machines, has encouraged the concern to adopt this type to an increasing extent. Accompanying illustrations show the attractive and unusual appearance of the vans, and utility has not been sacrificed in any way to obtain the ultra-modern lines…

Collars, Ltd., operates a fleet of close on 100 vehicles, and nearly 50 vans are used in connection with the c32 tion, have worked out at an exceptionally low figure.

Some of the older machines, and most of the light vehicles are equipped with standard-type van bodies. Since 1933, however, when the first streamlined van was put into service, the company has found the publicity value of these vehicles to be so high that to-day 20 streamlined vans are in service…

Prior to the introduction of the drivers' hours regulations, drivers used to work a five-day week, staying late on Friday evening to wash, grease and check over their vehicles. Now, however, it is necessary for this work to be carried out on Saturday mornings and all drivers and boys report for this duty. A van report must be handed in before the driver can receive his bonus for the previoes week's work and any defects must be reported to the maintenance department.

The weekly report covers tyre inspection and pressures, brake adjustment, battery level, greasing and washing, etc" whilst every four weeks the sparking plugs and contact breaker points must be cleaned and reset, rear axle and gearbox levels checked, water-pump glands and Water joints inspected for leaks, body bolts tightened and electrical wiring and equipment examined.

These reports are collated each week and running expenses and mileages added from the daily statements. Every three months a complete record is made up for each machine. The standing charges, drivers' and boys' wages and bonuses, etc., are then included, together with repair and replacement costs, so that a complete picture of the operating costs is obtained.

At the concern's headquarters at Civic Hill, Wembley, there is a well-equipped maintenance shop, and overhauls and repairs are carried out. A pit is provided, together with a pressure greasing system, and a full Black and Decker outfit has proved of value in expediting maintenance work.

Spare vans are available in case of breakdown and as replacements when overhauls are required. So carefully are the service vehicles watched, however, that only on two or three occasions in a year are the spare vans needed for emergency use. The average annual mileage of the delivery vans is 10,000-12,000.

Every encouragement is given to the drivers to take a pride in their vehicles and they are instructed to c34 refuse to take a machine out if they are satisfied that it is at all likely to fail in service. Three senior drivers are charged with maintaining discipline and keeping a close check on the driving ability of the junior men, and everything possible is done to ensure that the vehicles shall at all times be driven in a safe manner and with due regard to other road users.

An interesting rule, that is strictly adhered to, is that no man may drive one of the heavier vehicles unless he is married and is 23 or more years of age. Since the drivers are also responsible for collecting large sums of money each day it is felt to be essential that only men with a full sense of responsibility are employed.

There can be no question that a great deal of the success of Collars, Ltd., is due to the efficiency of its transport arrangements. That this fact is fully appreciated by the directorate is evident from the advanced methods employed throughout the organization.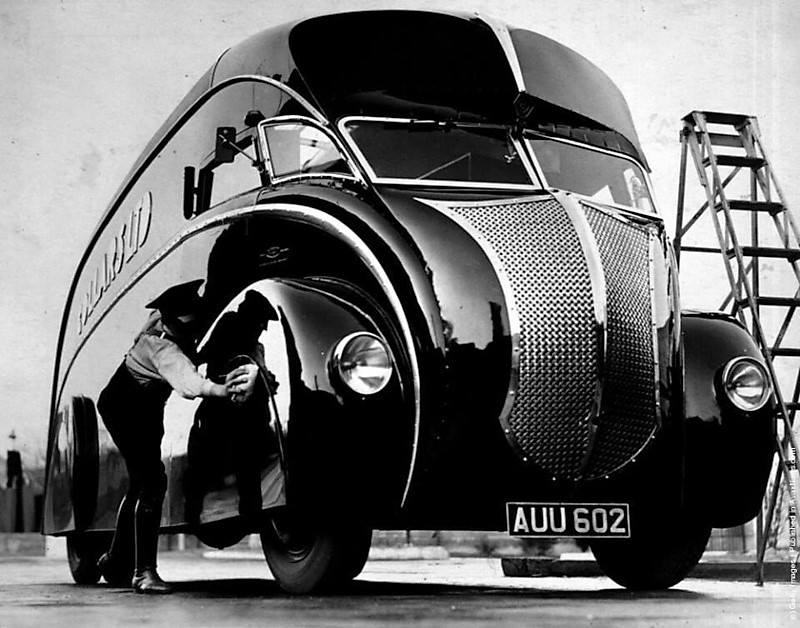 "There were three sets of deliveries, milkman, grocers, green grocers. And then my father would probably have had his collars, separate collars, because shirts were collarless, and so we had 'Collars of Wembley'. There was a specific firm that just laundered collars, from memory, on a sort of fortnightly basis and they got delivered in a in a brown box"

– Francis (via)

"Oh gosh yes yeah, yeah, everything had to be mended. You didn't cast it aside and buy a new one like they do these days. Shoes were repaired and sheets were turned sides to middle, collars were turned on shirts and everything that could be was repaired…"

– Kathleen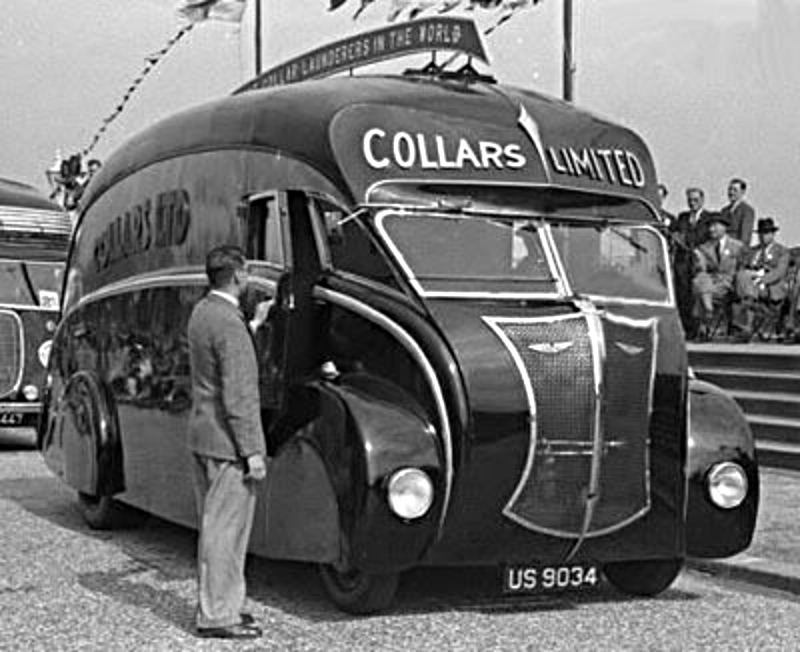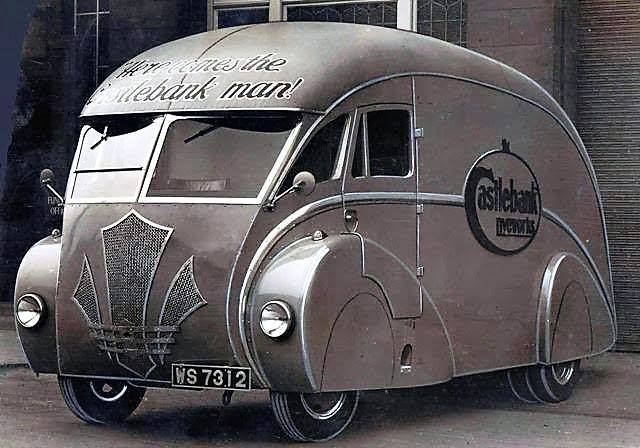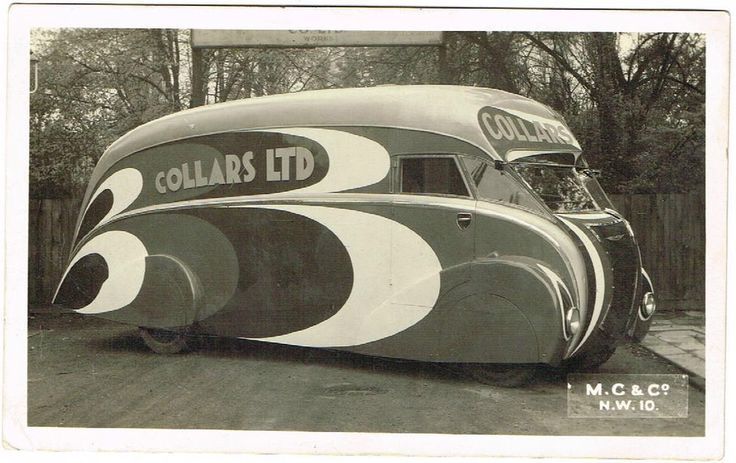 Via: Glasgow City Archives, Truckin' Round Scotland by Robert Grieves.