Britain between the war was uncertain, disillusioned and nostalgic. Cyril Power (17 December 1872 – 25 May 1951) captured the mood in the 1920s and 1930s through art. An architect and historian of medieval buildings who worked on aircraft repair during the First World War, in 1922 at age 50 he met fellow artist Sybil Andrews (19 April 1898 – 21 December 1992). The pair teamed up and worked together from a studio in London until 1938.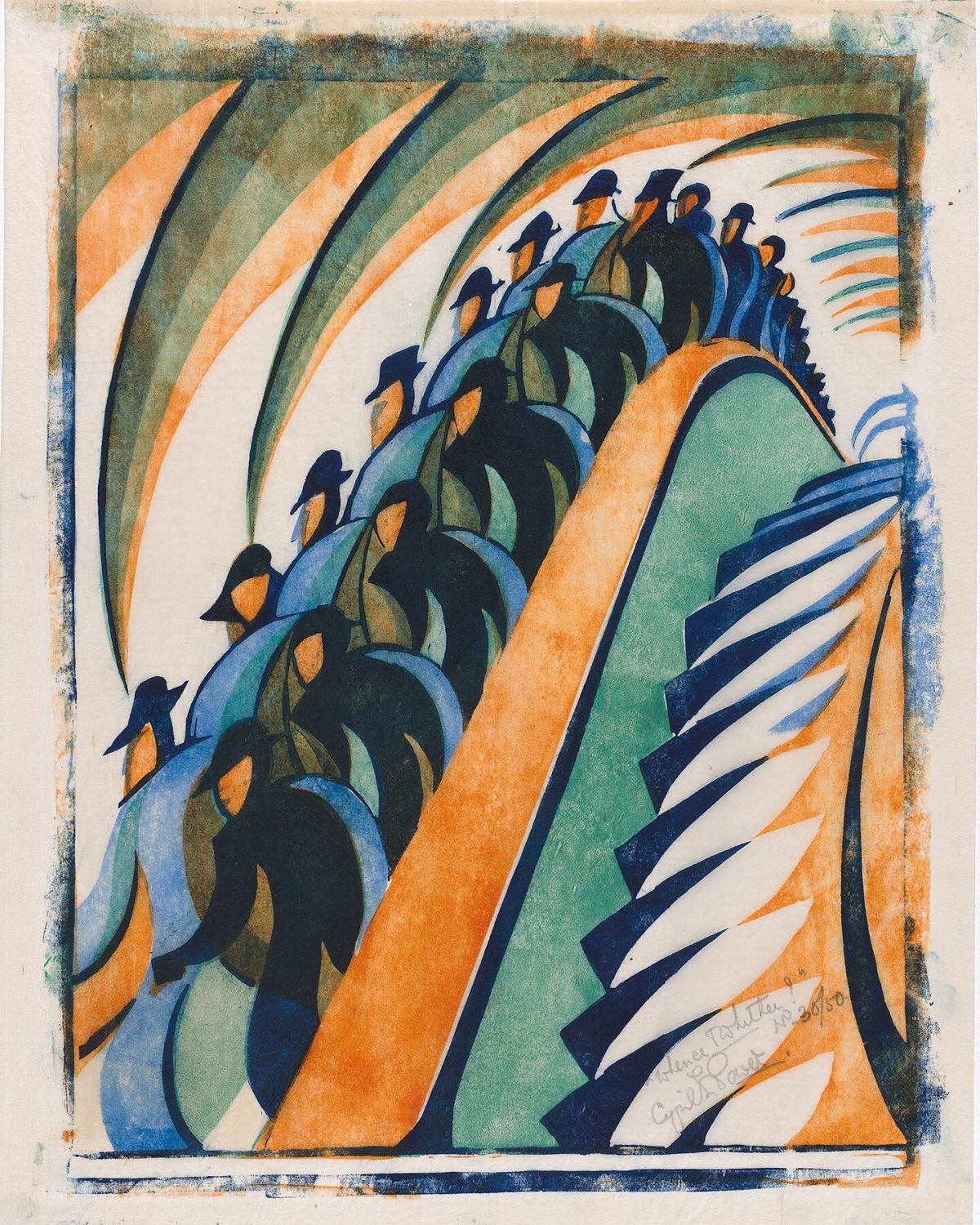 They produced linocuts of jangling colour and dynamic compositions that showcased the speed and clash of their era. In one of Power's pictures –  picture he first called 'robottomless pit' and then 'Whence & Whither?' he shows us a platoon of similarly dressed people crammed on an escalator as it descends, the expressionless riders apparently as mechanised as the machine.
In another, a lone figure peers up at one, seemingly unsure of what to do. The first escalator in the London Underground was installed at the Earl's Court station in 1911. The operators invited a disabled army veteran to take the first ride in an effort to show the wary just how safe it was to use. Before long, they were commonplace.
Power's linocuts cut an effervescent dash. He and other students at London's Grosvenor School of Modern Art (which he helped found in 1925) were taught by Claude Flight (British, 1881-1955) to work with linoleum cut, a relief-printmaking technique related to the woodcut. An inexpensive, synthetic material created in the mid-nineteenth century, lino was modern and easy to use.