Francesca Woodman (April 3, 1958 – January 19, 1981) was an American photographer best known for her black and white pictures featuring either herself or female models. Many of her photographs show the subjects blurred, merging with their surroundings, or whose faces are obscured.
As Elizabeth Janus writes, when Woodman wasn't using her own body as subject, she'd often employ her friend Sloan Rankin-Keck to act as model. The women met in 1975 during their first year at Rhode Island School of Design. From September 1977 to May 1978, the two friends lived in Rome,  weekly trips to Porta Portese and Piazza Vittorio, the markets where they bought the vintage clothes, fruits and fish that Woodman used for the scenes she then photographed.
Food played a big part in her pictures. In 2015, the Louvre museum in Rome exhibited Woodman's photographs, images, letters and notes on the theme of food sent to her friend Giuseppe Casetti, then nicknamed Cristiano. Food allowed Woodman to have fun with symbolism, as Janus notes:
Eels, or capitone, a Roman Christmas delicacy, found their way into several pictures produced that year. In one untitled print, her curved naked torso is stretched across a black-and-white patterned floor, enveloping a white bowl with a shiny skinned eel tightly coiled inside…
In a series of six photographs also made at this time, titled 'Fish Calendar — Six Days', "Woodman uses three lemons to represent the month of March and, like the pages of a calendar, each consecutive print includes one or more eels — on a table, a plate, hung between her thighs — to correspond to a specific number of days. "
Food was to enjoy and share with friends. She would send friends notes, messages, drawings and small prints that she tacked to their doors when they were away. One of these is in the form of a recipe "Winter recipe for sparkling omelette à la Francesca", written on the colophon of the book Summer Cooking by the cook Elizabeth David, Penguin Books, 1966.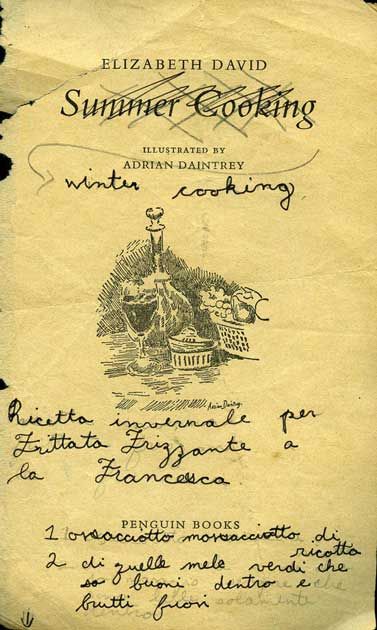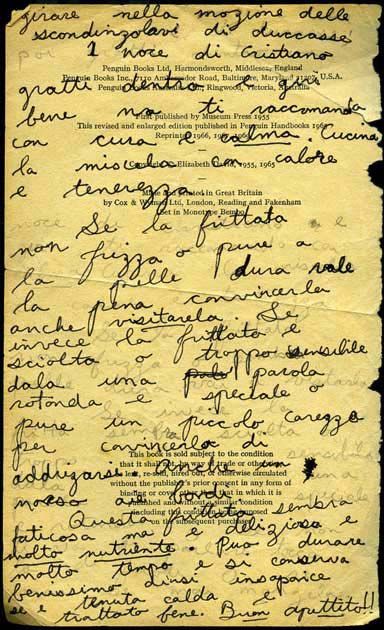 winter recipe for a frizzy omelette à la francesca

1 little bear-cub size of ricotta cheese

2 of those green apples that are so good on the inside but ugly on the outside

shake in the same motion as Ducasse

1 of Cristiano's nuts

Grate into and stir well but I recommend doing it with care and calm

Cook the mixture with warmth and tenderness. If the frittata doesn't fizz or its skin is tough it's worth convincing it or visiting it. If on the contrary the frittata/omelette is loose or too sensitive give it a round word and a special or rather little caress to convince it to correct itself. Also a bite on the edges. This frittata seems tiring but is delicious and very nutritious. It can last for a long time and it's tasty if kept warm and treated well. Enjoy!