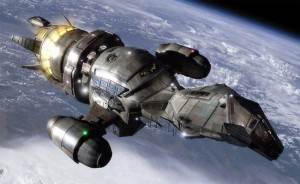 JUST this week, Fox Television announced the cancellation of the high-profile series Almost Human (2013 – 2014), a science fiction endeavor starring Karl Urban and Michael Ealy, and executive-produced by J.J. Abrams.
Fans of the short-lived series remain heartbroken that Fox showed so little faith in the promising venture.
But perhaps the saddest fact here is that the early axing of Almost Human conforms to Fox's long-time pattern of murdering genre TV programs while they are still in the cradle.
Going back nearly thirty years, it's actually the same story, over and over again.
To help excavate this historical pattern more fully, here's a look back at five genre series (in chronological order) that Fox should have shown a little faith in, and renewed for further seasons.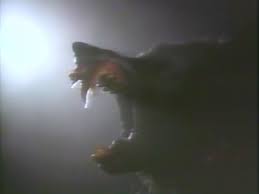 5. Werewolf (1987)
In the year that Fox TV was born and before, even, The Simpsons (1990 – ) had yet premiered, the fledgling network had an early signature show in the half-hour venture, Werewolf.
A horror-themed "man on the run" series like The Fugitive (1963-1967) or The Incredible Hulk (1978 – 1981), the series (from the appropriately-named producer Frank Lupo…) concerned Eric Cord (John J. York), a college student who learned that his college roommate Ted was actually a werewolf.
After Ted bit him, Eric became the next recipient of the werewolf curse, and set out to find the progenitor of the blood line: Janos Skorzeny (Chuck Connors).  That name – Skorzeny – incidentally, harked back to the name of the vampire in the popular TV movie of the 1970s, The Night Stalker.
Wanted for Ted's murder, Eric was pursued throughout the series by a ruthless bounty hunter named Alamo Joe (Lance Le Gault).
Although the man-on-the-run format was old hat by the time that Werewolf re-purposed it, the series nonetheless played with the formula in an intriguing fashion.  For instance, half-way through the season, it was learned that Skorzeny was not the progenitor of the werewolf blood-line at all, and a new character was introduced to replace him.
More trenchantly, perhaps, Werewolf proved so memorable because it actually seemed that Eric was living on the run – and on the edge — week to week.  He grew dirtier and more emaciated as the show went on, transforming from middle-class WASP to homeless wretch.
In one episode called "Amazing Grace," Eric had to beg for food and money, an idea that reflected real life at the end of the Reagan Era, which saw a large uptick in poverty.  Other episodes of Werewolf saw Eric seeking shelter in a train car with bums ("King of the Road"), and another saw him spending the night in an urban bus depot ("Nightmare at the Braine Hotel.")
The result of all this gritty realism was that it seemed Eric was not only dealing with the curse of being a werewolf, but the curse of being trapped "outside" an accepted social class in late-1980s America.  A second season, beyond the 28 original episodes, could have taken Eric's journey even further, especially since he discovered that the true progenitor of his werewolf line was that most hideous of monsters…a wealthy yuppie.
Werewolf is not currently available on DVD.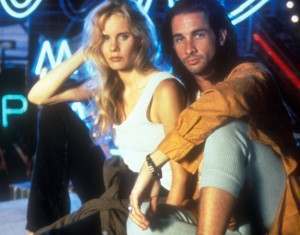 4. VR.5 (1995)
This gripping science fiction series starring Lori Singer and Anthony Stewart Head aired on Fox TV for roughly two months, from March 10, to May 12, in 1995. Despite such a brief life-span, the series developed a hard-core cult following, one that wrote letters in support of the series when Fox canceled it, and then even attempted to get a movie made.
VR.5 concerned Sydney Bloom (Singer), daughter of computer scientist Joseph Bloom (David McCallum) and chemist Nora Bloom (Louise Fletcher) as she discovers a "virtual reality world" that, oddly, has impact on the real world.
Throughout the course of the series, Bloom attempts to solve the mystery of her father's death, and works for The Committee, a shadowy organization.  There, she contends with secretive superiors such as Frank Morgan (Will Patton) and Oliver Sampson (Head).  The flavor of the series, perhaps inspired by The X-Files was one of dark conspiracies.
VR or "Virtual Reality" was also a huge science fiction trend of the 1990s, and VR.5 intelligently attempted to exploit interest in the new and little-understood technology.  The cast of the series was likable, and the special effects were cutting-edge for their age, but Fox gave the series "virtually" no time to grow an audience.
To this day, there has been no DVD release of VR.5 in the States.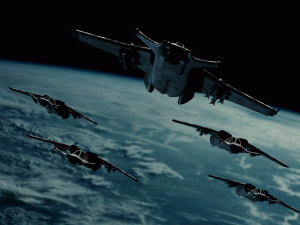 3. Space: Above and Beyond (1995)
Imagine From Here to Eternity in space, with young, sexy space pilots fighting an implacable enemy under gritty and difficult conditions, while also broaching such new and futuristic technology as AI.
No, I'm not talking about Ron Moore's re-imagining of Battlestar Galactica (2003 – 2008), but rather Space: Above and Beyond (1995-1996), a one season wonder that, more than a decade before BSG, imagined humans rallying after a 9/11 style attack, and going to war in space.
Like the re-modeled Galactica after it, Space: Above and Beyond featured long character and story arcs, and a sub-plot about synthetic humans, though they were called In Vitros, not Cylons.
Created by James Morgan and Glen Wong, Space: Above and Beyond featured remarkable special effects for its time, was populated by attractive and memorable characters played by the likes of Kristen Cloke and Rodney Rowland, and it was widely honored for taking the genre and its storytelling seriously.  The series was nominated for a Saturn Award and two Emmy Awards, but — you guessed it — was canceled by Fox one year into a proposed five-year story arc.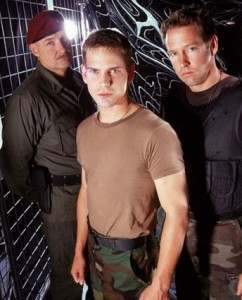 2. Harsh Realm (2000)
Like VR.5, Chris Carter's short-lived series Harsh Realm (based on a comic-book series from Harris Publishing) concerned a virtual world, and like Space: Above and Beyond, it imagined a stunning surprise attack on the civilized world.
In this case "the ultimate terrorist attack" on America came in the form of a suitcase nuke, which detonated in Harsh Realm – a military-created virtual world — in Manhattan, and the bombing site was known as "Ground Zero."
And again, the series pre-dated the 9/11 attack by some time.
Harsh Realm concerned the efforts of Lt. Thomas Hobbes (Scott Bairstow) to locate, inside the virtual world, a military officer who had seized control of the landscape, named Santiago (Terry O'Quinn).
Once inside Harsh Realm, however, Hobbes found he couldn't escape, meaning that he was permanently separated from his wife-to-be, Sophie (Samantha Mathis).
As is typical of the television of Chris Carter, Harsh Realm featured smart (and sometimes subversive) allusions to literary antecedents.  The series was rife with tributes to Joseph Conrad (with Santiago acting as a kind of "Kurtz" in the virtual reality world), Arthurian Legend (the empty chair at the Round Table) and even Homer's Odyssey, in terms of Hobbes' separation from his beloved.
The Harsh Realm universe was assiduously and intelligently constructed, exploring the idea of a world without Christian faith and notion of a kind of spiritual-link between virtual and real life.
Predictably, Fox canceled the series after it aired just three times.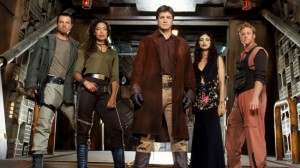 1. Firefly (2002)
Well, I'm sure you saw this one coming, right?
Joss Whedon's space opera was handled miserably by Fox TV during its original run.  The network aired episodes out of order — including the premiere — and then canceled the series before all the remaining programs were broadcast.
Shortly thereafter, Firefly became a cult sensation on DVD, and spawned a feature film reunion, 2005's Serenity.
What's so sad and short-sighted about Fox's lack of faith in Firefly is that the series should have, by all rights, been the Star Trek of the 2000s, a space adventure series that captured the Zeitgeist of its age.
Specifically, Firefly concerned a gang of likable space age outlaws, led by Captain Mal Reynolds (Nathan Fillian) as they defied a bureaucratic system and tried to stay fed.  Occurring in a universe of hard-ship rather than plenty, the series examined how and when it was right for Mal to cut corners in terms of his morality.
Firefly often concerned how even a government with good intentions — in the form of the series' space age Alliance — unwittingly threatened freedom and safety of its denizens.  Love or hate that particular message, it has become part of the dominant political discussion in America in the 21st century, under both President Bush and President Obama. Firefly debated the idea with a wicked sense of humor, and curiosity.
With sharp writing and crisp, amusing performances, that's exactly what should have — and could have — happened for five years or so.
If only Fox had demonstrated a smidgen of faith or belief in such a promising project.