In the late seventies through the mid-eighties, it wasn't uncommon to find cocaine related products advertised in your standard men's magazine (ex. Hustler, Penthouse). The products ranged from designer mirrors and gold plated razors to purity testers and whimsical straws. Let's have a look at 37 examples.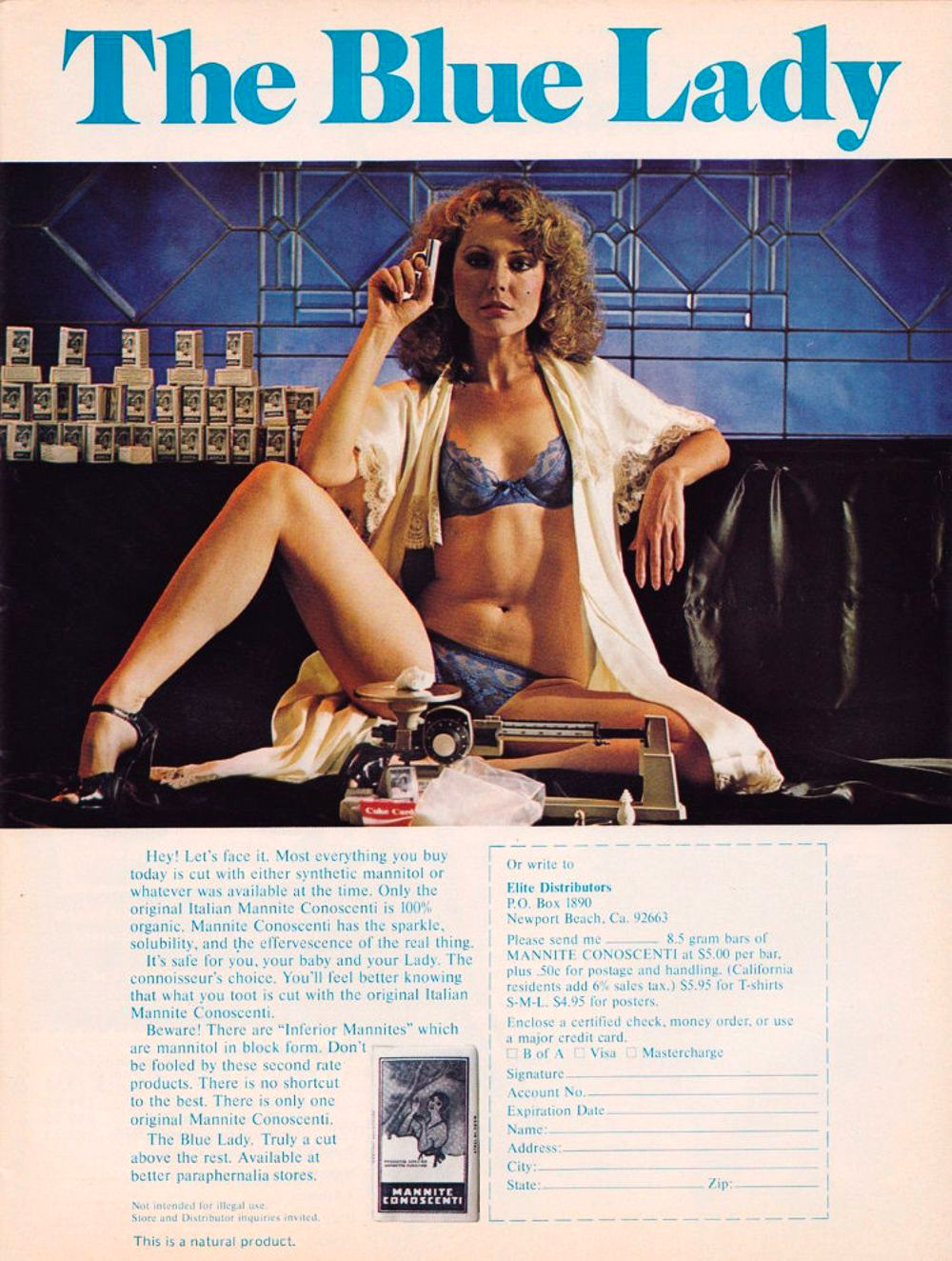 Mannite Conoscenti (i.e. Mannitol) is a cutting agent for cocaine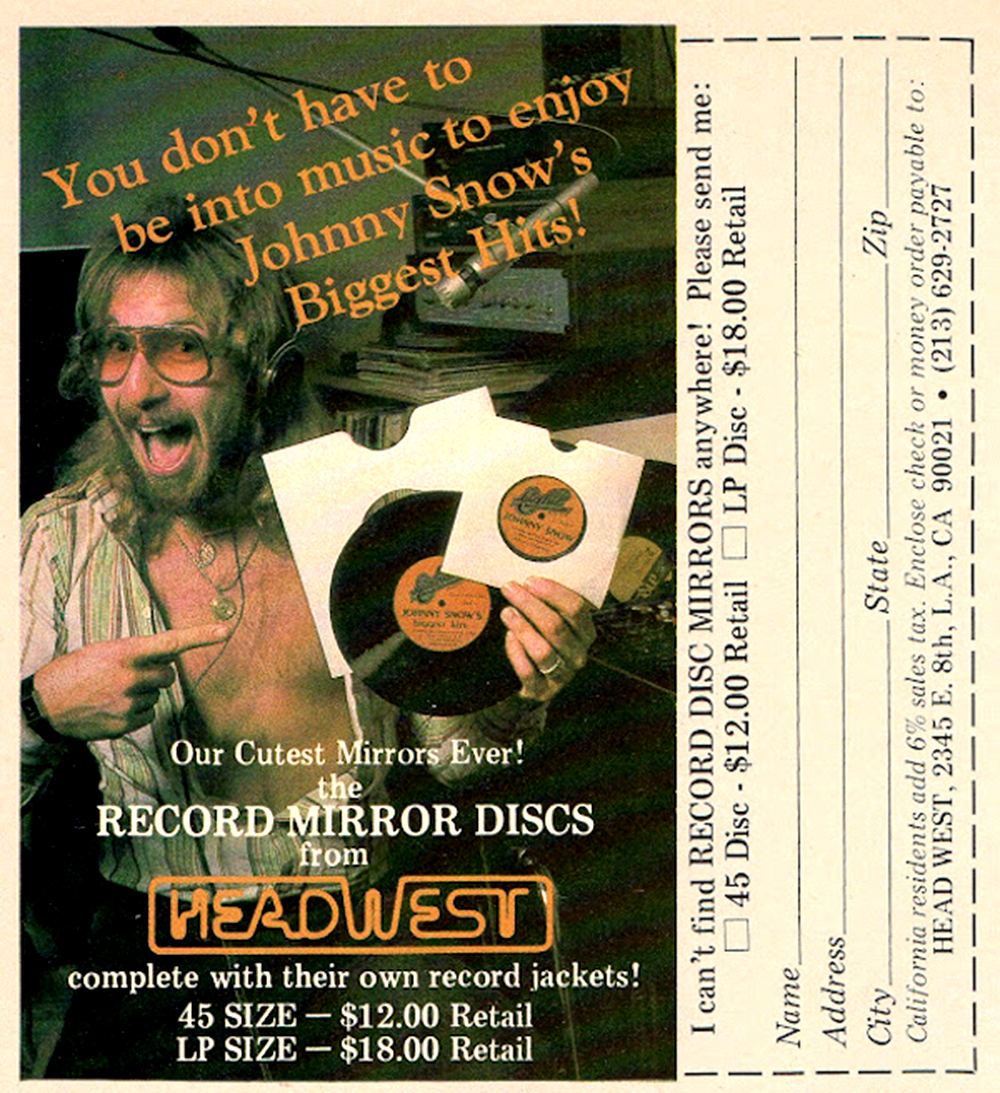 FYI – Johnny Snow's records can't be played on a turntable.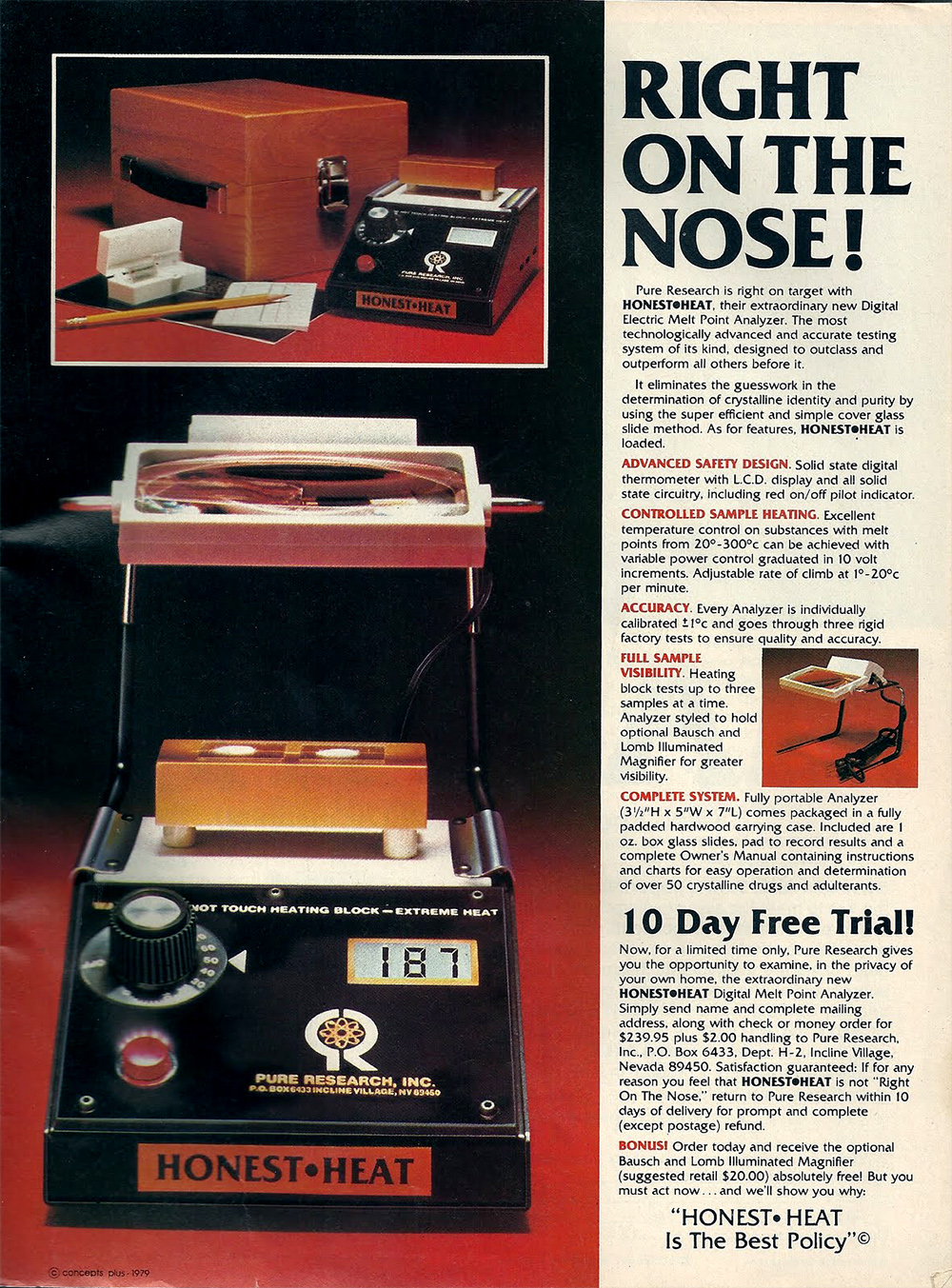 This contraption will help you determine the purity of cocaine before you make that drug deal.  "Order today and receive the Bausch and Lomb Illuminated Magnifier absolutely free!"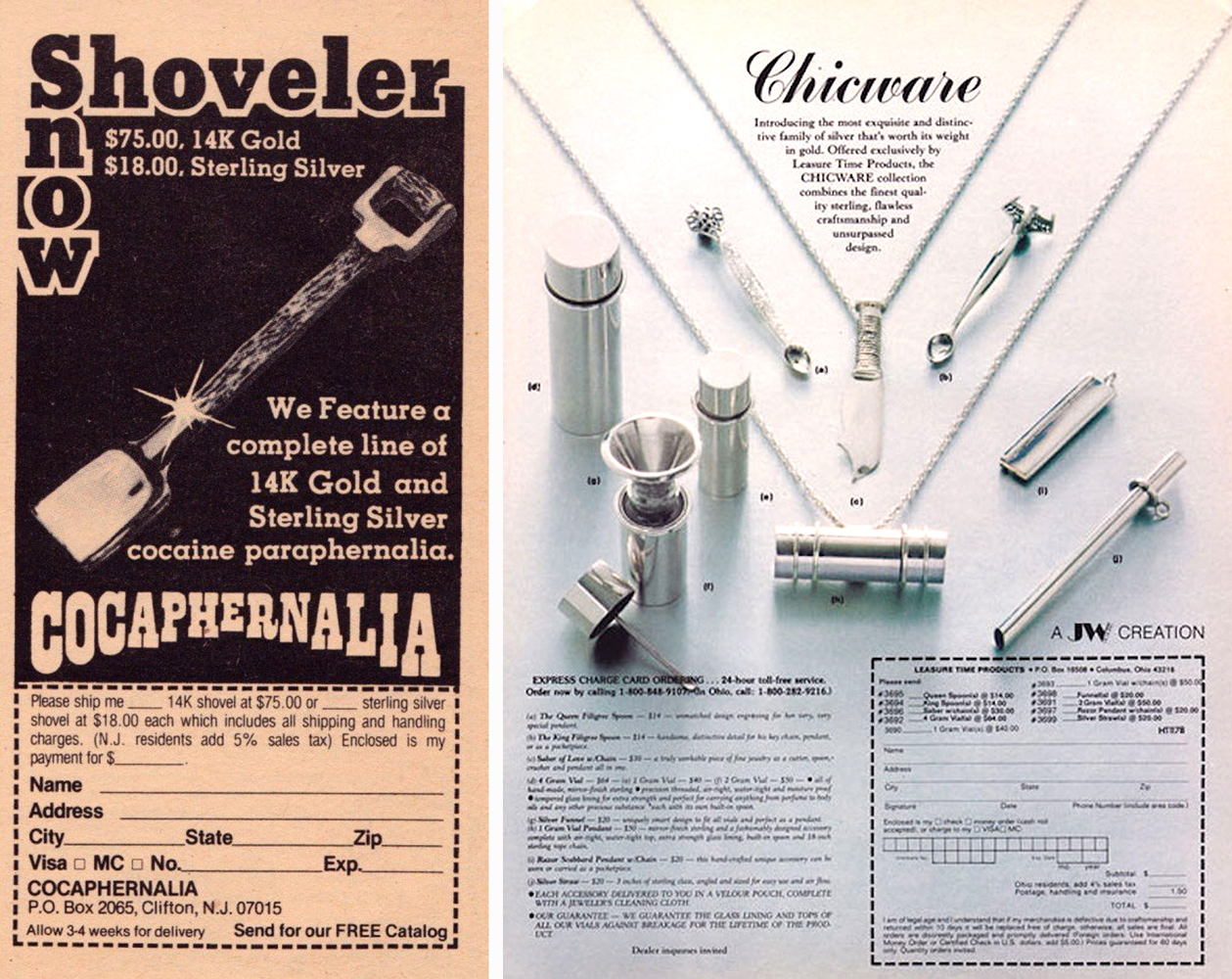 The finest in silver cocaine accessories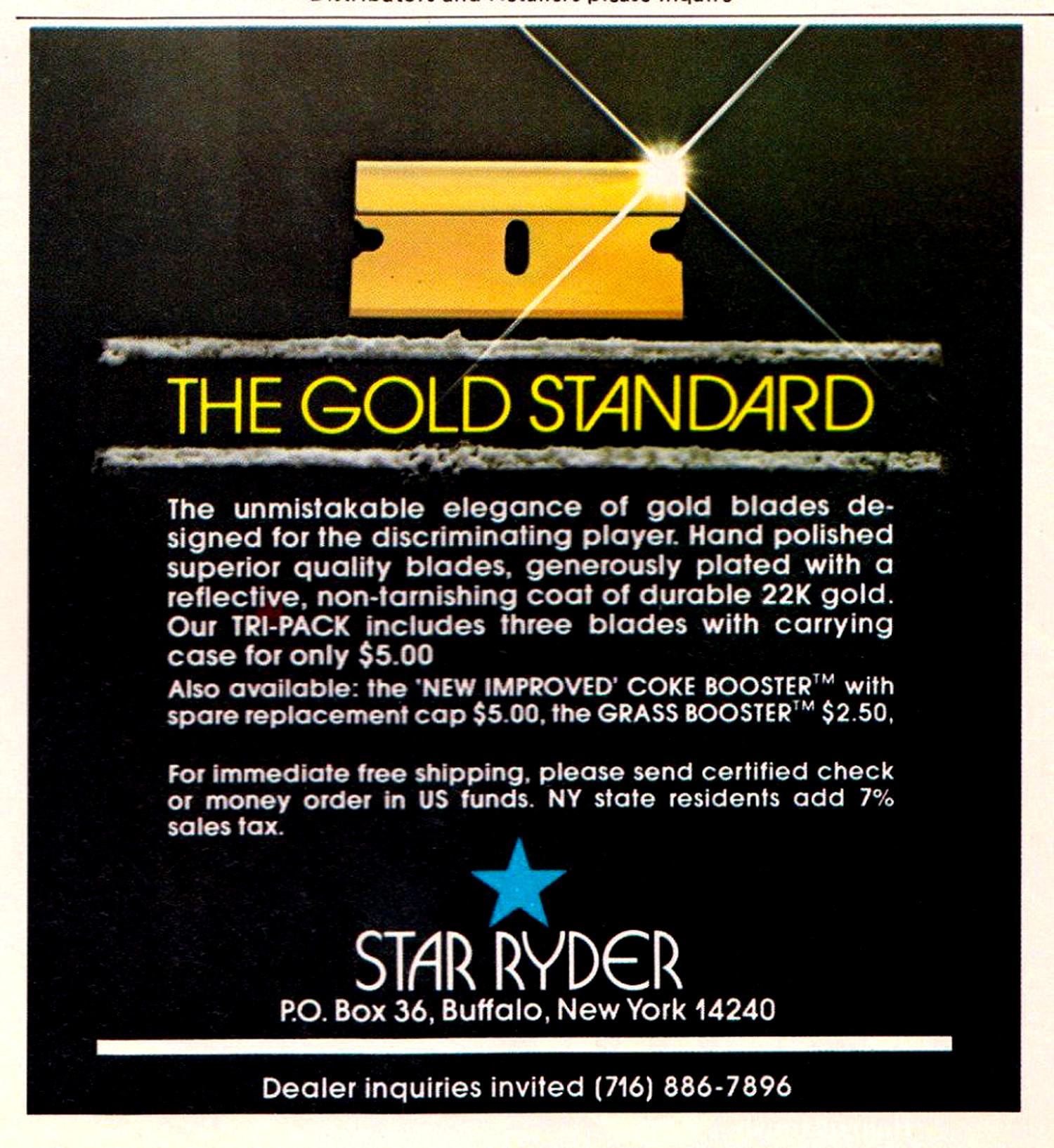 Hand-polished gold cocaine blades – with handy carrying case.  Only five dollars.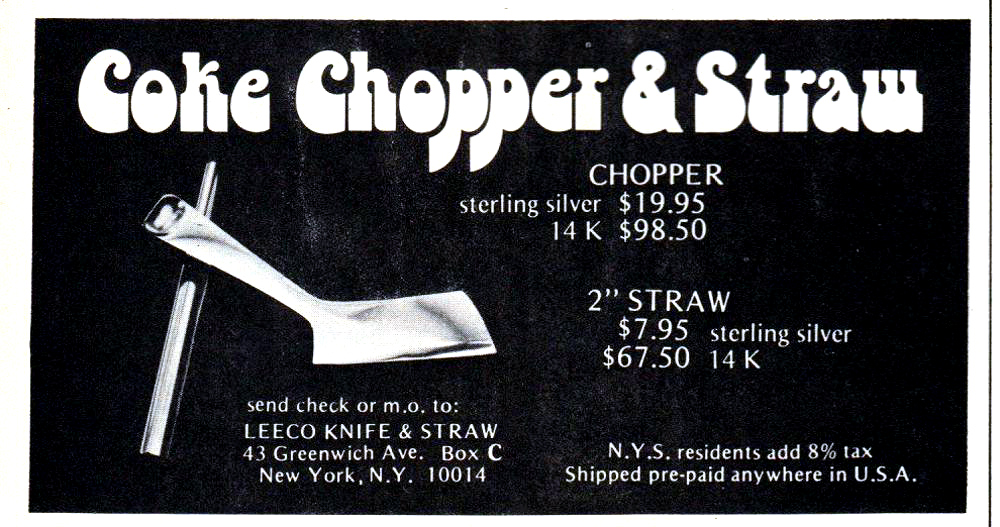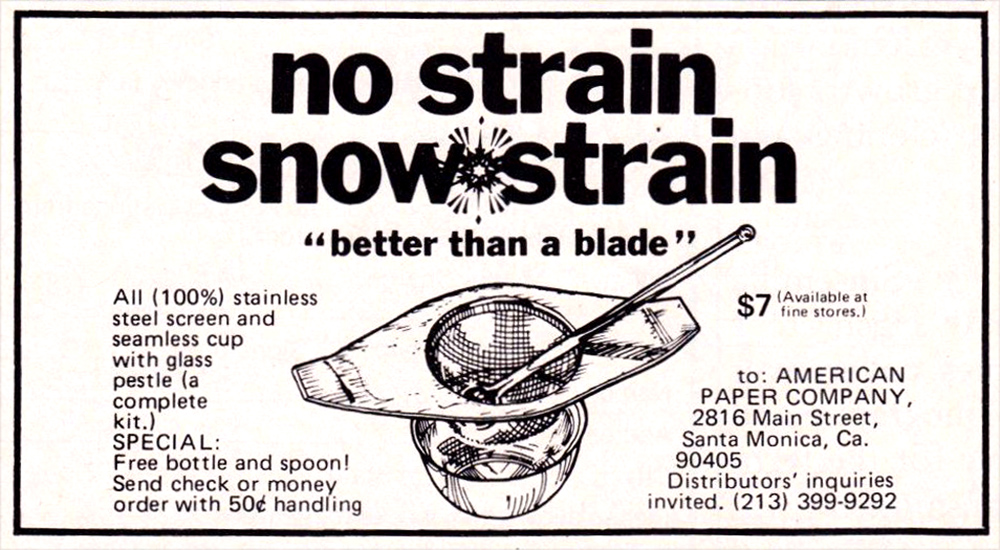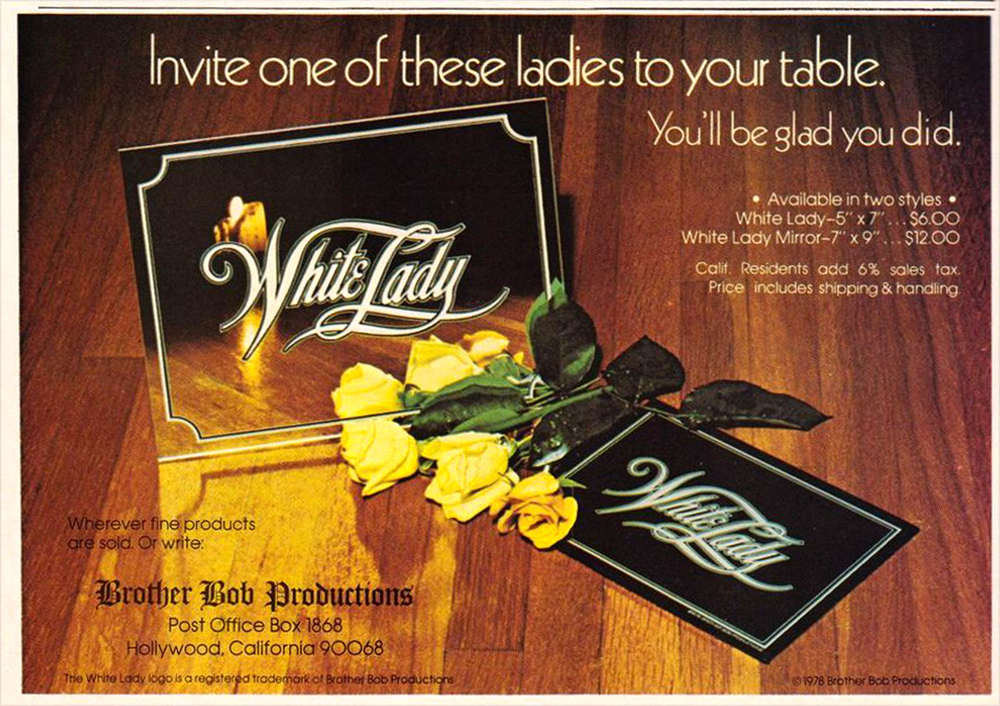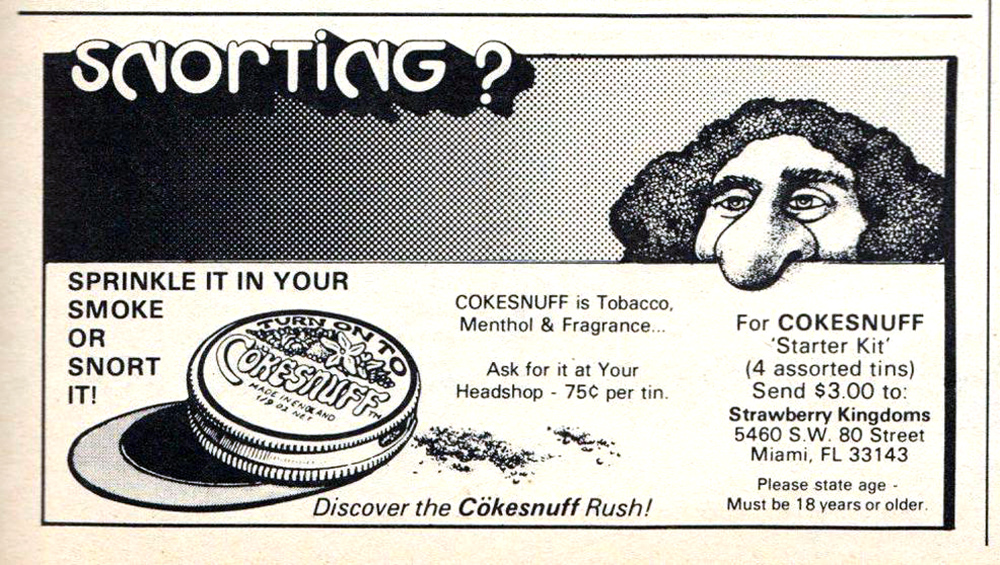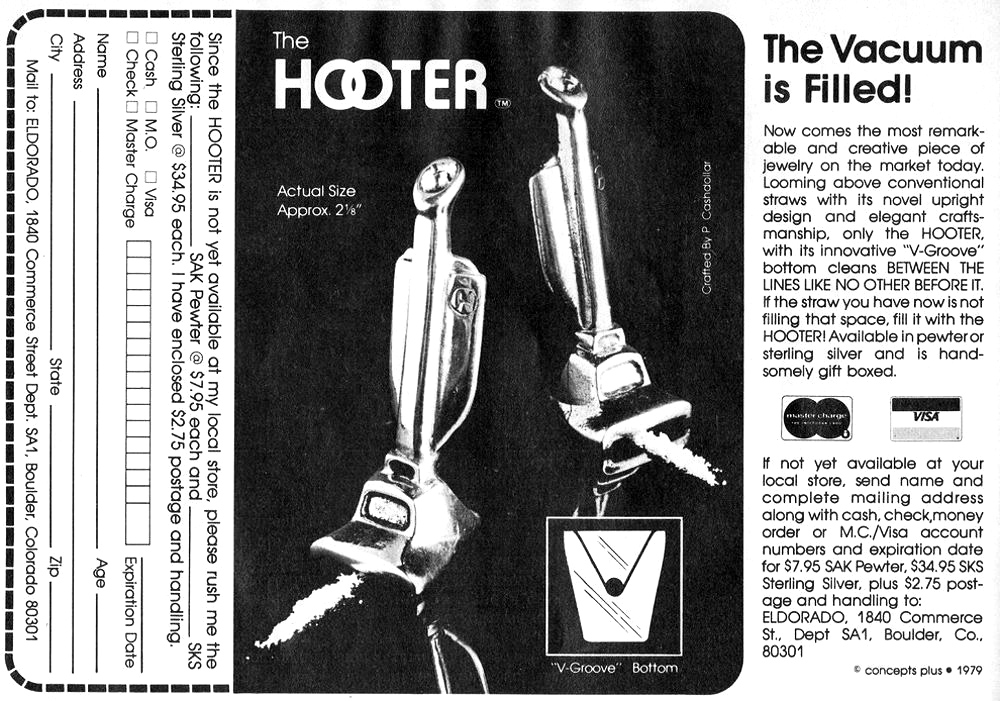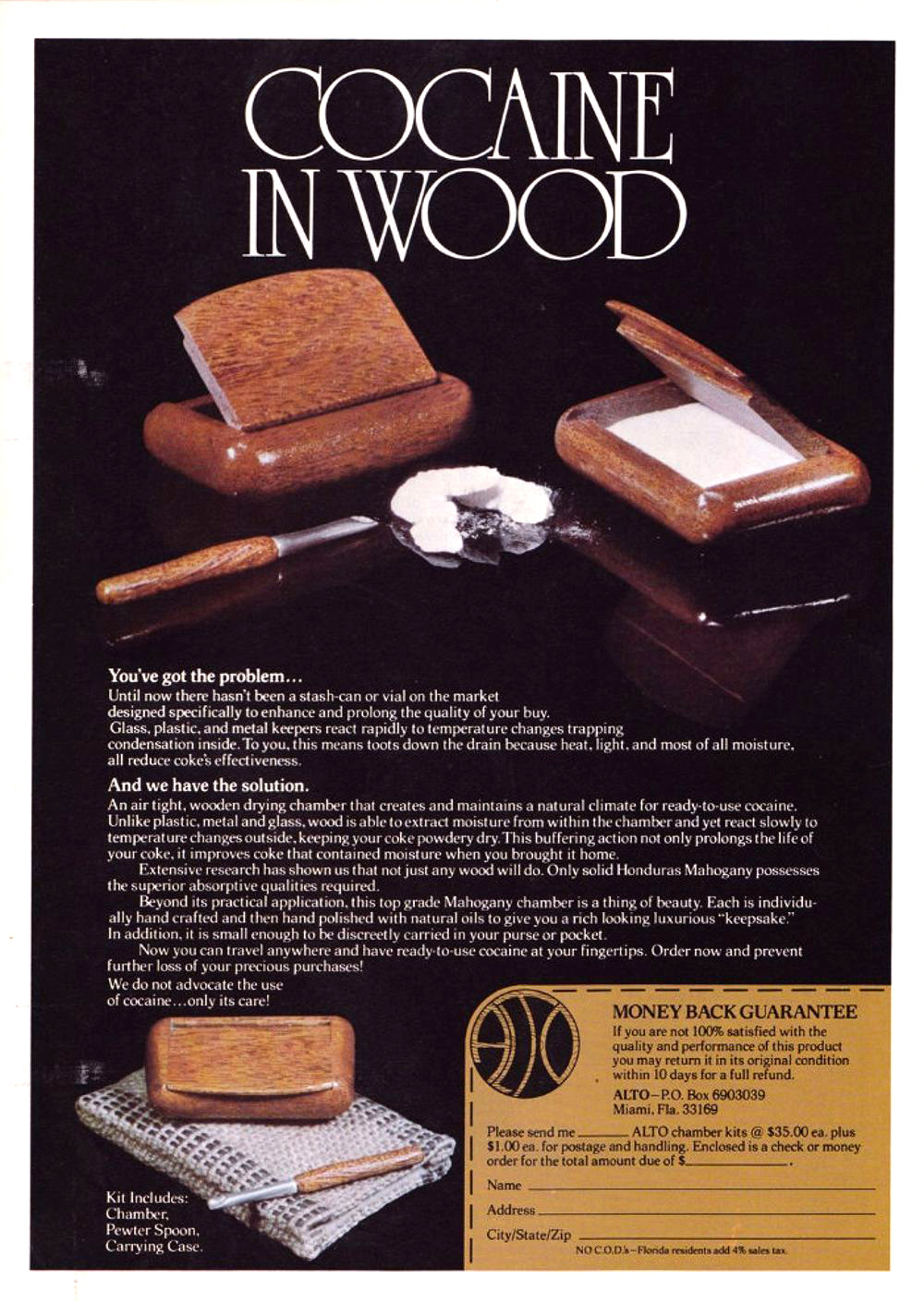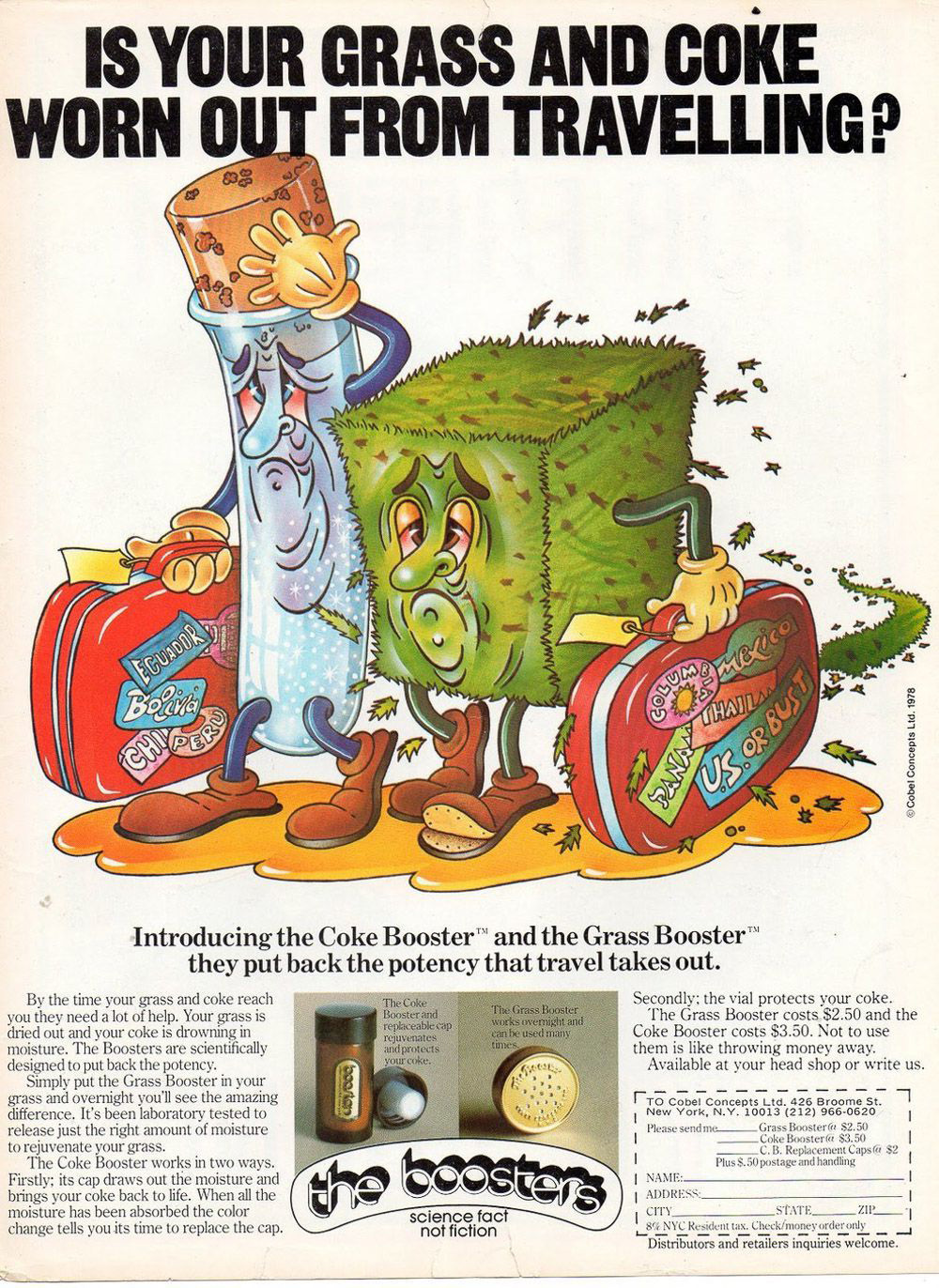 "By the time your grass and coke reach you they need a lot of help.  Your grass is dried out and your coke is drowning in moister.  The Boosters are scientifically designed to put back the potency…. The Coke Booster works in two ways.  Firstly; its cap draws out the moister and brings your coke back to life.  When all the moisture has been absorbed the color change tells you it's time to replace the cap. Secondly, the vial protects your coke."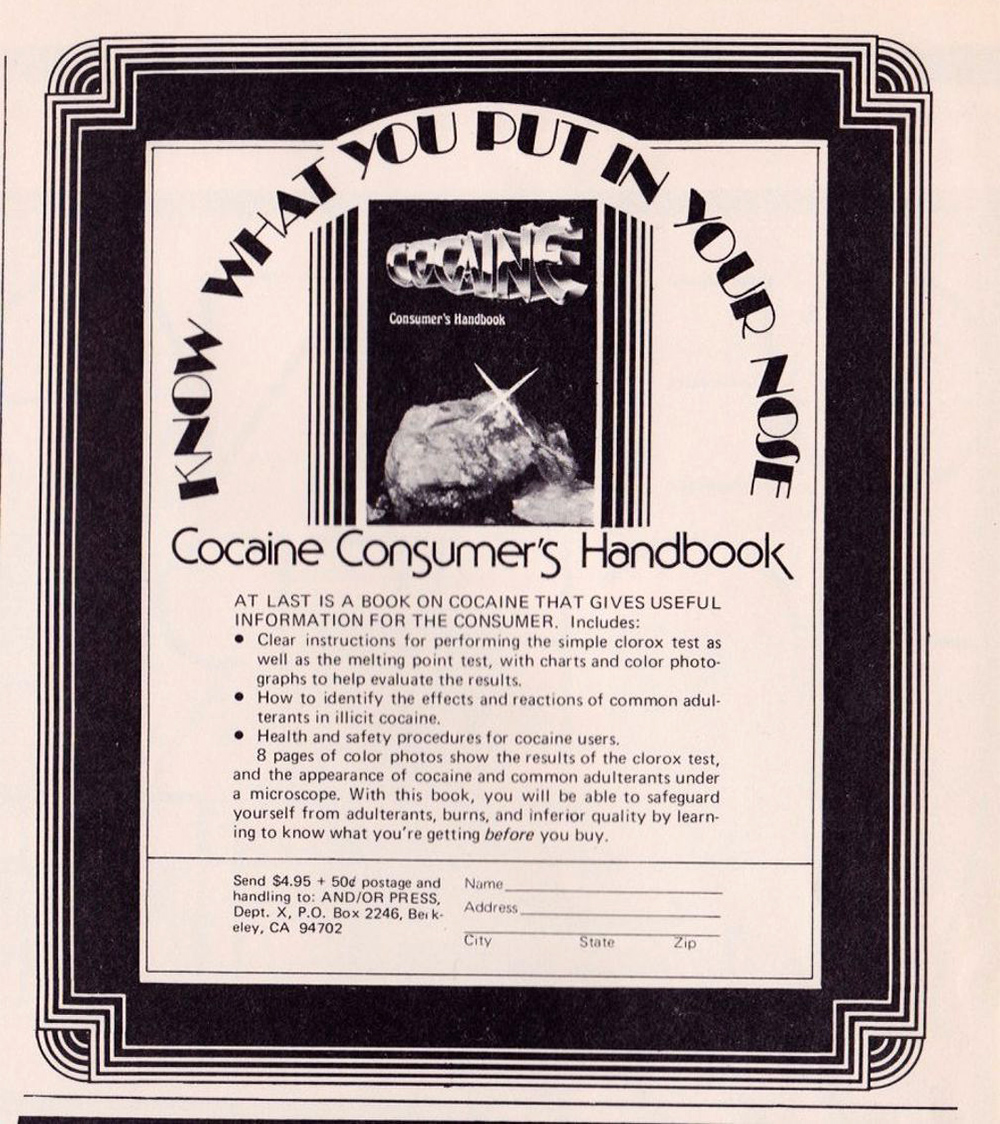 Includes "Health and safety procedures for cocaine users. 8 pages of color photos…"  Required reading for any up-and-coming coke dealers.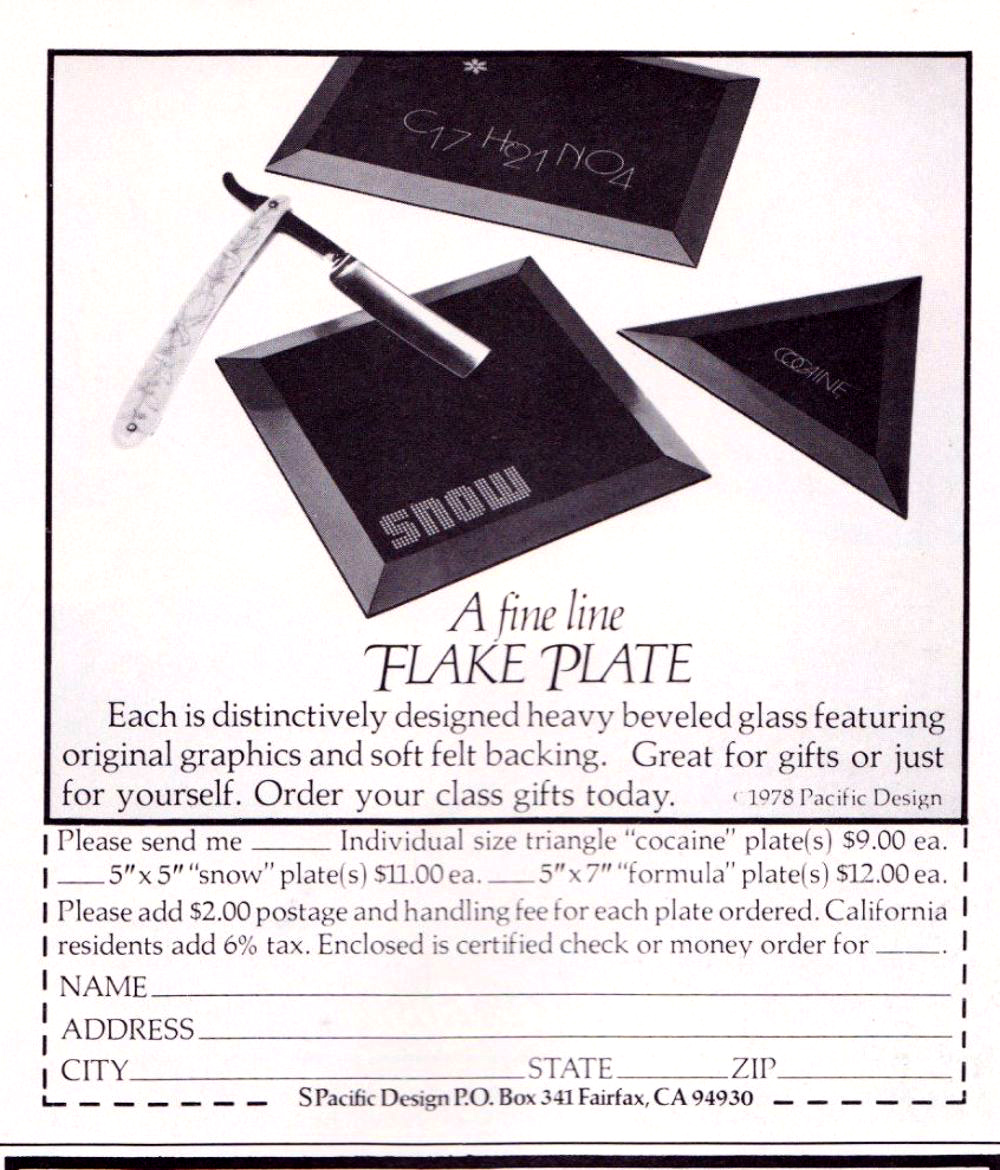 C17H21NO4 – the molecular formula for cocaine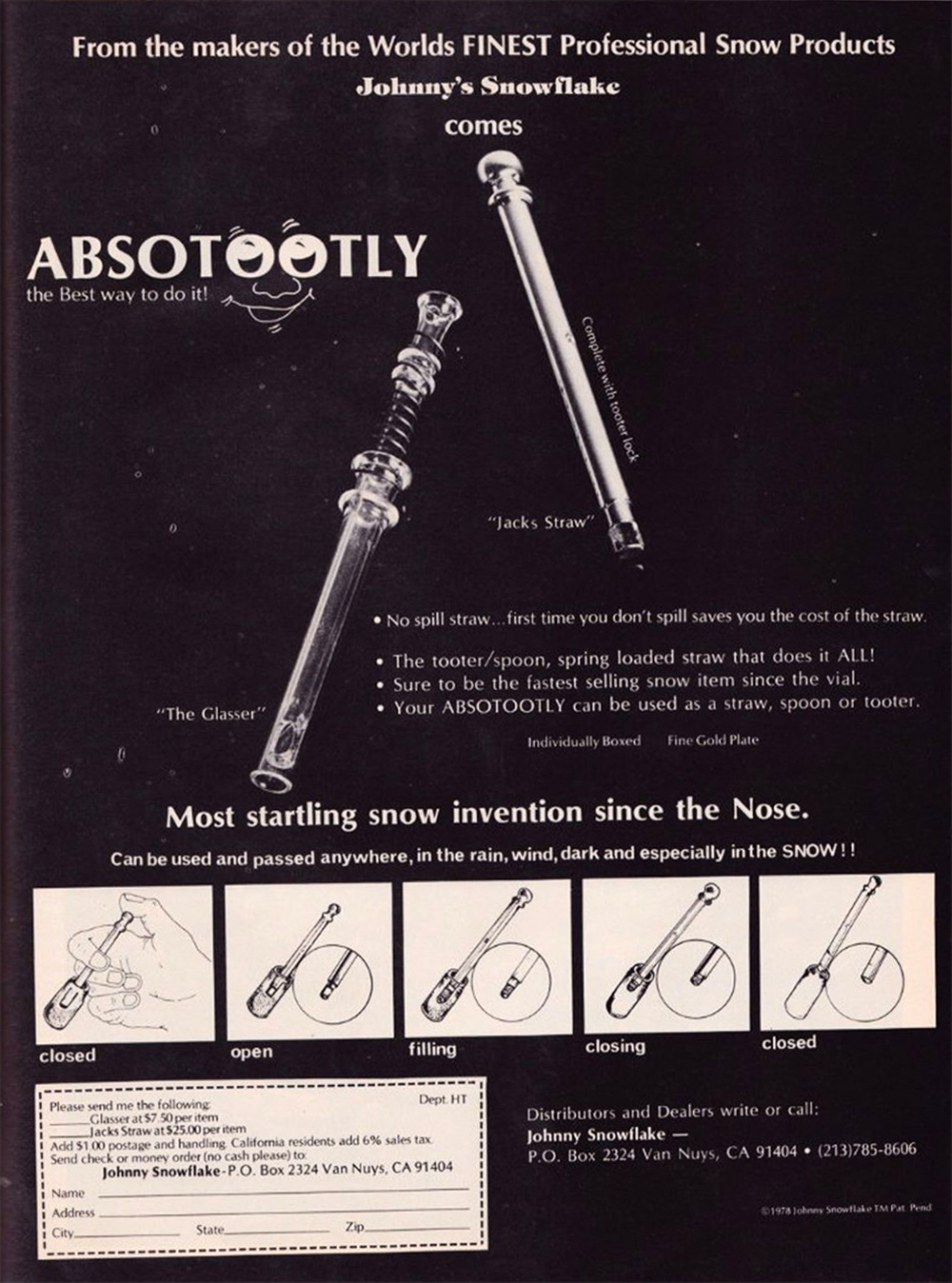 "Can be used and passed anywhere, in the rain, wind, dark and especially in the SNOW!!"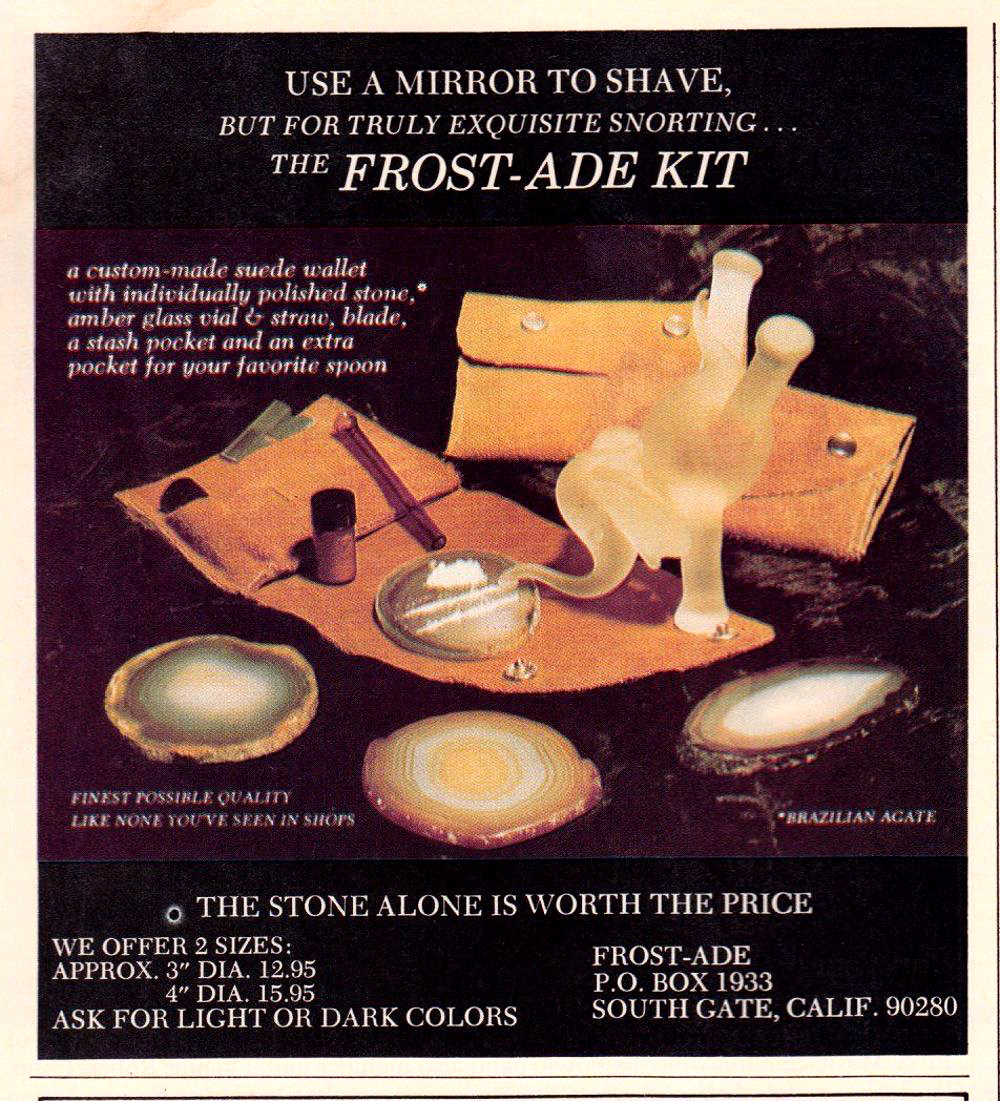 Don't you just love how many of these ads play it so cutesy with a very deadly drug.  From the "Absotootly" and vacuum cleaner straws to the "Frost Ade Kit" – they sure are light-hearted with their heavy drugs.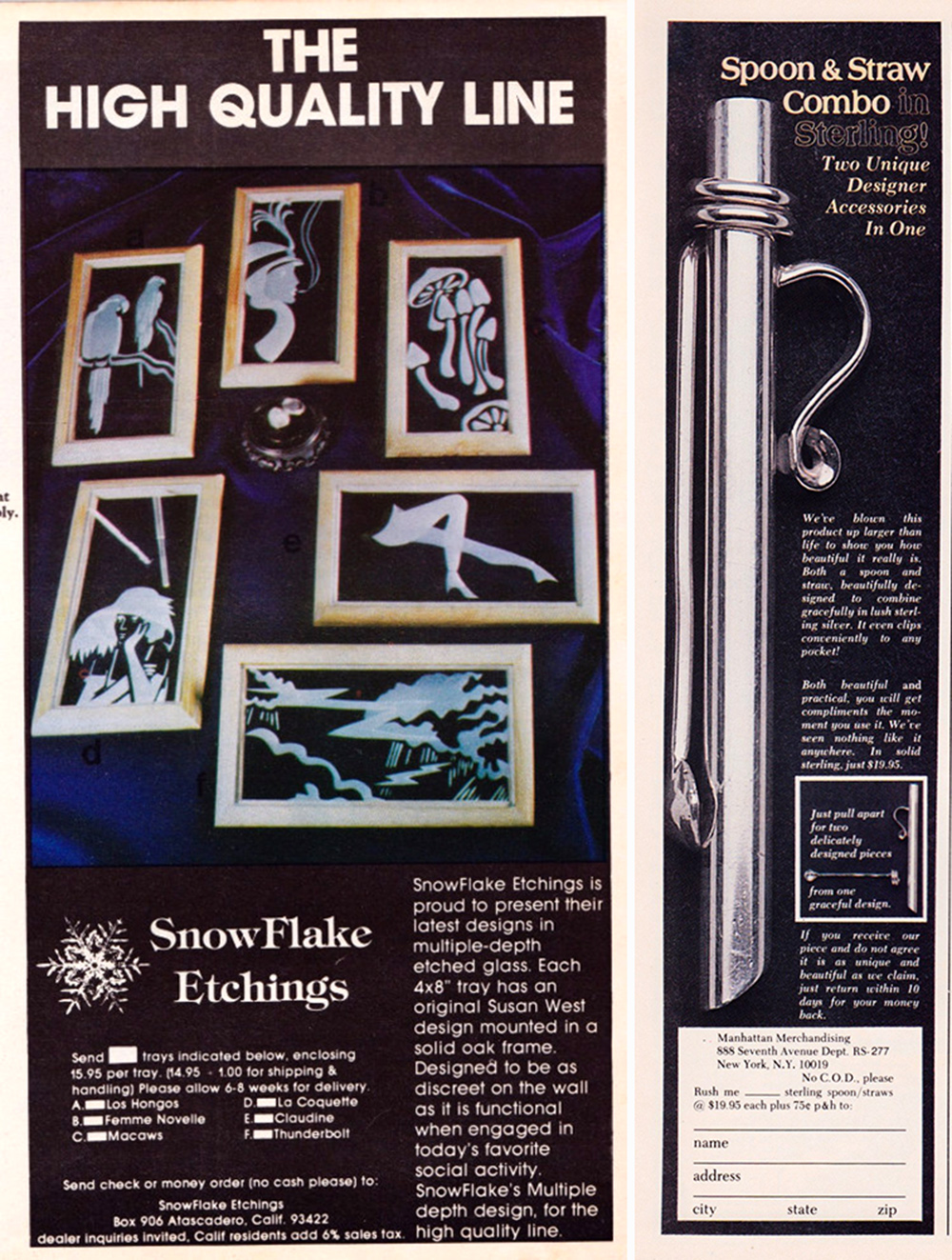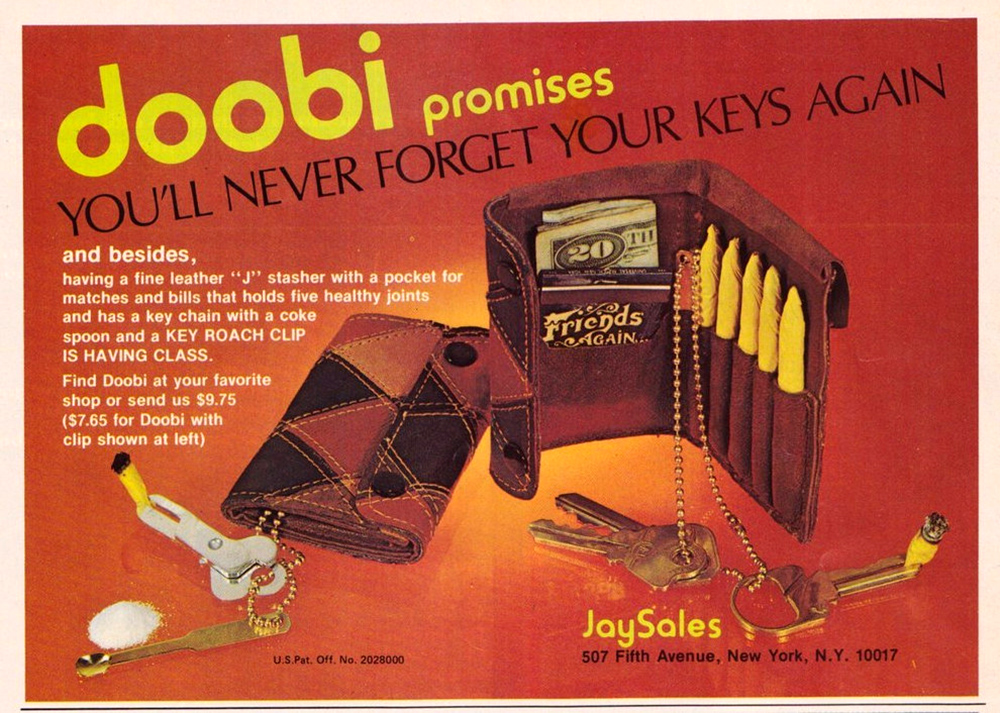 For the well prepared druggie: includes roach clips, a coke spoon, and a pocket that "holds five healthy joints".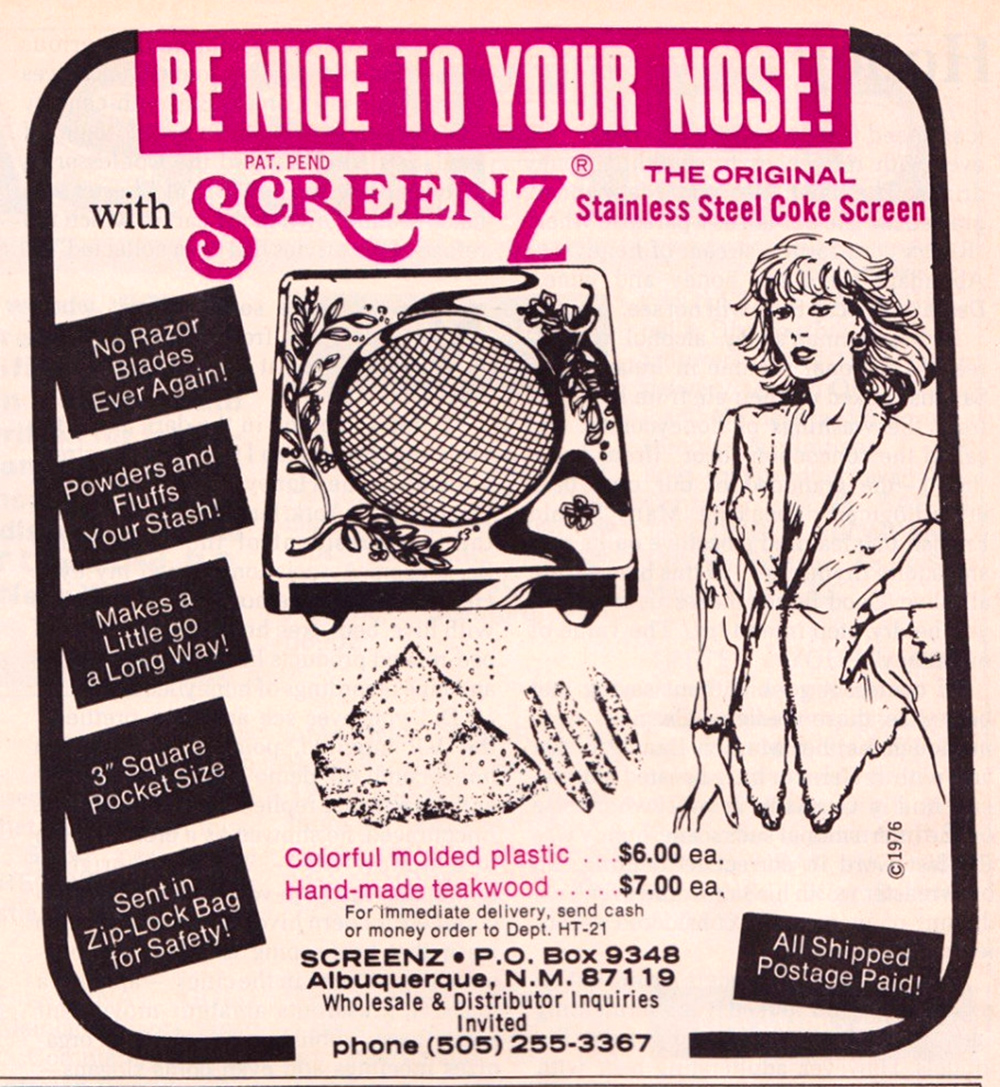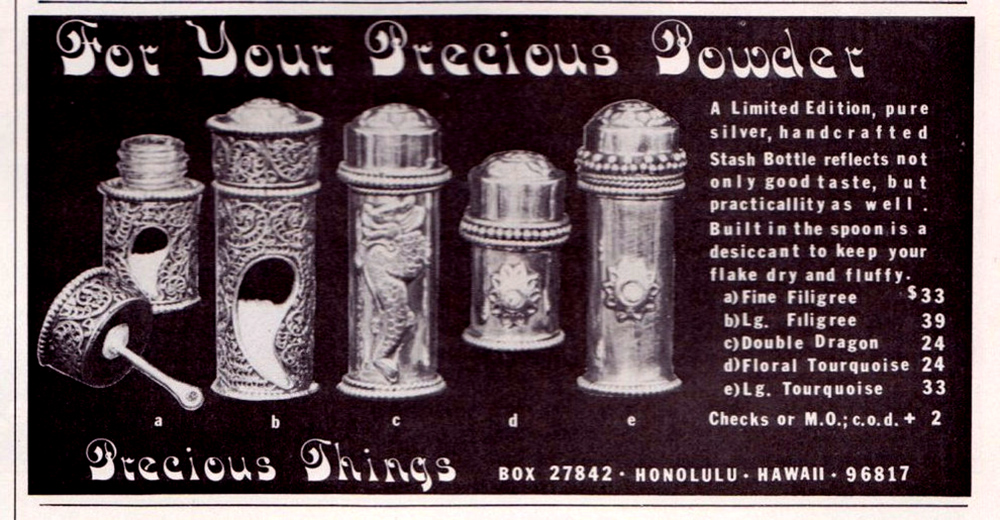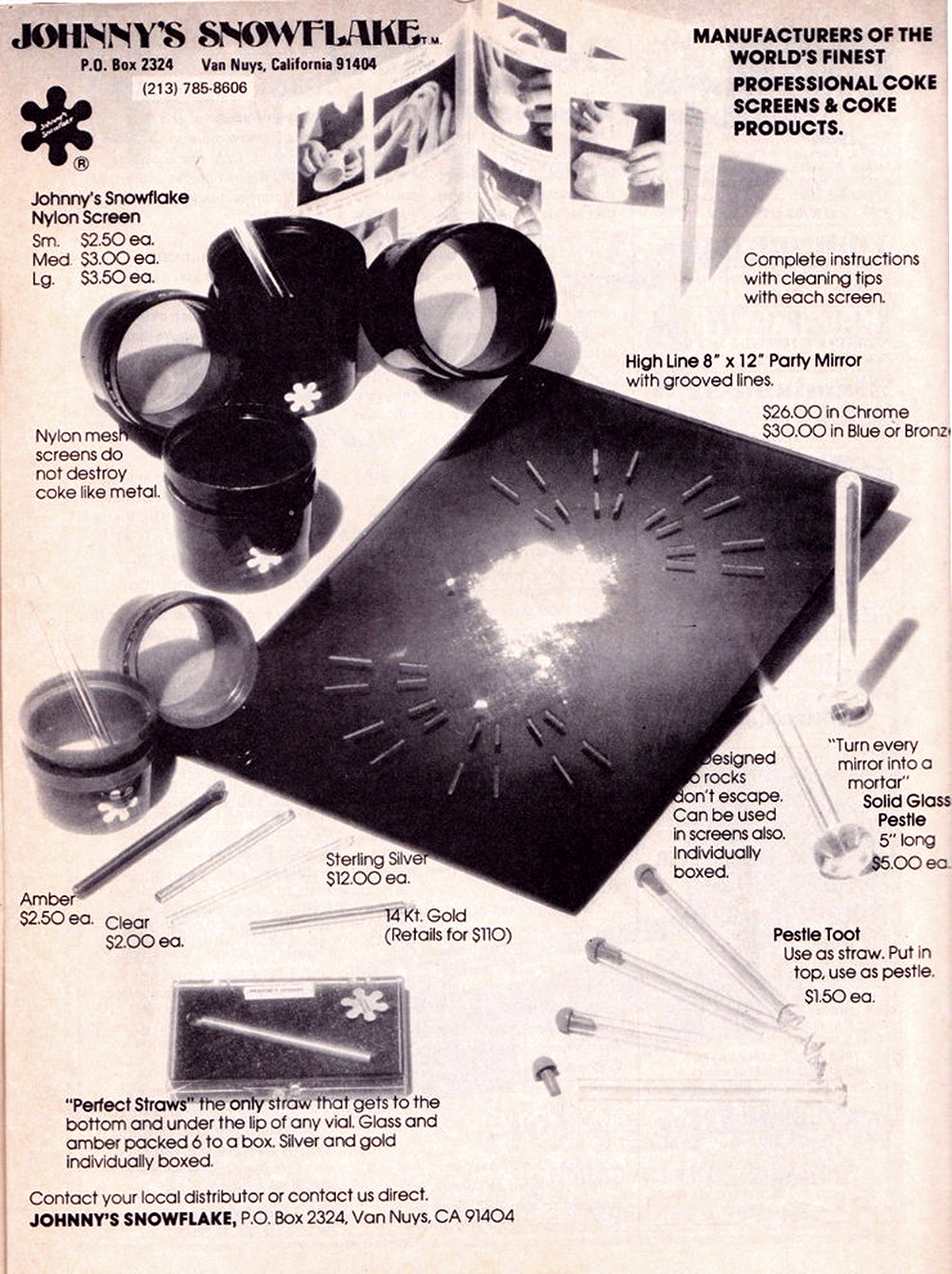 Johnny's Snowflake was evidently the one-stop-shop for all your cocaine needs.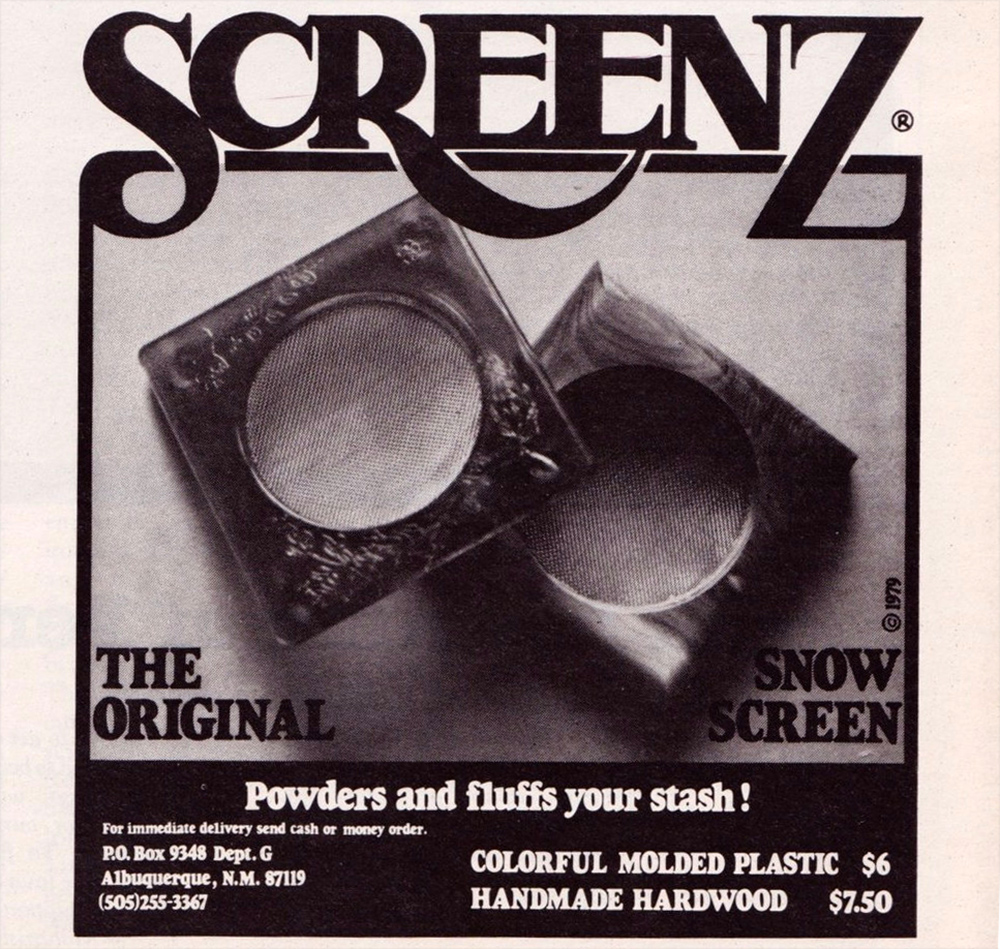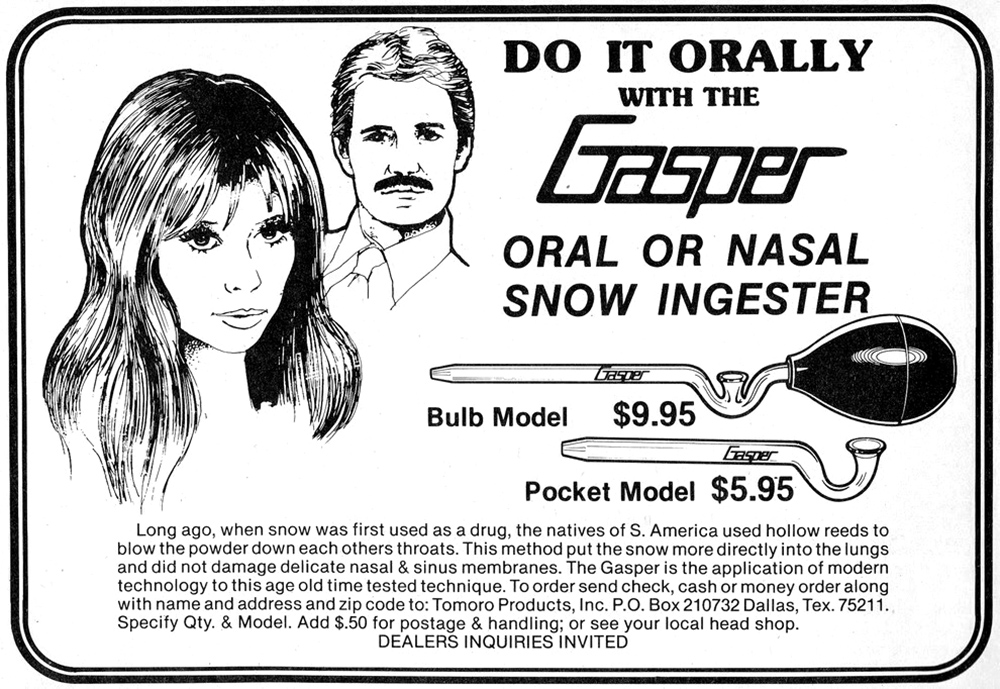 "Long ago, when snow was first used as a drug, the natives of S. America used hollow reeds to blow the powder down each others throats.  This method put the snow more directly into the lungs and did not damage delicate nasal & sinus membranes."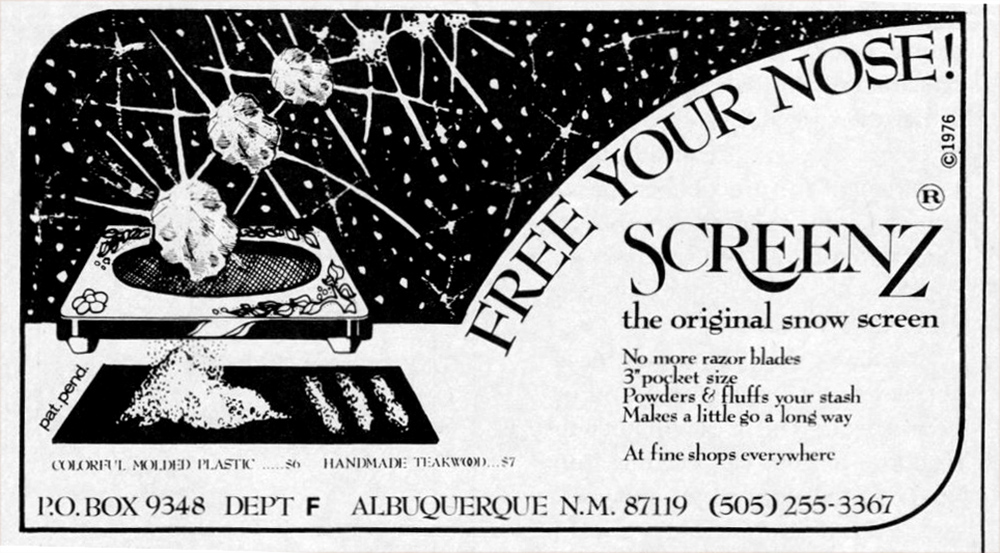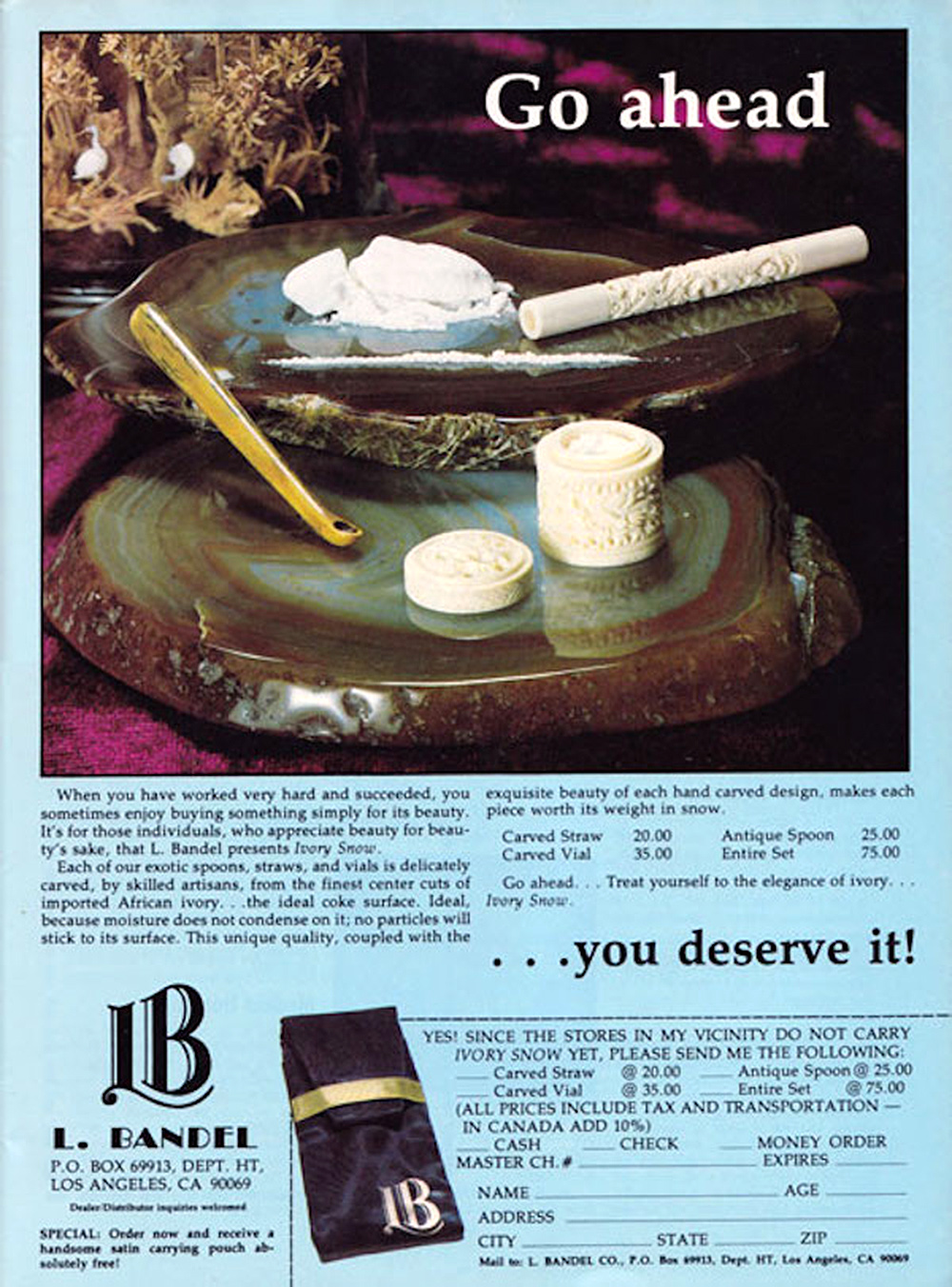 And the mistakes just keep piling up.  Not only are you doing cocaine, but you're also killing elephants and rhinos to do it.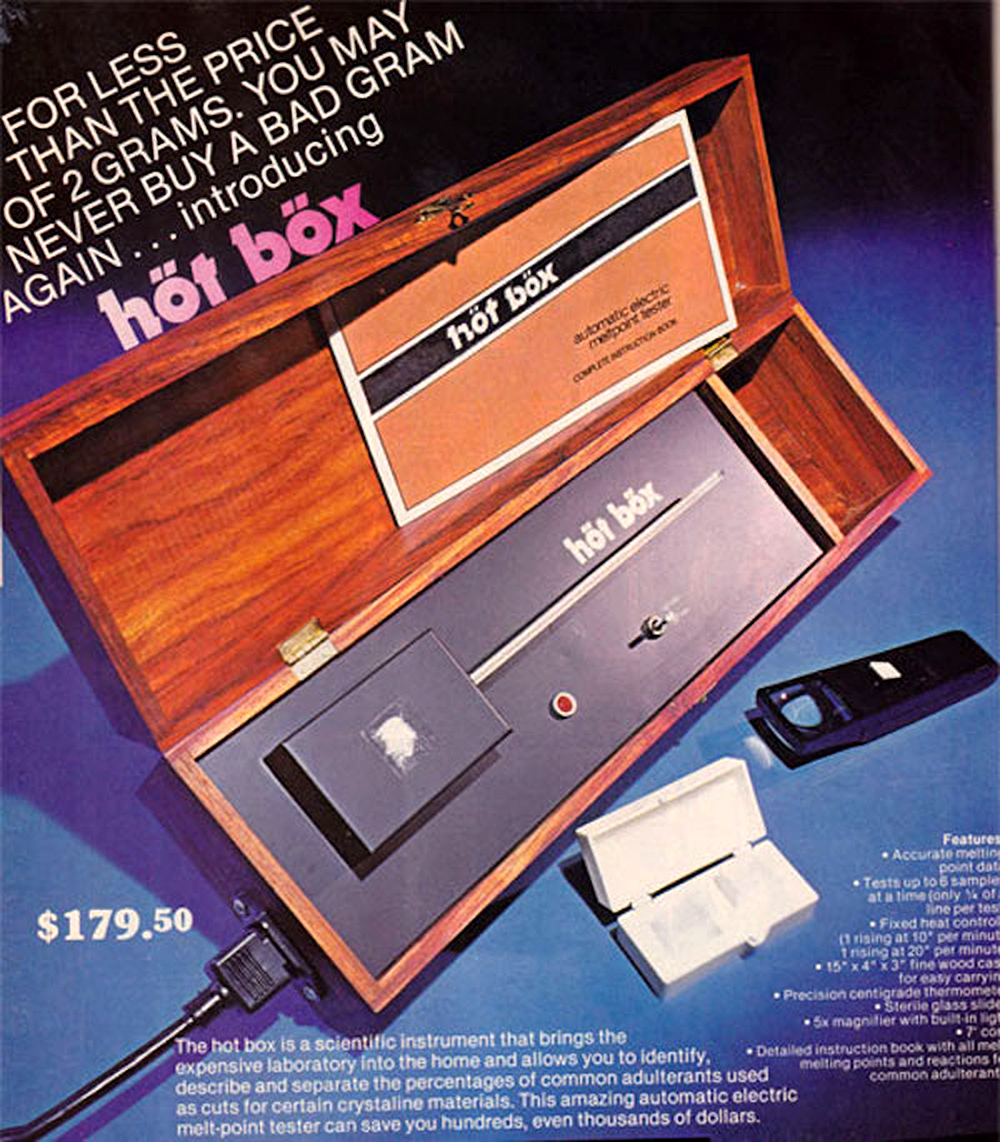 A purity tester for the price of two grams of cocaine.  What a deal!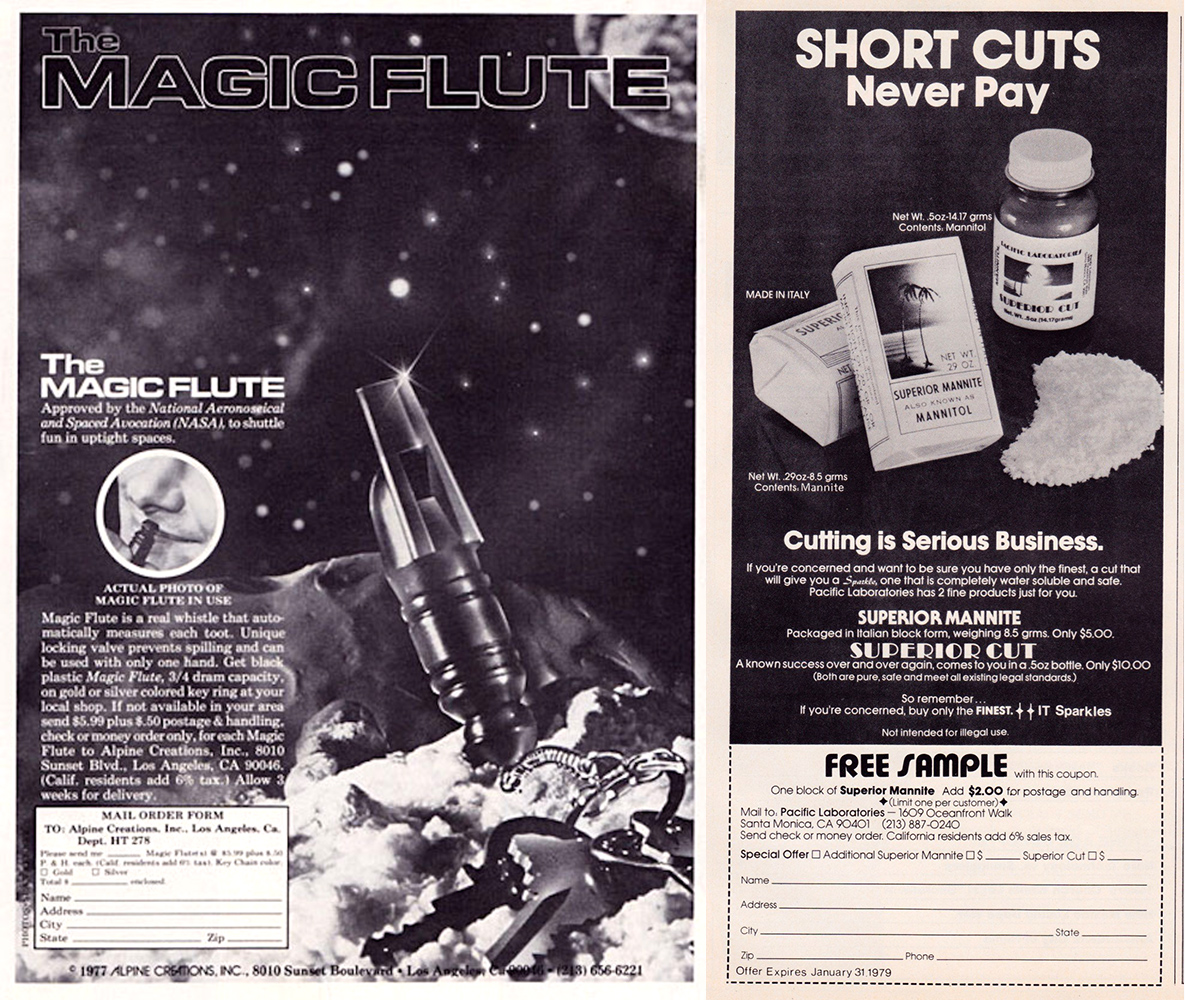 (L) The Magic Flute "approved by the National Aeronoseical and Spaced Avocation (NASA) to shuttle fun in uptight spaces".  (R) Another mannitol advertisement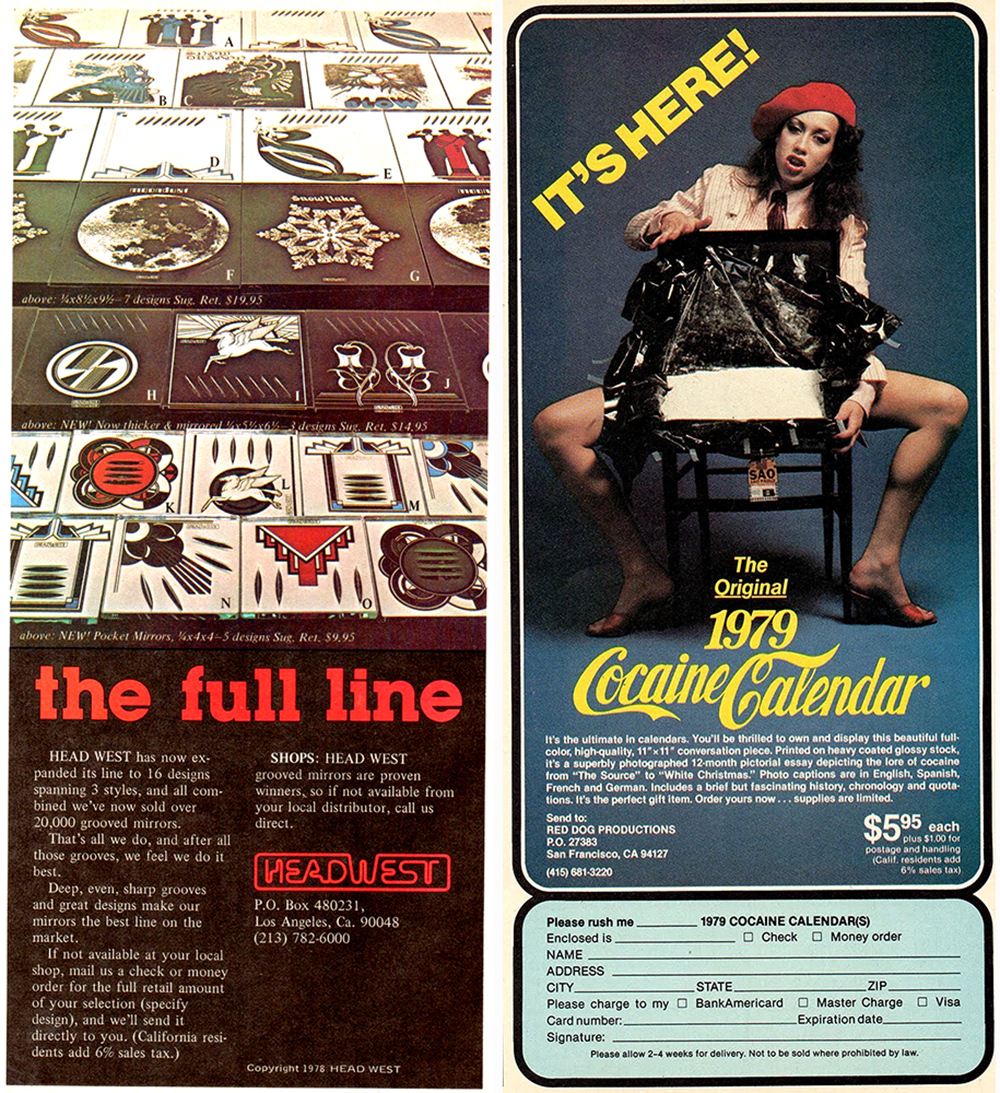 (L) 16 grooved mirrors for you to snort off, and (R) the 1979 Cocaine Calendar.  I'm sure December has a nice picture of a White Christmas.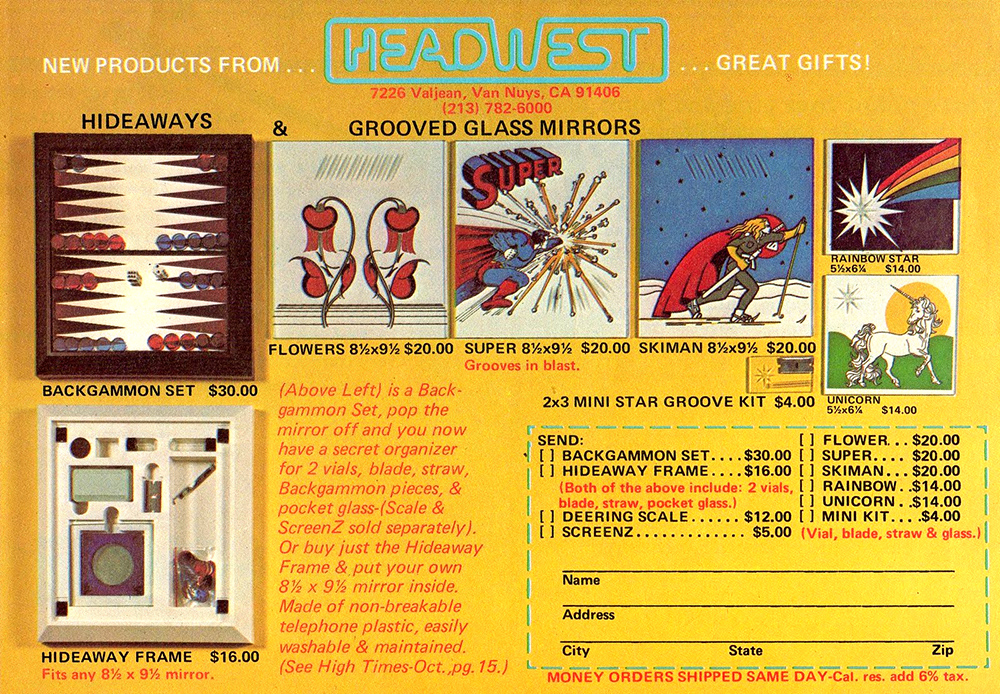 More grooved glass mirrors, plus a "Hideaway Frame" – a cocaine storage/organizer disguised as a backgammon game.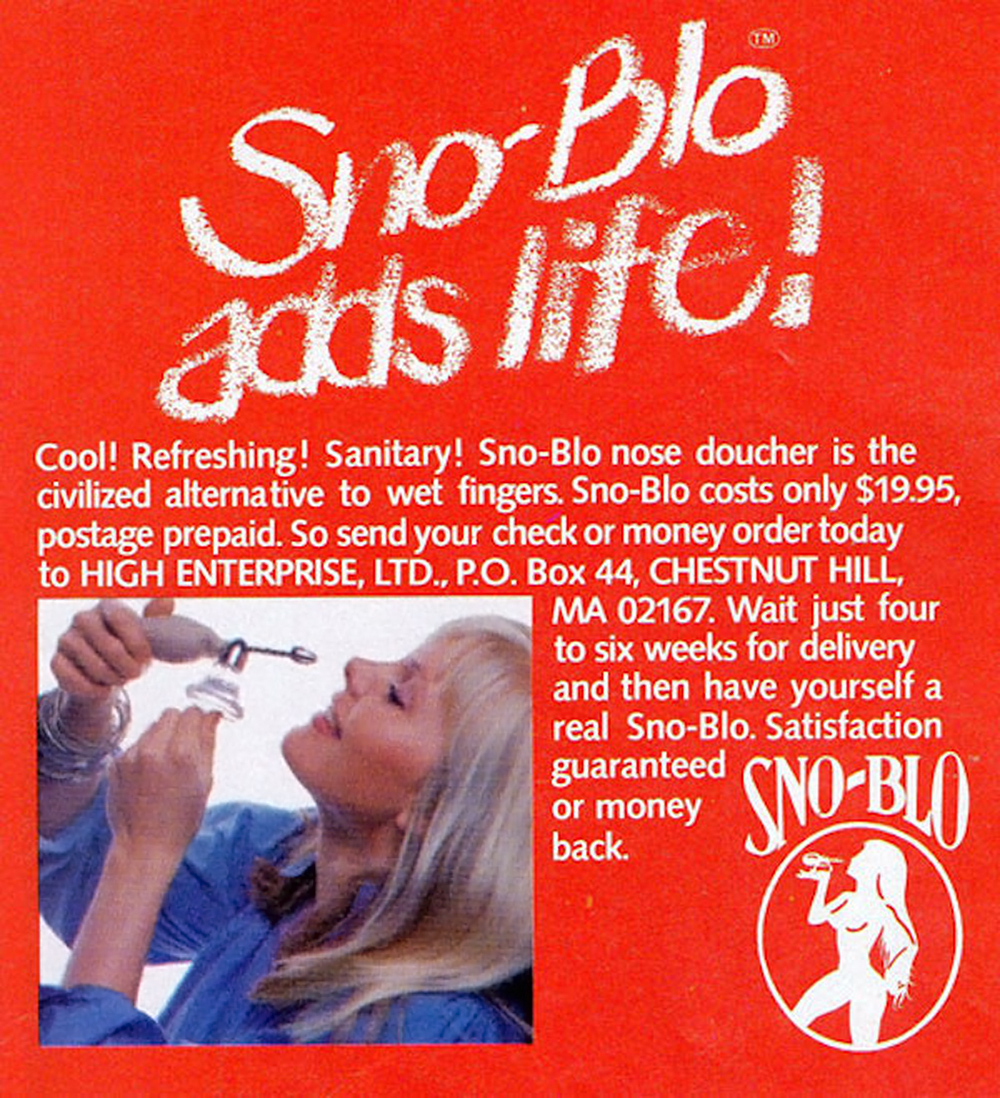 The Sno-Blo nose douche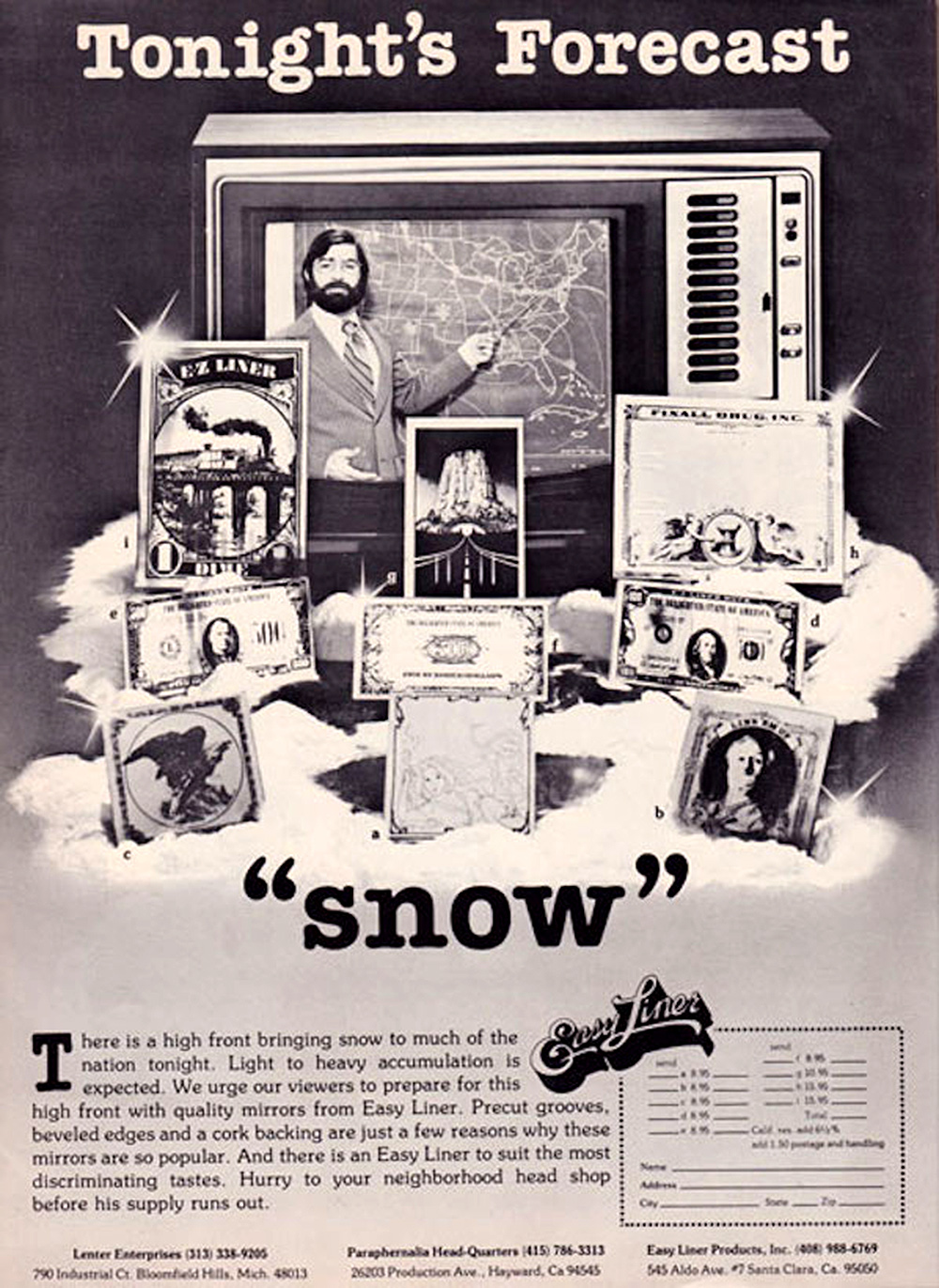 "There is a high front bringing snow to much of the nation tonight.  Light to heavy accumulation is expected.  We urge our viewers to prepare for this high front with quality mirrors from Easy Liner."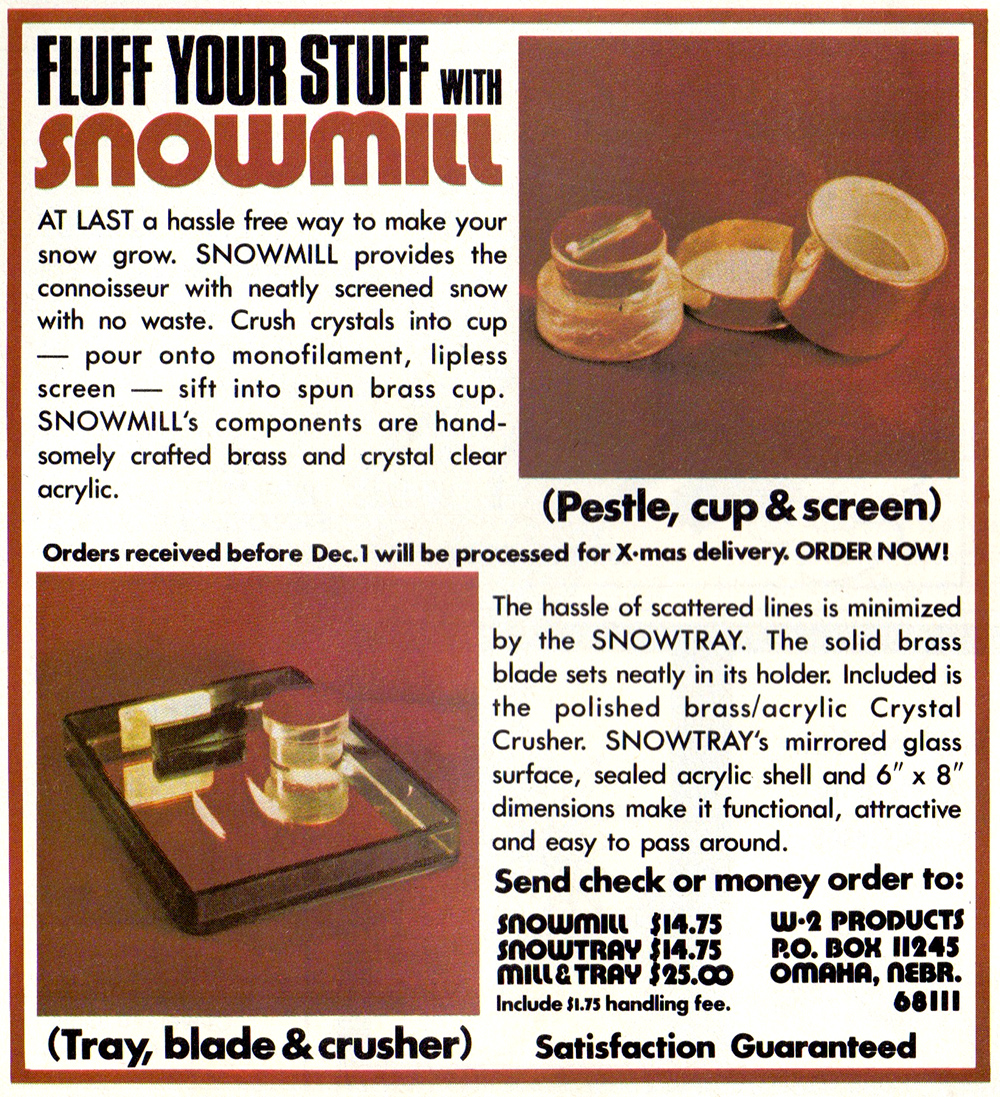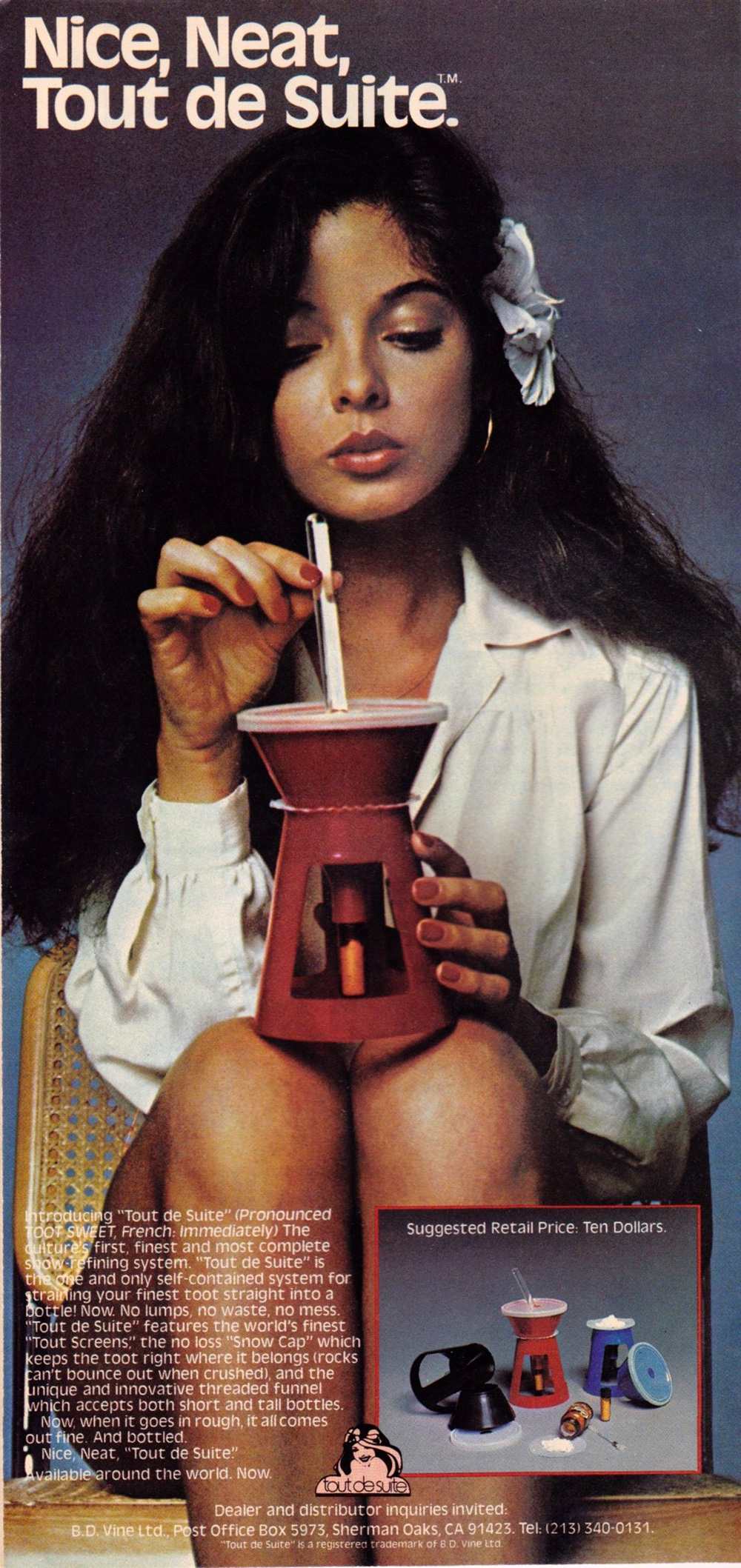 "The culture's first, finest and most complete snow refining system. 'Tout de Suite' is the one and only self-contained system for straining your finest toot straight into a bottle!"