OH. The Land of the Free in 1899: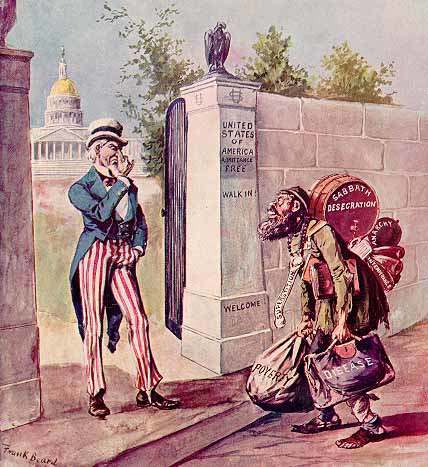 THE IMMIGRANT: THE STRANGER AT OUR GATE.

EMIGRANT.–Can I come in?
UNCLE SAM.–I 'spose you can; there's no law to keep you out.
The editorial illustrated how anti-Semitism and anti-immigrant laws prevented many Jews from escaping persecution.
DURING four hundred and more years this continent has been the melting pot for the population of the Eastern hemisphere. For three-fourths of that time the yearly infusions of raw metal was so slight that it was not hard to compound them with the native stock and preserve the high character of American citizenship. But when alien immigration pours its stream of half a million yearly, as has been frequently done during the last decade, and when that stream is polluted with the moral sewage of the old world, including its poverty, drunkenness, infidelity and disease, it is well to put up the bars and save America, at least until she can purify the atmosphere of contagion which foreign invasion has already brought.

Stand in the gate of the Lord's house, and proclaim there this word: Thus saith the Lord of hosts, the God of Israel, Amend your ways and your doings, and I will cause you to dwell in this place.

Jer. 7:2-3.
Source: Scanned from Fifty Great Cartoons (Chicago: The Ram's Horn Press, 1899) unpaginated. This cartoon is part of the collections of the The Cartoon Research Library of Ohio State University.
Spotter: @stevesilberman