"I was never a pin-up model. I did not pose for men individually like Bettie Page did. All the other models were wearing one-piece Jantzen and Catalina suits. I made my own and am beginning to think I invented the bikini, after the French did it."
– Bunny Yeager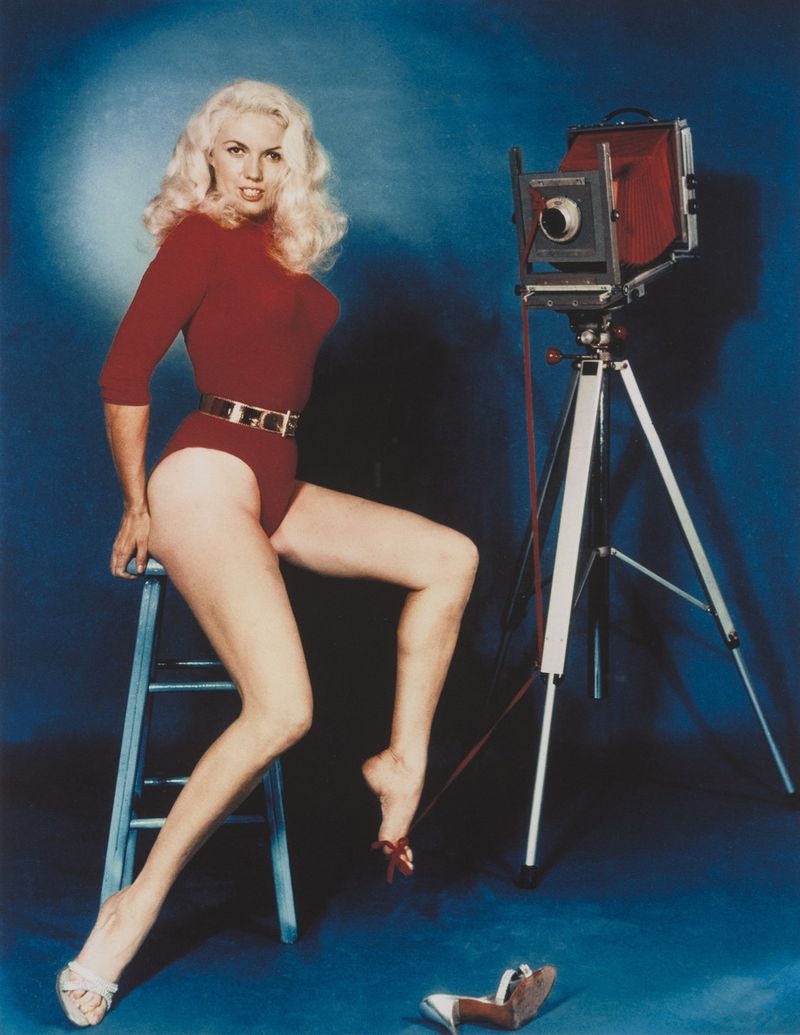 Was Bunny Yeager the original bunny girl? Born Eleanor Linnea Yeager in Pittsburgh, PA in 1929, Bunny died in 2014 in Miami, Florida. Her pin-ups – notably of the hymned Bettie Page who Bunny 'discovered' in 1954 when Irving Klaw's fetish model who'd illustrated the guide to striptease was looking for new angles and a way in to Hugh Hefner's Playboy – hark back to an era when less was more and gender roles were binary and starched hard.
Yeager was the woman photographer in a man's world. Often she stayed in the picture, her presence asserting command over the scene and offering sororal guidance to her "girls". Yeager's spirited women were not simply an opening into someone's fantasy.
And she too was a model. An appearance on the cover of U.S. Camera in 1954 was captioned "The World's Prettiest Photographer". Do the snapper's looks matter? The assumption was that only men could take photographs. Was Weegee, lead lens withe the Bettie Page Camera Club, valued for his perceived attractiveness? Whatever the mores, Yeager had fun disturbing them.
Yeager moved to Miami at 17 where she completed high school and studied photography at The Lindsay-Hopkins Technical College. It was then, in 1954, that she was asked by actress Bettie Page to photograph her. This lead to the famous January 1955 Playboy Magazine centerfold of Page wearing nothing but a Santa hat, launching Yeager's career as a nationally recognized photographer. Soon after, Yeager began to write "How To Photograph" books, such as her 1957 How to Photograph the Female Figure, publishing thirty books in total.
And as for the image at the top of this story:
One piece, which perfectly captures the artist in her practice, is the photograph of blonde bombshell Bunny with a lipstick red tripod, red shoes, and red sweater. Her exquisite left leg points in a pose that is so intentional it is practically contortionist. Her toes pull the camera's matching cherry red selfie-cord, revealing the subversive nature of the model and artist all at once. Given that fashion photographers were men and models were women only adds to the transgressive tone of this image and of Bunny's extensive oeuvre of photographs.

Yeager's books in the 1960s such as How to Photograph Nudes and How I Photograph Myself influenced such artist-photographers as Diane Arbus and Cindy Sherman.
"When I first saw Bettie in the nude, I was pleasantly surprised; she looked great. She walked into the room on tippy-toes, like she was wearing high heels, which made her look taller and more natural at the same time. The first thing I noticed was that for some reason when she was nude, she did not seem naked. I had never seen anyone with an allover tan and she looked like the perfect doll or mannequin. Bettie was a true nudist and maintained her glorious golden olive color by sunning herself everyday. She would lie on the banks of the miami River. Maybe it was her tan, or maybe it was her attitude– she seemed completely at ease."
– Bunny Yeager in Bettie Page Queen of Curves

"I was going to photography school at the time and was learning how to use transparency film using a large format camera to shoot it with. The instructor was so thrilled with what I'd brought in, he said, `You know, this is good. I think you should send this in to a magazine and try to get it published.' I did and sold it right away. That's how it all began."
– Bunny Yeager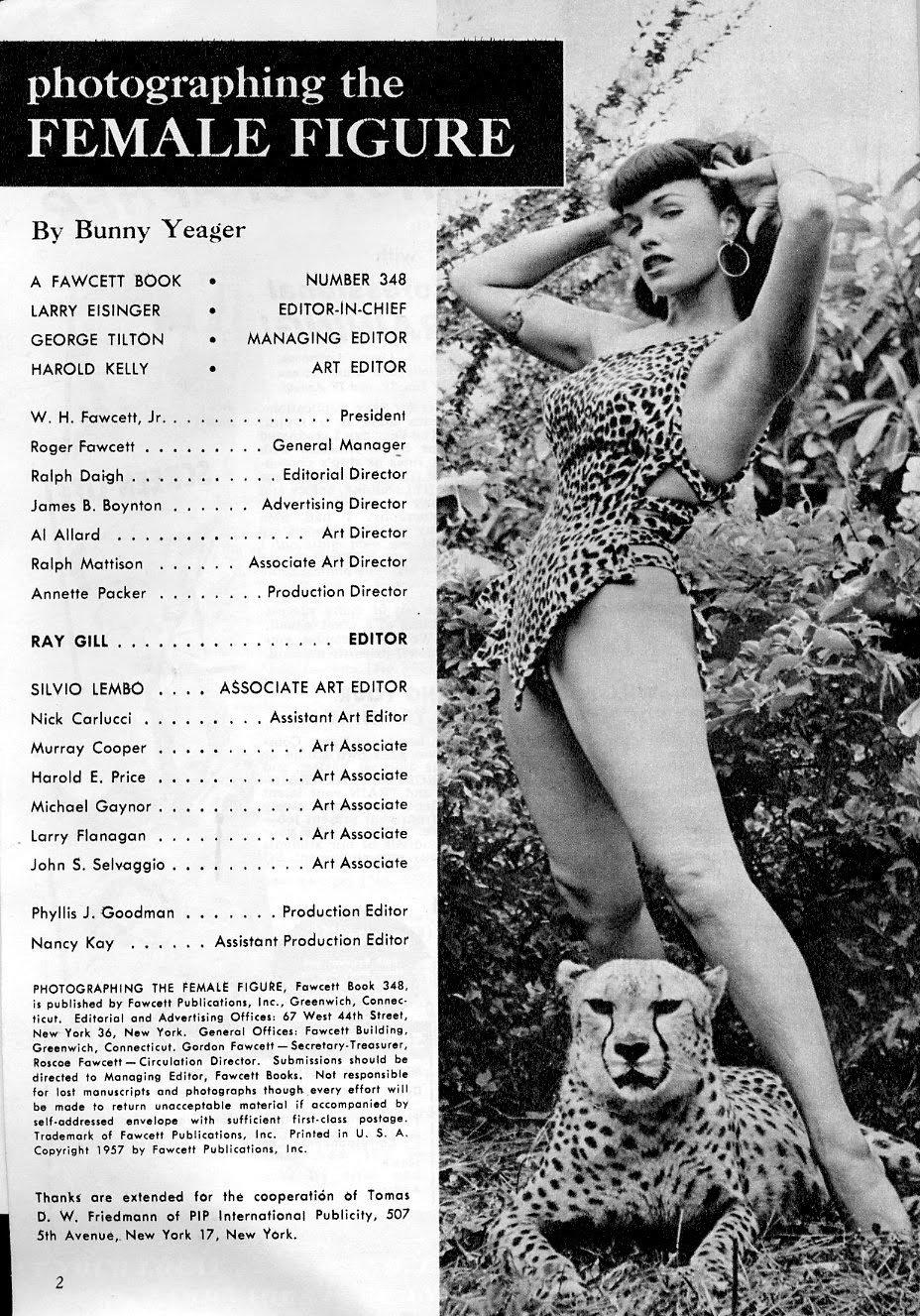 Further reading and sources: Bettie Page: Queen of Curves by Petra Mason, How I Photograph Nudes by Bunny Yeager, Bunny Yeager's Darkroom: Pin-up Photography's Golden Era by Petra Mason and How I Photograph Myself by Yeager Bunny.
Via: Bunny Yeager – How I Photography Myself, Selvedgeyard, Dazed