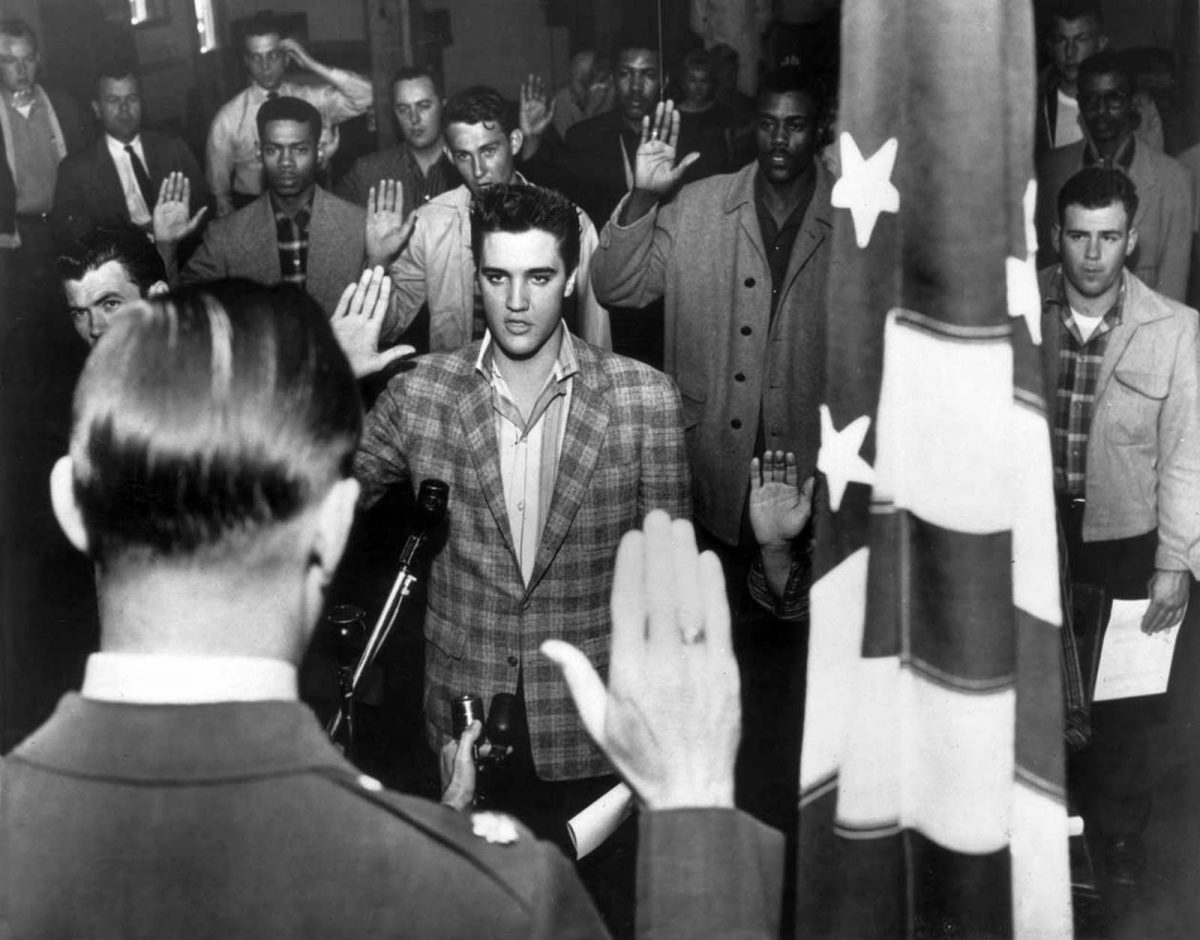 American rock 'n' roll, in a simplified history, began with the 40s gospel bravado of Sister Rosetta Tharpe, who discovered a 14-year-old Little Richard and inspired young Jerry Lee Lewis. It ended "the day the music died," as Don McLean proclaimed in his maudlin, pious anthem. Eddie Cochran's death, Lewis' scandalous marriage to his 13-year-old cousin, DJ Alan Freed's payola downfall… the final domino may have fallen in Chuck Berry's December 1959 arrest under the Mann act.
Tragic accidents, bribery, and statutory rape were bad enough, but something else happened at the end of the decade—two of the music's biggest stars turned to religion and the army, moves that heralded the end of the the fifties' profitable experiment in interracial rebellion, and paved the way for the early sixties' whitewashed takeover of the airwaves by square, conservative hitmakers like Pat Boone.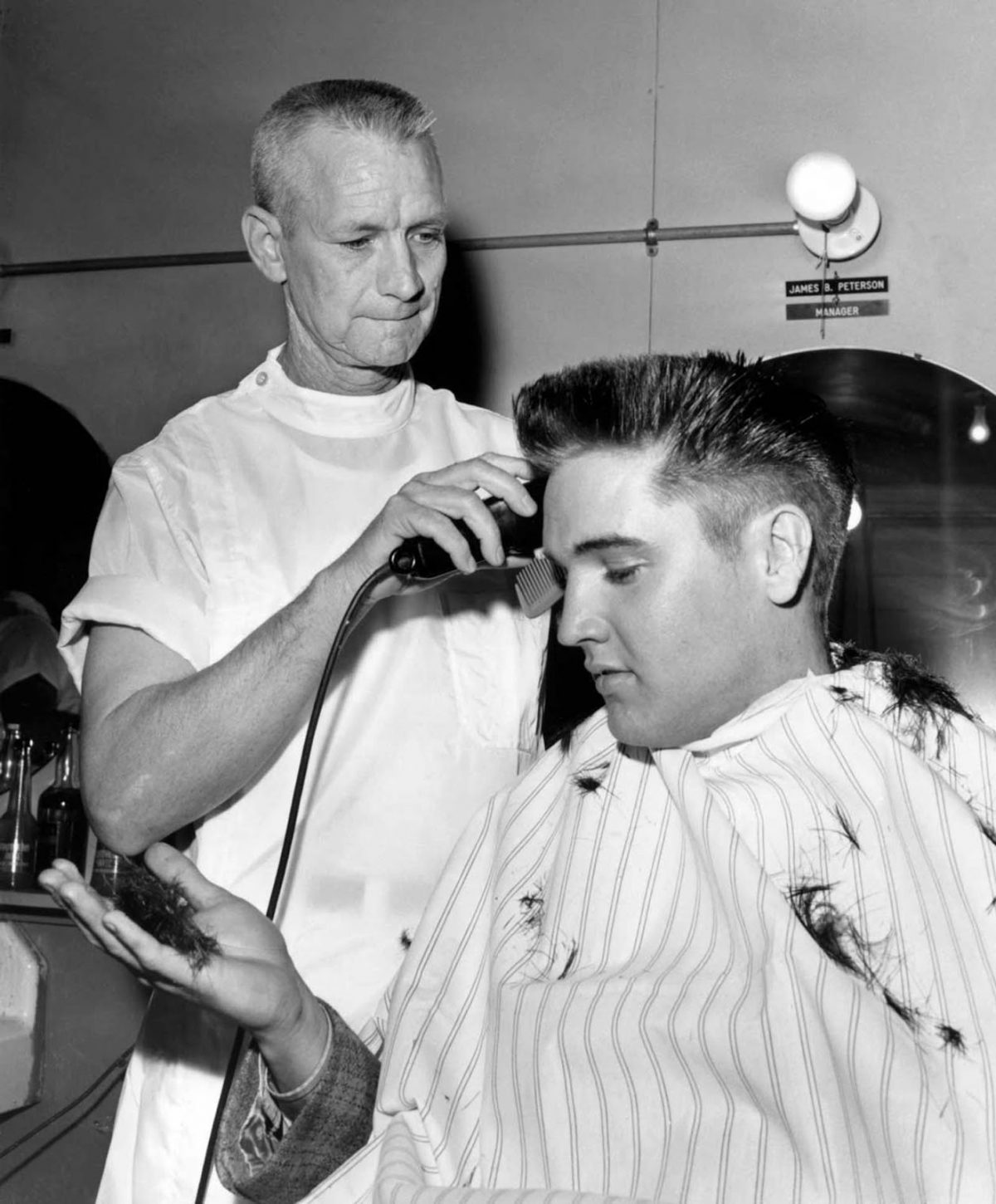 Little Richard, shaken after avoiding a plane crash and the sight of Sputnik I launching into orbit (both of which he took as signs from God), returned to the gospel world from which he'd come, becoming a traveling evangelist and getting married in 1959.  Elvis's path took him through military service in Europe to getting hooked on amphetamines, a journey that started on what the media called "Black Monday", March 24, 1958.
The King took his place as a regular soldier in Memphis, "enduring a public haircutting ceremony," writes Neil McCormick at The Telegraph, "that acted almost as a symbolic neutering of the rebellious power of rock and roll." As his pompadour fell to the floor, he reportedly joked, "Well, hair today, gone tomorrow." Drafted the previous year, he'd been given every opportunity to avoid actual service from a military establishment full of admirers, as Travis Andrews writes at The Washington Post:
Various branches of the armed services offered him cushy jobs. The Navy suggested creating an "Elvis Presley company" composed of his friends from Memphis, and the Air Force wanted to use him as a recruiting model rather than sending him into combat, according to Military. The Army offered to have him only play concerts for the troops.
Instead, he chose to enter as an ordinary private, eventually getting promoted to sergeant while in Germany. He was first deployed as a truck driver near Frankfurt, and "having begun his working life as a truck driver, Elvis was back where he started." He felt he had something to prove, he said, "not only to the people who were wondering" if he'd screw up, "but to myself."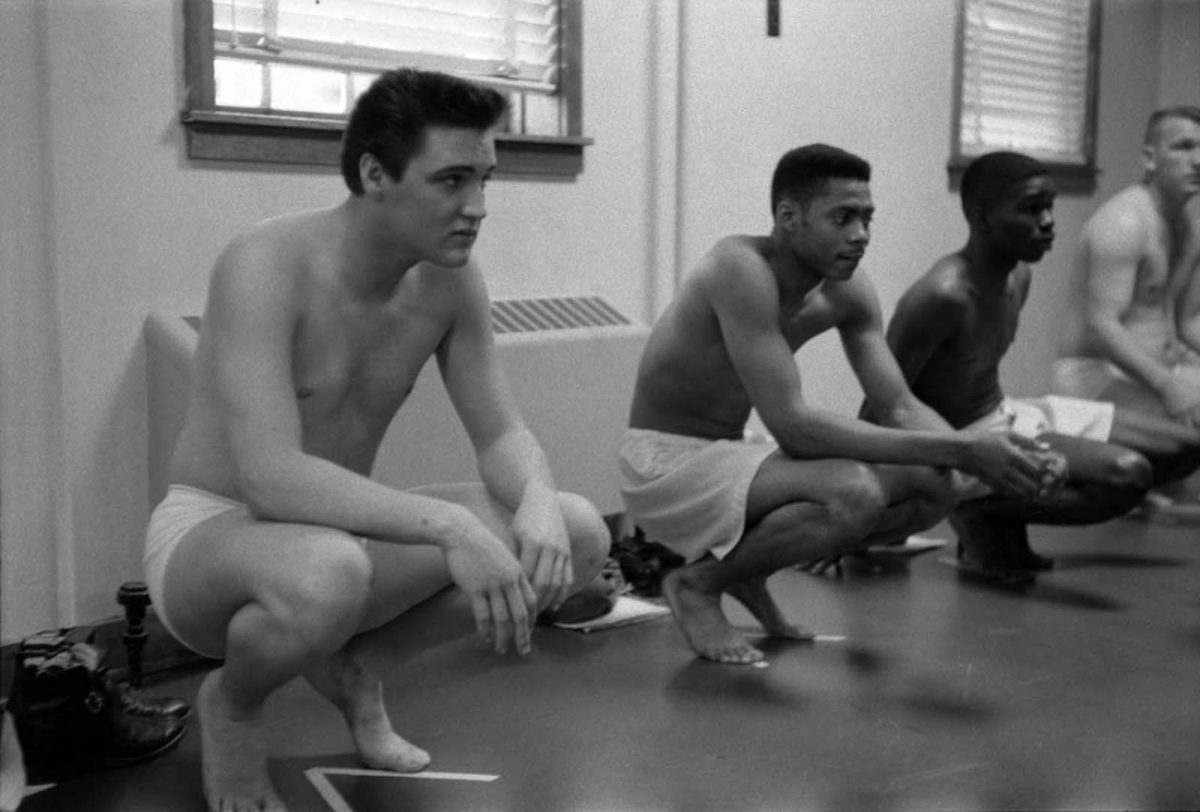 Maybe he also felt had something to prove to his mother, Gladys, whom he adored, and who died of a heart attack months after his service began, an event he would later call "the great tragedy of my life." (At her funeral, notes Andrews, he cried out, "you know how much I lived my whole life just for you.") Elvis started partying across Europe. He "met 14-year-old Priscilla Beaulieu, the daughter of an Army officer, and he immediately began dating her." And he met a fellow sergeant who introduced him to amphetamines, "which he began taking almost daily," telling Priscilla, "if I didn't have them, I'd never make it through the day."
The rest of the story, of Elvis' long decline over the next two decades, is well-worn American mythology at this point, and according to Andrews and author Peter Guralnick, it begins with the "dark days" of his military service. But there was something shrewd about the move, too, almost as as though Elvis anticipated the changing cultural winds and knew he couldn't compete with the youth movements to come. His decision to serve would help secure him a loyal following for the rest of his life. "He found a new fan base among an older age group," writes Rare Historical Photos, one that would support him in Vegas throughout the 70s, "thanks part to his army career."