AHHHHH, bacon. Food of the Gods. Well, not all of everyone obviously. But so long as you don't know it's a bacon or eat it in a hotel or anywhere outside the home (Kosher Law No, 54b) it's all fine. Really. For those of you not au fait withe snap of crispy bacon and seductive fatty perfume, these are adverts. These vintage adverts will turn you onto bacon faster than the Little Piggy can run all the way home:
Always Praise You Young Wife's Cooking. That Girl Guide's cooking bade was no fluke.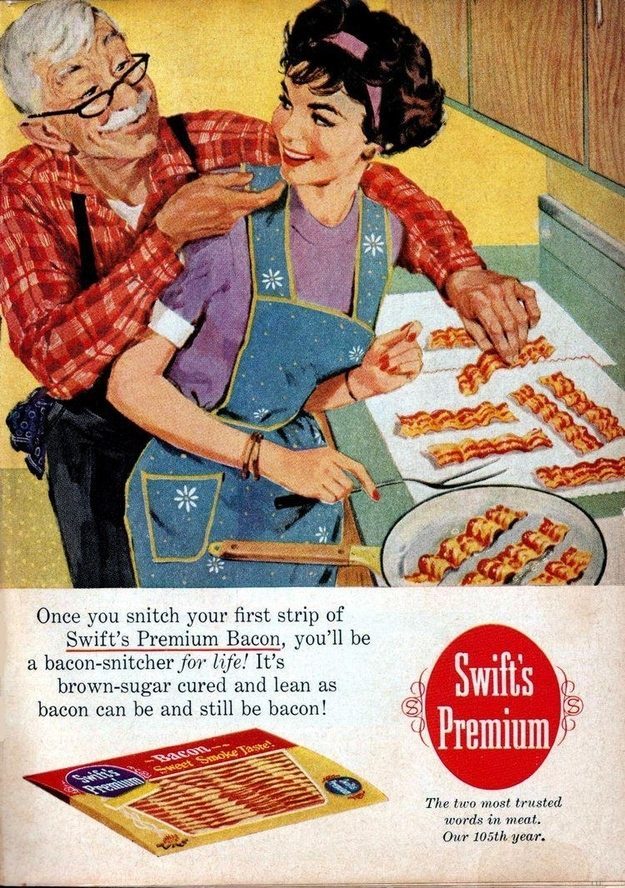 IF You Lose Your Way You Can Always Eat You Way Free Of The Maze. (Unless you're Jewish or Muslim in which case just sit tight and wait.)
I Give This Bacon To Prongs
And Then They Started To Fight
Make My Hair This Colour 
Nah. I'd Stick With the Diagonal Stripes. The Bank Manager Has a Dog.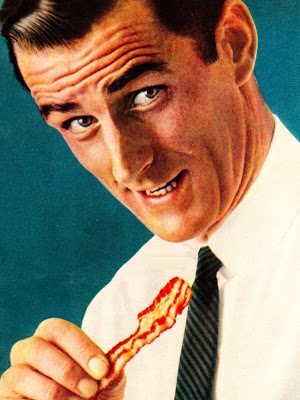 Oranges Are Not The Only Fruits
You See. The Pig Is Happy To Be Killed And Eaten. Make Him Happy. Do It Now.
Leeds Industrial Co-operative Society – "A Real Yorkshire Breakfast – Bacon & Eggs" advert in Wharfedale & Airedale Observer, 1935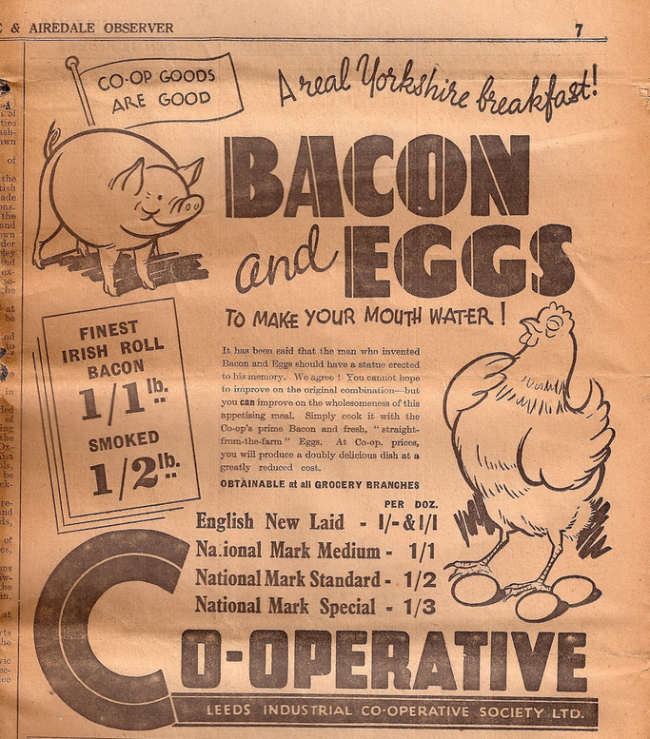 Sure, The Fat Builds Up And The Toaster Catches Fire. But It Will Be The Best Smelling House Fire The Brigade Has Ever Attended.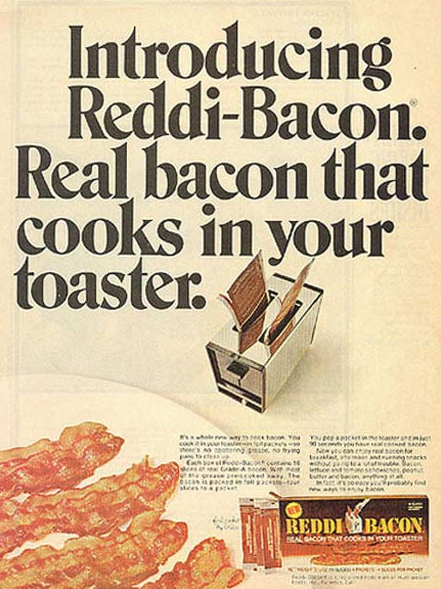 What's Chasing The Massive Pig?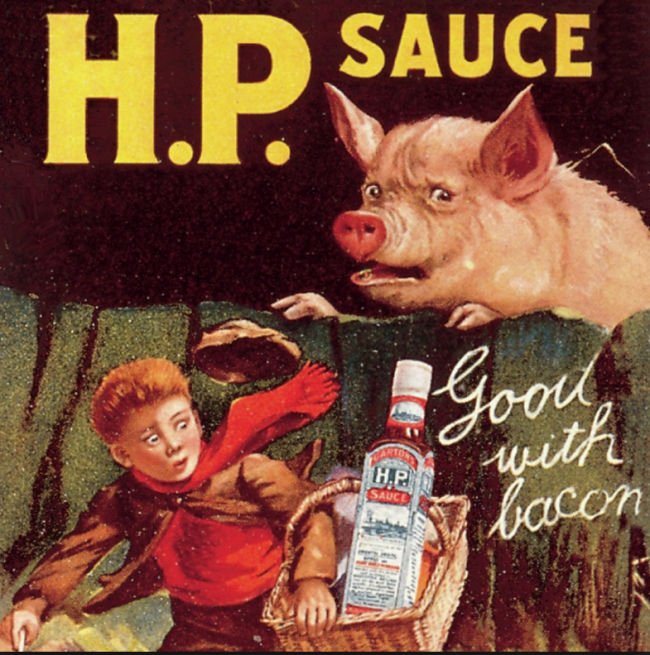 Say, He's The Same Colour As The Bacon. Hmmm. I've Not Seen His Brother For Ages…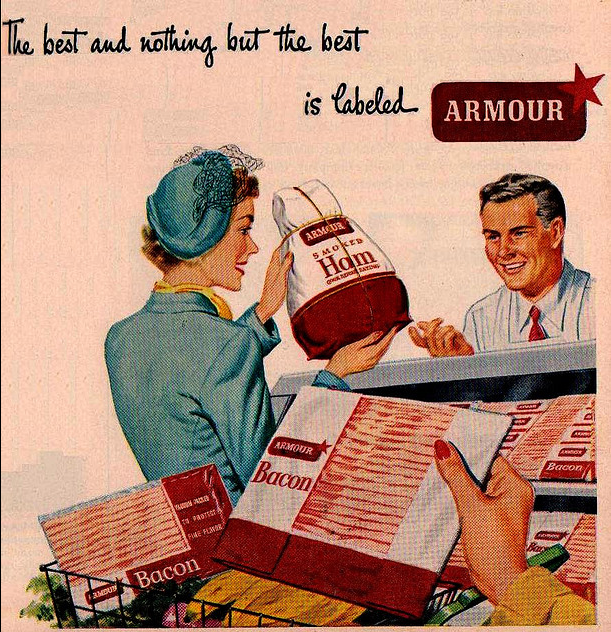 This Is How Aunt Jemima's Mind Works. She'll Fatten Missy Up Then Come The Revolution The Family Will Be Easier To Catch
From The Saturday Evening Post (January 14, 1961)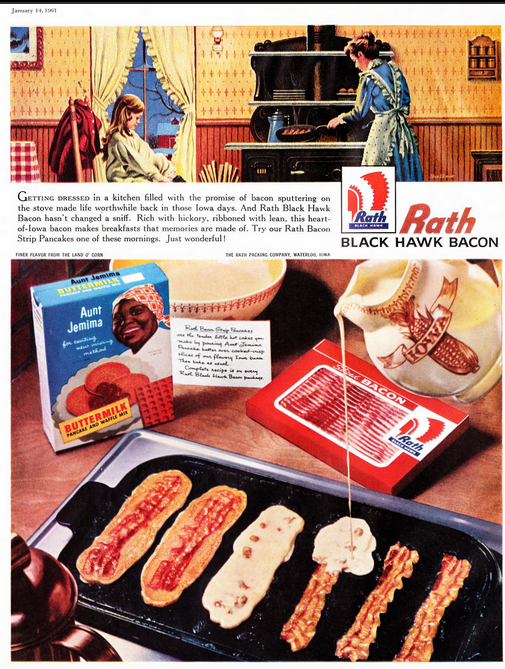 Spotters: Copyranter, SaltyCotton, here, here and here.