ONCE upon a time, football mascots were men like Ken Baily, who dressed as John Bull, helped restore Erica Roe's modesty after her Twickenham streak, and followed the Queen and the England and Bournemouth football teams across the world. Subbuteo even honoured him with his own model.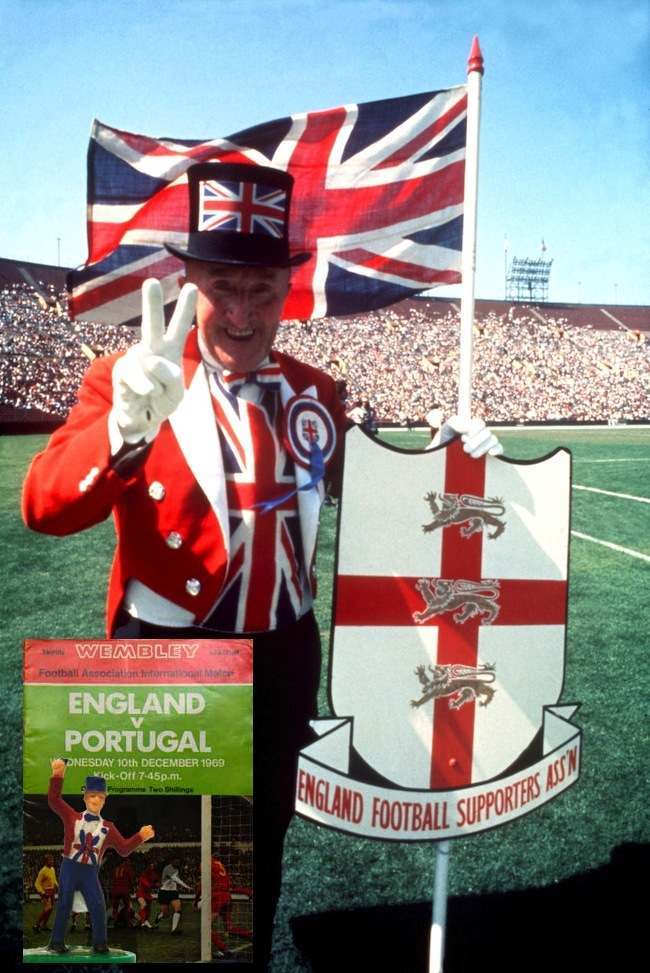 These were the days of impeccable men like Carlisle's George Baxter (with Olga the Fox) and Peterborough's Mr Posh, who dressed and acted like perfect gemtlemen at all times.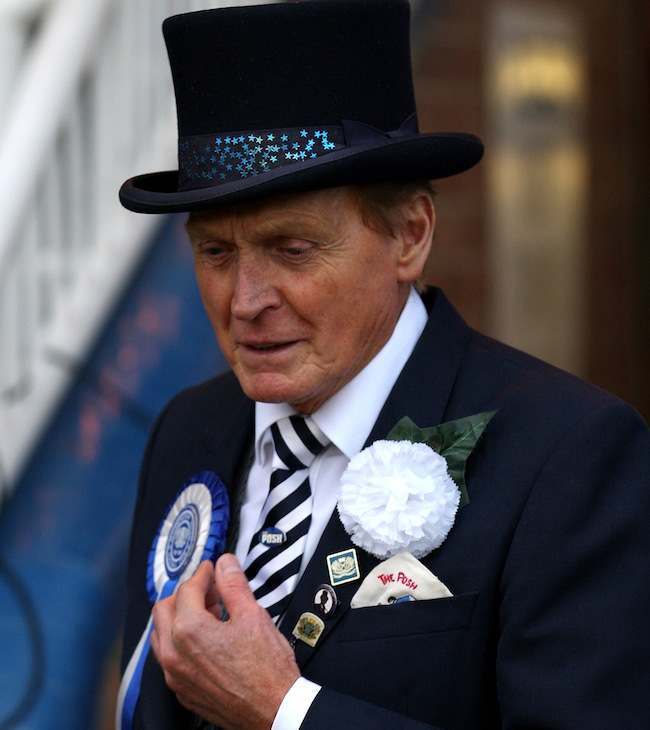 But this week's unsavoury downfall of Blackburn Rovers mascot Roar the Lion, aka Scott Henderson, is a timely reminder that there is a dark side in football as in any other walk of life.
So as not to leave a bad taste in the mouth, Blackburn have changed their mascot to Rover the dog – although Nigel the Chicken Nugget would have fitted the bill nicely.
When all this is over, Rovers can at least take comfort from the fact that it are by no means the first club to discover that a metre-high nylon mask can lead to a dangerously hot head…
1998: Wolfie (Wolverhampton Wanderers)
During the interval at Wolves' away game against Bristol City, Wolfie took on not one, not two, but THREE Brizzle pigs. And he topped this display the following year by clashing with arch-rival Baggy Bird of West Brom
2001: Cyril the Swan (Swansea City)
Where to begin with this miscreant? Hurling pork pies, clashing with other clubs' officials, knocking a female mascot over during the mascot Grand National, and fighting with other mascots including Millwall's Zampa the Lion (twice). During one bout in 2001 he removed Zampa's head and drop-kicked it, and earned himself a £1,000 fine. (The hapless Zambo also suffered the indignity of losing a fight with Crystal Palace's Pete the Eagle live on television.)
2003: Chaddy the Owl (Oldham Athletic)
This double winner of the Mascot Grand National has a history of trouble. Chaddy was reprimanded by police after attacking Blackpool's Broomfield Bear, and duly received a ban from the Tangerines' ground.
Blackpool press officer Matthew Williams said: "I was in the press box and they were play-fighting, when Chaddy waded in and seemed to be kicking 10 bells out of Bloomfield Bear."
Chaddy claimed Broomfield was trying to damage his beak. "Ninety per cent of mascots are top guys," he said. "But some of them think if they can floor Chaddy the Owl they can be in the newspapers."
Two season's earlier, in a match against Peterborough, a linesman kept flagging Carlo Corrazin offside when he wasn't. Chaddy was sent for an early bath when it was discovered that he had been mistaken for Carlo.
2004: Robbie the Bobby (Bury FC)
Sacked after making obscene gestures to Howard Webb. Although named after the founder of the modern police force, Robby had a string of offences, and was dismissed by Mike Dean for belly-flopping on th pith and mooning at Bristol City supporters., Previous incidents included tearing the ears off Peterborough United's rabbit mascot as well as being involved in a brawl with Cardiff City's Bartley the Bluebird.
"When I realised Bartley wasn't playing, I clouted him a couple of times and then ripped his head off," said Jonathan Pollard (for it was he). "I think I broke his nose and I'm sure he lost a tooth or two."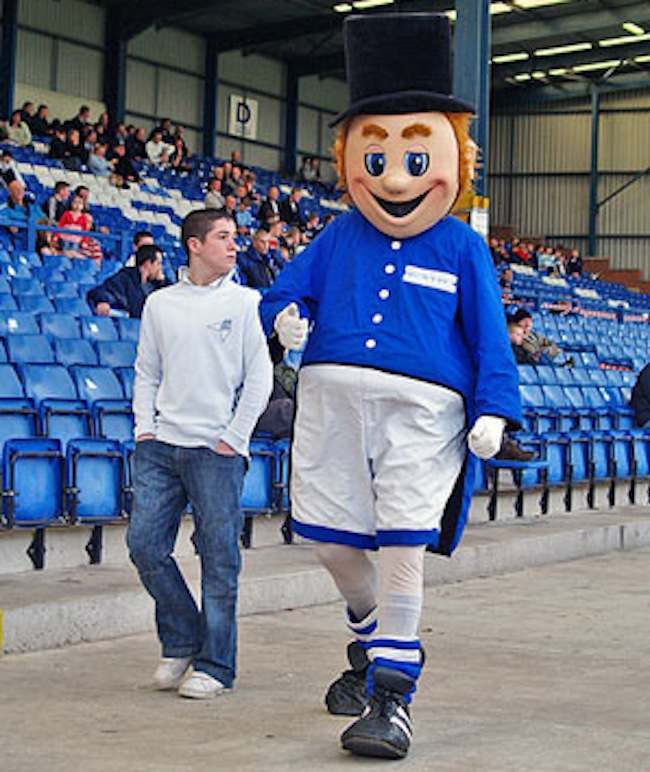 2011: Deepdale Duck 
(Preston North End)
Deepdale has a history of winding up the oppo, and even prompted Everton to attempt to ban him. Sent off against Derby for annoying and distracting their goalkeeper, he then twice interrupted BBC presenter Mark Clement during his 'links' from the tunnel.
2011: Sammy the Tammy (Dunfermline)
Got into a cardboard tank and aimed his gun at Raith Rovers fans, while the PA system played the sound of gunfire. The incident came shortly after a petrol bomb was sent to Celtic manager Neil Lennon – and the downfall of another member of the Scottish mascot community.
2011: Rossco the Staggie (Ross County)
Rossco, aka Glasgow Rangers fan David Purvis, made online comments about Neil Lennon on his Staggie Facebook page:
"He went for Ally McCoist after the match. The guy's a sewer rat. […] Lennon you're a dirty c***. Hope you get whats coming to you yah dirty b******. Call yourself a manager. There will be some scrap in Glasgow tonight."
Taxi for Staggie.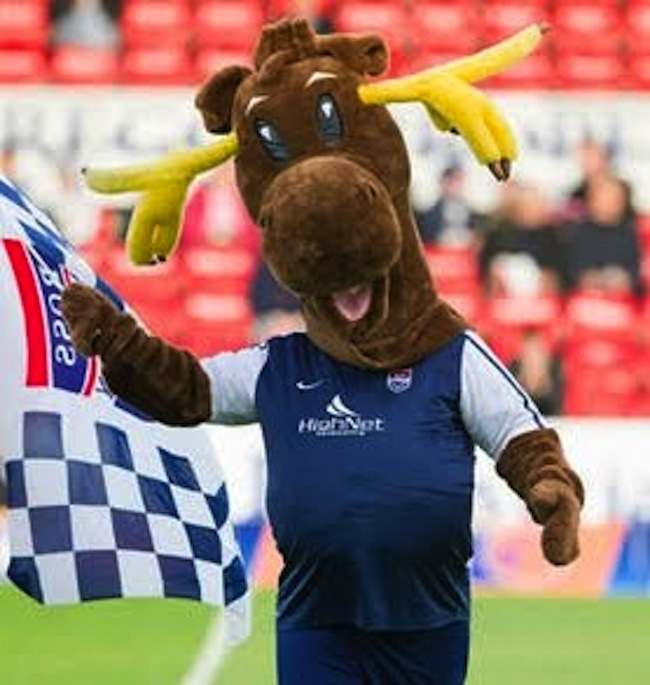 2011: Donny Dog (Doncaster Rovers)
Testosterone-fuelled violence is not the only blot on the reputation of Britain's mascot community.
Donny Dog was sacked for taking off his sweaty dog suit and revealing something much hotter: Rovers supporter Tracey Chandler dressed in lingerie. It was all for a children's charity of course, but that didn't stop the club from summarily sacking her for "disgracing" its reputation.
Club chairman John Ryan subsequently offered Tracy her job back for the following season. "We were just a bit concerned about the sexualisation of young children," he said. "It's a tricky area these days."
And certainly not good for the game.