It's an old clichéd joke to say you read adult magazines for the articles.  However, if you're talking about men's mags from the 1950s and 60s, there might actually be some truth in your statement. Magazines like Playboy, Adam, Jem, and Rogue often featured genuinely well-written articles and short fiction.  Getting published in a men's magazine wasn't the shameful smudge on an author's reputation as it is today – in fact, it was a common stepping stone for soon-to-be-famous authors.
But it isn't just the stories that deserve respect – it's the artwork that complimented them.  Often sleazy and purposefully outrageous, the illustrations were designed to entice you to read the story in a not-so-subtle way.  Here are 30 excellent examples…
"Parker knew he must kill his wife's lover – but he had one gnawing problem"
"Buddy leaned over the bar slobbering and burping into the night."  Truly one of the best lines in the history of American literature.
An article on spontaneous combustion: "One minute you're there, hte next – poof! – you'r eashes.  Never a dull moment for drinkers"
"The gallows beckoned and even Rand's woman couldn't save him from the gambler's double-cross."
"In an age of charm and delicacy, Madame Lalaurie was a demon incarnate."
As you might expect, the stories and illustrations for men's magazines were brethren of those sweaty action magazines.  For more pulp pages, check out that gritty mach0 art here: 41 Outrageous Pages From Vintage Pulp Magazines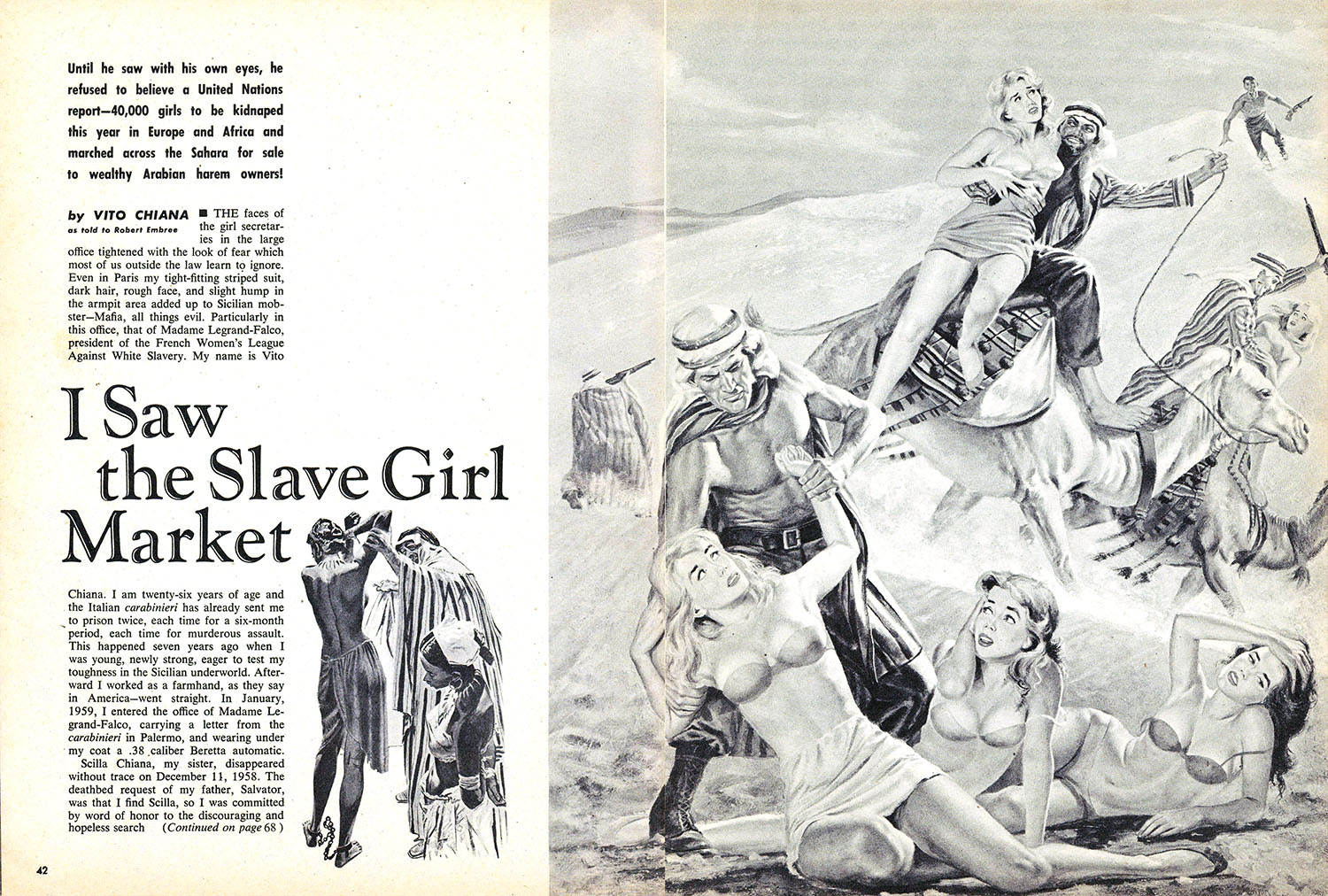 "The telephone had killed his wife – and the telephone offered the perfect revenge"
"Reilly was doomed to a life without women – unless he could force the leprechaun to lift its double-whammy"
Possibly my favorite of all time.
"Trapped by the mafia's maniacal sadist, Garry had only one chance to save himself and the woman he loved"….And by the looks of things, Garry had damn well better hurry up!
"He writhed in agony as they tore at his wife's clothing… Dan's car was the only weapon which could avenge their heinous crime."
"Being a Lady of the Night in jolly old London is never easy – but when somebody wants to carve you up, it's sheer murder"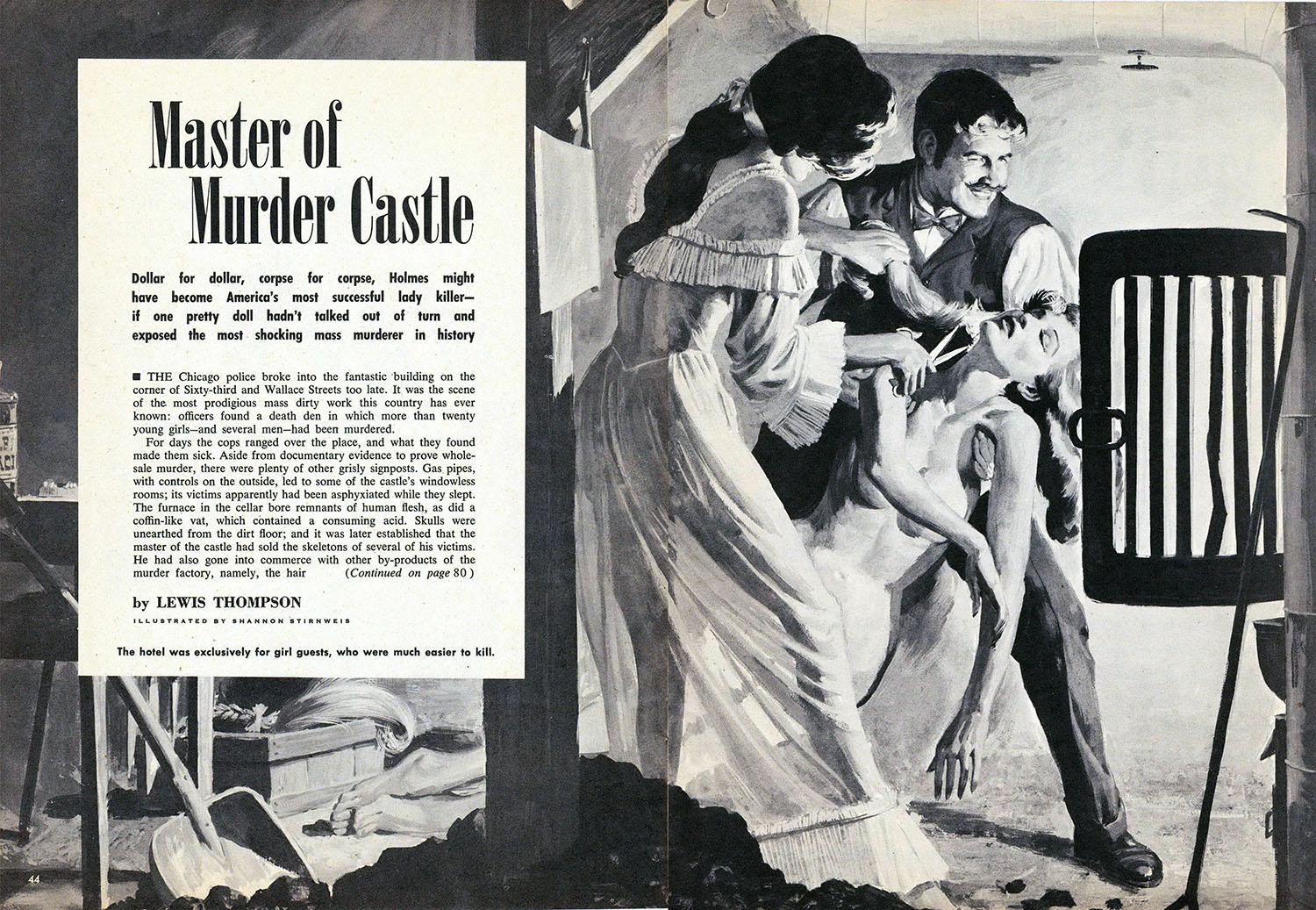 "Dollar for dollar, corpse for corpse, Holmes might have become America's most successful lady killer – if one pretty doll hadn't talked out of turn and exposed the most shocking mass murder in history"
"With five sex-starved wives to satisfy, a man can have a myriad of problems"
"Telsa had to save the mission from destruction because of Heroq's passion to remain a Homo sapien"
As this illustration from 1968 demonstrates, artists were free to stylize their work by the late sixties, rather than stick to the somewhat homogeneous look of the mid-century illustrations.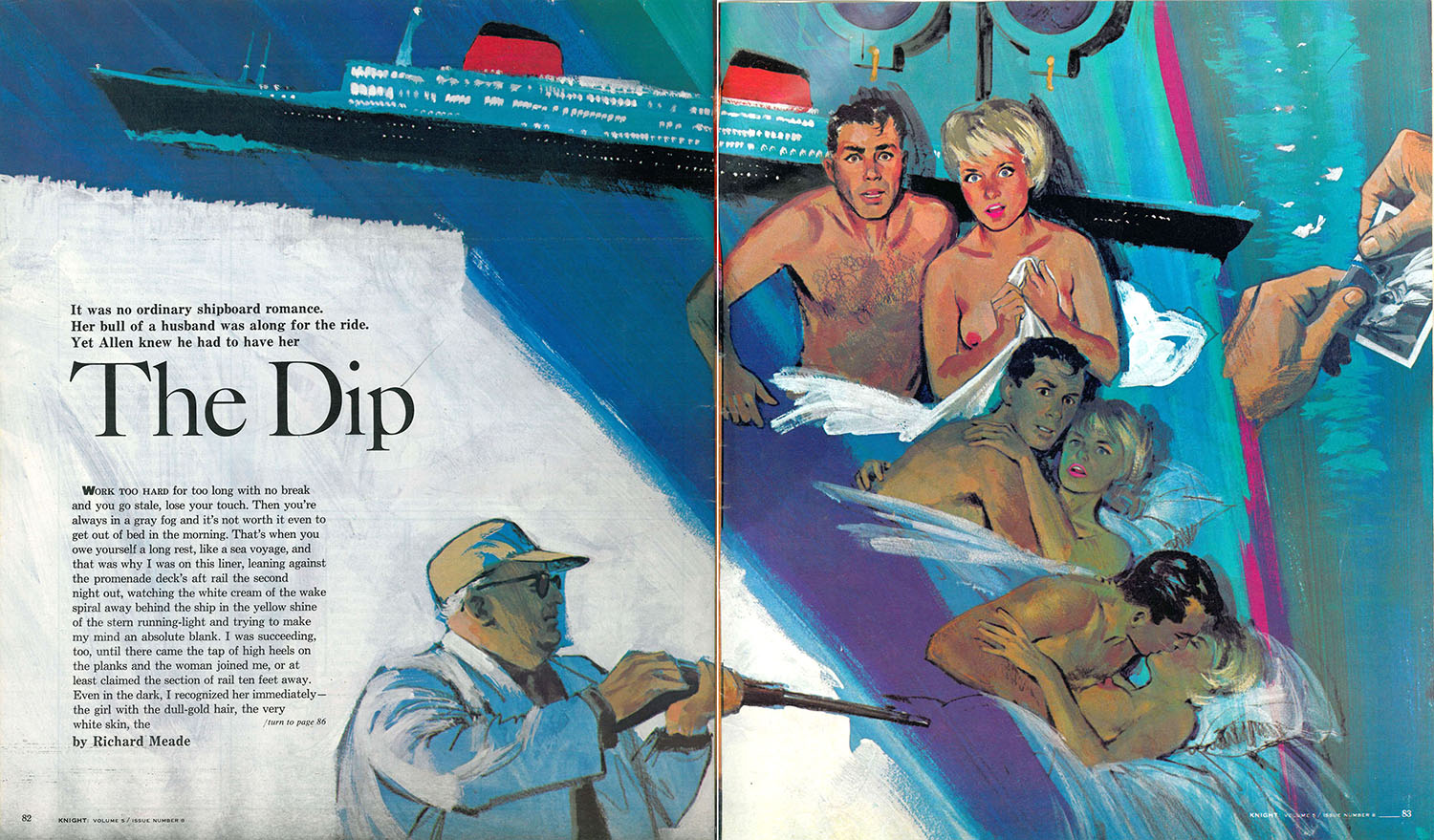 "It was no ordinary shipboard romance.  Her bull of a husband was along for the ride.  Yet Allen knew he had to have her"
"Was Marie Antoinette a victim of character assassination, or did she diddle?"
"There are so many physiological differences between men and women that it is hard to believe they belong in the same species, says this noted psychologist"
"Telling others what a big make out artist you are could very well help you become one"
"The night was cold – and so was his wife.  All of which led to Pete Landon's tantalizing adventure."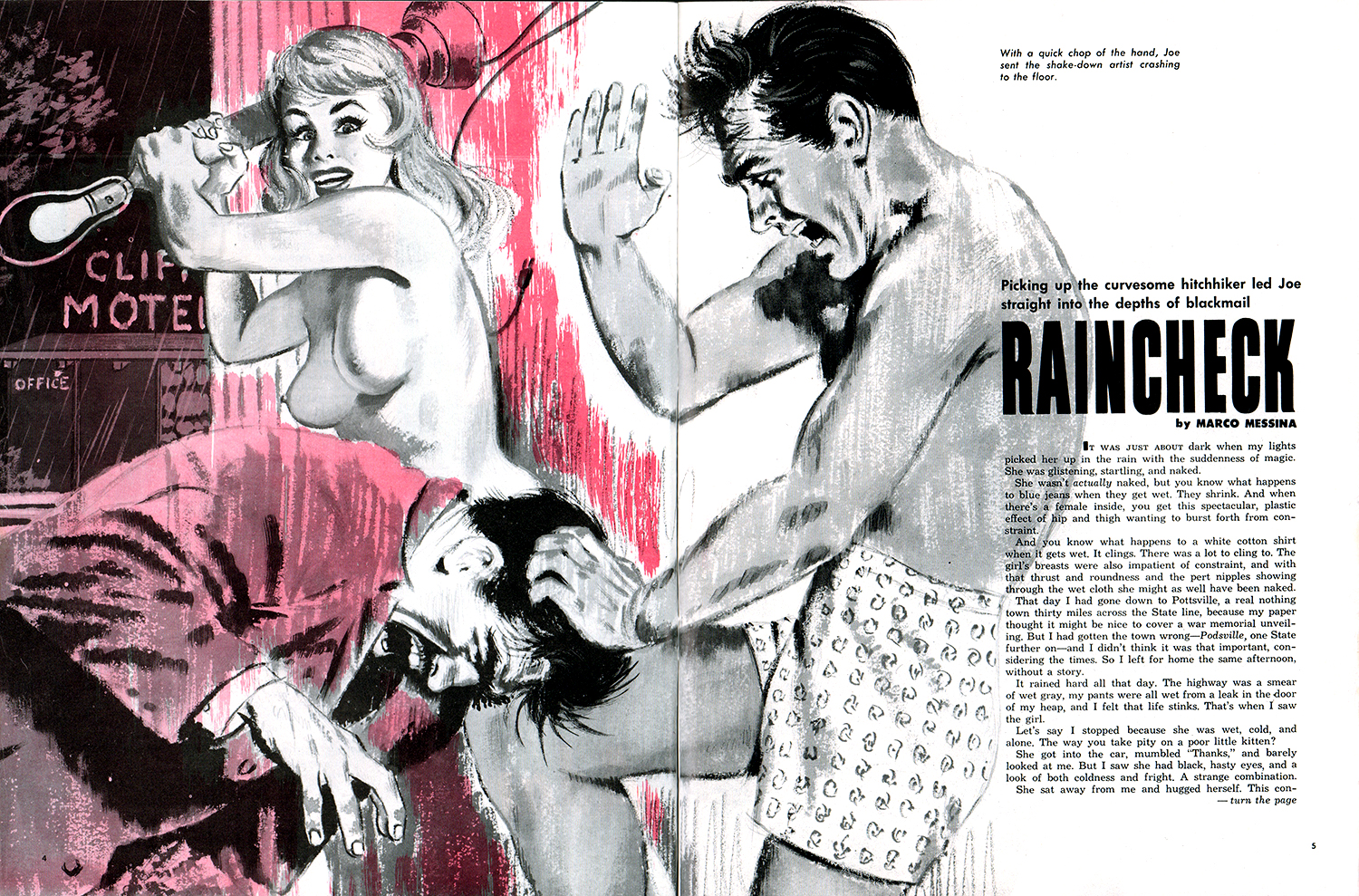 "Iona screamed as Peggy stripped for the two men…. only one desperate gamble could stop the crazed convicts"
"If sexy strategist Suzanne had been a general, the South might have won the Civil War"
"Hollywood's a bad influence"… with the sordid Harvey Weinstein stories in the news of late, a very appropriate title.  We'll end here.  Until next time.