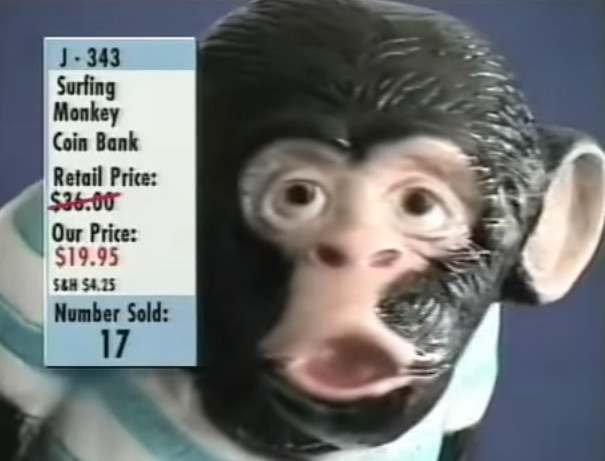 In November 1999, Partnership For A Drug-Free America broadcast this PSA ad on TV. Before we show it, the award-winning ad's creator, Greg Collins, told Dangerous Minds how he came up with the idea:
A buddy of mine and his wife totally smoked out one night. The next morning, they woke up on the sofa, their ribs and stomach muscles were hurting. They didn't remember much of anything, other than laughing their asses off.

About a week later, a UPS guy knocked on their door, bearing some boxes from QVC. While they were all gassed out, they bought a Star Trek collector's plate, a Chi-Wash-Wa home car washing system and a Michael Jordan in-flight pewter statuette. All in all, about $400. That must've been some great weed.

When they told me the story, I thought that'd make an awesome commercial, but all of that was too much to put into a :30 spot. We needed to drill it down to one item for simplicity and comedy's sake. My buddy Greg hit on the idea of something really ridiculous like a surfing monkey coin bank. We shot the spot for like $300 and sold it through to the Partnership For A Drug-Free America. It ran in 1999-2000, and, to this day, remains one of their most beloved and recalled commercials.