IN the 1950s and 1960s, Mead Johnson's Metrecal promised to get you into shape. What that shape was, we people of the future can only guess at – and we guess it was a human form jackknifed over a toilet.
Mead Johnson spotted Sustagen, a composite blend of mix of skimmed milk powder, soybean  flour, vitamins, minerals, corn oil, minerals and vitamins spooned into hospital patients not up to eating solids. Pressing 'Go' on the random-name-generating computer, produced Metrecal, the weight-reducing miracle. It looked like baby powder. It tasted like baby sick. But – buy – it sure cured your appetite.
Take a drink and get slim. But do stick to the 900 calories of Metrecal a day.
This advert for the vile goop is from 1965:

The keen-to-be-slim could chow down on Metrecal milkshakes, Metrecal cookies, Metrecal clam chowder (New England style) and Metrecal tuna and noodles. Remember, so long as you kept to 900 calories a day, you'd be thinning. And nothing was better at building the new you than the liquid lunches, dinners and breakfasts.
This ad said the taste is of lemon cookies. That, of course, refers to the box. The biscuits tasted of budgie cage floor: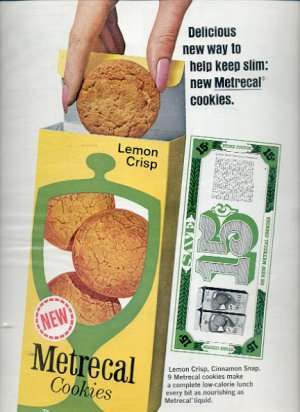 The drink began life in 1959 as a powder just in need to add water. Later, the drinks were sold readymade.
Take it an anywhere. It was 'delicious by any standard'. Don't take our word for it, take his. He's British. Back in the day, the British were not only the voice of Hollywood bad guys. They knew what was best for you:
Sure it tasted like watered chalk and looked like melted Barbie dolls. But you would be thin. Just pinch your nose, close your eyes and swallow.
The ads were aimed at men and women.
The bar Trader Vic's sold a 325-calorie "lunch" cocktail:  1.5 ounces of rum mixed with nutmeg, and Metrecal.
While he got slim, she got over her envy, and kept her man.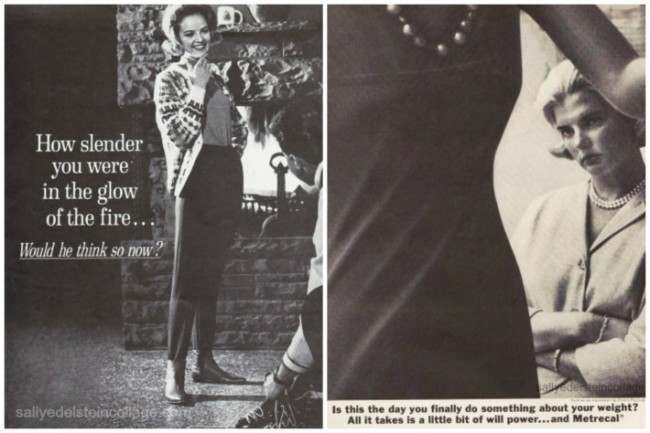 No more pain, ladies. No more tapeworms, firm knickers, fingers down the throat and doubt. With Metrecal things are better.
Hey, you might even pull. Who fancies a double fudge?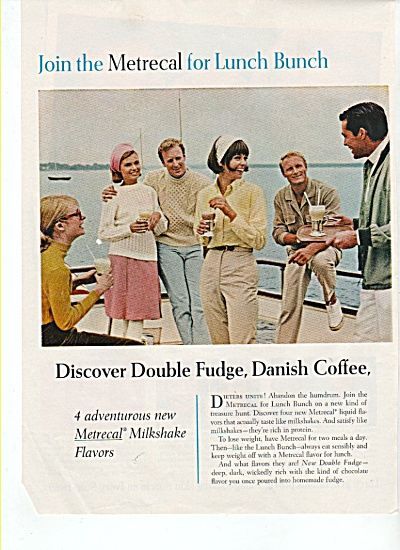 How about heating up your Metrecal?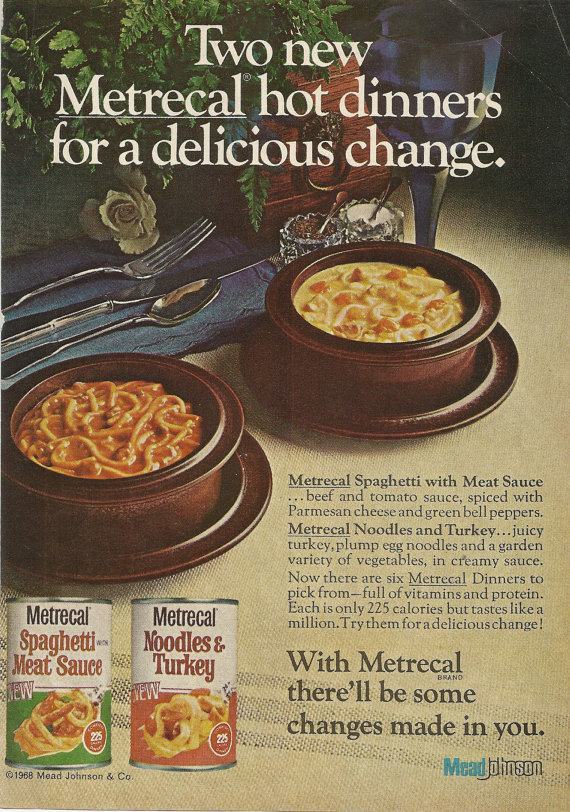 Why not freeze it and offer a 'change of pace' to your diet?
And it caught on big. Time magazine said in 1960. "No diet fad has ever taken the U.S. so overwhelmingly as the craze for the food supplement Metrecal," 
Snooty New York store Bergdorf Goodman sold a purse flask as "the solution for every secret Metrecal drinker". Now the other ladies you drank lunch needn't know your secret.
But the best bit was that when you threw up, you created a ark yawn that glowed in the dark: