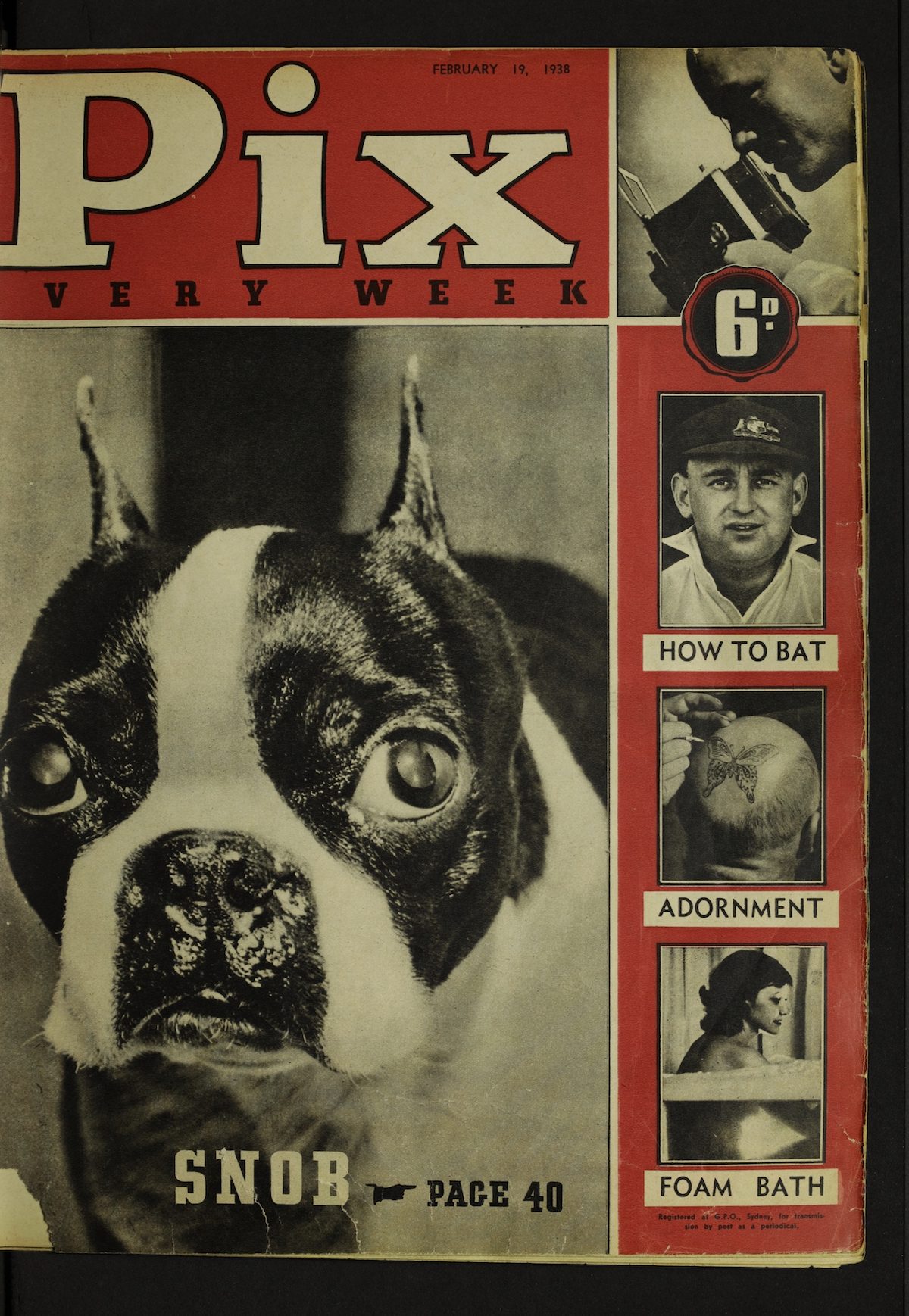 The first edition of Pix magazine was published on 29 January 1938. Initially a weekly publication, Pix came out every Wednesday. These photographs are of Sydney-based tattoo artist Fred Harris (died 1944) working in his studio and Betty Broadbent, the 'Tattooed Venus'. Taken by Roy Olson in late 1937 and early 1938, the pictures appeared in Pix Vol. 1 No. 4, 19 February 1938 beenath the headline: "Sydney's Last Tattooist Does 2000 Skin Pictures a Year."
Originally priced at sixpence, and rising to one shilling in mid-1951, Pix magazine "featured a distinctly Australian mix of scandal, sensationalism, human-interest stories, fashion, politics, scientific innovation, popular culture and entertainment". In 1972, Pix joined forces with People magazine. In 2008, the magazine's photo archive was donated to the State Library. You can browse every issue of the magazine on Tove.
Sydney's Last Tattooist Does 2000 Skin Pictures a Year

FROM THE TOP OF THE HEAD – — – TO THE SOLES OF THE FEET

TATTOOING, now done electrically, still keeps one man busy in Sydney. He is Fred Harris, who says he averages in his little shop in Sussex Street, 2195 tattoos a year. Jobs take from five minutes to two months, cost from 2/- to £lO. Sailors still provide most "canvas" for this skin artist, but he tattoos jockeys with horses, boxers with fight emblems, lovers with sweetheart's names, women with "beauty spots" on faces, flowers on legs. He is currently busy putting Australian flags or kangaroos on American "gobs" of visiting fleet.
"It Doesn't Hurt." Electric tattooing is painless, "it only tickles," Mr. Harris claims.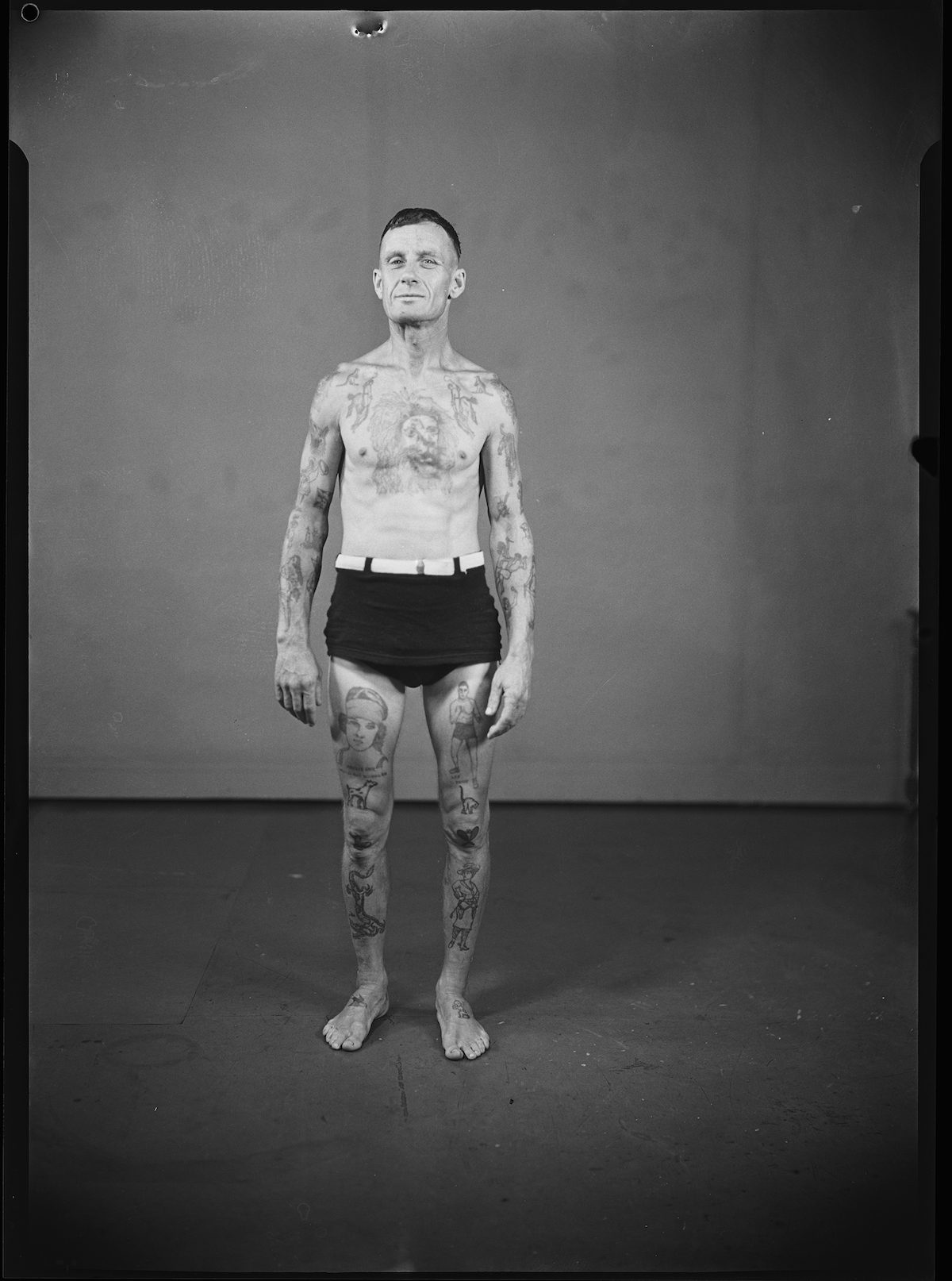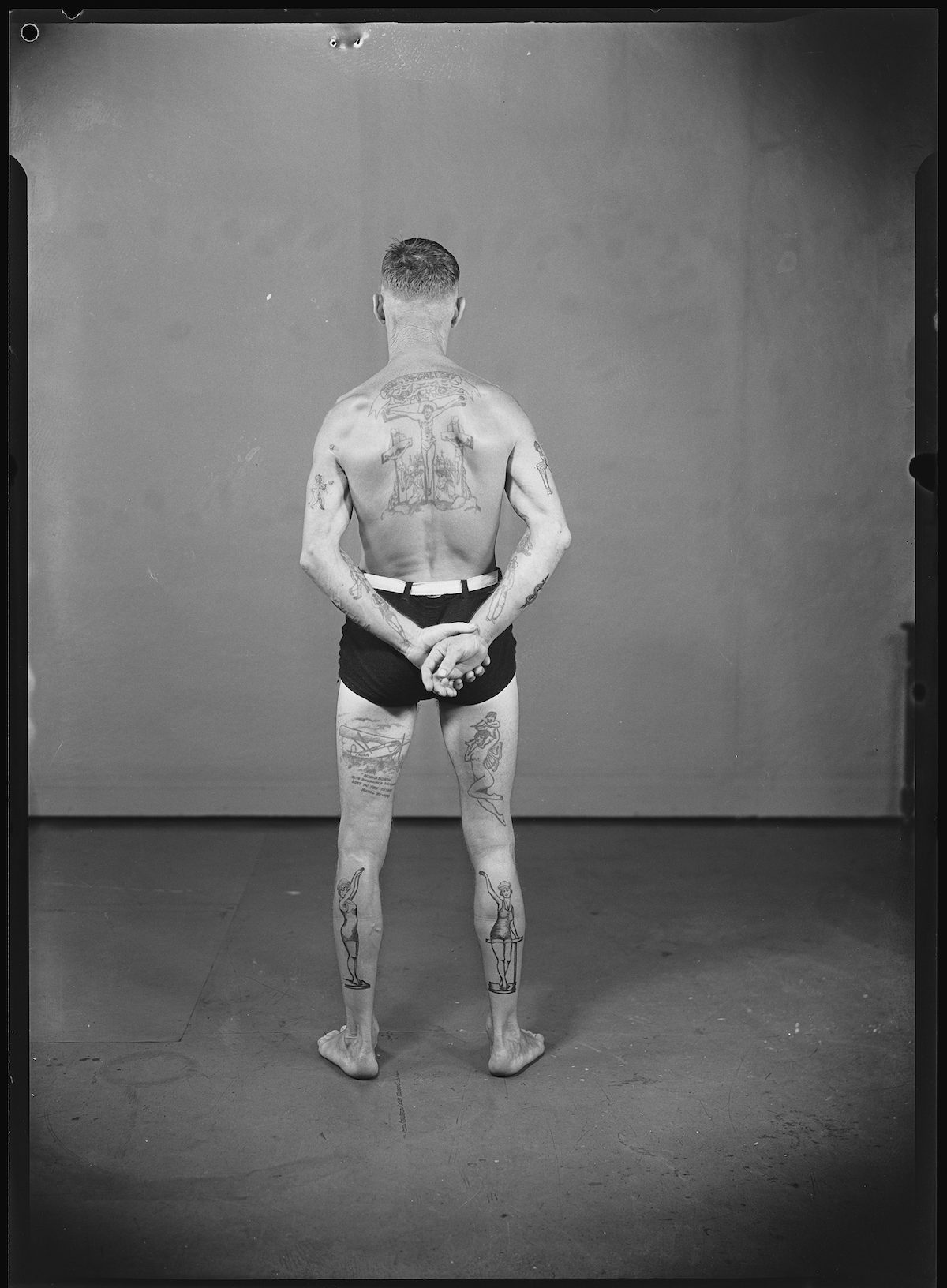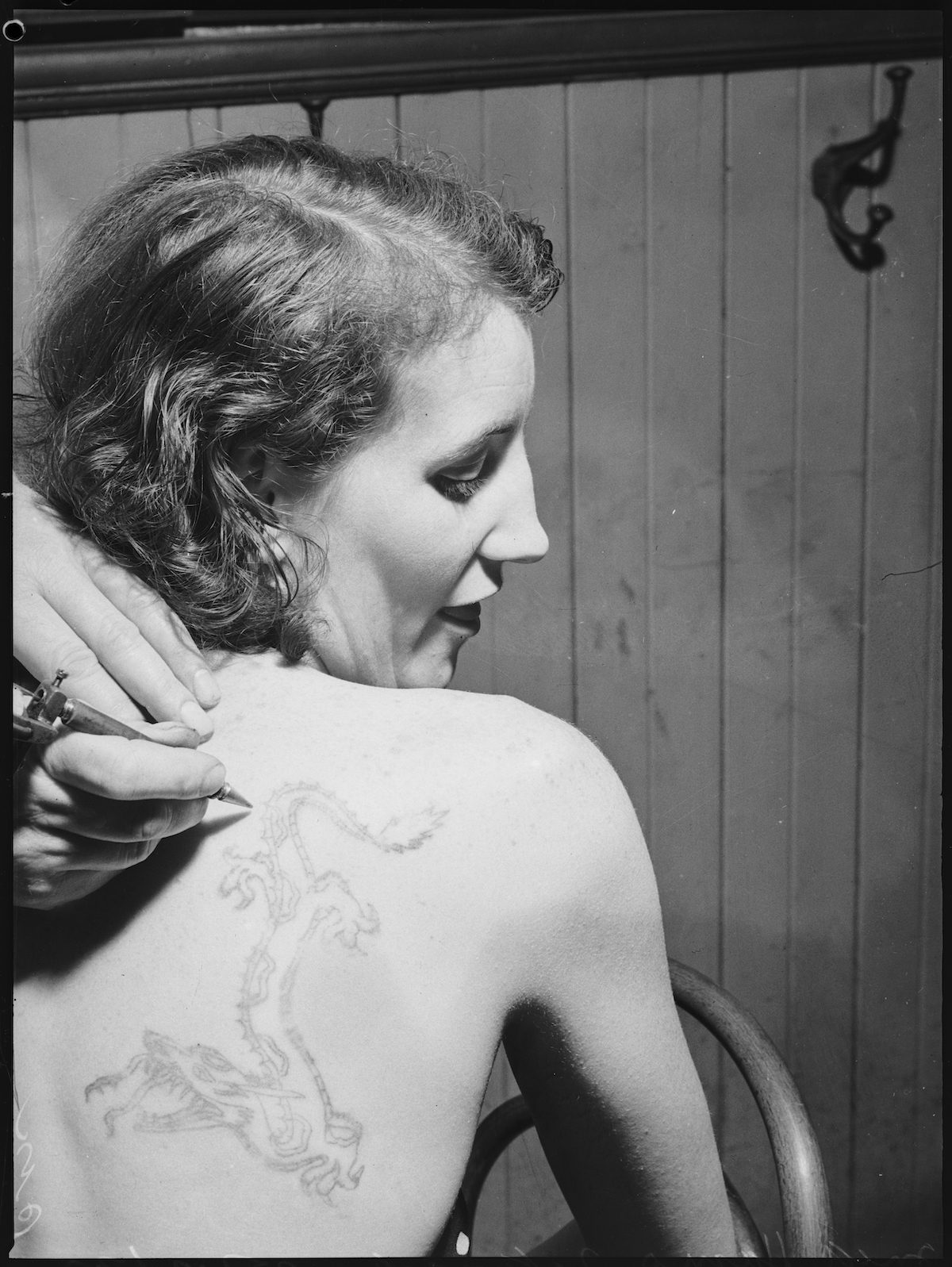 MOST TATTOOED AUSTRALIAN?

PIX takes off its hat to JOHN BENNINGTON, tattooed Digger, of Woronora River (N.S.W.), who has almost as many pictures on his hide as we have in this issue. On front thighs he has ex-beauty queen, Eve Grey and boxer Les Darcy, a lion on his chest and assorted girls, dragons, hearts, devils, flowers, bronchos, cats, hyenas, kangaroos and tennis racquets.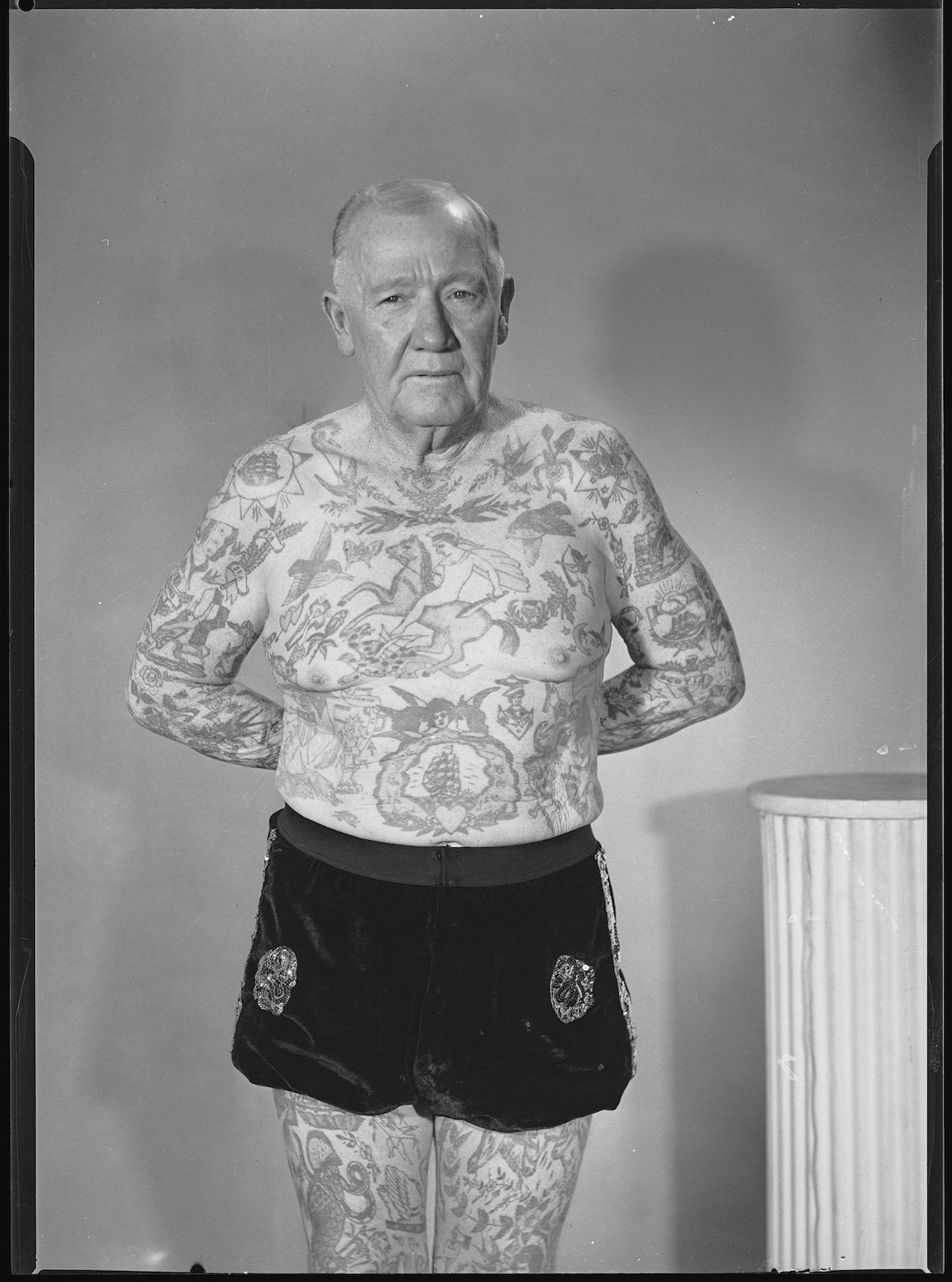 Often at night a limousine will glide into chaff-dusty Sussex Street, stop near the little shop of Tattooist Harris. "They don't like being seen coming in the day. Some of these people are well-known in society," said Mr. Harris. "They want to get rid of tattoos they had done before they came up in the world."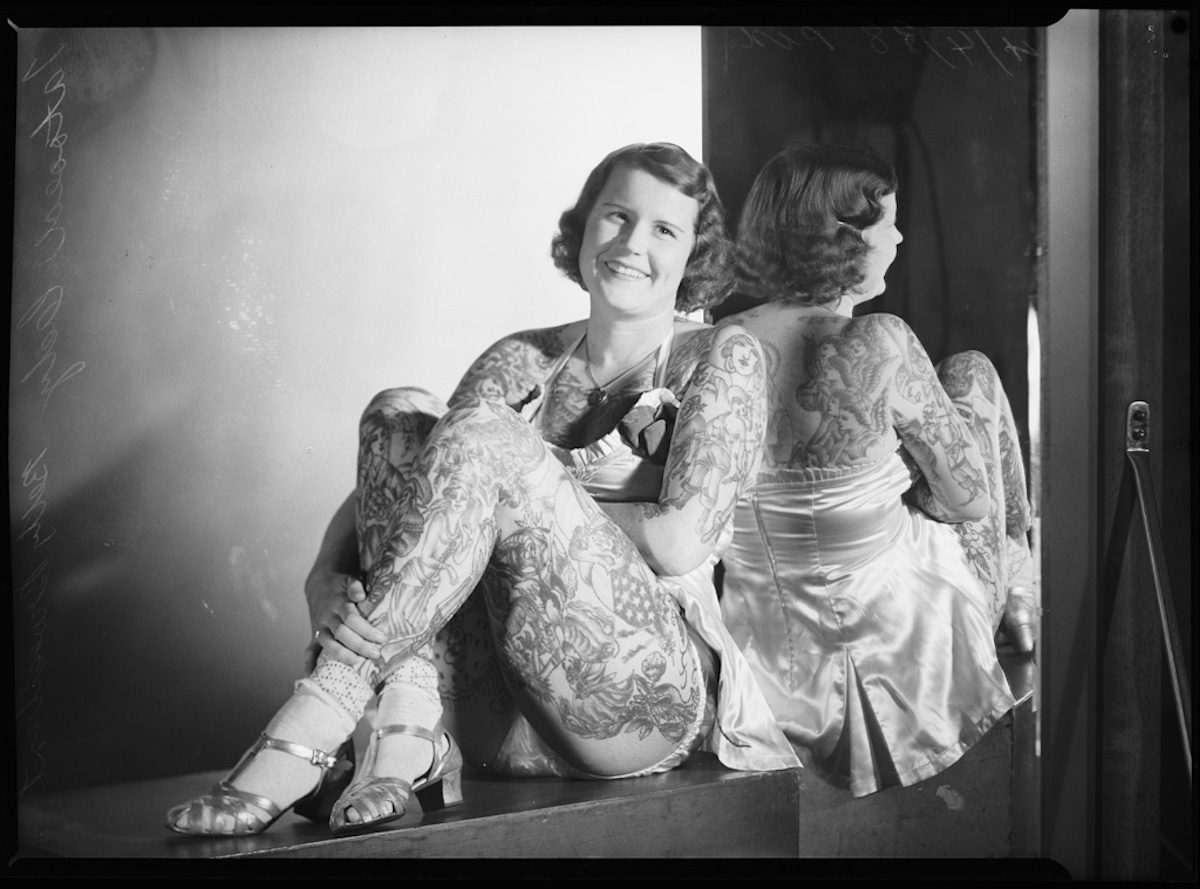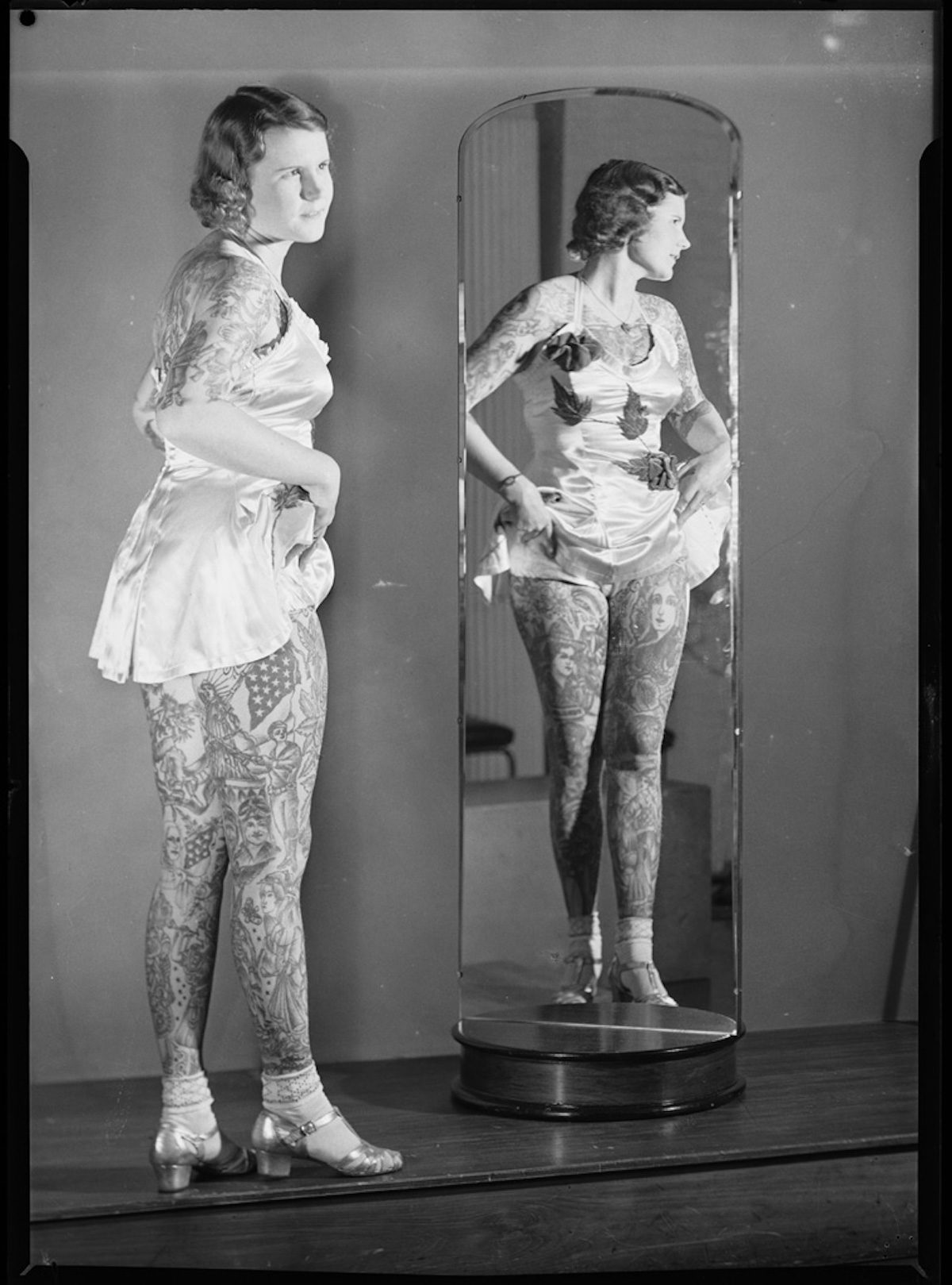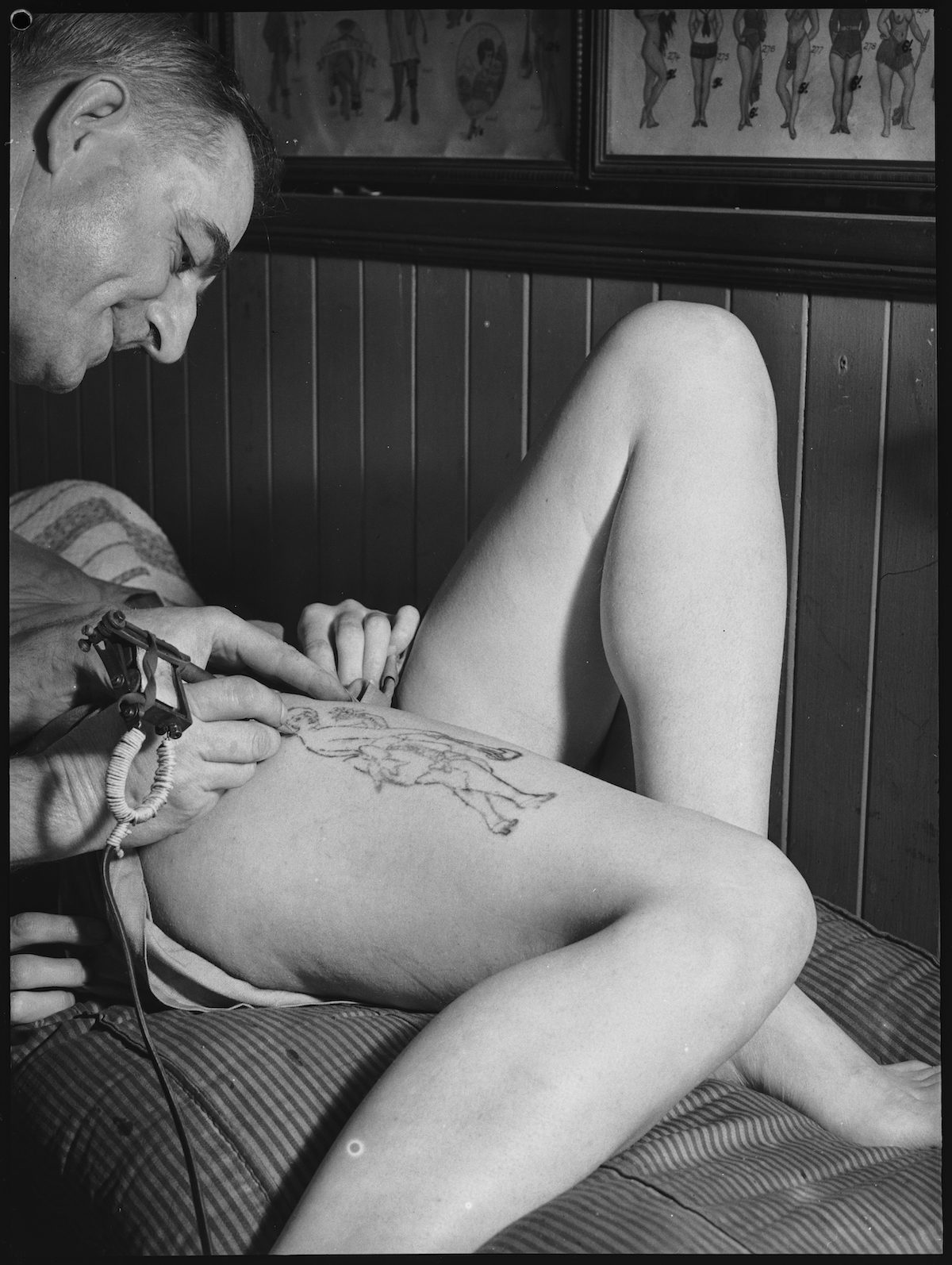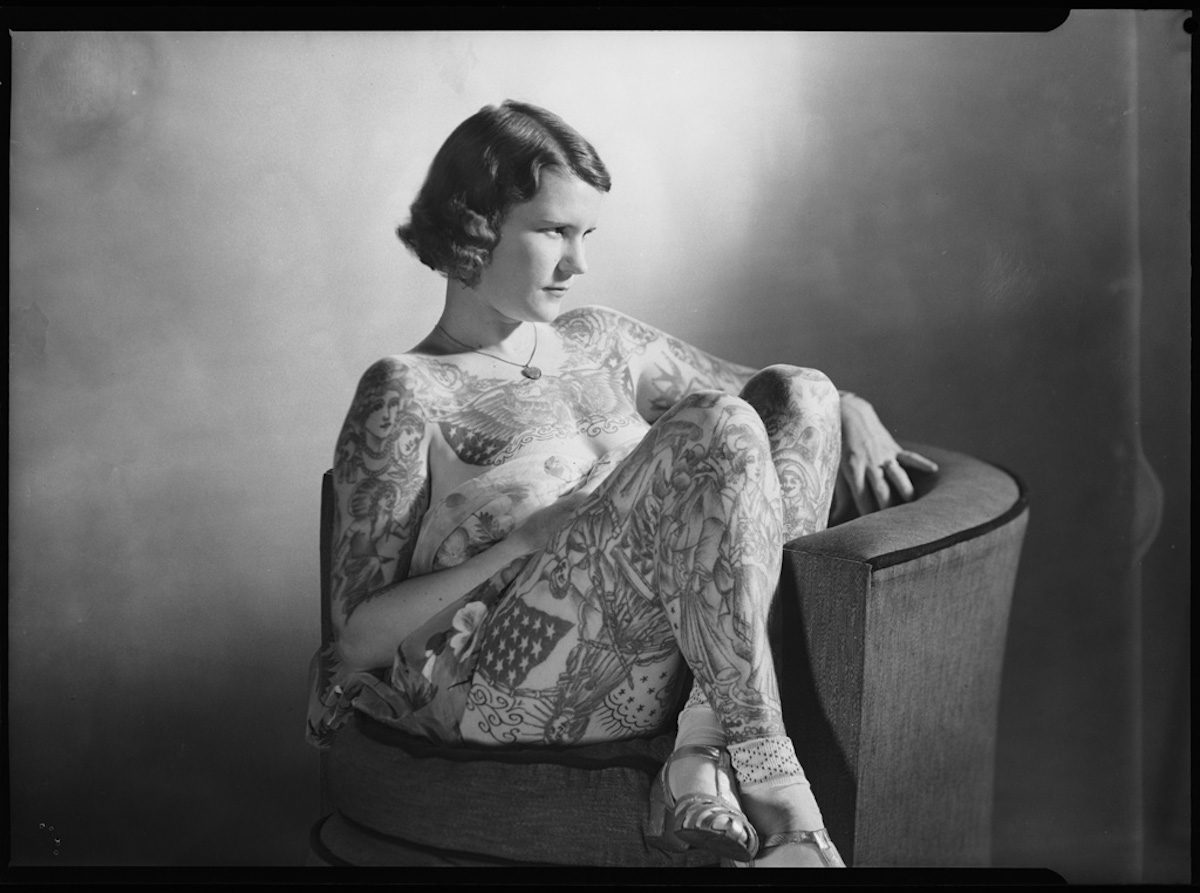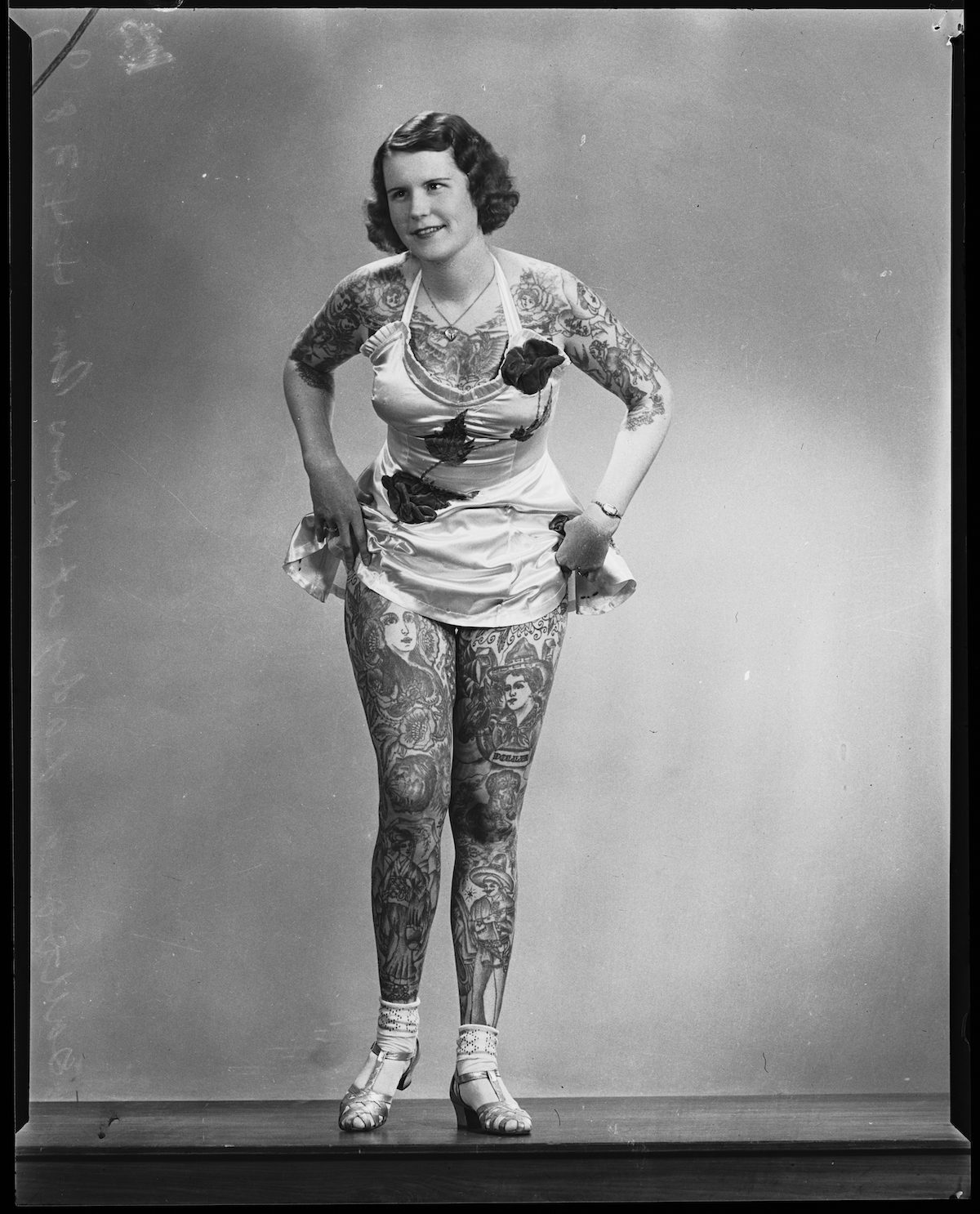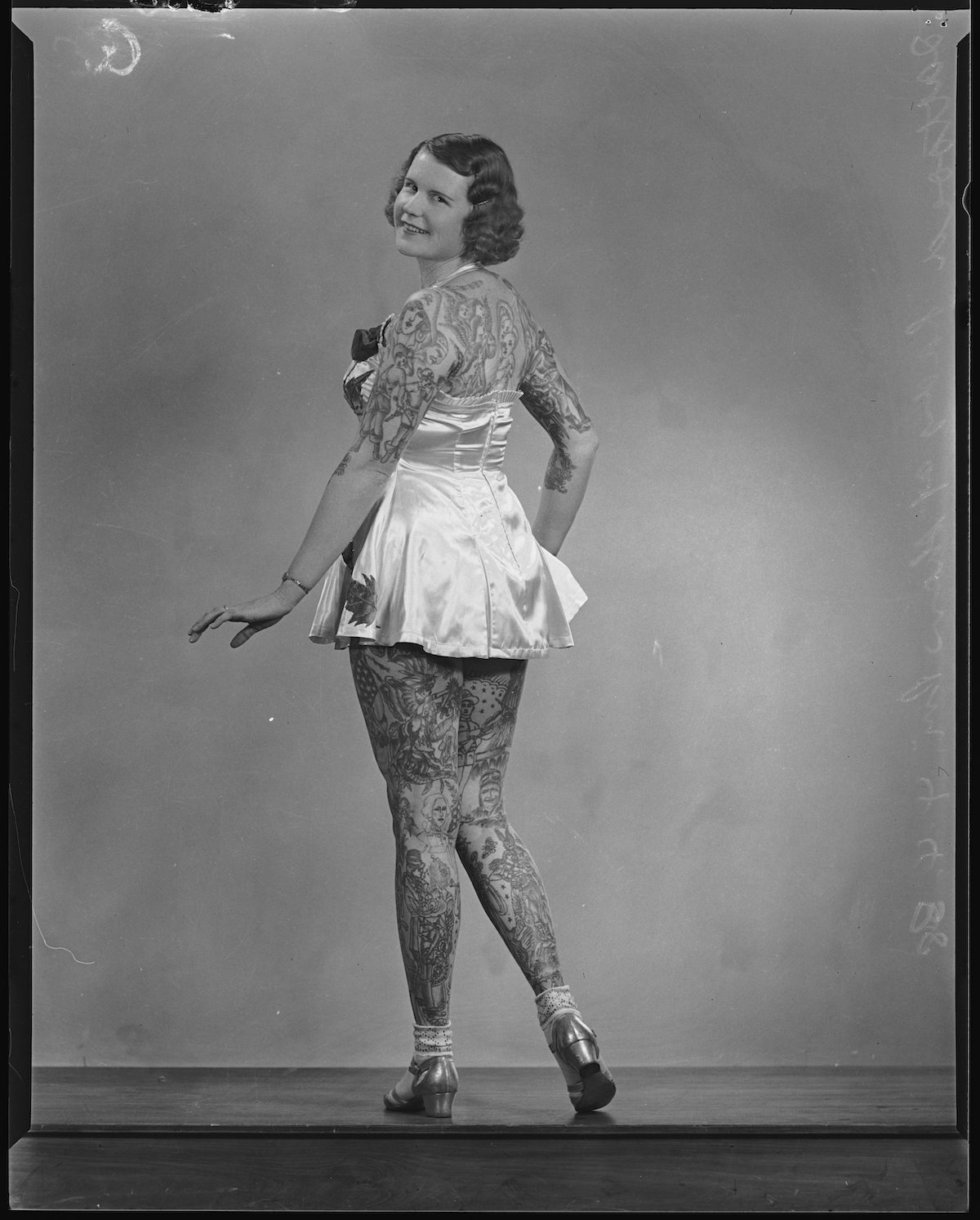 Via: By: State Library of New South Wales