The Guerrilla Girls movement against sexism and racism in the art world began in 1984. The Museum of Modern Art in New York City was showing an International Survey of Recent Painting and Sculpture. Of the group show's 165 featured artists, just 13 were women. Outraged by the hierarchy of free expression, people protested outside the museum. Among them a handful of women realised that protest without a clear and engaging message was empty.
"We realized it didn't work, nobody cared about what we were saying," artist Käthe Kollwitz told the Guardian (each member of the Guerrilla Girls borrows the name of a dead female artist or writer as a pseudonym). "We figured there had to be a better way of getting people's attention, to prove to people that the art world is not the meritocracy that everyone thought it was."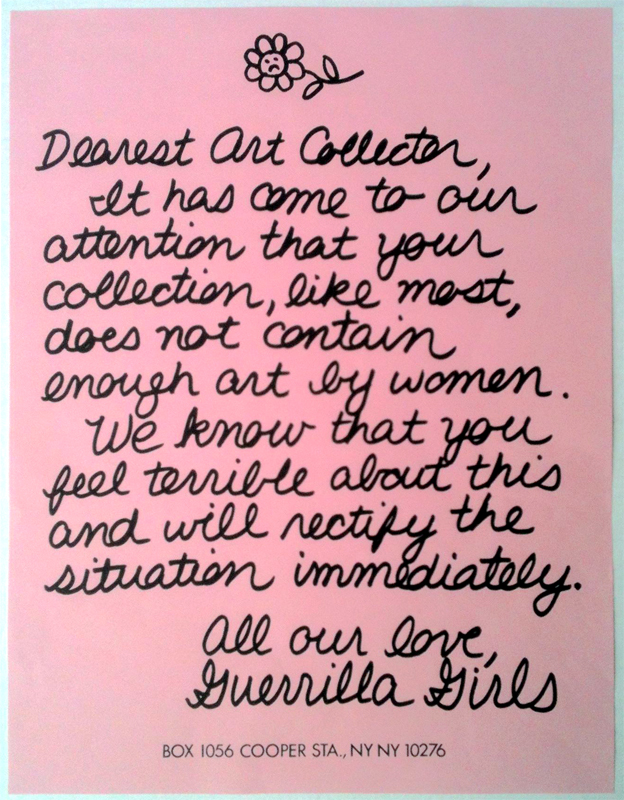 A year after that show, the women formed Guerrilla Girls and used art and "guerrilla" tactics to make their voice heard, such as wheatpasting their first posters on walls in Soho and Tribeca in 1985. "We were Guerrillas before we were Gorillas," one of the group recalled in Confessions of the Guerrilla Girls, 1995, explaining the group's name and identity of wearing gorilla masks and suits. "From the beginning, the press wanted publicity photos. We needed a disguise. No one remembers, for sure, how we got our fur, but one story is that at an early meeting, an original girl, a bad speller, wrote 'Gorilla' instead of 'Guerrilla'. It was an enlightened mistake. It gave us our 'mask-ulinity'."
These artists on the outside realised that wit was needed carry their message further. "Actually, our first posters weren't funny at all, just smart-assed," said 'Eva Hesse'. "But we found out quickly that humor gets people involved. It's an effective weapon." The posters are fabulous. You can buy them at Marc H Miller's extraordinary Gallery 98.
"One poster led to another," recalled one GG member, "and we have done more than sixty examining different aspects of sexism and racism in our culture at large, not just the art world. We've received thousands of requests for them and they've found their way all over the world. Museums and libraries have collected entire portfolios."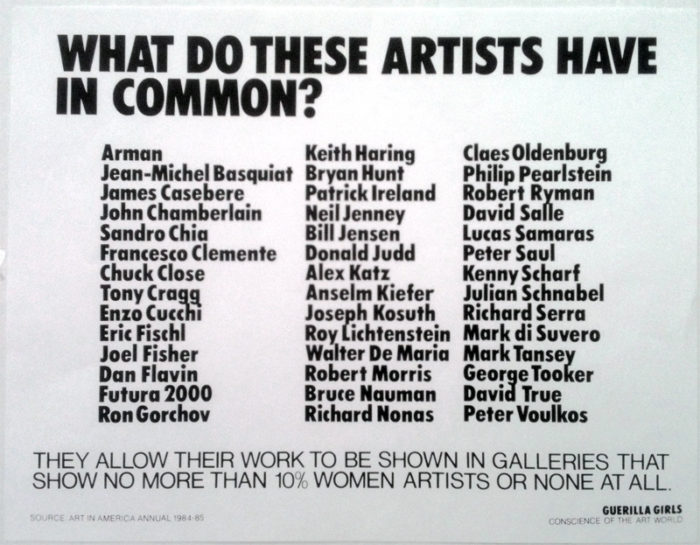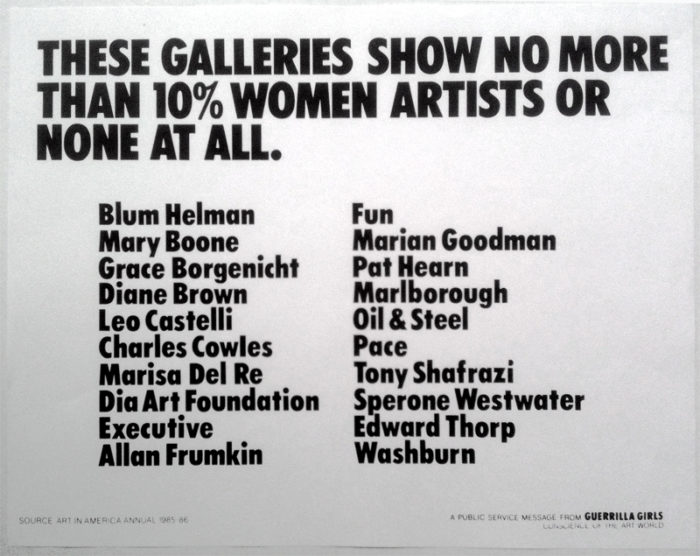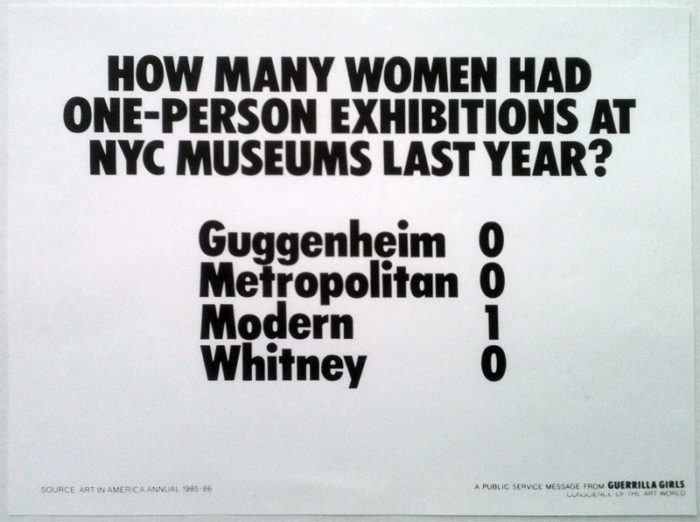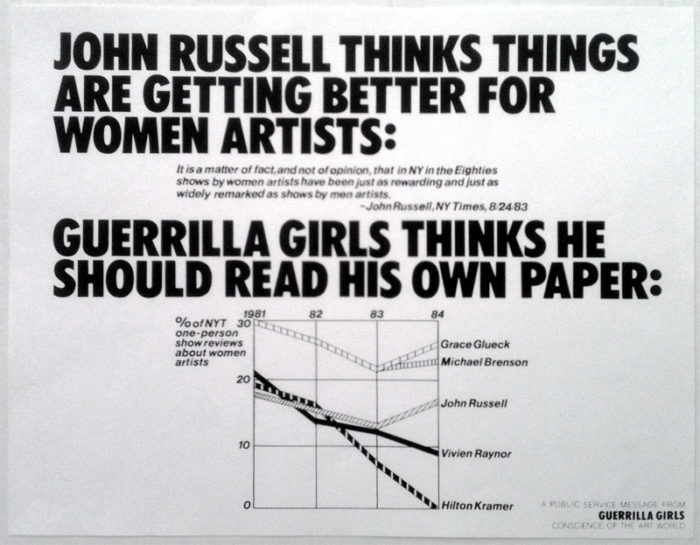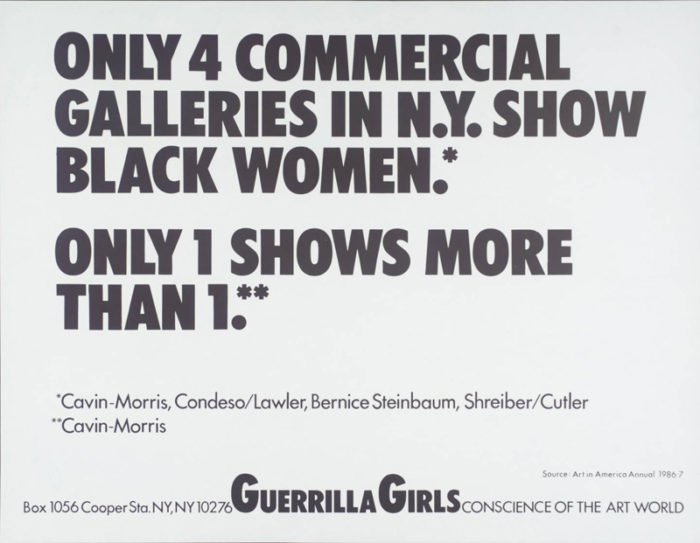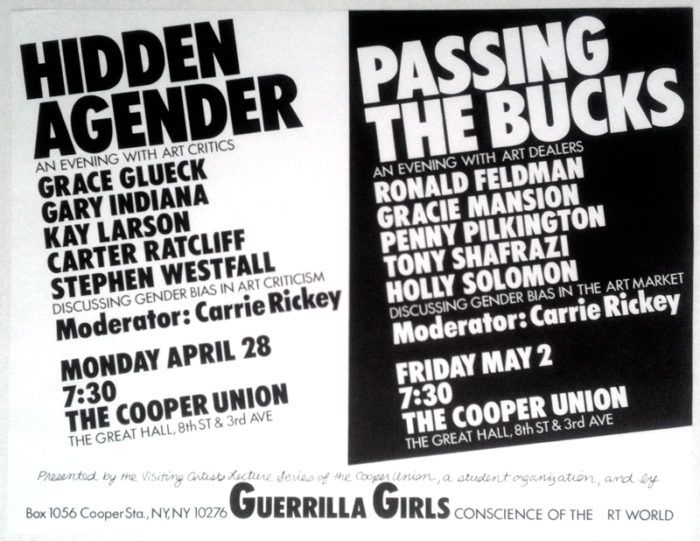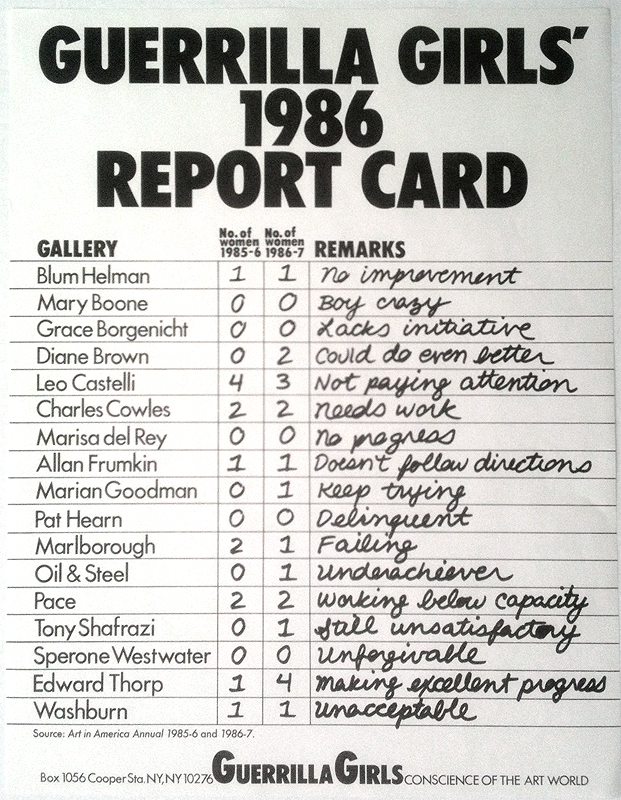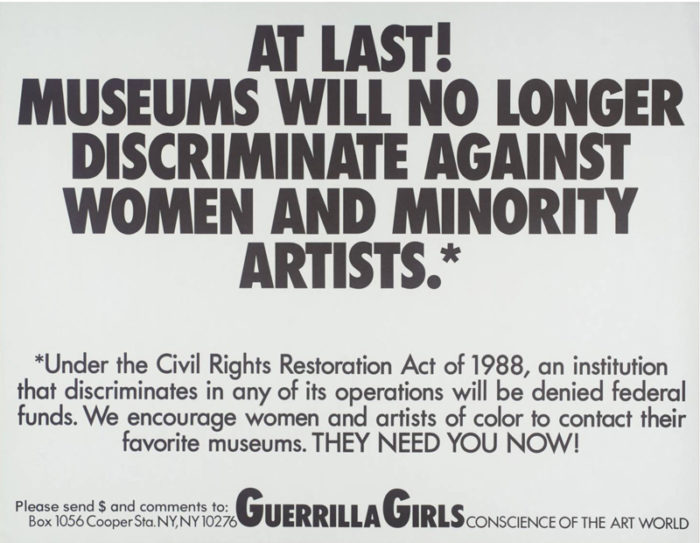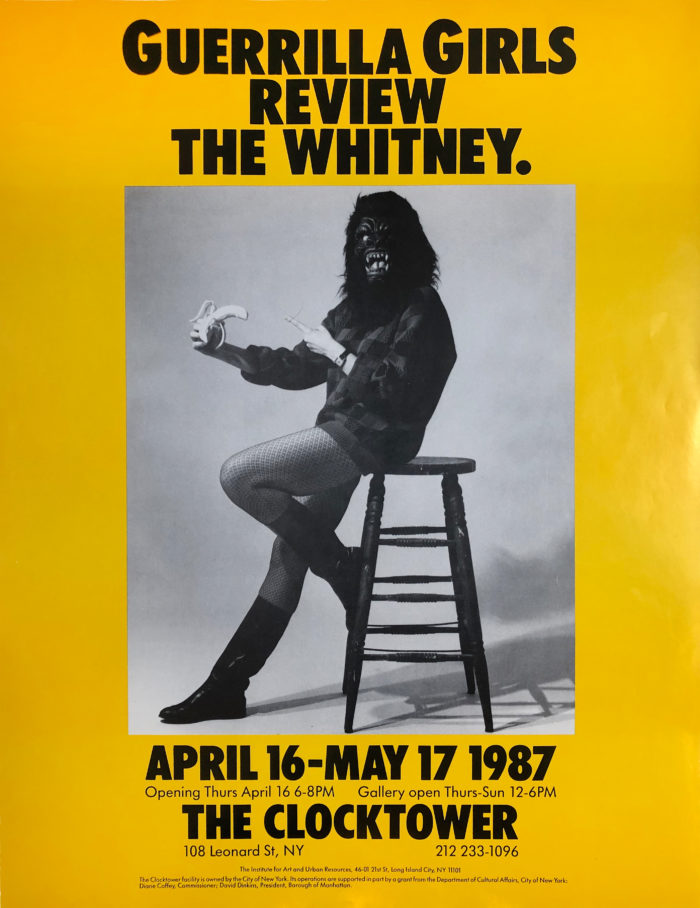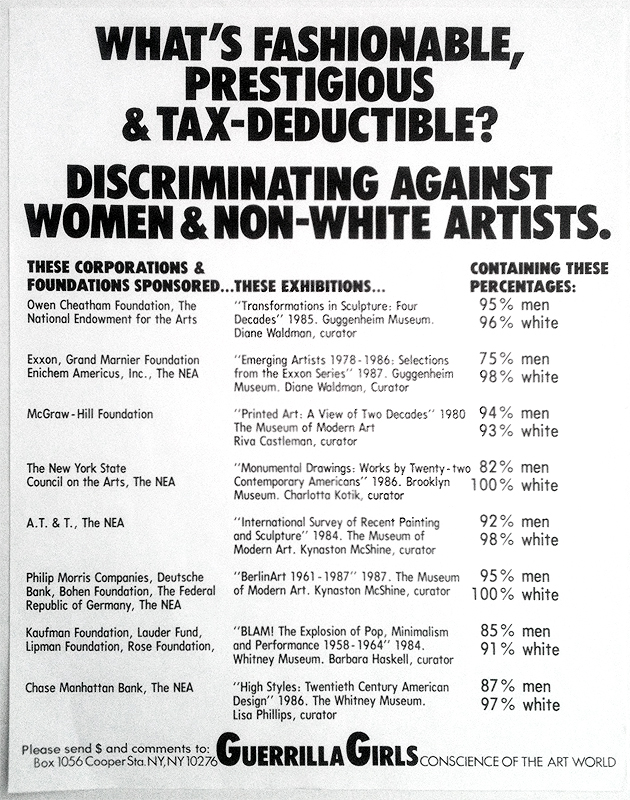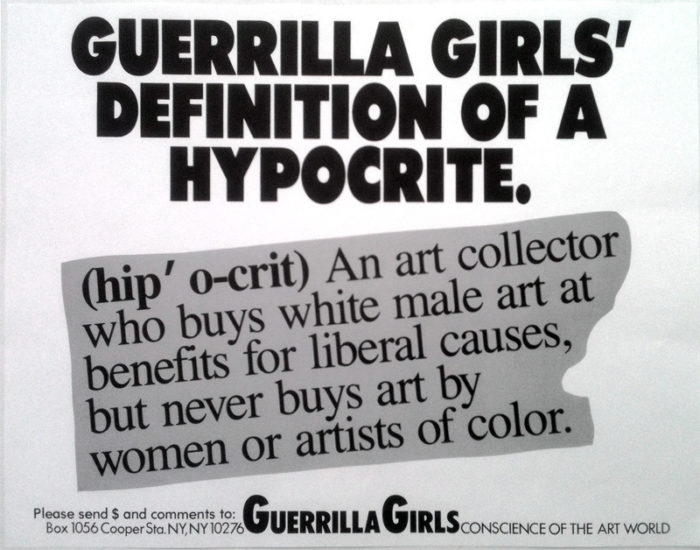 "Comparable to the street art posters of Jenny Holzer, Barbara Kruger, and the artist collaborative Group Material, the Guerrilla Girls posters are clever, well designed, and reflect art world trends and concerns," says Marc.
In this video, two of the group's founders speak with the Tate museum about their message.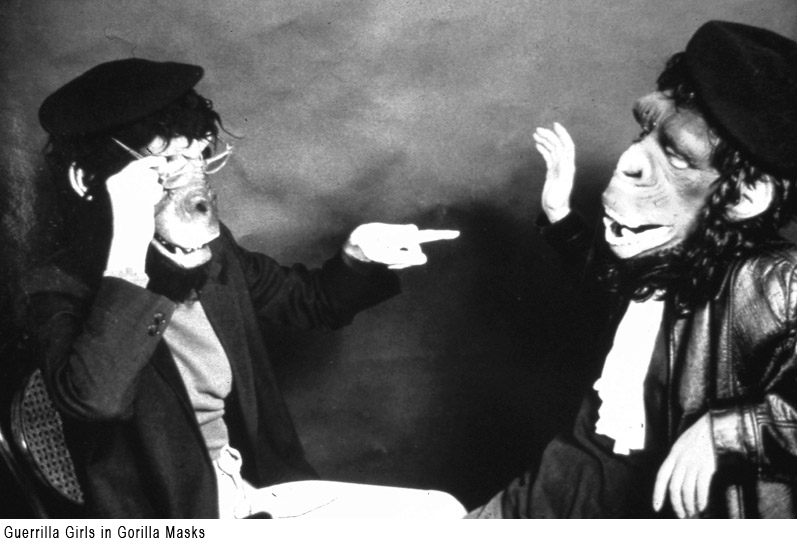 All images with permission of Gallery 98.