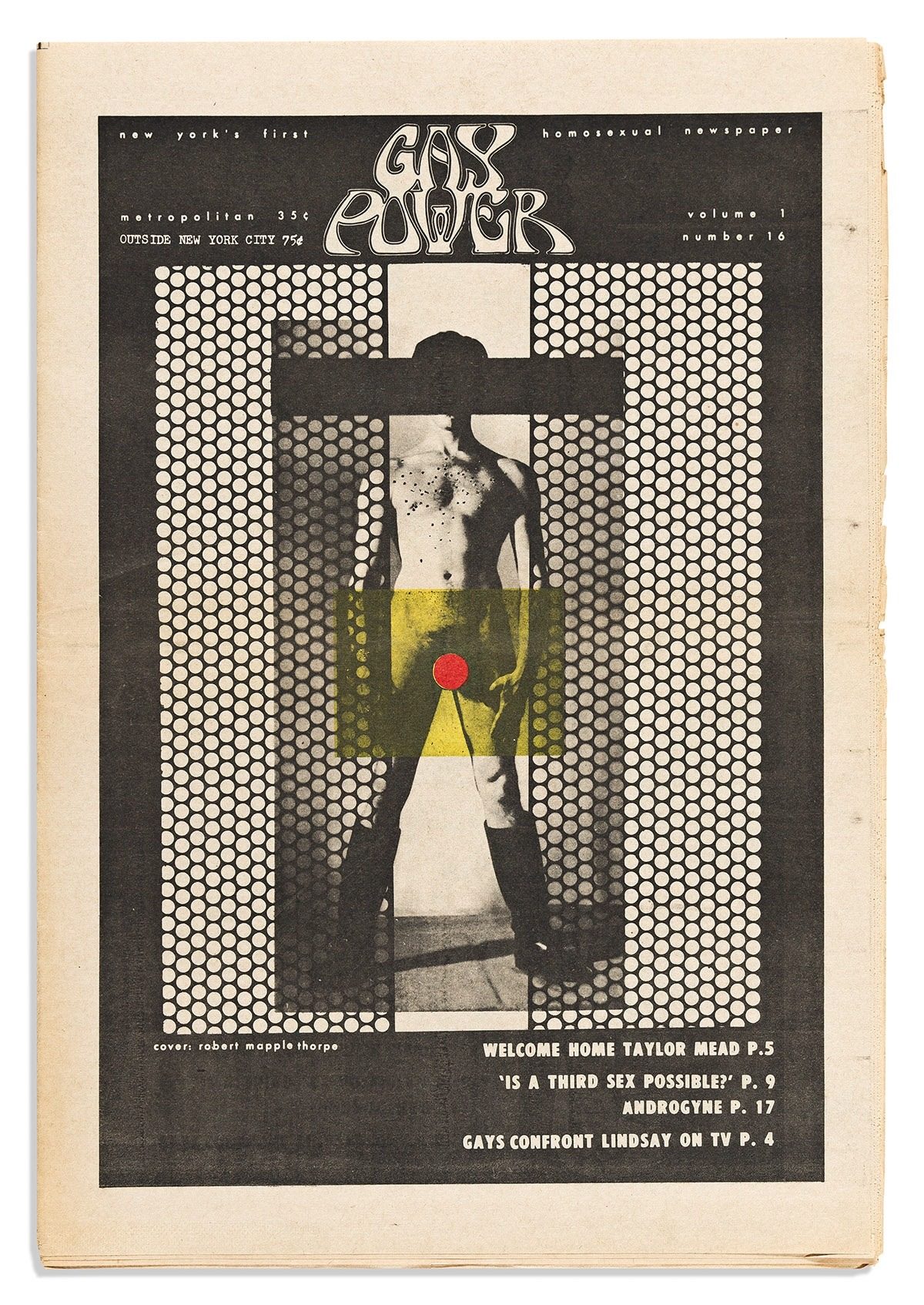 Gay Power (1969-1979) was the self-styled "New York's first homosexual newspaper'. "Variety is the spice of life and Gay Power is by and for all people," ran the Gay Power mission statement. "A people is what we shall exemplify first not in any 'half see how far we can get' subtle way, but in the best entertaining and educational way."
With a focus on politics, art and photography, the biweekly newspaper, edited by John Heys, featured psychedelic covers, centerfolds, columns by Andy Warhol superstars, astrological advice, and news of gay activism. (Heys went on to become a star on New York's downtown scene as a drag queen, performance artist and visual artist.)
Gay Power was published by Joel Fabricant, initially from an office at New York's 105 Second Avenue until it relocated to 20 East 12th Street. Fabricant also published the erotic magazine KISS, the bi-weekly periodical East Village Other, and the astrology-centered Aquarian Agent.
Gay Power was one of over 150 LGBTQ-centered magazines, zines and newspapers that got their spark from the Stonewall Riots. Part of the fight for equality and gay liberation, the publications gave voices to people branded as dangerous victims of a moral and medical defect, denied rights and forced out of polite society.
Gay Power was part of the resistance, a shift from the small gay political press with national reach – magazines like Mattachine Review, One, The Ladder, and Drum – that existed since the 1950s to connect communities of gays and lesbians across the US. With its bold title, Gay Power captured the more assertive gay and lesbian voice.
Gay Power was soon outsold by Al Goldstein's Gay. In 1968, Goldstein had recruited Jack Nichols and Lige Clarke to write a column, 'The Homosexual Citizen', for his big-selling Screw magazine. After the Stonewall Riots, Goldstein backed Nichols and Clarke to create GAY, a newspaper covering politics and culture from a gay perspective. As the NYPL notes, "Stories ranged from a review of the off-Broadway play The Boys in the Band to coverage of Gay Activists Alliance zaps to meditations on Mick Jagger's sex appeal to manifestos on gay witchcraft. GAY also featured extensive advertising from businesses seeking gay consumers. Initially published biweekly, it quickly became the first gay weekly, and the most profitable gay newspaper in the country."
"First of all we must approach the subject from within. Whatever examples of gay power have been demonstrated thus far, whether it be through straight media or on the part of homosexuals themselves–it's either met with some kind of legal or ignorant interference or too one sided a picture has been presented. Variety is the spice of life and Gay Power is by and for all people. A people is what we shall exemplify first not in any 'half see how far we can get' subtle way, but in the best entertaining and educational way"

– From the mission statement, Gay Power, Volume 1.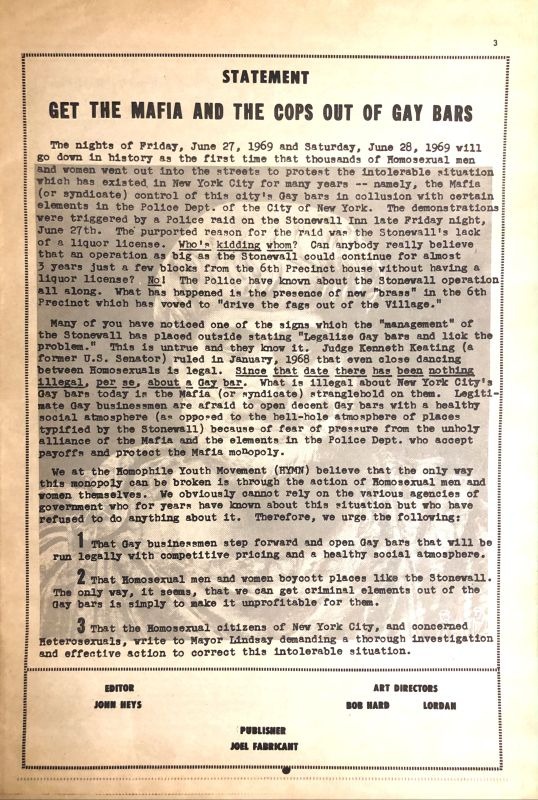 Gay Power featured the work of many bright talents, including Robert Mapplethorpe (on the cover of the 16th issue; lead image), Pudgy Roberts, the outstanding Tom of Finland, Arthur Bell, Charles Ludlam, Bill Vehr, groovy Pat Maxwell, Clayton Cole and Taylor Mead.