Reading other people's love letters might be an act of voyeurism. These are personal communications between two beating hearts. Should we look? Of course we should. The lives of others is always fascinating.
Pulled from the collections of the Archives of American Art, the handwritten illustrated letters feature the thoughts, pictures and doodles of American artists. Many of the letters were exhibited at the Smithsonian exhibition More than Words: Illustrated Letters from the Smithsonian's Archives of American Art. They also appear in the book With Love: Artists' Letters and Illustrated Notes by Liza Kirwin and Joan Lord.
The above letter was sent in 1945 letter from George Grosz to Erich S. Herrmann inviting his friend (and art dealer) to his birthday party at his home in Huntington, New York, promising not just one glass of booze (Hennessy), but six (and more).
"Listen: boy! You are cordially invited to attend the birthday party of ME."
Grosz (July 26, 1893 – July 6, 1959) died in Berlin, the city of his birth, from the effects of falling down a flight of stairs after a night of drinking.
Sculptor Alexander Calder, who lives in Roxbury, Conn., writes to invite painter Ben Shahn from New York, N.Y. for a visit. The letter is illustrated with a map to Calder's house.
Man Ray's letter to the painter Julian E. Levi is one of many that begins "Dear Julian" on stationery from Le Select American Bar in Montparnasse, Paris. He observes: "I have seven tall blondes with 14 big tits and one with sapphire garters." The erst is hard to read.
Warren Chappell writes: I've just thrown a couple of drawings away & I realize – there's no friend like a trash basket. I share this awareness & a greeting." He illustrates the letter with a watercolor sketch of himself hugging a trash can.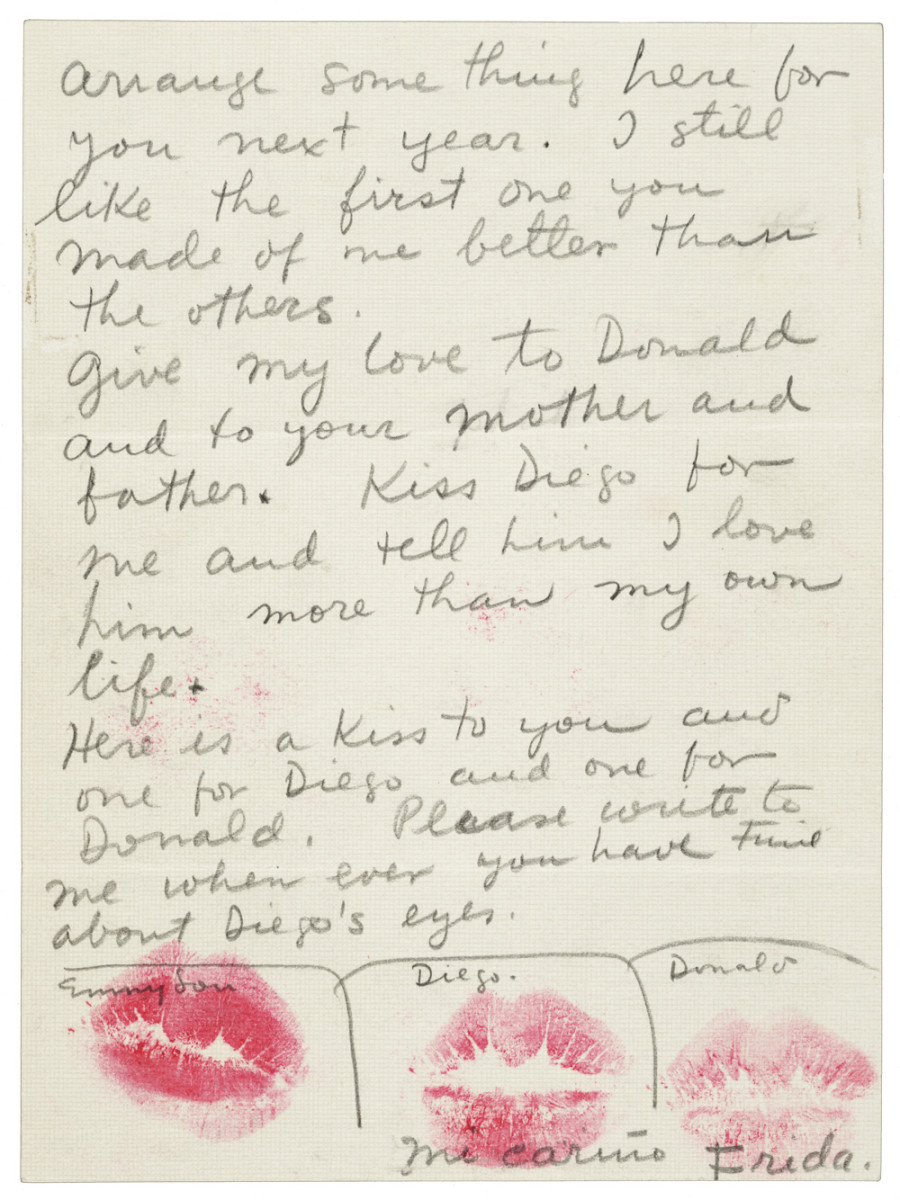 Frida Kahlo wrote to Emmy Lou Packard in 1940, thanking Packard for taking care of her husband Diego during an illness. The kisses are "one for Diego, one for Emmy Lou, and one for her son."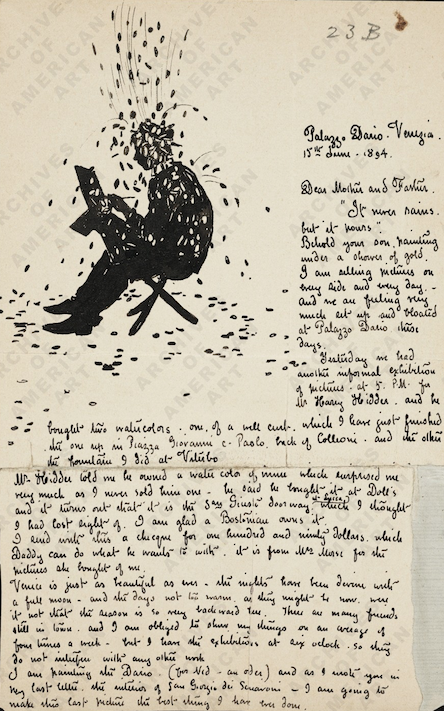 Joseph Lindon Smith is best remembered for having traveled to Egypt and illustrated the excavations at Giza and the Valley of the Kings. In 1894, he was living in Paris as a struggling artist. He tell his parents: "Behold your son painting under a shower of gold."
Edith Schloss thanks the Pearlsteins and others for their support while she was in the U.S., and includes her flight information. The text is written in a spiral shape and illustrated with watercolors of an elephant, a lion and a palm tree.
A letter to Nosanow at the National Museum of American Art, discussing Howard Finster's (December 2, 1916 – October 22, 2001) upcoming visit to Washington, D.C. The letter is illustrated in pencil with sketches of Abraham Lincoln, Thomas Jefferson, William Henry Harrison, Andrew Jackson and William Shakespeare.
Finster writes: "I am excited to be coming to Washington where these great men once had our future responsibility upon them I feel so unworthy to live in a world of luxery [sic] and these great men paved our way…"
A letter from Colorado painter Allen Tupper True, known for his depictions of Western and Native American themes, written to his daughter Jane, while on a trip to New York. "This a lot more what New York looks like. This is me."
Via: The Smithsonian site and in Kirwin's handsome book, featuring artists well known and obscure, but all who knew how to compose a good letter.