"SPEND, spend, spend" is the order of the day, as we are urged to do our patriotic duty and buy British in an attempt to get the economy moving. But haven't we heard this somewhere before?
In 1967 the British economy was in a right old two-and-eight (about 13p in the new money). The Government had taken the previously unthinkable step of devaluing the pound. Things looked bleak. Then Conservative MP John Boyd-Carpenter wrote to The Times, suggesting that "if a number of people, particularly in responsible positions, would set by an example by sacrificing say the first Saturday of every month and working on that morning without extra pay, profits or overtime, it would give an example to others at home, and show the world that we were in earnest."
Soon afterwards the marketing director of Colt Ventilation and Heating Ltd sent out a memo saying that the balance of payments deficit would disappear if workers were to put in a five-and-a-half day week with no extra pay. Secretaries working in the head office in Surbiton saw the memo and decided to "start the ball rolling".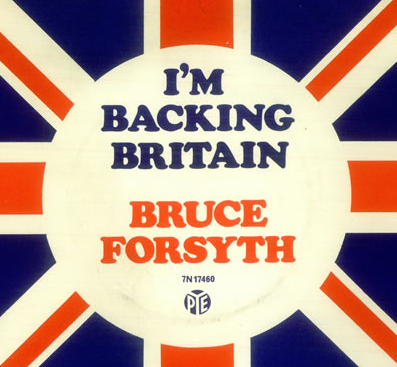 Within days a slogan had been agreed: "I'm Backing Britain" (or "Rwy'n" Bacio Cymru" / "I'm Backing Wales" in the case of the Welsh). Union Jack badges and bags were distributed and all kinds of businessmen and public figures scrambled aboard, including Bruce Forsyth (then as now bereft of a knighthood) who made a record in support of the cause. The Duke of Edinburgh signed up, as did Robert Maxwell, who became the national figurehead. (Captain Bob – who did receive a knighthood, unlike Brucie – wanted the campaign to be called "Buy British").
Jimmy Savile supported the cause by working as a hospital porter. The Poet Laureate wrote a special poem, and a betting shop in Birmingham opened early to "boost productivity". Elements of the media were onside too. One enthusiastic and completely objective ITN reporter ended his report in a factory by slapping the badge on his chest and demanding: "Have you got your badge yet?"
Prime Minister Harold Wilson was keen, the trade unions less so. And they weren't alone. "Silly and dangerous," said Enoch Powell, a man who knew all about such things. Even the British Productivity Council was unconvinced. All in all, it augured badly for the fledgling movement, and worse was to follow.
Brucie's disc failed to trouble the charts despite its special low price (five shillings). The Bulldogs' record fared no better and that was only half a crown. As usual, people who might have done better failed to help. Paul McCartney (now Sir Paul) regarded the campaign as ridiculous. He wrote a song called "I'm Backing The UK" which became the world-famous "Back In The USSR". That didn't help Britain one bit, did it, Sir Paul? But he made up for it later with his hit "Give Ireland Back To The Irish", whose first verse begins:
"Great Britain you are tremendous, and nobody know like me."
The Beatles subsequently recorded other McCartney satires such as "Commonwealth Song" and "No Pakistanis", which were both inspired by Enoch Powell. But they weren't released and nobody talks about them.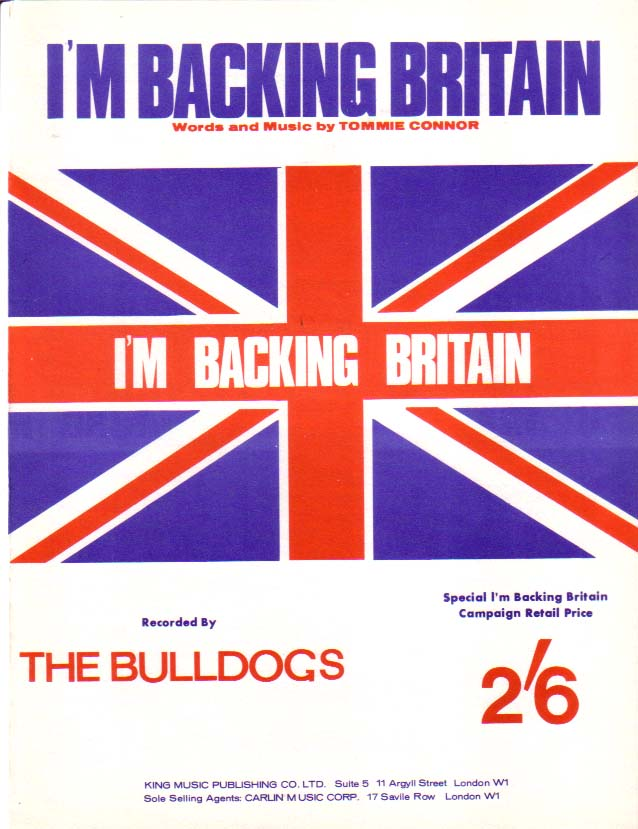 There was a further blow to the campaign when it turned out that the official T-shirts were made in Portugal. ("We just cannot find a British T-shirt which will give us the same quality at a price which will compare," complained the wholesalers.)
In February 1968, The Times asked supermarkets what effect the campaign was having. The answer: "very little" and "none at all". Colt received hate mail and the secretaries had to be protected. In March, one of them said "we got mixed-up when asked horrid questions about trade unions. Thanks to all the interviews and things, we just didn't get any typing done."
Maxwell declared his campaign over in August. Later that year, the film Carry On Up The Khyber was released. In it, a union flag bearing the "I'm Backing Britain" slogan is raised. A character turns to the camera and says: "Of course, they're all raving mad, you know!"
They probably thought it was clever.
Ed Barrett