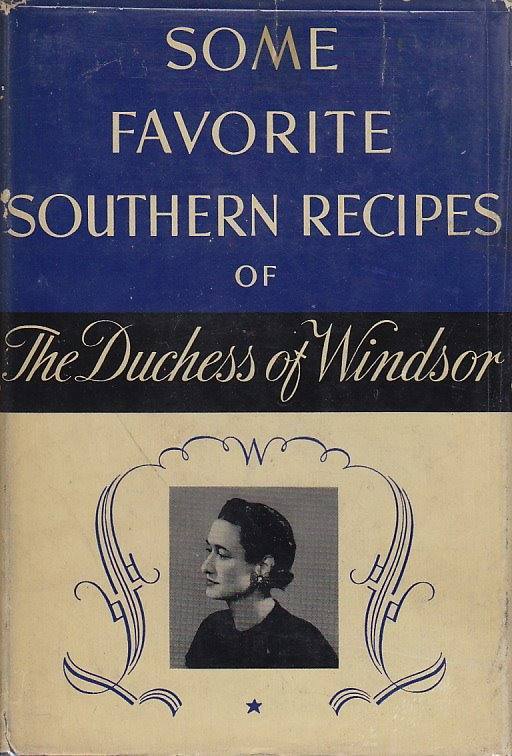 American expatriate Wallis Warfield Simpson, the Duchess of Windsor, wrote a cookbook in 1942. In Some Favorite Southern Recipes of the Duchess of Windsor, the woman who saved the country from a Nazi-sympathising king (Hitler's pal King Edward VIII abdicated when he married the divorcee) shared her 140 recipes to raise money for the British War Relief Society.
Could she cook? Maybe. As The Aesthete Cook notes, the book was copyrighted by campaigning food journalist Marie M. Meloney.
The Duchess could certainly feed. A friend of the duchess's wrote in a letter in 1931, when the royal spouse was still Mrs Ernest Simpson:
"Wallis's parties have so much pep no one ever wants to leave. Cocktails with sausages, not on skewers, caviar with vodka, soup with sherry, fish with white wine, hock, champagne, from then on to the brandy. Needless to say, I do not attempt this lavish mixture. But her food is as elaborate as her wine list."
Wallis Windsor notes in the introduction:
"It is the simple dishes of my homeland which are the most popular… and which are the ones most frequently served at my table."
In the section headlined "Some of My Favorite Foreign Recipes", home cooks could try recipes for exotic chicken madras, one for haddock souffle and risotto – dishes now available on every British high-street.
Although her two recipes using terrapin look more esoteric than ever.
Eleanor Roosevelt added her words to that introduction:
"…the real improvements in American living and health has been the discarding of the elaborate and extravagant menus which marked our entertaining as recently as the General Grant period…This tendency toward more healthful simplicity and especially toward the more scientific preparations of food is, I believe, one of the outstanding contributions which the people of the United States have made toward modern eating habits."
Roosevelt was the leading light in the British War Relief Society, which saw Americans donate to the beleaguered British:
The Duchess's recipes – such as: pilau of rabbit, wine jelly or baked Maryland chicken – were tested by the Home Institute of the New York Herald Tribune.
One recipe was for… The Duchess of Windsor's Pork Cake.
1/2 pound fat salt pork, ground
3/4 cup boiling water
3/4 cup molasses
1/2 cup of firmly packed brown sugar
2 cups raisins
1 cup currants, washed and dried
3 1/2 cups sifted flour
1 1/2 teaspoon baking soda
1 1/2 teaspoon cinnamon
1 1/2 teaspoon cloves
1 1/2 teaspoon nutmeg
Oddly, instructions do not feature the phrase "hand recipe to lackay to hand to cook", rather:
Place pork in a mixing bowl and add boiling water. Add molasses, brown sugar, raisins and currants and cool. Mix and sift the flour, baking soda and spices together three times. Add to the molasses mixture and beat until smooth. Turn into long narrow bar pan (10 X 4 X 3 inches) and bake in a slow oven (325 F.) 1 hour and 15 minutes.
Delicious.
Now, about that terrapin a la mode…