"We're breaking all the rules. Even our own rules. And how do we do that? By leaving plenty of room for X quantities."

– John Cage, Sister Corita Kent's Ten Rules for Students and Teachers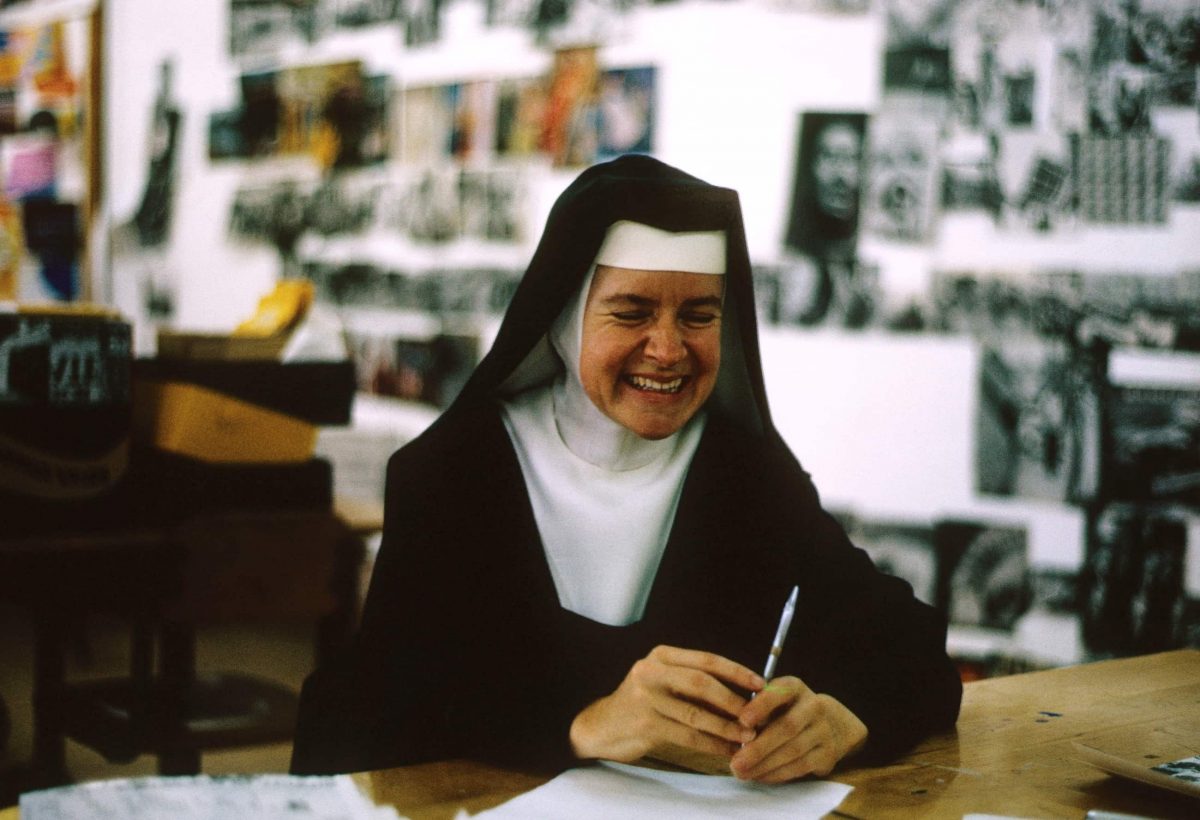 When musician John Cage (September 5, 1912 – August 12, 1992) was contemplating what it meant to be an artist and to live the artist's life, his words struck a cord with his friend, Sister Corita Kent, a Catholic nun, artist, feminist and teacher at Immaculate Heart College in Los Angeles.
In 1968, she compiled her 'Ten Rules for Students and Teachers' for a class project. We see Cage's advice quoted in Corita's Rule 10. "We're breaking all the rules," says Cage. "Even our own rules. And how do we do that? By leaving plenty of room for X quantities."
Odd, no? Isn't the life of a nun all about obeying rules to maintain innocence and confirm the sanctity of the Eucharist, to avoid becoming a servant of earthly powers?
How many of us went to Catholic schools, where monks and nuns indoctrinated us to love God through routine and regiment in Mass and boarding house bunk, to adhere to hierarchically male Catholicism? But nuns and art is more complicated than hermetic repetition, the rod and incorruptibility.
If you want to be a good painter, you'd have been well advised to get down on your knees before Catherine of Bologna (8 September 1413 – 9 March 1463). The patron saint of artists and against temptations used art "to increase devotion for herself and others".
Much later came Wendy Beckett (25 February 1930 – 26 December 2018), better known as TV's Sister Wendy, a British nun and art historian who in the 1990s presented a series of BBC television documentaries on the history of art such as Sister Wendy's Odyssey, Sister Wendy's Story of Painting and Sister Wendy's Grand Tour. The New York Times described as "a sometime hermit who is fast on her way to becoming the most unlikely and famous art critic in the history of television". When asked once what the other nuns thought about her going round the world with a camera crew, she replied, "They feel sorry for me."
Neither a careerist TV personality nor ambitious for fame, the relentlessly enthusiastic Sister Wendy felt compelled to share her knowledge and love of art as an extension of her faith. Money she earned she sent to religious orders and charities.
She harnessed the modern medium to get the message across. Much like Kent, who proposed "a new form of praying… through the words and phrases and headlines and ads and footnotes that surround us." 'The meek shall inherit the earth' (Psalms 37:11). 'Do to others what you would have them do to you (Matthew 7:12). "GET WITH THE ACTION" (Corita '60s). Slogans and scripture ever was the way ahead.
So from Saint Catherine and her Seven Spiritual Weapons Necessary for Spiritual Warfare, and prolific Sister Wendy's exploration of the four great themes of meditation – silence, love, joy, and peace – we get to Corita Kent, who featured on the covers of Newsweek and The Saturday Evening Post and, as NPR reports, quoted the Beatles' Things We Said Today in a 1965 piece called look, which appropriates the logo from Look magazine followed by the words "Love is here to stay. And that's enough."
Inspired by a love of silkscreen printing, with which she'd been experimenting when she saw a 1962 exhibition of Andy Warhol's work – 32 Campbell's soup cans at Ferus Gallery in New York –  printmaking was a way "to produce a quantity of original art for those who cannot afford to purchase high-priced art… The distribution of these prints to everyday places of work pleases me, and I hope they will give people a lift."
The brochure of  2014 exhibition of her work at the Tang Museum noted:
Her posters and murals asked philosophical questions about racism, poverty, military brutalities in Vietnam, and conflicts between radical and conservative positions inside the Catholic Church. Works such as 1969's manflowers touch directly on the brutalities of the war in Vietnam. In the print, Corita juxtaposed the texts "man power!" and "Where have all the flowers gone?" against an image of two injured young soldiers and bright green and purple blocks of color. Speaking to her aim to address the stark realities of the world with messages of hope and joy.
As Corita explained: "It is a huge danger to pretend awful things do not happen. But you need enough hope to keep on going. I am trying to make hope. And you have to grab it where you can."
Before we get to her 10-point guide to study and teaching, a bio. At 18 Corita entered the religious order Immaculate Heart of Mary, eventually teaching in from 1946 and then heading up the art department at Immaculate Heart College (closed in 1981). "Her work evolved from figurative and religious to incorporating advertising images and slogans, popular song lyrics, biblical verses, and literature.
"Throughout the '60s, her work became increasingly political, urging viewers to consider poverty, racism, and injustice. The Archbishop of Los Angeles at the time, Cardinal James McIntyre, was a staunchly traditional thorn in her side, and became incensed over her 1964 print that declared: 'Mary Mother is the juiciest tomato of them all' – a reference to Del Monte's tomato sauce slogan," writes Jacqui Palumbo.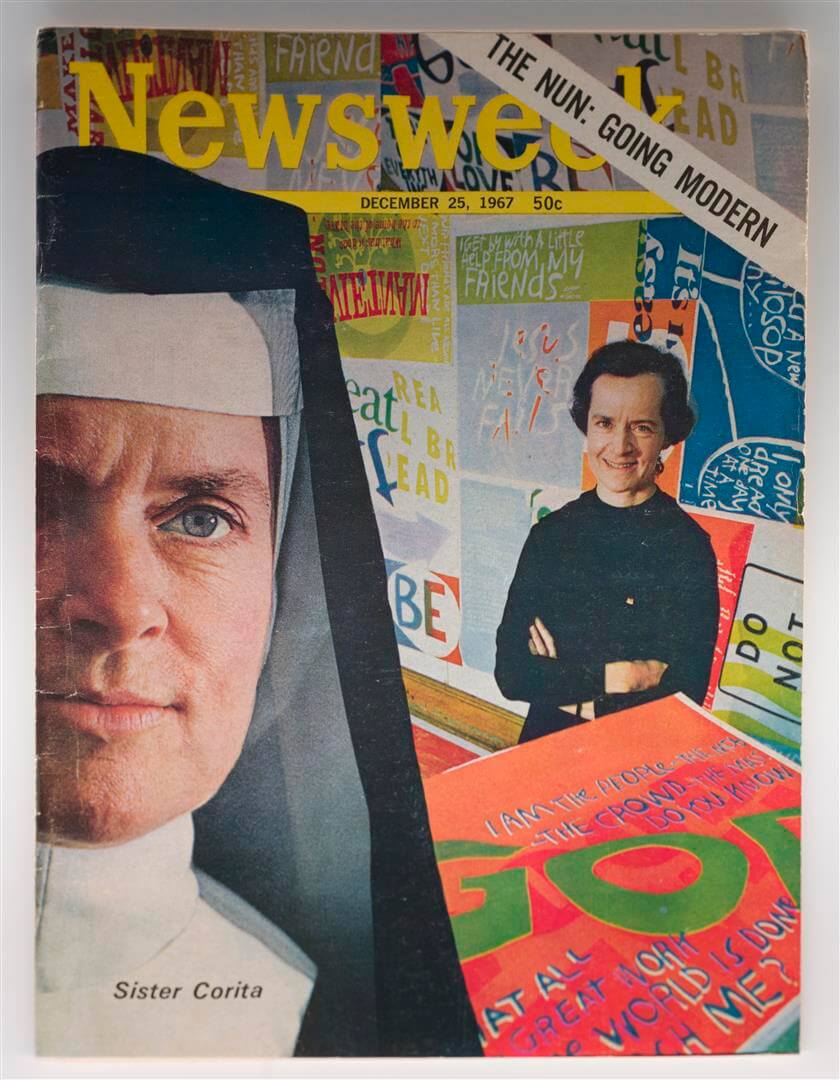 In 1968 she left the order and moved to Boston. "After 1970, her work evolved into a sparser, introspective style, influenced by living in a new environment, a secular life, and her battles with cancer. She remained active in social causes until her death in 1986. At the time of her death, she had created almost 800 serigraph editions, thousands of watercolours, and innumerable public and private commissions."
Cage loved her work. Choreographer Merce Cunningham (1919 – 2009), Cage's longtime partner, kept a copy of Sister Corita's rules in the studio.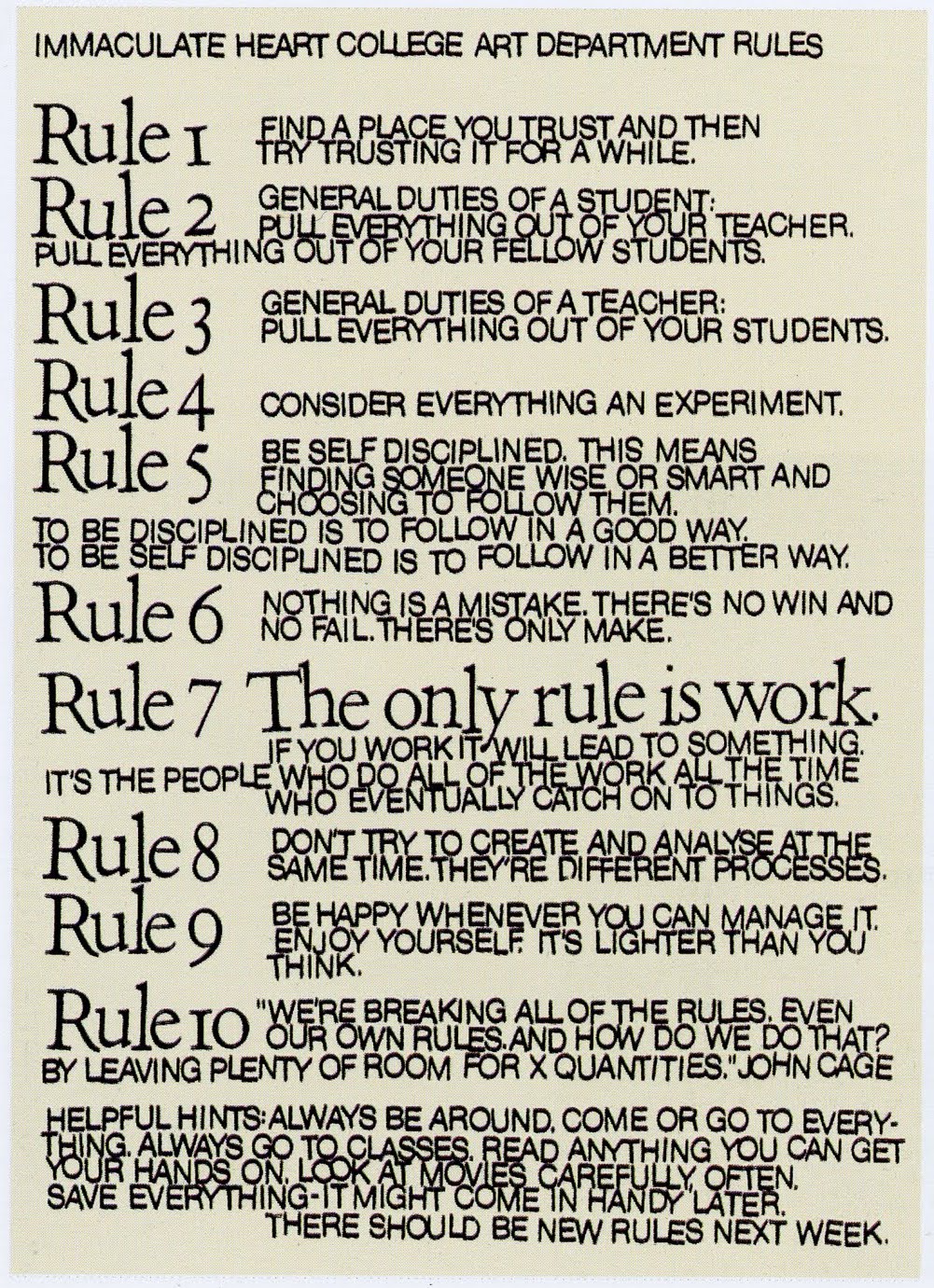 RULE ONE: Find a place you trust, and then try trusting it for awhile.

RULE TWO: General duties of a student — pull everything out of your teacher; pull everything out of your fellow students.

RULE THREE: General duties of a teacher — pull everything out of your students.

RULE FOUR: Consider everything an experiment.

RULE FIVE: Be self-disciplined — this means finding someone wise or smart and choosing to follow them. To be disciplined is to follow in a good way. To be self-disciplined is to follow in a better way.

RULE SIX: Nothing is a mistake. There's no win and no fail, there's only make.

RULE SEVEN: The only rule is work. If you work it will lead to something. It's the people who do all of the work all of the time who eventually catch on to things.

RULE EIGHT: Don't try to create and analyze at the same time. They're different processes.

RULE NINE: Be happy whenever you can manage it. Enjoy yourself. It's lighter than you think.

RULE TEN: "We're breaking all the rules. Even our own rules. And how do we do that? By leaving plenty of room for X quantities." (John Cage)

HINTS: Always be around. Come or go to everything. Always go to classes. Read anything you can get your hands on. Look at movies carefully, often. Save everything — it might come in handy later.
Via: Corita, which was set up after Kent's death to promote and preserve her legacy.