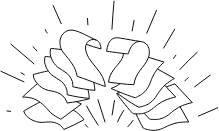 We love Flashbak. It takes a lot of time and resources to research, write and produce. If you enjoy what we do and want to help us move away from relying on ads (and go ad free), you can make a contribution. Please consider becoming a patron with a recurring monthly donation of your choosing. Your subscription really matters.
Your Help Matters
Making 'everything old new again' on Flashbak requires hundreds of hours of research. I need your help.
What began as a plan to show forgotten gems, beautiful things and curiosities from the remotest corners of the web and culture has turned into a full-time job.
My Facebook page is an online exhibition of images and cultural delights from across the world. I've attracted over 500,000 Facebook followers and friends worldwide, and tens of thousands more on Twitter, Instagram and Pinterest.
My work has been featured in the international media.
I've opened a store selling prints on fine art paper, books, greeting cards, stationery, T-shirts and more.
Thank you to anyone who is able and inclined to help my efforts to create an uplifting distraction from the harder things in life.
Your kind generosity is hugely appreciated. Thanksyou.
Paul Sorene