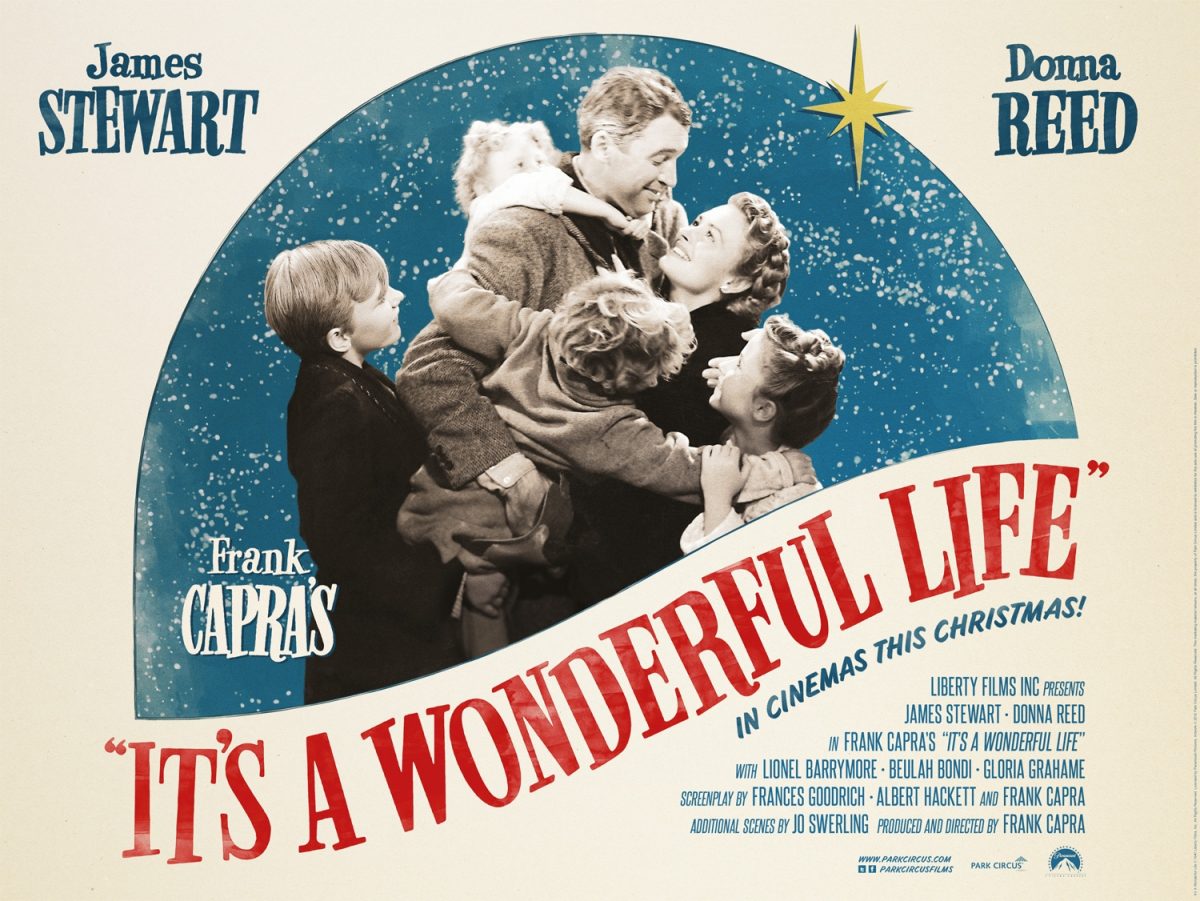 Frank Capra's It's a Wonderful Life has long seemed like a benchmark for the hokey, wholesome, white-bread image of America that sold millions of Cokes and fast food burgers in the decades after its 1946 premier. Its setting of Bedford Falls stands in for everytown U.S.A., an idealized burg defined by civic pride, self-reliance, and piety—nationalist values that Capra, fresh off his wartime tour as a propaganda filmmaker, explicitly sought to capitalize on.
"There are just two things that are important," he told The Los Angeles Times during shooting. "One is to strengthen the individual's belief in himself, and the other, even more important right now, is to combat a modern trend toward atheism." He clearly implies that he's making an anti-Communist film, a celebration of rugged individualism, "faith and family," and so on.
On a closer viewing, however, things get more complicated. It's a strange film, a Christmas movie "that doesn't mention Christmas until the 99-minute mark," notes Flavorwire's Jason Bailey, "and while it includes angels looking over us, it's mighty light on Jesus talk." Moreover, "second class" guardian angel Clarence characterizes the operations "upstairs" in terms that sound a lot like a big government bureaucracy.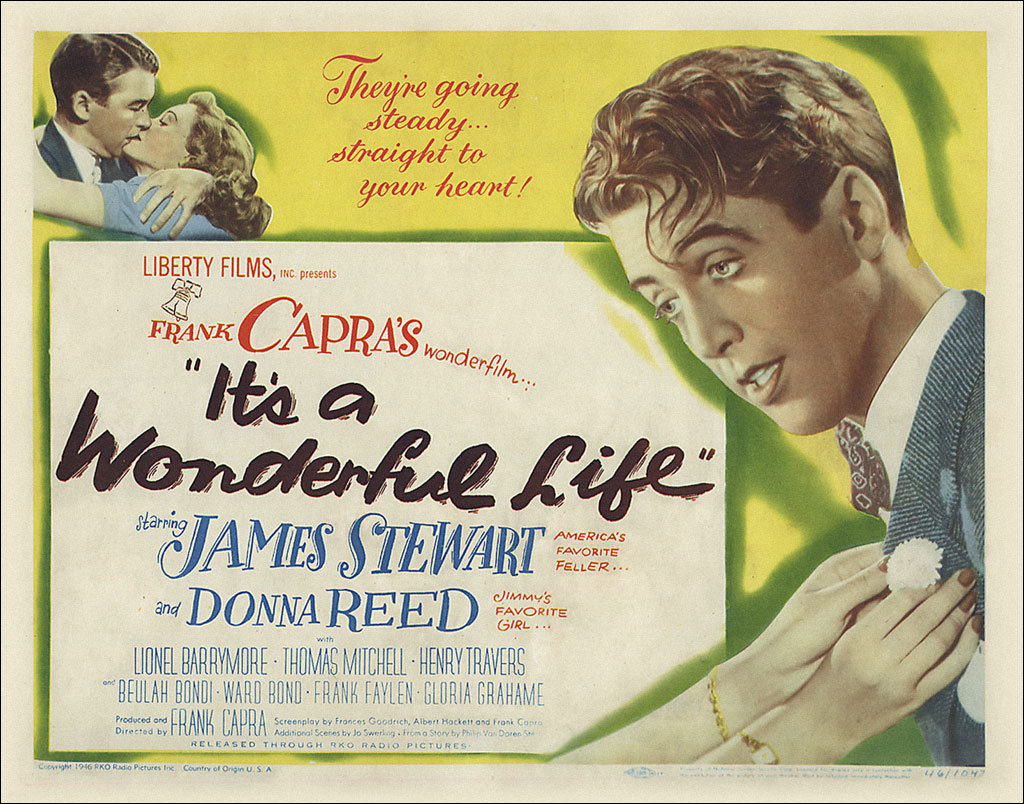 One could argue that Capra's movie does as much to secularize the holiday as any department store display, framing it as "a time to take stock of your life, of the true blessings of family and friends." Nothing wrong with that, of course, unless you happen to see in George Bailey's story what the FBI suspected in 1947—evidence of insidious "COMMUNIST INFILTRATION" of Hollywood.
Possibly aided by Ayn Rand and her acolytes, the Bureau damned the movie on several counts, claiming that Capra's co-writers Frances Goodrich and Albert Hackett were known Communist sympathizers (though credited, the husband-and-wife team ended up walking away from the project); that the film "deliberately maligned the upper class, attempting to show the people who had money were mean and despicable characters"; and that it "represented a rather obvious attempt to discredit bankers," who were, after all, only following orders.
In another, more persuasive, reading, film critic Robin Wood correlates Capra's movie with a comprehensive list of common features in capitalist ideology. Its conflicts dramatize, Wood argues, the tensions "between the two faces of capitalism, benign and malignant," evident in the counterpoint between the idyllic Bedford Falls of George and Mary's happy life together and the noir version of the town Clarence later reveals to the suicidal George.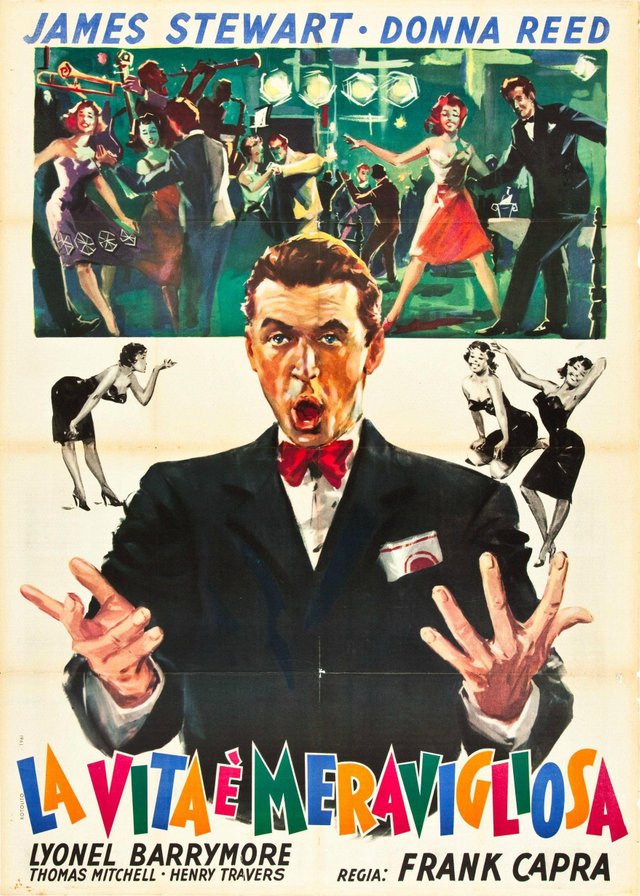 It's possible to see any number of themes in Capra's holiday movie, political, religious, and otherwise. As the promotional posters advertising it show, this might have presented a problem for marketers. How to describe what this film is about in one arresting image? One that avoided showing Jimmy Stewart trying to kill himself? Perhaps the version that corresponds most to what we think of now when we think of It's a Wonderful Life shows the Bailey family clustered around George, gazing up at him adoringly—all of them seemingly frozen inside a snowglobe.
Most of the other posters focus on George and Mary, implying the film is a romance movie, which it is, in part. In some, the two are chastely courting, in others locked in a passionate embrace. One corny poster tells us that "America's favorite feller" and "Jimmy's favorite girl," Donna Reed, are "going steady," trading on some aw-shucks celebrity innuendo. The confused illustrator of one Italian poster gives us George Bailey as a lounge singer. Another Italian poster goes for the steamy romance novel approach.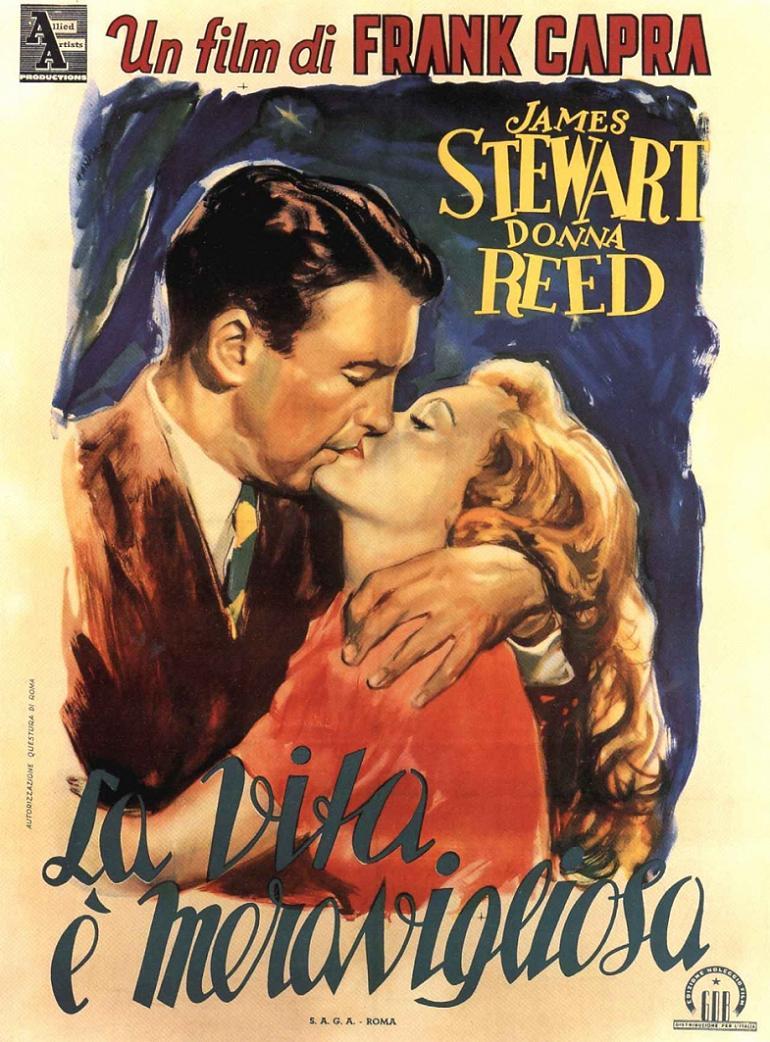 Reportedly Capra himself, upon explaining the plot to Stewart, remarked, "this doesn't really sound so good, does it?" (Stewart signed on right away.) Few of the film's posters have anything remotely to do with Christmas. Although the movie became the quintessential Christmas film, it wasn't initially pitched that way to audiences, apparently, who mostly didn't show up to see it, despite its three-time Oscar-winning director and bona-fide movie star leading man.
The movie bombed, and initial reviews were mixed, though it received five Academy Award nominations the following year. It's a Wonderful Life now routinely tops "best of" lists as a critical and audience favorite. But not a few critics see Capra's "shamelessly sentimental" story as mawkish, transparent propaganda. Ronald Bergan calls the film a sappy glorification of "the credo that America is the land where everyone can be happy, and where all problems are soluble within the existing system." Or, in other words, he quips, "it's a wonderful lie."