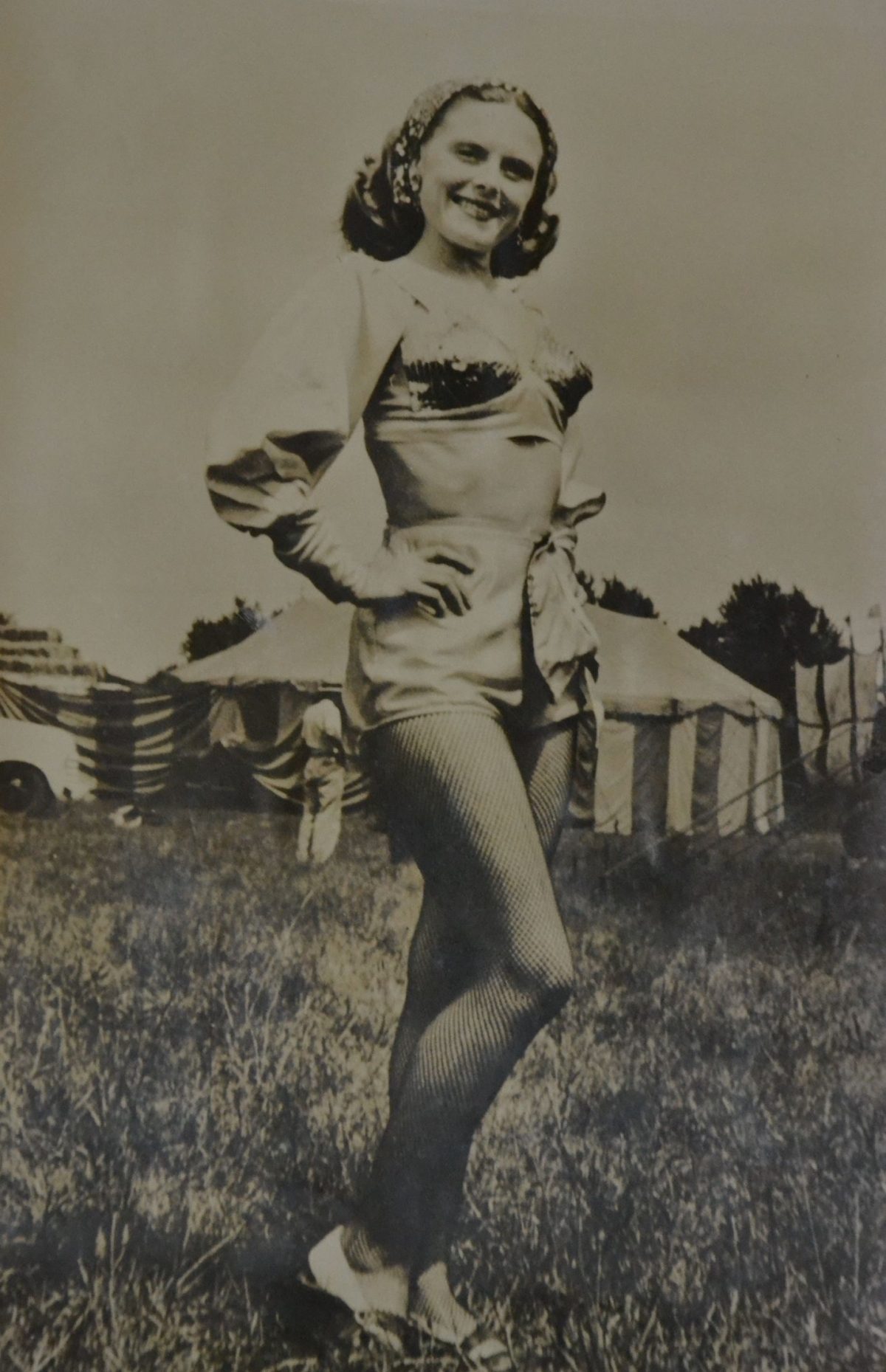 Mythologized as much as the life of a rock star on the road, the lives of circus performers are sources of mystery, fear, humor, and romantic longing. Running away and joining the circus became a cliché for a reason. Circus life seems so exotic and liberating, yet also tied to the exigencies of travel and weather, fickle crowds and changing fashions: a heightened image of the tensions between freedom and insecurity that modern life papers over with policy and advertising.
Joining the circus is one thing but being born and raised into it is another. Mary Rawls was destined for circus life from the time of her birth on November 11, 1927 in San Francisco. Her mother was a "very shy telephone operator" turned juggler, her father a jack-of-all-trades. They moved to Texas, then the family hit the road in 1929 when the stock market crashed, struggling through the dust bowl and traveling the country while her father worked as a sign painter. By the time she was six, Mary was performing tricks on a six-foot-pole balanced on her father's hand.
First, they played the dying vaudeville theaters in the South, then hit the streets and busked for money, performing acrobatic feats while her brothers staged boxing matches with the locals and passed the hat. After one performance, Mary remembers, a man pulled her father aside and thanked him for the entertainment. "My kids haven't been able to go to a movie. We haven't had any money. We're broke as we can be, but it was just so nice to have a show the kids could see and enjoy. I wanted you to know how much we appreciated it."
"That has stayed with me all my life," she says. "It has just made me feel like we were doing something worthwhile." Mary's father continued doing odd jobs while the family traveled and put on shows. Finally, when she was 15, they joined a circus in Kansas. She sketches an outline of the social world:
There's a caste system on a circus. You've got the performers and they all stay in the back yard. They have their trailers or their house cars or so forth. Then you have got the midway people that run the concessions, the cotton candy stand, the novelty stand and so forth. Then you have the working men and if you have a sideshow, you have got the sideshow people. These are groups that don't really mingle all that much. I mean, the back yard people stay to the back yard. The midway people stay in the midway, and the sideshow people stay to themselves. Not in a mean way. That's just that that's what you do.
Mary's family was in the highest caste of performers, with their own house car and act. Many of her reminisces sound familiar from popular portrayals, but most of these, she says, get the worst parts right and leave out the best. "They're not telling the true story at all. That's not the way it is." She tells another story, a much more intimate one. Her father educated all of his children himself, often using discarded books from local schools. The family tried to maintain rituals like churchgoing and family meals amidst the instability of constant travel.
When she met and married her husband, Harry (in clown makeup, further up) they stayed on the road and raised eight children (see her with two of her daughters above), all of whom became performers or worked in some capacity in the circus. To hear her tell it, hers is a story of an ordinary family, with all its strains and economic struggles, magnified by the lore of circus life.
Hear her interview here; read a transcript at the Library of Congress' American Folklife project.