To realise how unusual a venue choice that was, you can read our history of the fabled New York nightclub and enjoy photographs of the decadence therein.
Lilian collected her gong and left. But Bill noticed who was arriving:
"After the event, the regulars started to arrive. But these people were not your regular regulars. The mix of humanity that started coming though the door, the way they dressed, the way they walked and talked and posed. I stayed and got hooked on disco."
Below are some of Bill's pictures of Studio 54 and other clubs of that era: Brooklyn's Empire roller disc, Le Clique, Hurrah, GG's Barnum Room and The Mudd Club.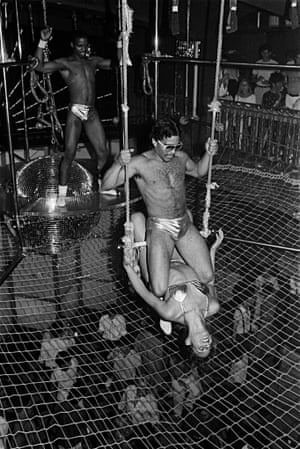 "Over the next five or six hours, my world underwent a transformation. Had I been suddenly transported back to a prewar Berlin cabaret? Who were these people of the night…?… I sensed early on that disco, in its own extravagant way, was a very progressive, democratic scene. There was a real acceptance of people, no matter who or what they were, and an incredible tolerance of diversity. They encouraged and celebrated it."
"Before disco went overground with Saturday Night Fever, it was a series of smaller scenes with very defined crowds. At the roller discos out in Brooklyn, you'd see some white kids, but it was mainly a black scene and one in which everyone seemed to know each other. Roseland was mostly Hispanic, while places like the Loft in Manhattan or the Ice Palace 57 were gay discos…